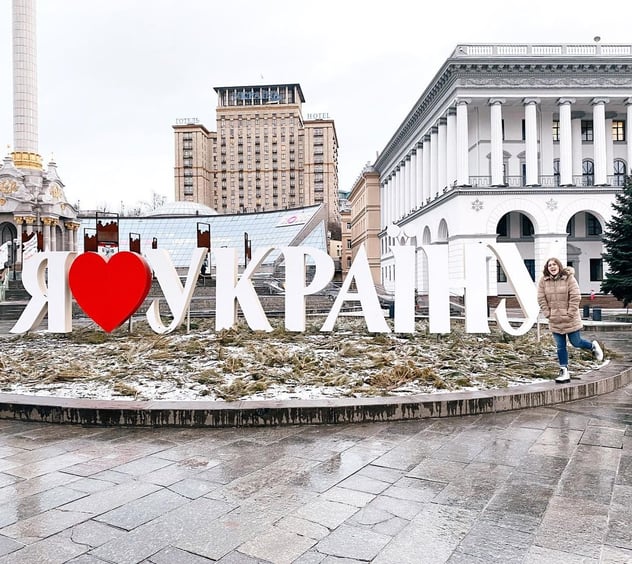 I went to Eastern Europe in the middle of January, and I was so glad I had all of this info.

Call me biased, but some parts of Europe are the best in the winter. Oh, yeah it's cold, but it's beyond magical. Seeing your favorite cathedrals dusted with snow? Walking past countless ice skating rinks past some of the world's most iconic buildings? Going cross country skiing in the woods before teaching? Come on, it's a total dream. I spent a whole semester living in Eastern Europe, arriving in the dead of winter. I was quickly informed that it was the coldest this city had seen in awhile, thanks to a big cold front that has blown through the city. Thanks for say "hi" in the coldest way possible!

But I survived, and left when the city was scorching hot. And if I'm telling the truth, I loved it so much more in the winter time.


---
Yep, living in Europe for a semester was a total dream.
See what volunteering with ILP is all about.
---
As magical as the country is in the wintertime, it will be straight up miserable if you don't know how to dress for the cold. I talked to all my friends who had survived a cold ILP semester winter and pulled together tips from my own semester so you'll be totally set even if you get off the plane during one of the coldest spells your city has seen in a while.
Oh, and just so you know, this post has affiliate links for your convenience (which means if you make a purchase after clicking a link, we earn a small commission). Just know that we only share products that we ourselves have used and loved, that other volunteers have recommended, or that we think just look like they'd be pretty useful!
So, How Cold Does It Get?
The weather will depend where you are — we are grouping a huge number of countries in the Baltics and Eastern Europe, however, not everywhere is going to be f-r-e-e-z-i-n-g. a massive (massive!) country so yep, certain regions are colder than others.
I'd suggest looking at average temperatures, and humidity, and wind, which can all have an enormous impact on how cold it actually gets (and how cold it actually feels outside).

And yes, it does get cold, but it also does warm up to be scorching hot in the summer time. As a side note, you'll want to pack up shorts, light weight dresses, t-shirts and sandals for the end of your semester (if you're going in the Spring) and for the beginning of your semester (if you're going in the Fall, for August and the beginning of September).
Here's an average breakdown of what things could look like, just to give an example of how to lay it all out for your specific country to help you figure out what to pack:
Fall
September and October are cool, with temperatures in the 50's and the 60's Fahrenheit as the day's high, and dipping into the 30's once it gets dark. You'll see less sunny days, and instead see lots of overcast or cloudy mornings and afternoons. November does get cold, you're now looking at temperatures in the 30's and the 20's Fahrenheit at the end of the month. You'll see your fair share of rain in October and November with those classic winter gray skies. Time for warm layers that are also waterproof!
Winter
The thing to know about winter is that it's cold. The day's high may be only a few degrees, with temperatures in the negative teens as the day's low. Storms bring in cold spells that can drop the temperature to be -20 Fahrenheit, while other days may be a warm 20° Fahrenheit. Another thing to note? There isn't much sunlight which potentially warms up a day. There are times in December and January where the sun rises at 9:00 AM and sets around 4:00 PM.
December weather typically hangs out in the 20° and 30° range Fahrenheit range as the day's high, but it can drop lower (think more in the 10° range once the sun sets). January days have temps in the 20's as the day's high but typically dip down to hit the teens and negative numbers quite frequently. You can anticipate negative and single digit temperatures during this time of the year, with an added wind chill and humidity that make it feel bone-chillingly cold. January has lots of similarities to December: you'll see snow, cloudy days, and not that much sunlight. It also can be quite windy during the winter, which really adds to the chill. February is very similar to January, but does warm up a tiny bit as March approaches.
Spring
March is still cold, but does slowly warm up. You're looking at most days in the 20° to 40° Fahrenheit range, with night time temperatures that sometimes drop down to the 15° Fahrenheit (or colder range). You still see snow and maybe a bit of rain towards the end of the month. April is so hot and cold, some days you'll look at the weather and have a day in the 20's, and by the end of the week, you'll have a day in the high 50's. Go figure. You'll also see more sunlight peeking out behind the clouds! May is similar, with some dips in the temperature (plan on temperatures in the 40° to 60°+ range) more blue skies (a fair bit of rain), and loads more sunshine. The sun rises around 4:00 AM and doesn't set until 8:30 PM or 9:00 PM.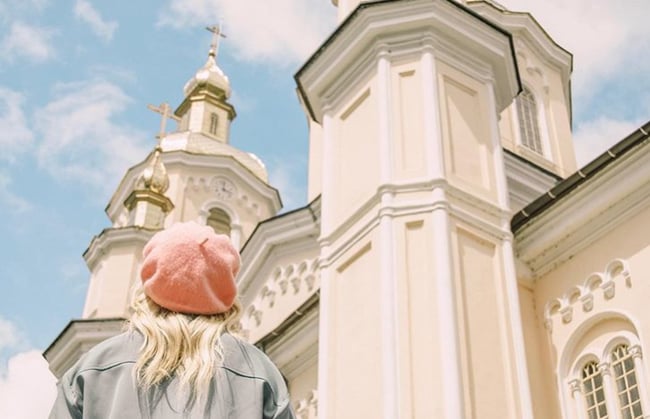 How To Dress In Layers
All About Layers
Layering is going to keep you the warmest, plus you'll be able to pack less and wear the same sorts of the things for when the weather warms up. A thick heavy sweater takes up tons of room in your bag and you can't wear it on a slightly warmer day unless you want to overheat. Not the case with thinner layers!
Top Layers
Personally, I packed a variety of long-sleeved t-shirts, a couple of thinner sweaters, a turtleneck, a flannel, and a thick and chunky cardigan for all my cold weather needs. I also packed 2 sweatshirts. That way, I could layer a long-sleeved t-shirt with a sweater (and my flannel/cardigan/sweatshirt) if I wanted to be super warm, or just wear a thin sweater or a long sleeved t on warmer days with or without my coat. I tend to pack a bit minimally, but that's a guideline if you want to go off of that.
Bottom Layers
Jeans, all the way. I also packed some corduroy pants which were thicker. Just don't wear jeans with holes — that cold air seeps in and you'll be scolded by the locals for not dressing properly (true story). On extra cold days, I would wear a pair of tights or leggings (these are my absolute favorite pair) underneath my jeans for another layer. I packed a few pairs of long pants, a couple pairs of thick tights, a pair of sheer tights, and a couple of pairs of leggings.
As far as dresses and skirts went, I went with long sleeved dresses for the winter and a couple of wool skirts. I would wear my thicker tights with these outfits and was plenty warm with my coat, gloves, scarf, and hat on.
+ The Extras
You'll also want gloves, a few scarves, a couple of hats, and a couple of extra layers to pull on underneath your clothes. I'm more of a minimalist, and I personally, I packed 2 scarfs (1 of those thick knit, infinity ones, and a thinner one), and 2 hats. I had 2 pairs of gloves — one of longer leather ones lined with fuzzy inserts, and those soft knit, fabric ones you can get at Target or Wal-Mart. Just make sure all of your gloves are all "touch point" friendly so you can use your phone with your gloves one. That's a must. I packed these.
I also packed some thin leggings and a long-sleeved set of those "32 and Below" thermal layers personally. I wore those under my jeans/pull over on extra chilly days. I was also glad I packed a few hand warmers which were lifesavers when I was out on weekend trips, exploring outside all day long. I only used them maybe 10 times, but maybe you'll want to use them more than I did.
Socks are also super important. I packed thick and thinner wool socks I could wear with both of the boots I packed (more on that below).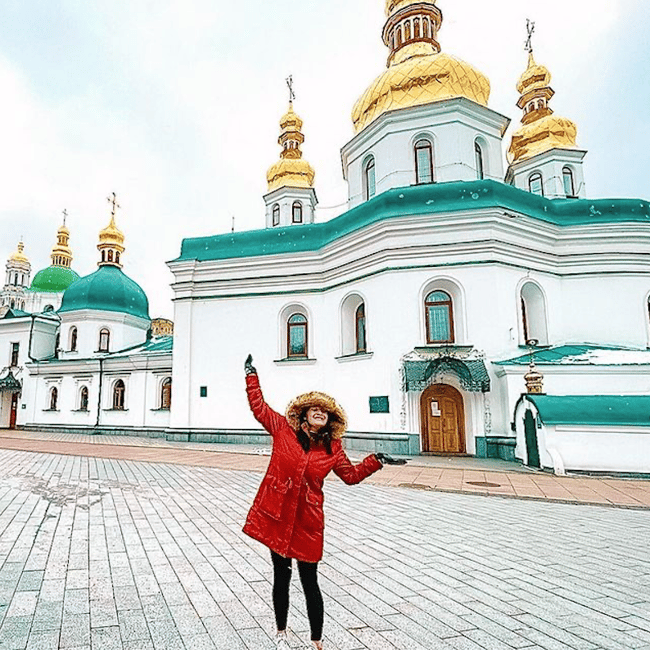 How To Wear Your Scarf
This. Is. A Game. Changer. About two weeks into my semester, I noticed that none of the locals were wearing their scarves like I was — I would pull on my sweater, then wrap my scarf around my neck, then pull on my coat. Oh no, every one around me was wearing their scarf on the outside of their coat.
You'll want to put on your parka, pull on your hood, then wrap your scarf around before taking off your hood. It keeps you SO much warmer, it's amazing and I'll never stop wearing my scarf like this.



All About Your Coat
My biggest piece of advice for someone headed to a cold, Eastern European winter is to invest in a good coat. It was a total game changer for me. I didn't have to wear so many layers because my coat was so warm. Some days I would wear a long sleeve t-shirt under my parka, and that's it. If you're asking me, your coat absolutely needs these things:
A Hood
Imagine it's snowing and windy which means those magical clumps of snowflakes are actually pelting your fact as you make your way to your bus stop. You're going to want a hood on your coat, preferably one that's fur-lined to help further protect your face. And because I know you've already read all about how warm you stay when you wear your scarf on the outside of your coat, you'll doubly make sure your coat has a hood. Even with a hat on, you won't get the same kind of protection a hood can give you.
The Length
Get a coat that's below your hips. My personal preference is just long enough to sit on, that way the coat will hit your mid thighs, giving you more coverage. Plus, you'll be glad you don't have to sit on a snowy park bench in just your jeans. I can't tell you how many times I was only cold where my coat/tall boots weren't covering my legs. You'll see coats that are knee-length or longer if you want to go that route.
Warm + Waterproof
One of the most important things in a coat, right? Huge piece of advice is to make sure your coat is waterproof, not just water resistant or weather proof. The snow sometimes is more like a slushy rain and you do not want that slushy snow to soak into your coat and hit your other layers. It doesn't matter how warm your layers on if you're wearing a wet coat.

As far as warm goes, go with something ready for this kind of weather. You'll want something 500 fill down as an absolute minimum, but you're going to want to shoot more like 700+ or 900+ fill if you want to be super warm. Basically what that means is how much fluffed up down or filling is crammed into each cubic centimeter. The higher quality down is able to keep you warmer because it can trap more air pockets which help keep you toasty. Basically, the higher down count, the warmer you'll be.
Think About Pockets
One of the main reasons I loved the coat brought to Europe so much was all of the pockets! Think about it — when you're wearing all of these layers, you're not going to want to bring a purse or backpack but will need a spot for your wallet, keys, phone, headphones, snacks, and other essentials. Hello, pockets! At an absolute minimum, make sure your coat has two pockets for your hands that are deep enough and warm enough to actually keep your hands warm. If you want to avoid bringing a purse around, make sure you have extra pockets (hidden ones on the inside are a total plus) for all of your other things.
Some Recommendations
If you're wanting to splurge, I am totally obsessed with my Nuuk Parka from Fjallraven. It totally built for this kind of weather (it's a Swedish brand), so it hits all the requirements: crazy warm, 100% waterproof, fur-lined hood, longer than my hips, and has a zillion pockets. They do a Black Friday deal where you can get 10% online, and some outlets like REI do sell this coat for $100+ off which helps with the price. I was (and am still) living in a state that has cold winters and I go skiing every so often, so I knew I'd use it after my semester every single winter which made the price worth it for me.
But you ABSOLUTELY don't have to spend that much, or even half that much! We have tons of volunteers who put together their coat recommendations here. Some of the coats on that blog post are more in the $100+ range if you can catch them on sale at the Outlet mall.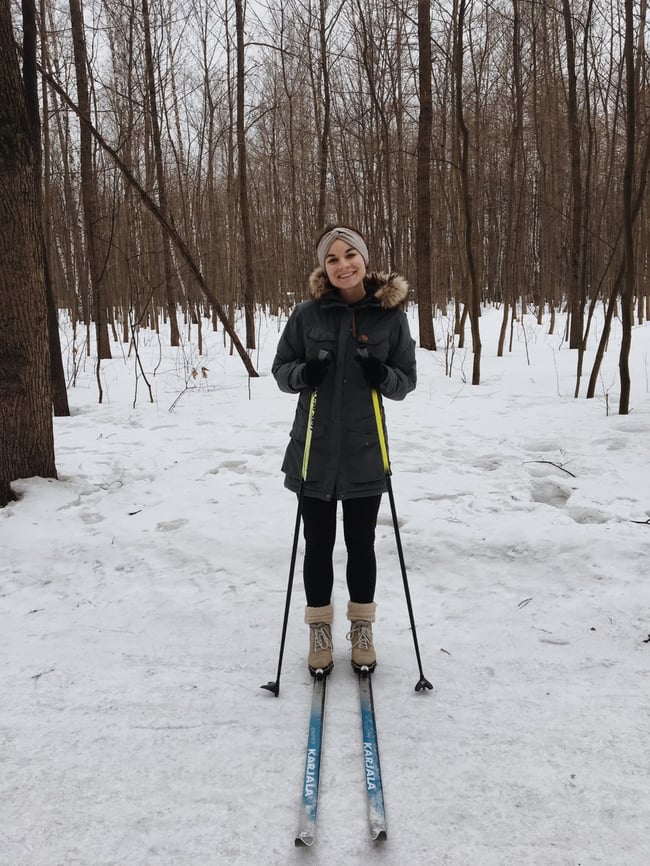 All About Your Boots
Make sure they are warm, waterproof and have good tread. You can go with a lot of different brands and styles here, but don't budge on those three requirements. If you have cold feet, your entire body will be freezing every single day and you'll be miserable. There was one girl in my semester who didn't pack great boots (they were thin and not waterproof) and she was so cold every time we went out. Don't make the same mistake!
There's a bit of debate going on if you should have high boots (knee length) or more like ankle-high ones. Alumni mention that most locals are wearing above-the-ankle height boots, but the knee high ones are really nice for super snowy days or cold days where you want as much of your legs covered as possible. Personally I packed a set of tall boots (Sorels) and a pair of ankle boots (I wore with thermal socks or wool socks with these) for warmer days. I was super glad to have both. If you only have room in your budget or suitcase for one pair, I'd suggest above-the-ankle ones but that's up to you.
Get boot recommendations here.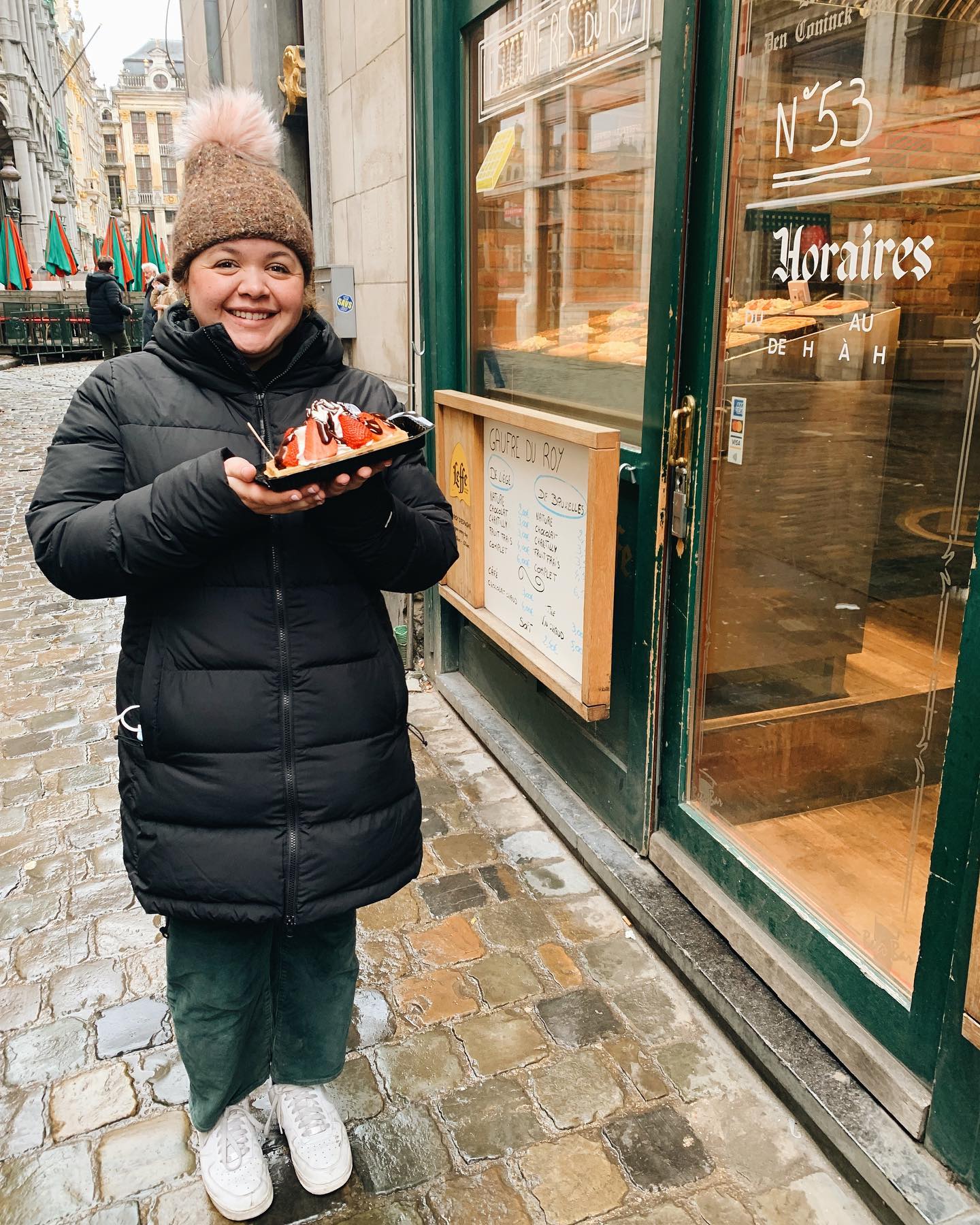 I absolutely loved living in Europe
It's the thing I can't stop talking about my favorite cafes, all the cities I was able to visit, and the kids I taught. Come see what I mean!