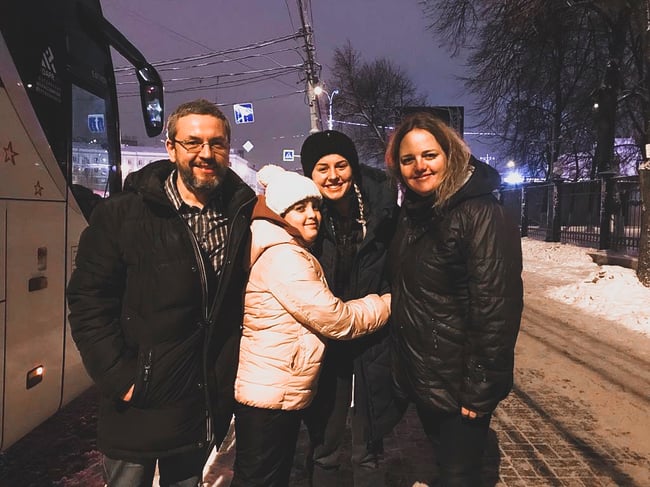 Depending on where you volunteer you may live with a host family during your semester abroad with International Language Programs. Some people are initially nervous about this and some are excited. It is a totally new experience and can be hard to know what to expect!

---
---
We interviewed
Rylie B.
who lived with a host family in Russia and she shared what it is really like to live with a host family!
What Is It Like Living With A Host Family?
What were your initial thoughts when you found out you'd be with a host family?
"When I first found out that I was going to be in a host family I was super excited! I honestly didn't know what to expect at first. All I could imagine was a big Russian family who didn't speak any English. I was scared that the food would be gross, but I loved (almost haha) all the meals they served me! They exceeded all my expectations! They made sure to treat me like one of their own daughters and I love them for that."
Who was your host family?
"My host family were the Foret's! The school asked the student's parents if any of them would like to host an American and then they place us with their families!"
Rylie's host sister attended ILP classes, but not all host families will have kids in the classes you teach. Some won't even have kids at all. Living conditions may vary depending on where you stay, but cultural experience by living with a local family! Just know that your host family was chosen as somewhere safe to stay. This helped me feel much more comfortable when I was with a host family in Ukraine.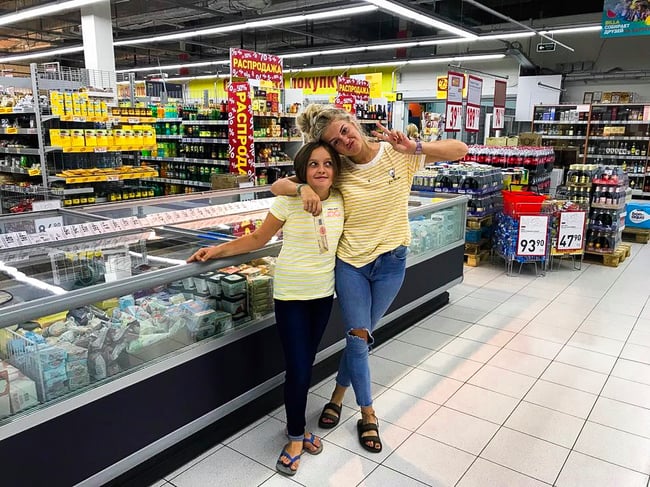 Was It hard communicating with them? Did they speak English?
"My host family had one daughter and she attended the school I taught at. My host mom spoke almost perfect English and my host sister spoke very well for her age! I loved being able to talk with them. Every night we would talk at dinner for so long! My host dad knew only a little English but my host sister or host mom would usually translate for him. Being able to communicate with them made my experience so much richer! But I was still able to establish a relationship with my host dad even though he didn't speak much English!"
What surprised you about living with a host family?
"I think the thing that surprised me the most about living with a host family was how much I grew to love them! Sure their customs are different and the food they ate was different than what I was used to, but my host family made my experience in Russia one that I will never forget! I never had a sister growing up and my host sister filled that role! I loved spending time with them. They truly became my family away from home!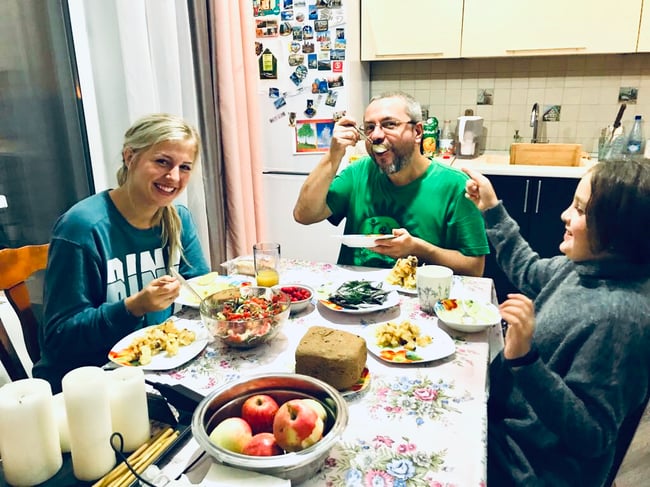 What are some of your favorite memories with your host family?
"Some of my favorite memories with my host family were spent at the dinner table talking with each other. They taught me how to play traditional Russian games which was really fun! My host family also took me shopping, to visit a natural wildlife park with my host mom's foreign exchange students, and out traveling the city. I loved to spend time talking with them and making new memories!"
Are you glad you lived with a host family?
"When I first signed up for the program, I initially wanted to live in an apartment with the other teachers, but my favorite part ended up being living with a host family! They helped make my experience one to remember. The bonds I made with them I will cherish forever! They will always be apart of my heart and my family."
What were the pros of living with a host family vs. living in an apartment with others in your group?
"The Pros of living in a host family would include being immersed in the culture, trying and making traditional foods, learning phrases and words of the language, getting to go to cool local places, and being in a family unit. Living in an apartment gives you the opportunity to spend more time with the other teachers, but honestly I spent a great amount of time with them when we were all at the school together. Having lived with a host family, I wouldn't have wanted it any other way!"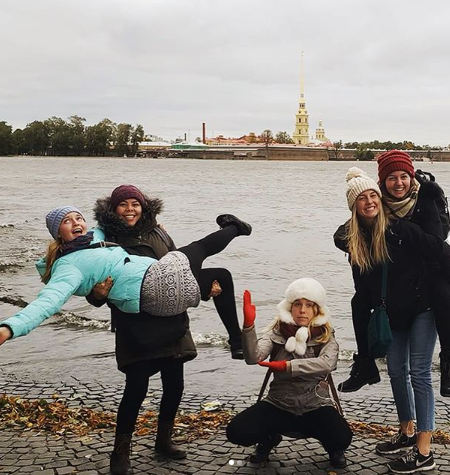 Have questions about what a semester abroad will be like?
We know you probably have a few! Click the button below to speak to a representative in the ILP office and learn all about the program!