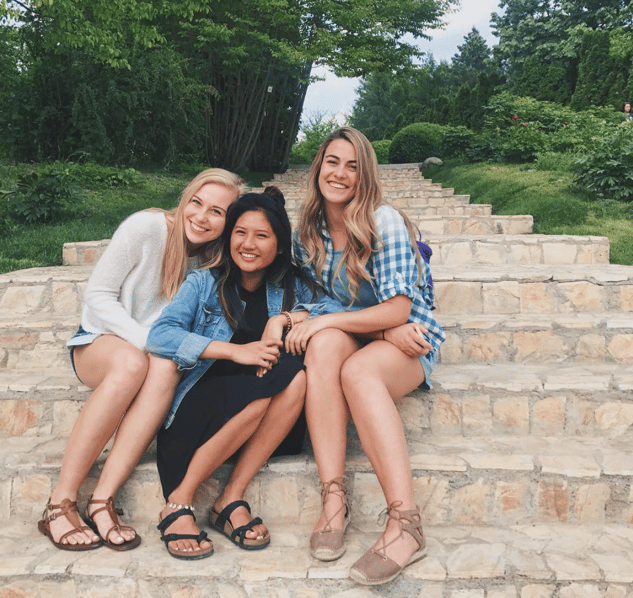 Dreams of running around Austria? Pretty sure everyone has that dream … but if you are actually going to make that happen, you are going to need these travel tips!
Not sure there's a reason not to visit Vienna, so this post isn't about convincing you to come run around the pretty streets. Instead, there are just a few things you should know before giving this country a visit so you have the best vacation possible.
Pst: It's easy to hop over to Vienna if you're already spending a semester volunteering in Europe with ILP! Come talk to an ILP rep about making that happen.
Here are your go-to tips for exploring Vienna:
Say The City's Name Right
Get Yourself To Vienna
Navigate The Public Transportation
We Recommend Seeing These Places


Don't Miss These Day Trips

+ Our Favorite Places To Stay
Say The City's Name Right
Look like a local if you practice your German and say "hello Wein" instead of "hello Vienna". The "w" here makes a "v" sound, so you'll be saying "Veen" instead of the very American version, Vee-En-A.
Get Yourself To Vienna
Flying
You'll probably fly here, so look for cheap tickets to Flughafen Wien-Schwechat, or VIE. From Kiev, you can score flights for around $100 but it looks like for other ILP countries, it will be around $200 from your home city, but you could get better flights from other European destination, like Germany.

We like using Skyscanner to hunt for cheap flights .
The airport is just outside of the city limits, so you'll need to take a taxi or ride public transport to get where you want to go.
Train
Vienna is very well connected by trains so it might be cheaper to get there via rail instead of flying. Head's up — when booking tickets, look at two domestic tickets, instead of one international one. If you're heading here from Budapest, take a train to the edge of Hungary, then use a separate ticket to get you from the edge of Austria to Vienna.
We love checking out the Eurail to see if that is a good option for you.
Get to the city itself
The cheapest way is to rock the S-Bahn, which is a commuter train. It runs from 5:00 AM to midnight and only costs 4 Euro for a ticket into the city center. Get the train to Floridsdorf and get off at the Wien-Mitte Station (it's a 35 minute ride). From there, you can take the U-Bahn to where you want to go. U3 takes you to the core of the city and the U4 gets you to the Schonbrunn Palace. We'll talk more about public transportation below.
You can also take a taxi if you'd like, but it will be more expensive.
Navigate The Public Transportation System
Vienna has a rad public transportation system (think subways, trains, trams, buses, night buses and a railway) which means you can get everywhere you wanna go pretty easily. All public transit is called VOR and you can buy tickets on the platforms in red ticket booths. You'll pay per ride.
We suggest getting a 24-hour, 48-hour, or 72-hour ticket instead of buying a single use ticket every time you get on the tram or metro. The full day fares are only 8 Euro, and even the week long ticket is only double that. Not a bad deal, right?
Get information about the tickets for VOR here.
Avoid The Fines
You won't need to show your ticket to hop on the bus or tram, but instead will need to stamp your ticket before getting on the platform. It looks pretty easy to just hop right on without a ticket, but that's not only *super dishonest* but you can be fined a few hundred dollars if you get caught riding without a ticket. So just know it's not free, it just looks free.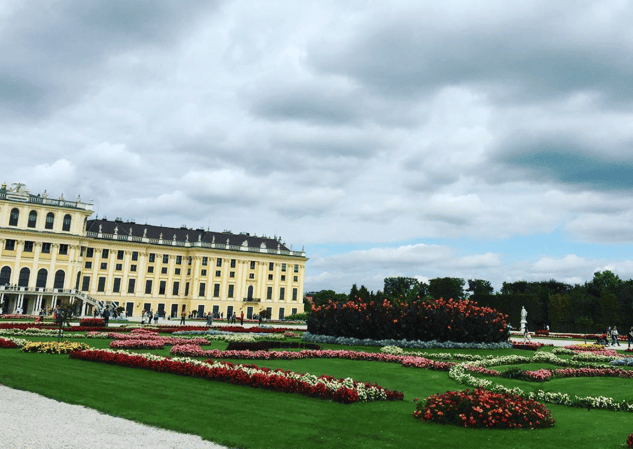 We Recommend Seeing These Things
You will be busy, busy on your trip here! Here's what we recommend seeing:
Schönbrunn Palace
Come admire the gorgeous architecture and expansive (and carefully curated gardens) on the outside. You can pay to go inside and tour the intricately decorated ceilings and gold-laced chandeliers, or you can just hang outside and see the gardens if you're watching your budget.
Address: Schönbrunner Schloßstraße 47, 1130 Wien, Austria

Directions: If you take the UBahn, get off at "Schönbrunn" on UB, get off at "Schönbrunn" on trams 10 and 40, and ride bus 10A to the same stop.

Hours: 8:00 AM to 5:30 PM

Tickets inside: There are tons of tour options that are a couple hours long to full day options — see more on their website.
Belvedere Palace
Another stunning Baroque style palace, Belvedere is where Prince Eugene used to hang out in the summer time (lucky). Come inside and see famous pieces of art like Kiss (Lovers) and Judith) by Gustav Klimt (these are MUST-SEES for art lovers).
You'll also see pieces from Claude Monet, Vincent van Gogh, and Max Beckmann.
Address: Prinz Eugen-Straße 27, 1030 Wien, Austria

Directions: By subway — Take the U1 line and get off at Hauptbahnhof and walk about 15 minutes, or take the 18, or O line to Quartier Belvedere and walk for 7 minutes. To get there via bus, take 13a and get out at Mommsengasse and walk for 10 minutes.
This site also has walking directions if you'll be close.

Hours: 9:00 AM to 6:00 PM

Tickets: The building is broken up into three sections and you buy tickets depending on what you'd like to see. Get info here.
Votivkirche Church (AKA Votive Church)
When someone failed to assassinate Emperor Franz Joseph, Emperor Archduke Ferdinand built this church as a thank you (um, pretty great thank you gift, don't you think?) This looming-gothic church is stunning to see in person. No trip to Europe would be complete without admiring some mad-pretty churches, and Votive Church certainly fits the bill.
Address: Rooseveltplatz, 1090 Wien, Austria

Hours: 4:00 PM to 6:00 PM, Monday - Friday
10:00 AM to 1:00 PM Saturday & Sunday
*These are hours open to the public, but you can of course admire from
the outside whenever you'd like.

Tickets: 3.90 Euro

St. Steven's Cathedral
Another stunner, the St. Steven's Cathedral is an iconic beauty, looming with carved pinnacles and detailed spires. You'll want to fill up your camera roll with pictures of this cathedral, that's for sure.
Address:

Hours
Tickets:


Need more to do? We have you covered. Alumna Kerry H. is an ILP alumna who has been to Vienna 3 times — she recommends checking out:
Maria Theresien Platz

The Volksgarten (very near M.T. Platz)

Austrian National Library

Hofburge Palace

Rathaus (Town Hall)

Spanish Riding School
Vienna Isn't Vienna Without Cafes
When you start traveling, you'll hear of places that are UNESCO sites — which basically mean they are pretty special culturally. Sites like the Great Barrier Reef and Stonehenge are UNESCO sites. What does this have to do with Vienna? Cafe culture is deemed a UNESCO practice.
Yep, sipping drinks and munching on pastries on the dreamy streets of this city are as important to Austria as some of their other huge and historic palaces. Cool, right? So while you are here, set aside some time for a good cafe lunch or two.

We particularly love Cafe Landtmann - (get the hot chocolate). Just so you know, it's very fancy inside, so we suggest packing up a dress and wearing that out to her you keep cool and stay stylish. Paul McCartney and Sigmund Freud are reported to have visited this cafe more than once.
Don't Miss These Day Trips
Hallstatt
Situated in the mountains, overlooking a lake, it the cutie little town of Hallstatt. It's easily reached via train from Vienna where you an spend a day peeking into a little museum, renting paddle boats for the lake or riding the funicular up the slopes.
Get more info about Hallstatt, here.
Salzburg
The city of Salzburg is just a couple of hours away from Vienna and is home to the Sound Of Music Tour which we're pretty much in love with. Hop on teh train (it's about $50) and soak up the Austrian country side before spending a day or two in Salzburg.
Get info on booking a train from Vienna to Salzburg, here.




+ Our Favorite Places To Stay
There are tons of places to stay, so you won't have any trouble finding something to fit your budget if you book early. We do have a couple of recommendations form past ILP volunteers if you'd like an idea of where they love to stay.

Hostel Hütteldorf — ILP Volunteer Kerry says "It's nothing fancy but its cheap, clean, and you get linens and breakfast which is why I've stuck with the hostel!"
Westend City Hostel — Caitlin R. says "Westend City Hostel is a perfect location and they have an awesome breakfast!"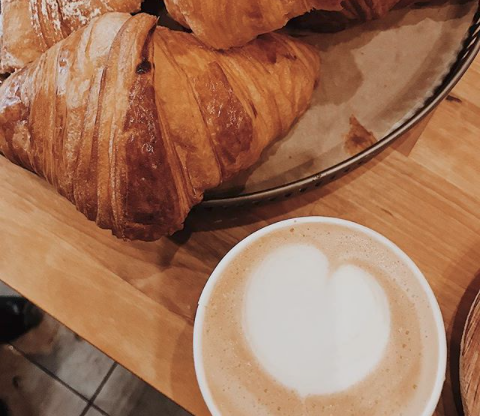 International Language Programs has schools in quite a few European countries where you can teach English or volunteer in an orphanage. Oh and as always, you get vacation time to see countries in the European Union, like Austria!

For a little more info on our orphanage program, click that green button right there (warning: stellar pictures ahead):