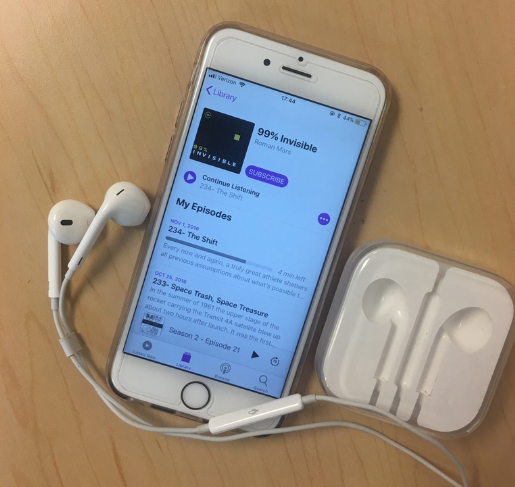 It is hard to know where to start when it comes to the world of podcasts ... but to help you out, I've compiled a list of my favorites that will help you survive a long flight!
(Pst: We're also here to help you know how to pay for a semester abroad in the first place — that link has discounts, fundraising tips and more help!)
Are you going to spend a semester volunteering in Europe or are you teaching English in China? Have your heart set on living in Haiti or volunteering in Central America? Don't panic about that long flight because there are podcasts, and they are a lovely way to keep you entertained for hours and hours and hours ... and hours.
Since there are so many types of podcasts, I've broken them into three groups:
Serious Podcasts
These podcasts are for when you are in the mood to learn that the world isn't perfect (yikes), or when you just want to continually obsess over one bad thing that happened. I'm still upset about how one of these podcast ended, can you guess which one?
This is an on going podcast that started before you were born (shout out to people born before 1995). I recommend listening to The Problem We All Live With. It was life changing.
**Because the issues that This American Life reports on are real, some episodes may not be suitable for all listeners. They give forewarning if the episode is not for everyone.
If you don't know what this is, I am sorry, and you need to stop living under a rock. If you have been living under a rock, you need to start with season one, and make sure that you have plenty of time to just sit and listen because you won't be able to stop. After you are done with season one you need to look up this, and laugh for days.
This one isn't as serious as the other two, but it brings up fascinating topics to contemplate and inspiring stories to keep you going, or to make a radical change. My favorite is Champions.
Your favorite Ted Talks have been moved over to just their audio, which means you can listen to them via your favorite Podcast app. Spend a few hours on your way to living in Ukraine brushing up on the latest and most thought-provoking lectures.

Nerdy Podcasts
These podcasts are for when you want to start spitting out random facts about everything and anything!
I literally can't think of a better podcast that puts together half hour to an hour long podcasts about intriguing topics, that are also a little random. My favorites are How Pizza Works and How Police Dogs Work.
This podcast covers almost all your topics about science, and then some. Warning: this podcast can get really nerdy, but if you want to learn a bunch, this will be a great podcast for you!
Ever sat and wondered about how your favorite songs were written? Welcome to Song Exploder. They interview the artist on how their music came to be, and then play the song for you (it's also a rad way to find new bands and artists).
These episodes are fascinating and cover everything from interviewing a man who wants to draw every single building in New York City to the disappearing world of a certain video game ... it's a "design podcast" focused on the things you wouldn't even think about, but once you realize they are there, you can't help but notice. Pick out a few episodes and get hooked.
Hilarious Podcasts
These podcasts are for when life has got you down ... and you just want to laugh at someone else's.
Have you ever had a dispute over a simple matter with your friend or family member? If it didn't get resolved, maybe you should take it to Judge John Hodgman. He takes cases that are as silly as men wearing tank tops to even sillier cases like what kind of soap to put in the kitchen soap dispenser.
I debated whether to put this in the nerdy or hilarious podcasts because this informative podcast that is usually hosted by Neil deGrasse Tyson "your personal astrophysicist" that covers various science topics but combines with pop culture .... and always have a comedian co-host.
As advertised, this is a podcast for eaters! This hilarious podcast pokes fun at some of the culture that is connected with food. My favorite is Serial Parody: Investigating An Office Fridge Theft.
Still need more ideas on how to survive a long flight? Not a problem. Need ideas on how to actually go abroad and have a long flight on your calendar? Not a problem ... Come volunteer with International Language Programs!
We've got programs all over the world where you'll be teaching English or volunteering in an orphanage for a few hours a day, then will have weekends off and vacation days to really vacation and explore your country. Sounds pretty rad, right?
---
Get way more info about serving abroad and teaching English abroad by talking to an ILP representative who can answer all of your questions: