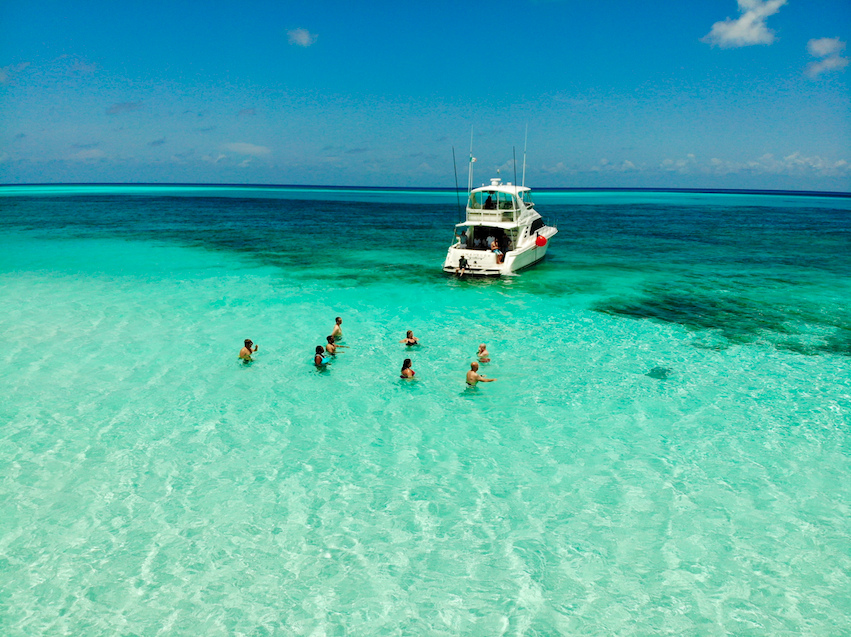 Cancun isn't our number one vacation spot in Mexico (not even close!) but it is our top pick for nearby adventures. The newest addition? The vacation spot of your dreams — Cozumel.
We'll just give it to you straight ... we don't love Cancun. You can read about the pros and cons of vacationing in this tourist hotspot, but basically, we are only fans of the area because there are so many jumping-off points from this single city. We've detailed all of those vacation spots in one big list in that blog post above to help you out, but this post is all about Cozumel, a beautiful island rimmed with white sand and the bluest water.
It may be small, but they've got ocean adventures above and below the waves plus hikes, a colorful capital city, and foodie spots galore to keep you very very very busy when you aren't relaxing. ILP volunteers — Aren' t you glad you're not just spending a week in this country as a tourist?


---
Come spend a whole semester in Mexico
See what volunteering here with ILP is all about.
---

Cozumel really is the stuff of your dreams. While it certainly isn't a secret island destination, Cozumel isn't nearly as crowded or overpriced for what you'll find in nearby Cancun. Just another reason to use Cancun as a jumping-off point rather than your premier destination! The island is easy to get to, has some of the countries loveliest beaches, and enough to do to keep you busy for more than a week.
About The Beaches
A Few Things To Know
Cozumel's an island on the Caribbean side of Mexico, so I know your first priority is hitting the best beaches. The beaches on the eastern side of the island tend to be rockier and have rougher waves, but have more of an undiscovered feel if you want to go off the beaten path a bit. Playa Chen Rio and Ixpalbarco are the two that are the most popular on that side of the island, however another tip? The beaches on the northern coast have calmer waters and shallow swimming spots, making it a good place for families to hang out on.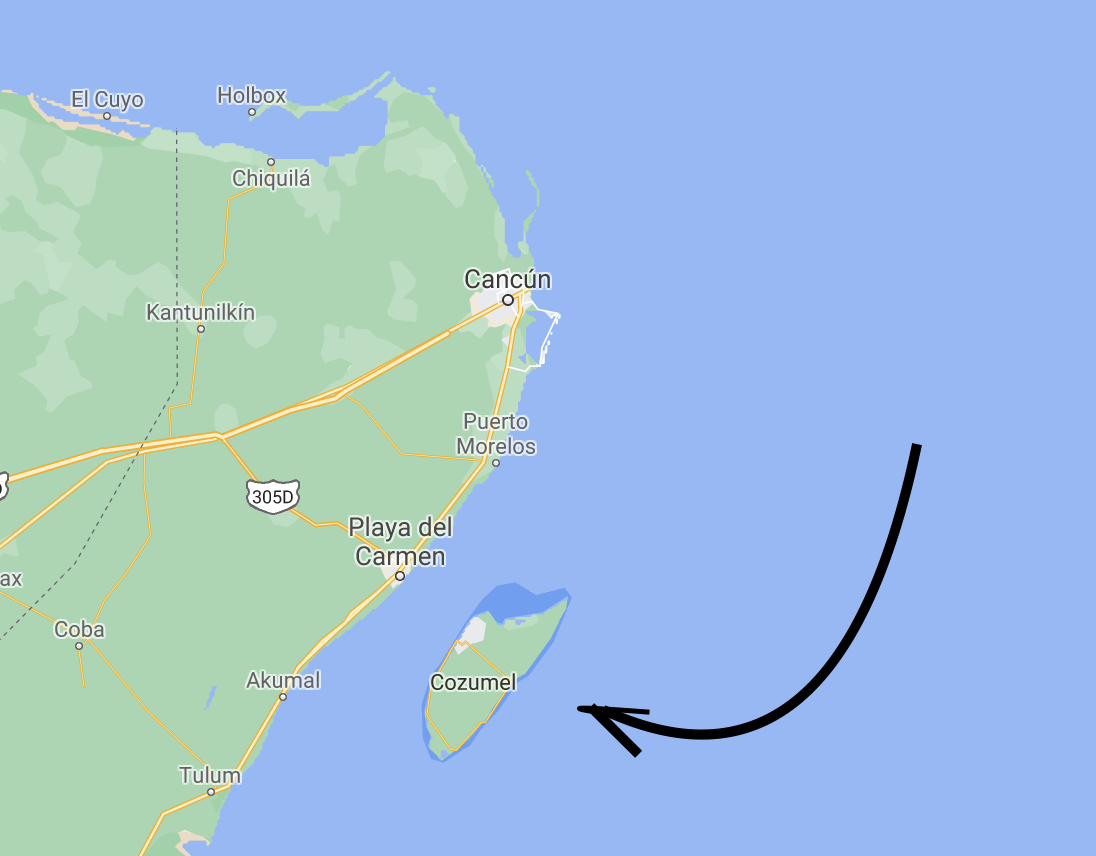 All of the beaches are public, but not all are free. The more popular options typically have a cover charge by the surrounding beach club that goes towards a tab for something to eat or drink. I've tried to include the cover charge so you have a ballpark on what to budget for while picking your beach. Just so you know, you're more likely to run into that on beaches on the western side or the southern + northern tips of the island.
My Picks For Swimming Beaches
The whole island is a stunner, so you really can't go wrong, but here is a mini list of the most popular beaches on the island. As mentioned above, if you want more of an undiscovered feel, head to the eastern coastline. I've also included different sections for beaches that are good for snorkeling (plus a swim) and other beachy things to do. But if you want pretty water, white sand, and all the amenities right within your grasp, there are the top picks:
Playa Palancar is one of the most popular beaches on Cozumel, boasting views that you think came straight off of a postcard. The water is unbelievably blue and it's just $10 to grab a chair and umbrella if you even want one You can also pay around $20 to access water trampolines, paddleboards, kayaks, and snorkel gear. Just skip these perks if you want a free, public beach.
Playa Corona is the island's oldest beach and makes the list as one of the best places to snorkel (so you'll get snorkel info in that section below). There are little restaurants around for drinks and food if you'd like.
Paradise Beach Club is arguably the top spot on the island, with al-a-cart pricing available to help you budget. To get inside, it's a $3 fee per person which is the minimum to get you access to the chair and pool access, and there's a $10 fee to pay that goes towards drinks and food, then amenities go up from there. You can snag an all-inclusive pass for about $64.
Mr. Sancho Beach Club is also very popular, with a $50-$60 cover fee that gets you access to all the amenities (like the chairs and umbrellas and swimming pools) plus unlimited food and beverages. The beach here is pretty too, with calm water perfect for a swim.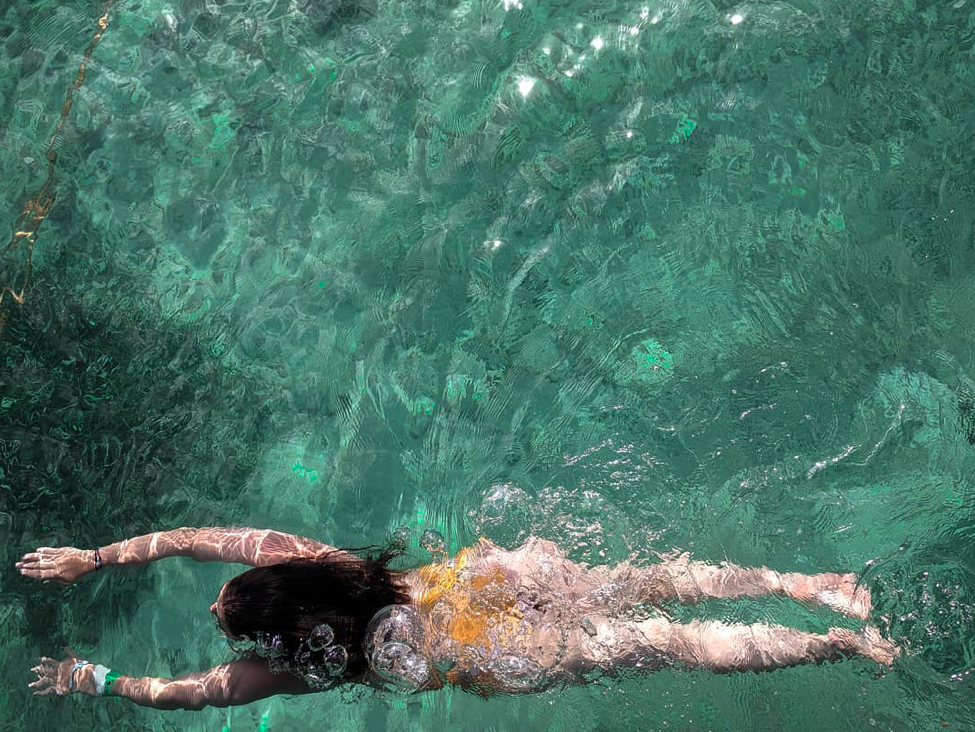 About The Snorkeling
Cozumel is a premier diving and snorkeling location with more than a few places to recommend. The marine life here has quite the variety, plus with such clear blue water, you're bound to see a lot. You'll see a handful of spots that are great for snorkeling on your own if you want to bring your own gear or rent it there, or you can join a tour group who can provide you with the gear and a snorkeling location (lunch is also typically included).
A Few Spots To Check Out
El Cielo is a premiere diving spot, and best done with a tour. It's amazing — spot starfish and stingrays in the bluer-than-blue water. It's only accessible by boat (around a mile offshore from Cozumel, most leave from San Miguel. Plan on an hour or so boat ride to get you there).
Palancar and Columbia reef are two of the most well-known reefs on the island, found on the southern end of the island. Find schools of fish, eels poking out of sea caves, some sharks, and maybe the odd barracuda and even sea turtles here! Columbia reef has been known for spotting sharks and eagle manta rays ... basically, the diversity the astounding. Some tours will take you to both of these locations + El Cielo, so that's something to look into.
Playa Corona has a nice little reef that isn't too far of a swim. It's one of the island's "limestone" beaches so be sure to pack up shoes to protect your feet. Many people grab their own gear, but you can also rent snorkel masks for around $6 from vendors on the shoreline.
Dzul Ha Reef is home to schools of fish, many types of corals, anemones, sea fans, and quite the array of your favorite fish friends. It's another limestone reef, so packing up water shoes is helpful. This is another location where you can hire a tour (prices float around the $45 range for a snorkel trip on a glass-bottomed boat) or you can rent equipment for around $10 (with a $2 locker fee) for the day. Pro tip? You may be able to see more in the later afternoon, around 4:00 PM or 5:00 PM. Some report that once the ocean quiets down and there aren't as many boats out, you can see a few more ocean creatures than other points in the day.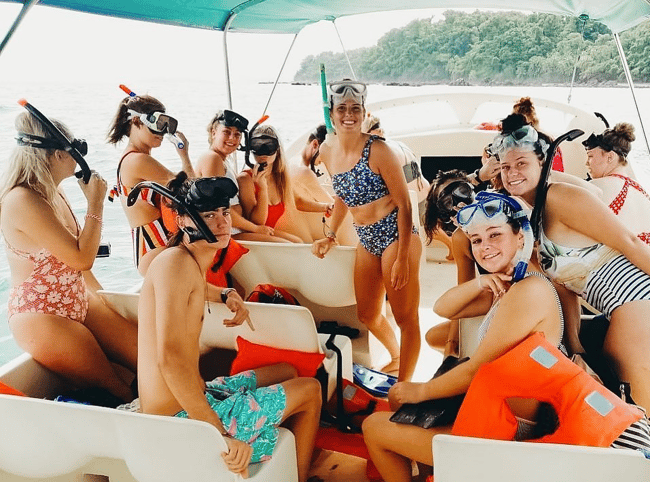 Other Things To Do
Go On A Chocolate Tour
Mexico is known for its unique cacao, and chocolate tours are a pretty popular thing to check out for all chocolate lovers. The Mayan people began utilizing these dark and bitter beans centuries ago, turning them into the first hot chocolate drink after drying and roasting. The Mayan Cacao Company has a few different tours and tasting options depending on what you're looking for.
Sunset At San Miguel
The island's capital is a string of brightly colored buildings, rimmed with a boardwalk. It's a prime spot to do a bit of shopping and catch the sunset. Sunday nights are particularly fun where you can catch a few free events (like live music) in the city square's park.
Visit Punta Sur Beach + Eco Park
Don't miss this spot! It's found at the very southern tip of the island and is one of the must-see gems of Cozumel. The water and snorkeling here is just fantastic — a spot where you can snorkel on your own if you want to make the long swim out to the reef. However, it's not just a place to snorkel.
If you'd rather explore the ecological park, that's also recommended. It's a $14 entrance fee to this protected area which is home to pygmy raccoons, an array of birds, iguanas, plus a lighthouse which provides some stunning views. Climb all 127 stairs to the top and if you're lucky and visit on a clear day, you may be able to spot Cuba. Feel like doing a bit more exploring? Hike around the El Caracol ruin which dates back to 1200ish AD. The eco-park is a place to spend quite a bit of time, thanks to everything there is to do here.
Time For Tacos
Don't tell the other ILP countries, but Mexico is probably the location with the best food. Around Cozumel, you'll find resorts that have more American food served, but there are still plenty of spots where you can get a plate of street tacos. Los Otates is wildly popular (found at 15A Avenida Sur, Centro), Cuatro Tacos (found at Calle 3 Sur 5ta y Melga) is another recommended spot, same with Machete (Av. Doctor Adolfo Rosado Salas 221, Centro).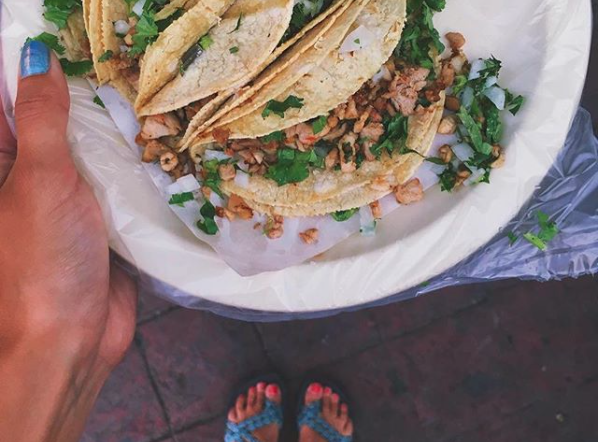 How Long To Stay + Other Details
Plan Enough Time
There's a big range of recommended time to spend on this island, but two full days is the suggested minimum. Several travelers loved spending five to seven days here (or longer!) because there is so much to see. If you're wanting to go snorkeling at a few different spots and travel around the island, you'll want more time.
It's A Popular Cruise Stop
Cozumel is a frequent cruise stop for vacationers, which means the island can get busy. If you'd like to avoid the crowds more, think about looking up the cruise dates for Cozumel and heading to the eastern side for some beach time (most tourists stay on the western side). The island is home to three different cruise ports: Punta Langosta, International Pier, Puerta Maya Terminal.
When To Visit, Weather-Wise
March to June are the most popular times to visit because of the weather which is around 90 degrees Fahrenheit during the day and in the '70s at night. The winter months are nice but slightly cooler, and the end of summer into the fall bring more rain and the chance of tropical storms.
Getting To Cozumel + Around The Island
Getting Here From Playa Del Carmen
Playa Del Carmen is another favorite destination, just a drive away from Cancun. ILP volunteers recommend skipping Cancun as a travel destination and just hitting nearby spots like Playa Del Carmen instead, so if you decide to soak up some sun here, you'll be in the right spot to catch the ferry from Playa Del Carmen over to Cozumel.
From Cancun, there are shuttle buses that depart the Cancun International Airport. The shuttles run every 20 minutes from 8:15 am to 11:45 pm, and only cost $12 each way. Buy your tickets here! But just a heads up, they do need to be purchased at least 4 hours in advance, and cannot be purchased more than 15 days in advance.
From the bus station, make your way to the ferry station (it's typically pretty close, or you can just ask around). The ferries have frequent departures (check the schedule here). Plan on a 45-minute ride on the regular ferry ($10) or a 20-minute ride if you go the luxury ferry route ($12).
How To Get Around The Island Itself
Taxi is the way to go. Since it's a popular tourist destination and cruise port, taxis are a bit pricier (they all have a fixed price, so not much negotiating) but can take you to where you want to go. You'll want to bring cash for your rides. This post has a breakdown of what the taxi prices are from popular cruise ports to popular beaches to help you get an idea.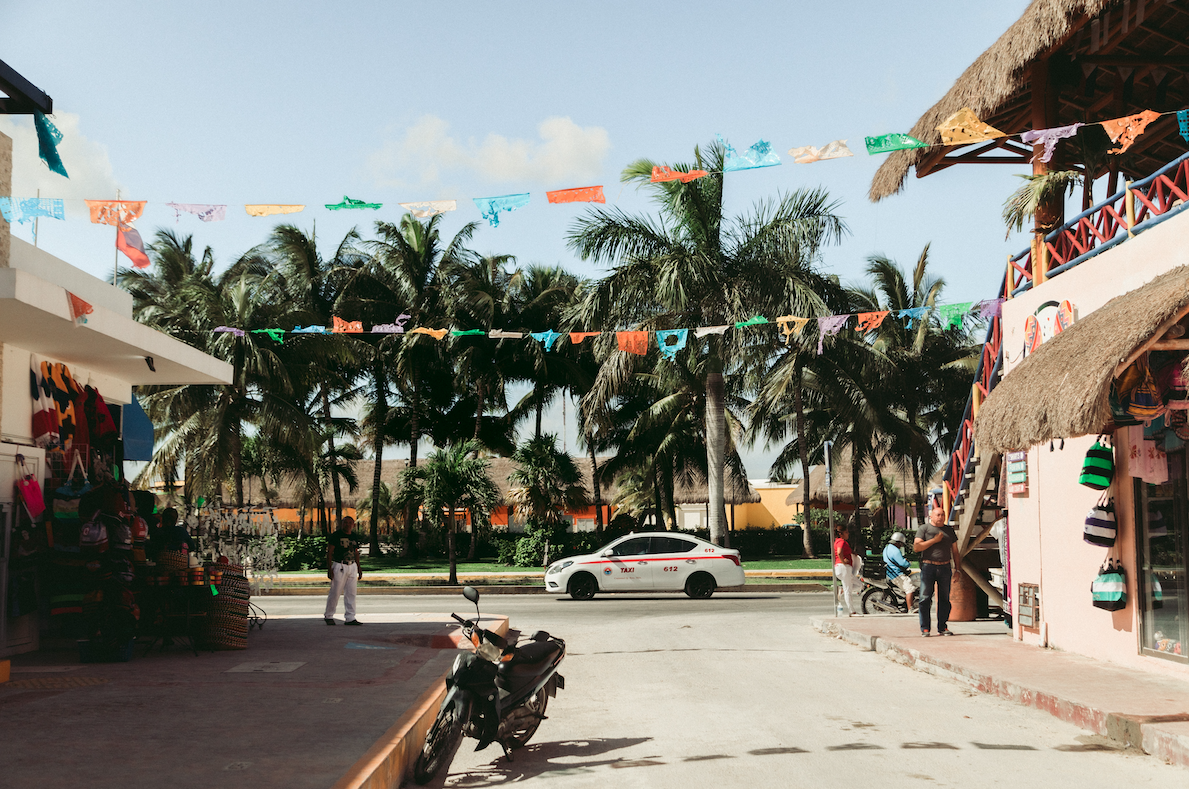 Wanting to spend some time abroad but have questions?
Since all of us have volunteered with ILP ourselves for at least one semester, we are here to answer any questions and love talking about our experiences! Click the button below to learn some of the basics about the program.