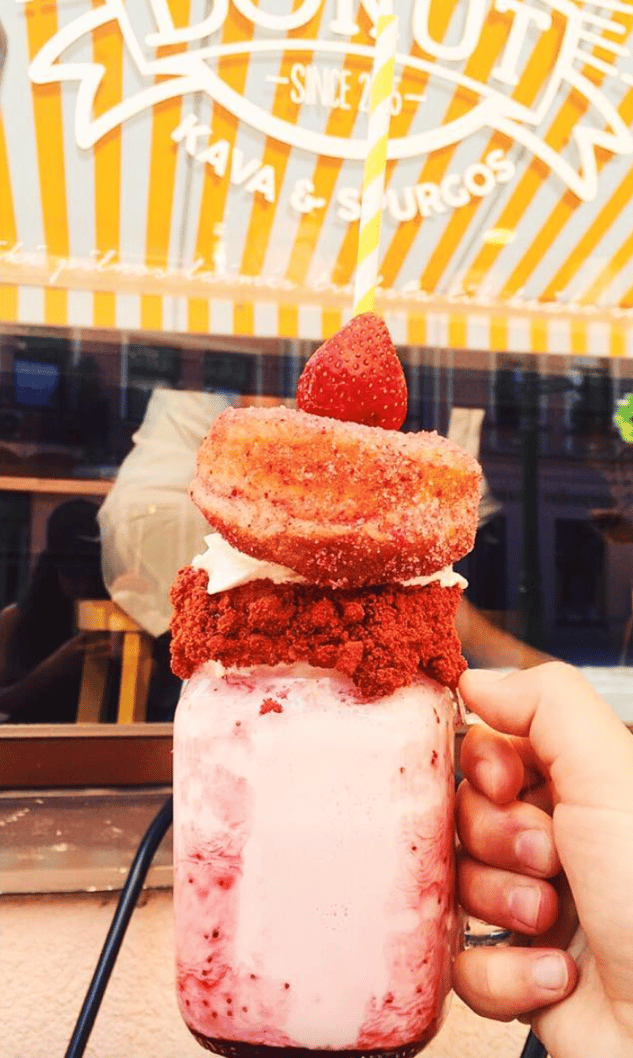 Who wouldn't be happy in a country where a cup of hot chocolate is literally melted chocolate?
You lucky ILP Lithuania volunteers…Not only are you living in Europe and traveling to places like Paris and Venice on vacation, you can hang out at the most adorable (and delicious) cafes during your free time any day of the week. And we want to make sure you know about them before going abroad because how sad would it be to come back from your semester abroad and then find out about the awesome milkshakes and donuts you could have been eating?
---
Have questions?
See what it's like to volunteer in Lithuania is like.
---
So, without further ado, here are the cafes you can't miss on a trip to Lithuania:
Holy Donut
I couldn't wait to save the best for last. Our volunteers LOVE it here. Kendall P. says that "Holy Donut is literally the best place ever". Laura S. says "Holy Donut is magical". Shelbi P. lets us know that "they really are the best donuts I've ever had anywhere." See what I mean? We even already have a whole blog post dedicated to this one spot. You can read all about the fabulous donut milkshakes right here.
But wait, there's more. Yep. Holy Donut used to only be in Kaunas BUT not anymore. If you're in Vilnius now, you don't even need to leave your city to eat here. Yesssssss.
Kaunas Address: Vytauto pr. 24, Kaunas 44355, Lithuania
Vilniaus g. 37, Kaunas 44289, Lithuania
Vilnius Address:

Vokiečių g. 9, Vilnius 01130, Lithuania

Hours — vary according to shop, but generally 8:00 AM to 8:00 PM.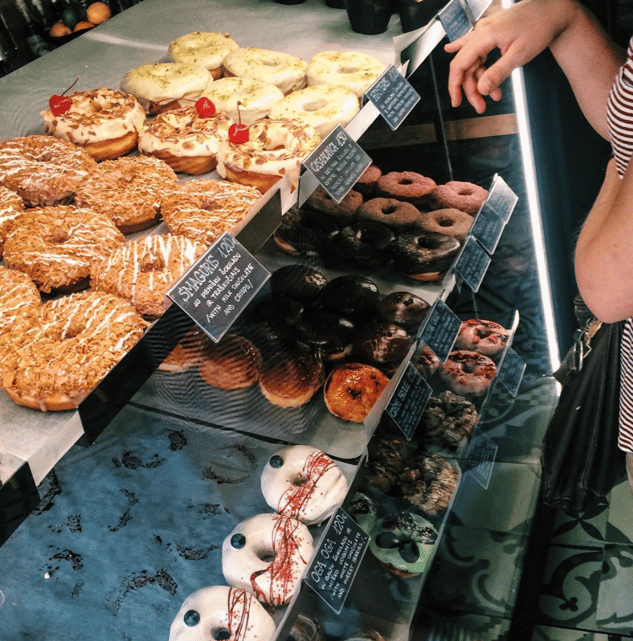 Donut Lab
If you are looking for another donut shop, we've got you covered (along with some tips on what to order). This apparently was "the STUFF until Holy Donut came along" (says Shelbi P…she's volunteered with ILP twice in this country) so it's worth a visit. Donuts so soft, with such indulgent icings....drooling.
Shebi loved getting the strawberry icing and strawberry rice krispies and the hazelnut chocolate icing with chopped hazelnuts. Yum. Find this cafe in both Kaunas and Vilnius.
Kaunas address:

S. Daukanto g. 26, Kaunas 44246, Lithuania


Vilnius address: A. Jakšto g. 3, Vilnius 01105, Lithuania
Hours: Check individually, but generally 9:00 AM to 9:00 PM with some fluctuation on the weekends.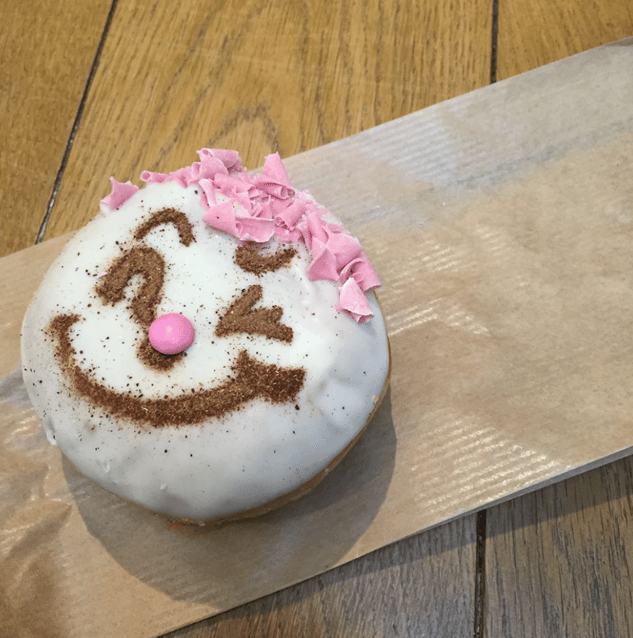 Arba Arba - Pienbaris
Looking for a fabulously thick milkshake in Eastern Europe? They are tough to come by but not at Arba Arba. Most times, when you order a milkshake in Europe you're looking at a flavored milk. They aren't thick and don't nearly put in as much ice cream than the shakes in America. But at Arba Arba, you'll find fun flavors and toppings and a dessert shop that's open year round.
Here's what Ashlie A. had to say "Cutest cafe in the word in Vilnius Old Town. And fabulous milkshakes". Enough said.
Vilnius address:

Gedimino pr. 47,

Vilnius, Lithuania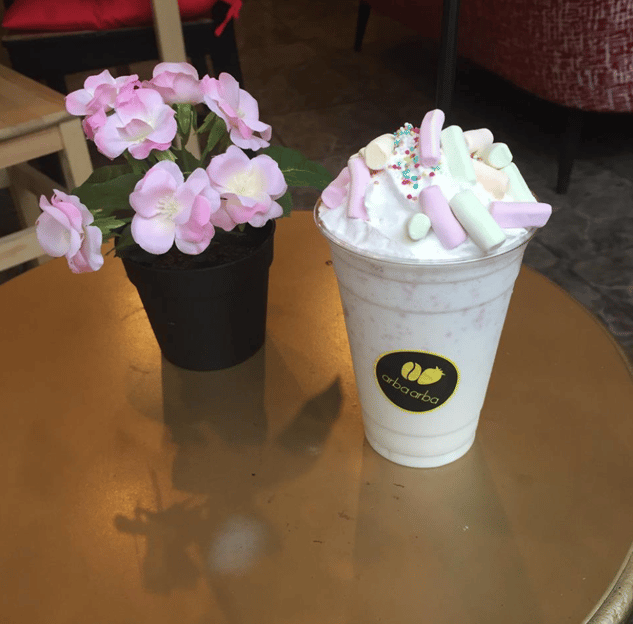 Pink Milkshake
When is back to back milkshakes ever a bad thing? Pink Milkshake and Arba Arba are pretty similar, but this little shop is only open during the warm season, from April to October. You can find some pretty unique flavors like a watermelon milkshake, or ones piled high with whipped cream and gummy bears. Strawberry-lime-mint is another innovative flavor, but you'll also find classics like Oreo, mint chocolate, and mango + strawberry. Yum.
Vilnius address: Vilniaus g. 45, Vilnius 01132, Lithuania
Hours: Generally from 10:00 AM to 6:00 PM (Closed Saturday + Sunday)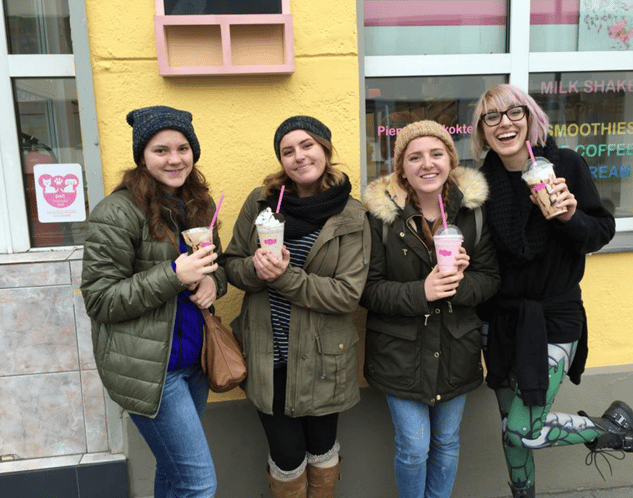 Cat Cafe
Ok, as soon as you arrive in Lithuania you will see that they love cats. I mean, you can buy paintings of cats by artists on the street! It's a whole thing here.
Of course they would carry the tradition into the cafes as well. The Cat Cafe is exactly what it sounds like. Head to downtown Vilnius and chill out, grab a drink, and hang out with some cats. Laura S. lets us know that "the Cat Cafe is cute but the food is pretty bland — you mostly go for the experience." But I mean, come on! Fluffly cats just wandering around in a cafe? I'm so there.
Vilnius Address:

Gedimino pr. 5, Vilnius 01103, Lithuania


Hours: 11:00 AM to 10:00 PM (Closes at 8:00 PM on Sundays)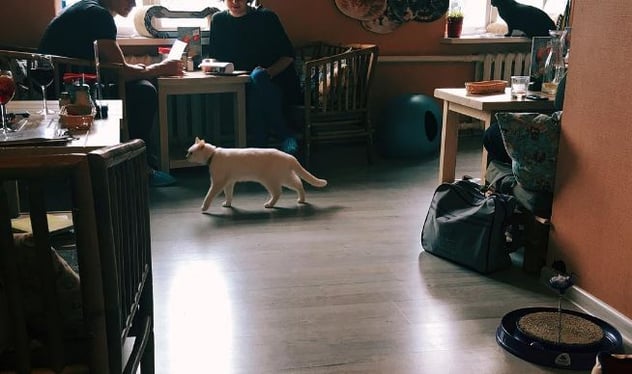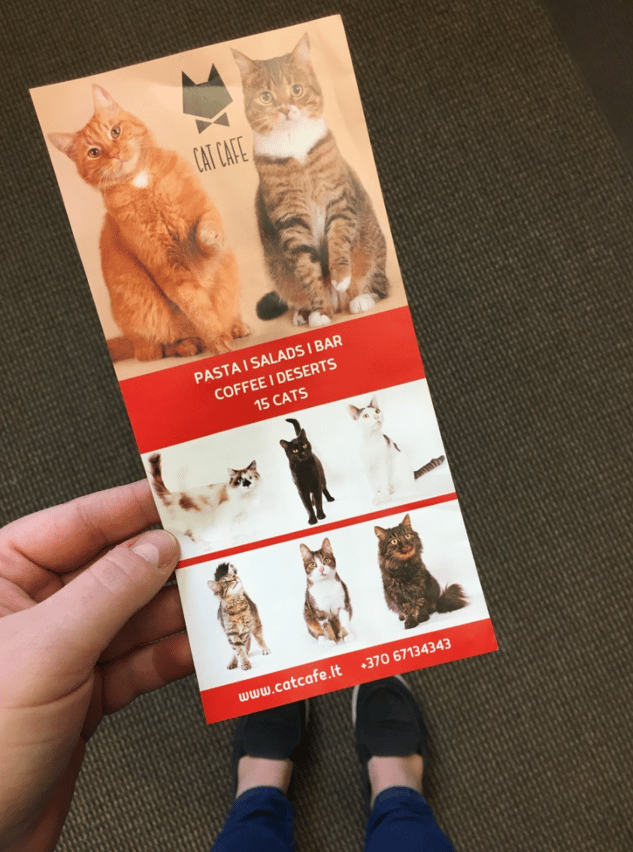 Chaika
Hip and vegan friendly, Chaika is a cute little wooden house-turned-cafe which is darling. Even if you aren't vegan, the vegan chocolate peanut butter cake is scrumptious. Their dessert menu is pretty impressive, with fruit tarts and slices of rich cakes, topped with pistachios and pomegranate seeds. Add in cool teas (surprises like matcha brewed lemonades) and coffees with vintage Russian memorabilia and you are set for a cozy afternoon in.
Vilnius address: Totorių g. 7, Vilnius 01121, Lithuania
Hours: 10:00 AM to 9:00 PM (Weekends, 11:00 AM to 8:00 PM)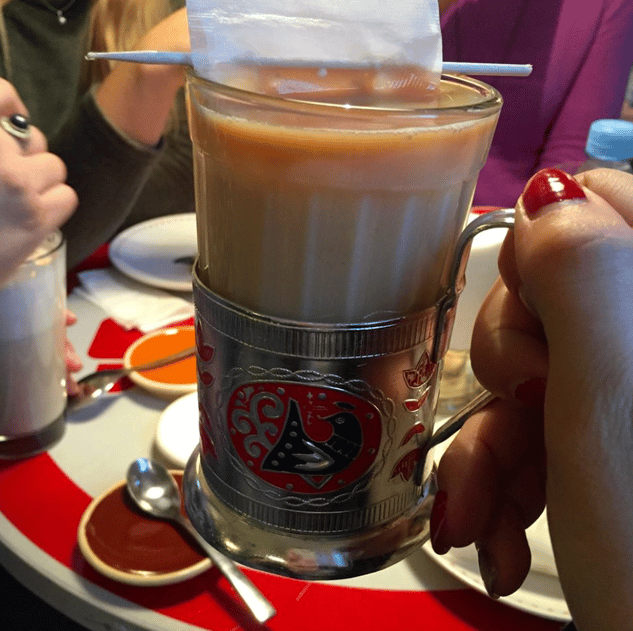 Mint Vinetu
Calling all book-loving-cafe goers! Nearly every wall in this cafe is lined with bookshelves (and there's internet!) so feel free to get your lessons plans done between sipping on cool drinks or browsing unique souvenirs. You can find some neat takeaways too, like loose leaf tea in little tins, a rack of beautifully photographed postcards, and Vilnius themed tote bags. There's also a piano you can play after you flip through some local music albums.
Vilnius address: Šv. Ignoto g. 16, Vilnius 01144, Lithuania
Hours: 11:00 AM to 8:00 PM (open at 12:00 PM on the weekends)
Sopranos
Shelbi P. has got another recommendation and although this cafe is a bit touristy, "the sundaes are to die for!" Her pictures really do prove her point, right? Those look amazing and are right on the main tourist street in Vilnius, so it's easy to find.
Vilnius address: Pilies g. 3, Vilnius 01123, Lithuania
Hours: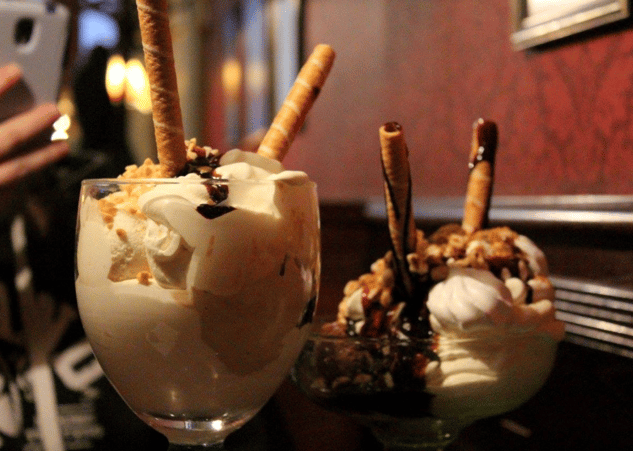 Thinking you need to spend some time in Europe?
It would be a bit of a stretch to come visit all of these cafes in just a short trip ... but wouldn't be that much of a task to see them all if you're living in Lithuania for a semester! Come discover more about how you can be an ILP volunteer in Lithuania by clicking that button below!