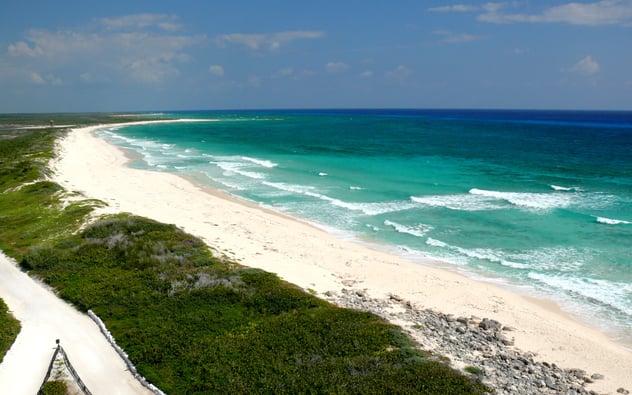 Isla Contoy and Isla Mujeres are two beautiful islands that you can escape to while you're vacationing in Cancun, but we're big fans of the gorgeous Isla Contoy.
We're not sure why you wouldn't want to lay in the sand and swim in these turquoise islands — Isla Contoy is seriously dreamy. If you're into finding spots most tourists miss out on, you might what else Mexico is hiding with this Mexico Destination Guide — you'll find our favorite tips, recommendations, and spots most tourists miss.
But now here's all you'll need to know about visiting Isla Contoy.
Tell Me More About Isla Contoy
Isla Contoy is a small island in Mexico (and we mean small). The island is only 5.3 miles in length and 1.22 square miles (pretty itty bitty, but packed!) . Isla Contoy is declared a National Park and is safe nesting ground for 4 different species of turtles (baby turtles...so cute!!). The beaches are beautiful and the tacos are unreal.
How To Get Permission To Visit
From Cancun and Isla Mujeres (more favorite spots for ILP vacations) you can find boat excursions out to Isla Contoy, which only allows a certain number of visiters (around 200) per day, so it makes it feel more exclusive. Just visit the park offices in Cancun or Isla Mujeres to get a permit for a day of hanging out with turtles and manta rays after soaking up all the sun.
How Should I Spend My Day?
Spend your time laying out on the beach with your favorite book in one hand in taco in the other (Taqueria Tonicho is the place to visit — yum!). We definitely recommend long days on the beach where you just relax and let the hours roll by. With the views on Isla Contoy you can't go wrong.
We adore the view from the beach (who wouldn't love that turquoise water?) but don't forget to look up. Even though this island is small, it is home to over 152 species of tropical marine birds.
Once you're done with your tan and some bird watching, hop in the water and meet some fishy friends — there are over 500 species that call this reef home. We also love that turtles and Manta Rays hang out here, making for a really rad snorkeling and diving spot.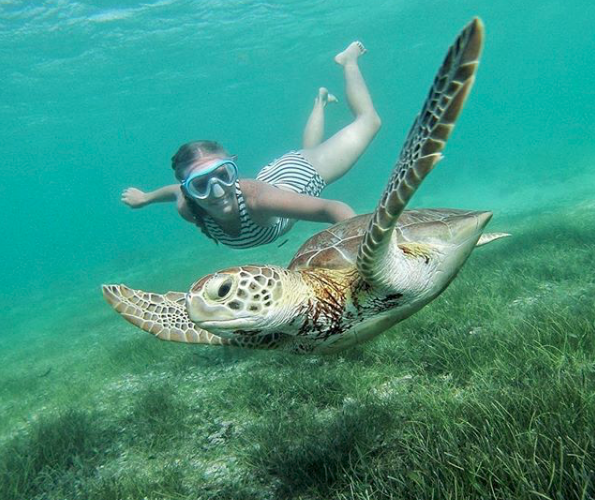 Ready to learn more about how you can make a difference as you volunteer abroad and teach English in Mexico with International Language Programs (ILP)? You'll only be teaching part time (with no experience necessary) which gives you lots of time to cross these things off your Mexico bucket list.
See what other adventures are waiting for you while you volunteer in Mexico — just click that button: