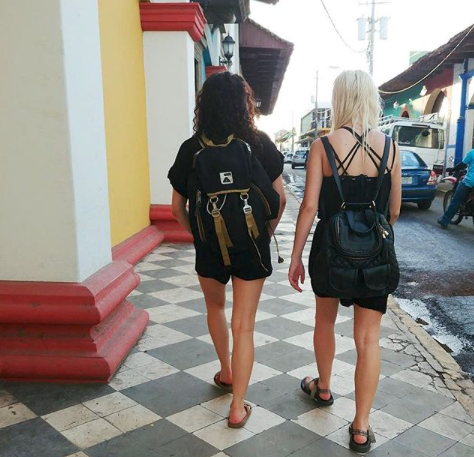 Here's what you need to know about traveling around this Central American country.
Nicaragua is rad, if you didn't know. There's about a zillion things to do for an amazing price (think ziplining in the same dense jungles in Costa Rica, but for half the price). But you can't really get started on your "to-do" list if you can't get around, right?
Spoiler alert: spots for volunteering in Central America are going fast, so come fill out an application ASAP if you wanna come live life in Nicaragua.

We know you want to see all the cool spots in Central America while you're here teaching English (after all, ILP volunteers get vacation time and free time to explore) but you can't really get around if you don't have these tips:
Getting Around In The Cities (And Short Distances)
Taxis

Chicken Buses (& Microbuses)

Walking Around (Which is pretty self-explanatory)
Taxis
There isn't Uber in Nicaragua, so your best bet is a taxi if you don't want to fuss with the public transport system. Within smaller cities, the taxi driver usually sets a fare per person, so you don't really need to negotiate (though in bigger cities, or at night, you'll need to negotiate a bit because prices tend to be higher).

Make sure you are taking legal taxis (not pirate taxis): The taxi's license number should bevisibly painted on the side, and there should be a little taxi sign on top. Inside the car, make sure the driver's licence is visible.
Chicken Buses (which are super similar to Microbuses)
These are decommissioned school buses and are quite the adventure to take. Some of them are all painted and refurbished, but some look just like the classic yellow school bus. Their schedules can be a little unpredictable (people tend to get off whenever, along with the specified stops) but they are very inexpensive to ride.
Microbuses are basically the same as a Chicken Bus, but aren't old school buses; they sometimes make less stops, getting you a bit faster.

Case in point, Granada to Rivas is a 2.5 hour ride, and costs just under $2 USD. You can take 'em for longer distances (like to other cities), but you can get off earlier to just to the other side of town.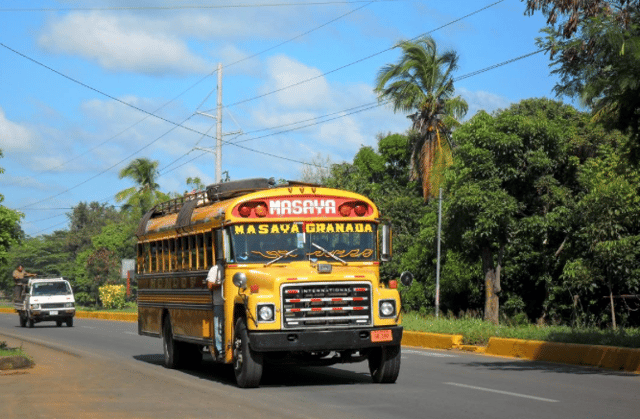 Getting Around To Vacation Spots
Chicken Buses (AKA Microbuses)

Express Buses

Flying
Chicken Buses (AKA Microbuses)
You can take Chicken Buses to more local destinations for a few weekend trips, but you can also take them to some vacation spots ideal for longer breaks. Plan on paying anywhere from $1 to $5 for a ride on the chicken bus, depending on the distance. You'll also find snacks and other random supplies (like batteries) for sale on board.

You can get an idea of how to get from one city to another using the chicken bus on this handy website: you click on the city you're in and it'll pull up a list of how to get to other cities.
Mini Buses + Shuttles
Usually for longer trips between larger cities, you'll need to buy a ticket and get an assigned seat to ride a Mini Buses rather than a Chicken Bus; You can arrive the day of to get a seat, but it's best to get these tickets at least 24 hours in advance.

They will be fewer stops, and these buses usually have reclinable seats. air conditioning and sometimes a screen to watch a movie or two on your ride. A ride is around $10 -$20ish, depending on your destination.
You can also get to other countries via shuttle rather than flying. For that, you'll be better set taking a shuttle to Costa Rica, rather than a bunch of connecting Chicken Buses. Check out Tica Bus, TransNica, Nicabus/Platinum and Central Line for international trips out and into Nicaragua. Expect to pay around $150 or $250, depending on where you're headed. This is a more expensive option; it is more direct and will be nicer ride than taking a mini bus or chicken bus, but just keep that in mind if you're worried about budget.
Flying
Some destinations will be easier to fly to — like the dreamy vacation spot of the Corn Islands. I mean, you could take a few buses and a cargo ship across the country, but it'll be about 30 hours quicker to just fly.
La Costena flies frequently to the Corn Islands from Managua; it's just over an hour long flight and costs $180ish.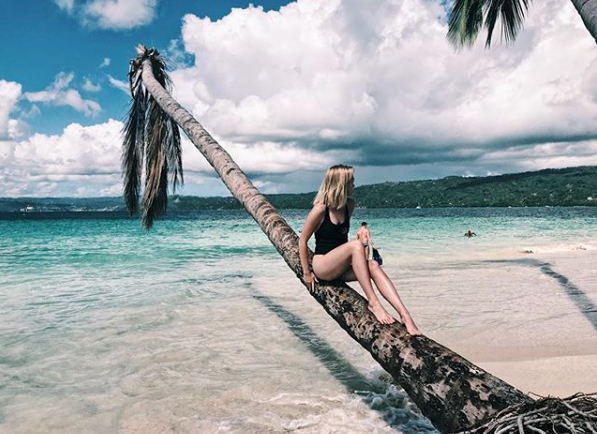 So, you ready to spend a semester volunteering, adventure, zip-lining, surfing, swimming, and exploring Nicaragua? We think you're ready. This country will keep you crazy busy, in the best way possible. And the kids — don't get us started … they are too cute, and won't you feel good about making a difference with a humanitarian program like this one?
Come learn more about the ILP programs in Central America here and get details about what a semester abroad in Nicaragua is like by clicking below: