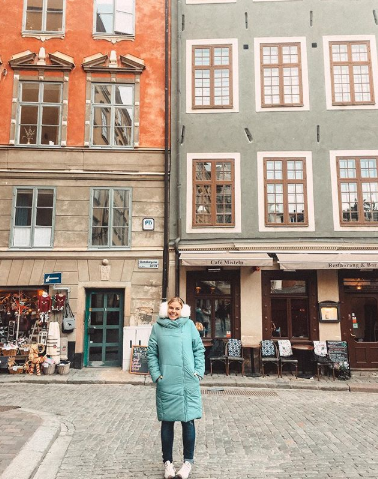 Getting ready for your semester volunteering in Eastern Europe? This post is for you! Here are our tips and recommendations for quality coats that will keep you cozy.
European winters can be pretty cold, but don't let that scare you away. With the right snow gear you'll be good to go!
Here's what you should look for in a coat to stay nice and warm!
Consider These Things When Buying A Coat
The Length
The length of your coat is important. We'd recommend taking a longer one that covers your bum. Not only will this cover more area and keep you warm, but it will keep you warm if you are sitting on a cold bench waiting for your bus. Many volunteers have said they ended up buying a longer coat in Europe if they didn't bring one like that.
Here's what some ILP volunteers shared on our Facebook page: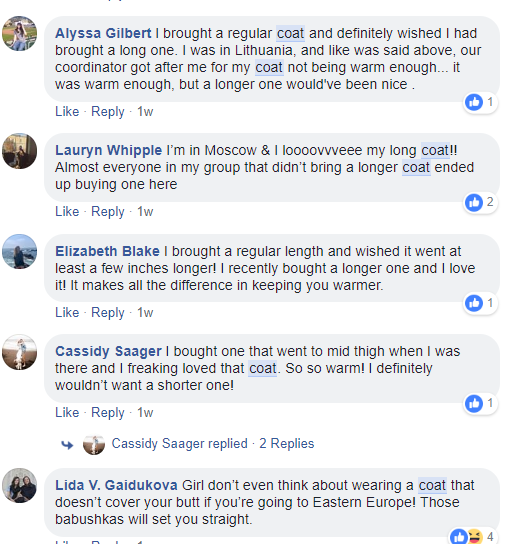 Will It Keep You Dry?
If you get wet in the cold, it will feel extra cold! Is the coat you are looking at waterproof? A water resistant coat is better than nothing, but if you want to make sure and stay extra warm, we'd grab a waterproof one.
How Warm Will It Keep You?
Not all coats are created equally. Make sure you check out what temperatures the coat can handle.
A down filled coat will stay really warm, which means you won't have to layer tons of sweaters and jackets underneath. Make sure the down is at least 550+ when looking for a good, warm coat.
Are There Pockets?
This sounds silly, but pockets are important! Try to find a coat with pockets that will hold your wallet, phone, headphone, and gloves, plus to keep your hands warm in. Then you can skip the purse while you're out exploring.
The Price
Coats can be a bit pricey if you are looking at good quality ones. Look at your budget and see what you can make work. Remember this is an investment that you can use for years to come even after your semester with ILP.
Are You Taking One With You Or Getting One There?
You can buy a coat before you head to Europe or you can pick one up there. There are some things you may want to consider when you're deciding if you'll grab one before or after you get to your country.
Pros of getting one there
You can check out thrift store and sometimes can find killer deals
The styles are different and you'll have a little piece of Europe
Coats can be more affordable (depending on where you look, of course!)
Cons of getting one there
You may not be able to find styles you like
Depending on when you get to Europe it may already be freezing and you won't want to go a day without a coat!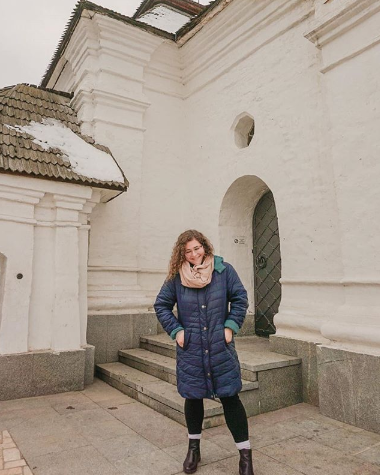 What Coats We (And Volunteers!) Recommend
Eddie Bauer
Kat in the ILP office shared info about a coat she got from Eddie Bauer for her semester. Here are links to similar ones here and here. She got her's at an outlet store (great place to look!) and loves it.
" We went to the outlet store at Traverse which was awesome. Sign up for their rewards, because I've been getting 40% and 50% coupons off for most everything since I signed up! They are super warm, waterproof, long enough to cover the bum, have a fur hood lining, and 550 down!"
Just like Kat shared, sign up for coupons and check their sales you can find some great prices. Bailee W. did and shared on our Facebook group that she loves her Eddie Bauer coat saying:
"Eddie Bauer down Parka that went to my thighs! So good! I think it was the Women's Sun Valley Down Parka...they're like 50% off right now!"
The North Face
Lots of volunteers recommend coats from the North Face. You can find these in a lot of sports stores, the North Face store fronts, and online (even on amazon). This makes it super convenient to try on the coat you're looking at in store, but look around the web for a great discount. Try sites like Back Country and Sierra Trading Post for a killer deal on name brands like this.
You can get a good idea of what coats they have by looking at the "Parka" section of The North Face website.
Here are a couple to check out:
Fjallraven Nuuk
Emily C. in the ILP office just got the perfect coat and shared all the details with me! It checked off everything on her wish list:
Long Length (check!)
Suuuper Warm (check!)
Fur Hood (check!)
Waterproof (check!)
Not only did it check everything off, but she's in love with it! Here's what Emily had to say about her coat:
"I went to Russia Spring semester, so I knew I would need a winter coat the minute I got off the plane!

Fjallraven Nuuk is made by a Swedish company who knows all about cold winters in that part of the world, and it is crazy warm.

...Probably, the reason I love it the most are all of the pockets. There are huge, deep pockets on the inside for my hat, gloves, wallet, snacks etc, then a pocket for my phone that I can thread headphones through, and fuzzy pockets that keep my hands warm. There are "bucket" pockets on the outside that can also hold a bunch of necessities. I loved exploring Moscow without worrying about a purse with all of my layers, because my coat can easily hold whatever I'll need to bring with me.

Oh, and things that don't matter but sort of do: it's so cute. I knew I'd be taking most of my pictures wearing this coat, so I wanted to love it. It also comes in a handful of colors that made it really hard to choose from!

This coat is a total investment, but when I was shopping around, I found coats for less that didn't hit all of my qualifications. I found water-resistant ones, but not waterproof. Or ones that were warm, but not warm enough. You can get this coat (limited colors and sizes) at REI which does sales, but if you can, wait until Black Friday for Fjallraven, which got me this for 10%, and I could choose the exact size and color I wanted."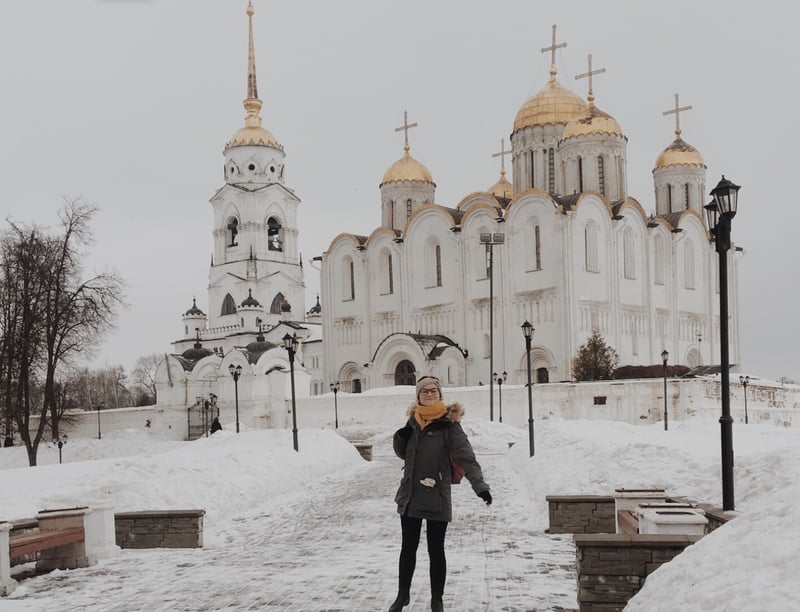 Columbia
This is a great quality coat if you're on a budget.
Lots of volunteers also recommend Columbia coats. Just like the North Face you can find these in stores (check to see if there's a Columbia Outlet store near you) and also online. Generally speaking, Columbia will be a bit cheaper than other outdoor brands like the North Face or Patagonia, so check out their prices when comparing. Here are a few coats to check out:
Other Brands
There are tons of brands to choose from, those are just few of our favorites! Now that you know what to look for, here are a few other options you can check out!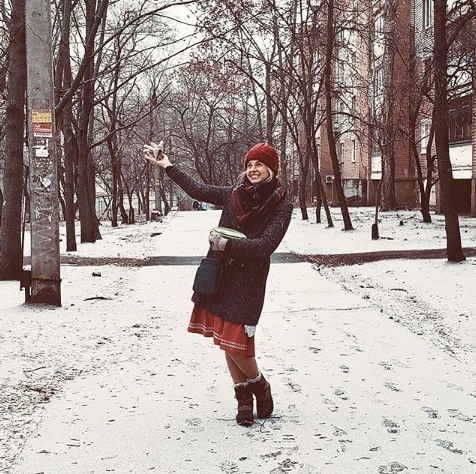 Ready for your own semester in Europe?
A semester abroad will change your life and you'll probably never want to come home. Volunteering with ILP gives you the opportunity to explore Europe while giving back and serving at the same time. Have questions? Click the button below and we'll help you out!