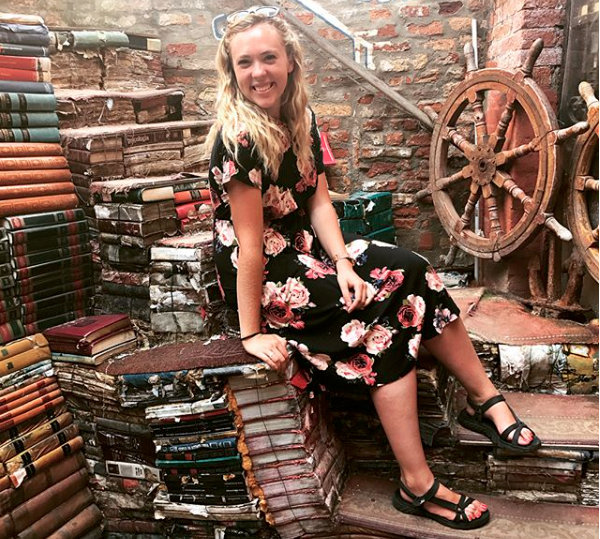 If you love books, or just love checking out awesome places while traveling, you don't want to miss this incredible bookstore in Italy.
Italy is one the top locations that ILP volunteers love to visit during their semester abroad — after all, if you want to spend a semester volunteering in Europe you probably want to vacation to Italy, right?

Love the idea of living in Europe but haven't applied yet? Apply here!
During your semester abroad with ILP, make sure you take the chance to visit Venice, Italy. You are going to want to ride those amazing canals and eat all the gelato you can, but you should also visit "The Most Beautiful Bookshop in the World".
Come Visit THe Libreria Acqua Alta
So, what makes this bookstore so unique? It made almost entirely of books .... even the stairs!
The bookstore has a huge selection of new and used books (in almost every language) that are set out on other unique shelving options including gondolas, boats, and tanks. The ambiance and atmosphere of the bookstore are what makes the place a must see.
Located close to St. Mark's square, you have to stop by and snap a few pictures of this hidden gem. If you're having a hard time finding it, just give the address to a taxi driver and they'll get you there.
Address: Calle Lunga Santa Maria Formosa, 5176/B, 30122 Venezia, Italy.
Don't just see Italy, fill your passport as you travel throughout Europe. Click here to see how.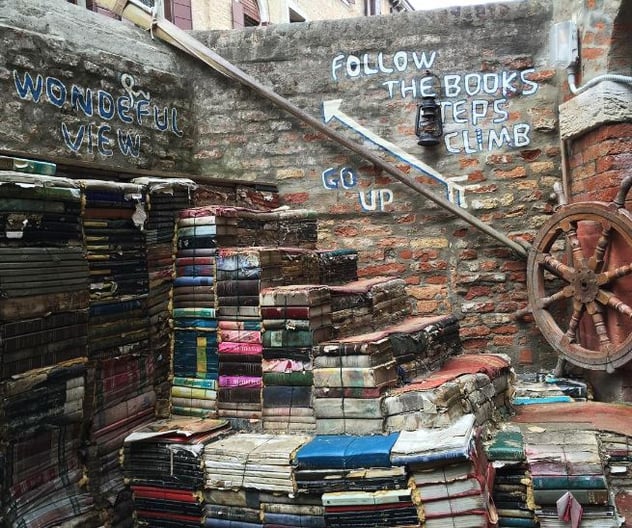 Interested in traveling to Europe? How about living there? International Language Programs (ILP), sends volunteers abroad to many countries around the world, including several countries in Europe (here's how to pick which European country is right for you).
Click the button below to see what a day in the life of an ILP volunteer is really like.