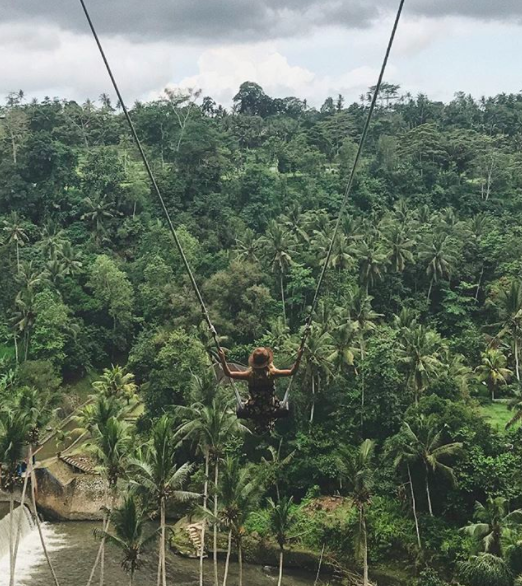 Going to Bali and looking for a little more adventure than just going to the beaches (which by the way are amazing)? Well, let me tell you about this jungle swing you can go on. Not only do you feel like you're flying; you'll get an incredible view!
Going to Bali on one of your ILP vacations is just one of the many perks of volunteering for a semester in Thailand. Imagine teaching cute kids part time and getting to spend the rest of your time traveling around. Sounds pretty good, yeah?
Not an ILP volunteer yet? Well, I wouldn't want you to miss an awesome semester abroad, so go ahead and apply for ILP. I know you want to!
(What Is The Swing?)
If you're new to the Instagram world of Bali, you need to know that there's a dreamy swing hidden in the jungle that gives you an amazing view (plus, it's pretty fun). The jungle swing is marketed around Ubud as an "extreme sport", but it's really not if you ask me so don't let that scare you. There are different heights you can ride the swing to, so if you're feeling nervous just go with the lowest setting.
Pro tip: If you're looking for an Instagram worthy shot where you look perfect, you want the lowest setting for sure! You won't have to wear the helmet and harness so you can stay looking cute without all of that gear.
How to get to the jungle swing in Ubud?
The jungle swing is actually pretty easy to get to. You won't be able to get there by bus, train or foot, but you still have a few options.
Option one: Get a taxi! Easy enough. You can request your hostel to get a taxi that will pick you up right at your front door and take you to the swing or you can go out to a main street and flag one down. There are taxis all over the place hanging around the city of Ubud (in the touristy spots, like down at the market and temples) so you should have no issues.
Some taxis know about this swing, especially because it's becoming popular for tourists but if your driver isn't sure where it's at (and you have this international phone plan through T-Mobile), you can type in "Bali swing" into Maps and you can lead your driver there!
Option two: Use the transfer service the swing offers. You can find more info here. It will cost you $6 USD (for two people or more...only having one person has a fee of $12) as long as you are within 15 km of the swing. If you're further, you can still do it -- it'll just cost a little more.
With this service, they will pick you up from your hotel, take you to the swing and return you back to your hotel. There are no other stops you can make with this service.
Option three: Hire a driver. This is probably the best of the three because not only can you use this driver to get out to the swing, you can also use it to make other stops to place that are harder to get to. We love this option because they're able to take you to places you might not have known about. They drop you off and wait until you've explored and are ready to move on to the next location. It makes the day so stress free to not worry about directions. You can easily hire a driver in the city of Ubud for the day (be sure to haggle down the price).
By hiring a driver for the entire day, you can easily get to all the favorite spots are in Ubud like the monkey forest, temples and the rice fields. Most taxi drivers have a sheet of paper that lists all the popular spots that you can pick and chose from and create your own itinerary (the swing being one of the obviously). They prefer to be hired for the day because that's more cost effective for them, so they'll probably even offer this option to you. If you hire a driver for the day, just see if you can add the swing to the itinerary.
The swing is located about 20-30 minute drive outside of Ubud.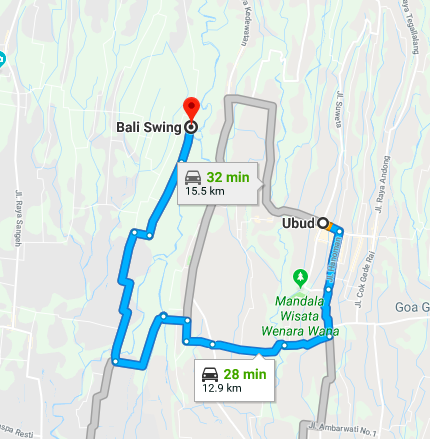 CAUTION: There is another swing called the Zen Hideaway Swing and it's pretty close by. Do not go to this one. In order to do this one, you must stay at their hotel (which is not cheap).
How long do I get on the swing?
On their website it says they do not limit the time you're on the swing, but it has been said (by people who have gone before) that they give you 30 minutes on the swing -- which is actually a long time.
If you get tired of being on the swing, you can get off earlier. You are allowed to get off and adjust position (try going with your back to the camera and your forward facing to get the ultimate shot).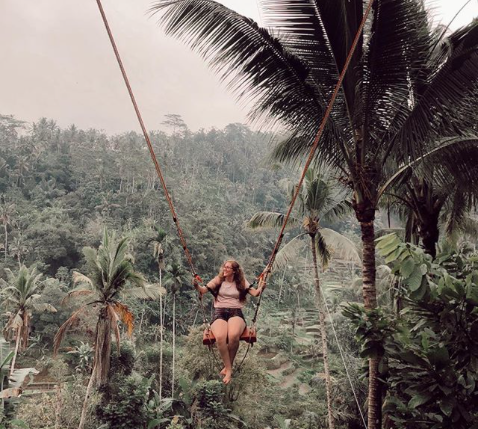 How much does it cost to ride?
Completely depends on what you're wanting to do. There are two packages you can chose between upon arrival:
Bali Swing Entrance Fee: this package is $10 and will pay for your entrance, a soft drink, lunch buffet and four activities.
Bali Swing Active Package: This one is $35, but will get you the entrance fee, soft drink lunch buffet and 13 activities (which includes four different swings).
I would recommend the latter because you will get a lot more bang for your buck. You will get to go on the swings at different heights, do the tandem swing and the rest of the activities (which you would miss out on with the cheaper package).
Oh, and if you really want to make getting to Bali easily, it's probably a good idea to spend a semester in Thailand first, then take a quick trip to Indonesia. If you love that idea, maybe you're just interested in more info about the International Language Programs! Get a bit more about what volunteering in Thailand is like below: