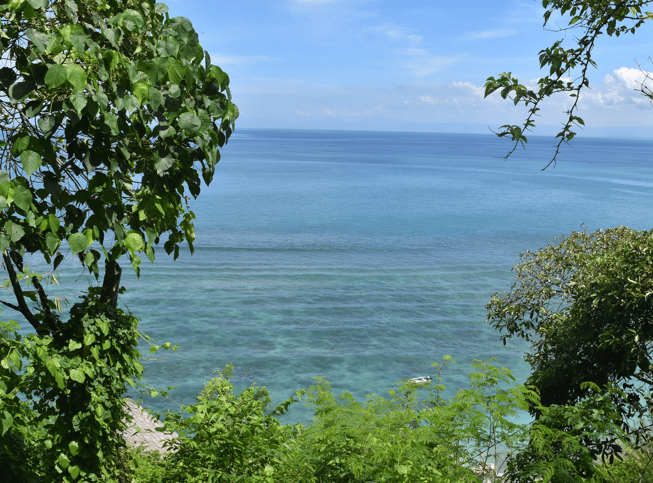 There are loads of places to lounge around on Bali, but we love Jimbaran for a few reasons.
Unless dreamy white beaches and freakishly beautiful water is not your thing, you will adore the beaches in Bali. If do you love all of these things and more, you should travel to Jimbaran beach ASAP. You are going to love it.

Oh and people who love Bali usually also love Thailand which is great news because you can live in Thailand as an ILP volunteer….our alumni love taking a vacation down to Indonesia when they aren't busy adventuring around magically pretty Thai islands of course.
You ready to apply for yet? We'll make this really easy to put the application right here!

Right. Now you will be living in Thailand and taking a vacation in Bali (dream life, am I right?) here are the tips and info you need about Jimbaran Beach:
Where Is It?
What Should I Do Here?
What Should I Eat?
Where Should I Stay? g
Where Is It?
First, you will need to get yourself to Bali, which just means flying into DPS airport. From there, it's a short (15-20 minute) taxi ride to Jimbaran Beach and Jimbaran Bay (aka paradise). It's on the southwestern coast.

Your taxi driver will know the place. This is an awesome beach to visit if you are only in Bali for a few days — you'll be able to see a great beach without driving all over the whole island.

Since it's so close to the airport, we suggest skipping Kuta (it's not a pretty beach at all in comparison to Jimbaran).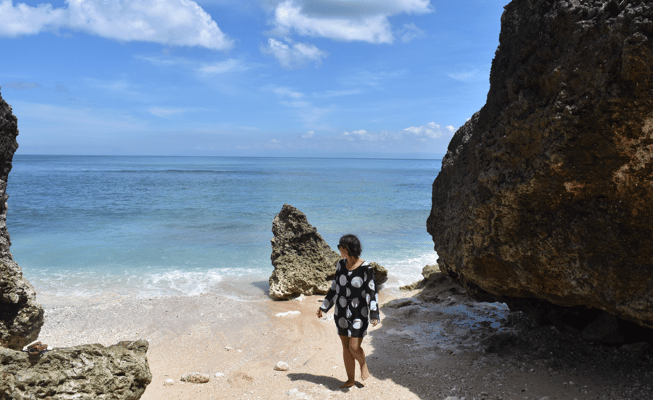 What Should I Do Here?
Uh….lounge on the perfect beach for starters. It's a huge stretch of sand so you can take all day wandering to different coves and cafes. Jimbaran is a perfect swimming beach because of the sandy shore. If you do want to surf, you can hire a boat to take you out to where the surf breaks, farther out in the water. It'd be a good place for beginners because the waves aren't that big.

Dreamland and Bingin beach are fabulous surfing beaches if you wanna go that route; both are about 20 minutes south from Jimbaran, just so you know (and are both incredibly gorgeous, though *technically* Dreamland Beach made our list of the world's most beautiful beaches).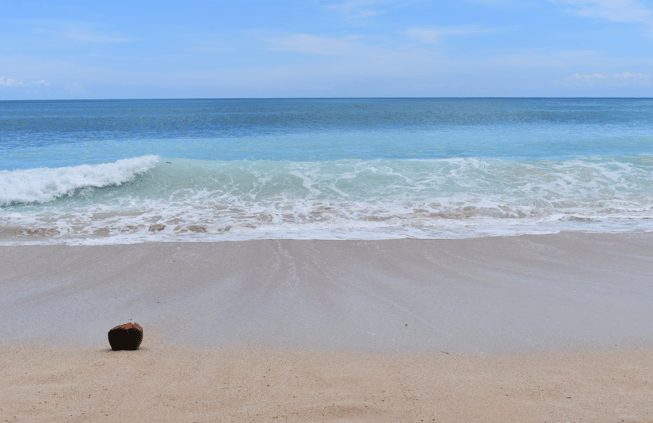 What Should I Eat?
If you like seafood, welcome to heaven. Jimbaran city is still a huge fishing center so you'll find the pretty beach dotted with seafood restaurants. Yum, yum. Other cafes on the beach will sell Indonesian favorites like Nasi Goreng which is a tasty fried rice dish, usually with an egg on top. And I'm a sucker for eating on the beach, so I was loving the outdoor cafes so I can munch with toes in the sand.
Oh, and don't forget to get find gelato or ice cream for dessert! (In case you were wondering, yes. My gelato did fall over after this picture was taken.)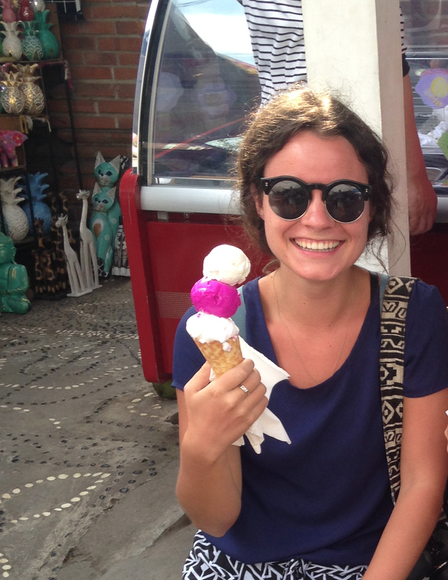 Where Should I Stay?
If you want to sleep for cheap, skip the hotel. Air BnB's are the way to go in Bali. I "splurged" on my vacation here, which meant spending at most $60 a night for private villas and private infinity pools. Not bad if you split that with a couple of people.
You can stay in some seriously ah-mazing places for not that much money if you hunt around. I just did a quick search and you can rent this whole villa (just 5 minutes from the beach) for under $100 for 6 people. Oh, and there's free breakfast and a pool. Score.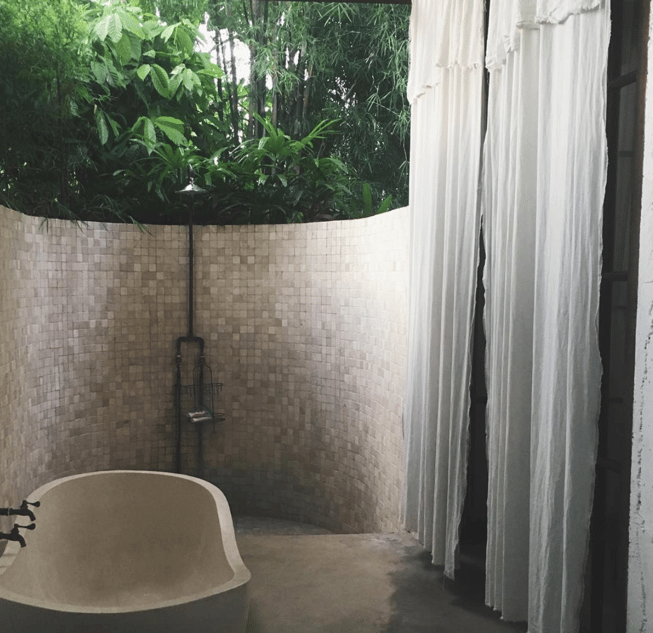 Ready to pull on your swimsuit and live in actual paradise? Get more ideas on what our Thailand volunteers love to do by checking out our blog and get even more info by clicking that green button: