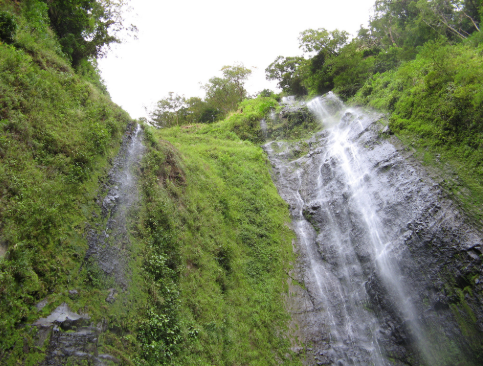 Nicaragua offers a lot of outdoor activities and this hike to the San Ramon Waterfall is one of our favorites!
We love getting to know a country by exploring cities, trying new restaurants, and meeting people, but don't forget to get to know a country by spending time outside, hiking, and swimming too — especially in a place like Nicaragua.


---
Ready For A Semester Of New Experiences?
Volunteering in Nicaragua won't disappoint! Take a look at our guide with all the details you'll need to know about volunteering in Nicaragua!
---

Get ready to visit the San Ramon Waterfall and soak in the amazing scenery during your time in Nicaragua! Here's what you need to know about the waterfall.
About The Waterfall And Island
The San Ramon waterfall is on the beautiful Ometepe Island. It is a favorite place for visitors and you'll quickly see why once you get there! With rainforests, fresh water swimming, waterfalls, and more, we have a feeling you'll love it. If you don't have a ton of time to spend on the island we'd recommend you make this waterfall your first stop.
Getting To The Island
First, head to Rivas.
The first step is to get to Rivas, which is a city very commonly used as a jumping off point for getting to other destinations all over Nicaragua. It's a total transportation hub.
Here are a few different options to get to Rivas from Granada (where ILP volunteers live):
1) Local (Chicken) Bus
Local buses are used often to transport goods, animals, and people. This will be the cheapest (and a great cultural experience!) way to get to Rivas. The buses leave pretty frequently (Monday-Sunday is 6:30, 8:05, 9:30, 11:30, 12:30, 1:30, 3:10) and only cost about $2 USD. Plan on it taking about an hour or a little more depending on how many stops.
Where: Grab this bus in front of the Granada Market Station, which is just in front of the Shell gas station
2) Mini Bus Tour
From the main square in Granada you will easily find tour companies who offer bus tours to to Rivas. They will cost about $25- $30 USD and take about an hour (depending on how many stops the bus takes). This is the most expensive way to get there, but again, just an option to look at!
Then, head to the port.
Once you get dropped off in Rivas you'll need to head to the port to catch a ferry. It is called the San Jorge Port. Taking a bus or a taxi are your best options.
1) Bus
The bus can be a bit tricky because there aren't clear stops to get on and off. Honestly, it's best to ask locals where to catch the bus because can be really unclear if you're not familiar with the area. Once on the bus make sure you tell the driver where you are going (Port Of San Jorge) so they know to stop where you need to. It should take about 10 minutes to get there and costs about $0.70 USD.
2) Taxi
Taxis may be your best and easiest option to get to the port. Just let them know you are going to the Ometepe Ferry (or San Jorge port) and they'll take you right there. Make sure you negotiate a price before hopping in. It should cost somewhere around 40 Cordoba which is about $1.20 USD per person.
Once at the San Jorge port, catch a ferry.
There are two ferry stops heading over to Ometepe Island — hop off on the Moyogalpa stop, which is conveniently the main stop. The ferry takes about an hour to an hour and a half and will coast about $2 USD.
Check out the ferry schedule here and makes sure you plan your day according to the ferry times.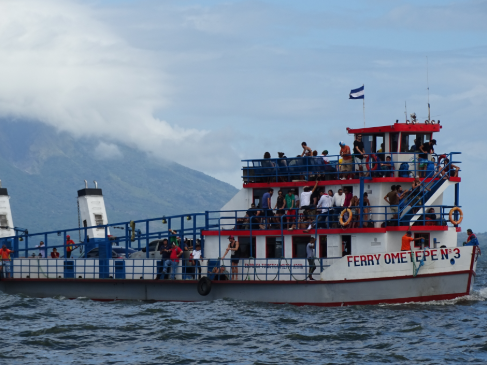 Getting To The Waterfall
The island is actually pretty big ... not really a place where you can get to everything on foot. From the port you are dropped off at, it could take a couple hours to get to the waterfall hike depending on what transportation you use.
1) Public Bus
The public bus is a good way to get around the island, but it can be tricky to use when getting to the waterfall. Plan on it taking 2+ hours and having a pretty sporadic bus schedule. No matter where you go on the island the bus is pretty cheap (only a couple of USDs), but it does take some planning to make sure there is a route to get you to and from your destination.
2) Taxi
You can also take a taxi to the start of the hike, again with taxis just remember to negotiate the price! You can get a taxi for about $30 USD which isn't too bad if you split it between you and a couple of friends. Just make sure you have a plan for how to get back to the city after the hike!
The Hike Itself
The hike is fairly easy for the most part. It's just under two miles and it is relatively flat until the end, where it's a bit steeper and pretty rocky.
The waterfall is huge! At 197 ft. tall it is definitely a sight to see. Make sure you bring a camera to take pictures of the hike and waterfall. It's all so beautiful. Oh, and keep on the lookout for monkeys who live in the area!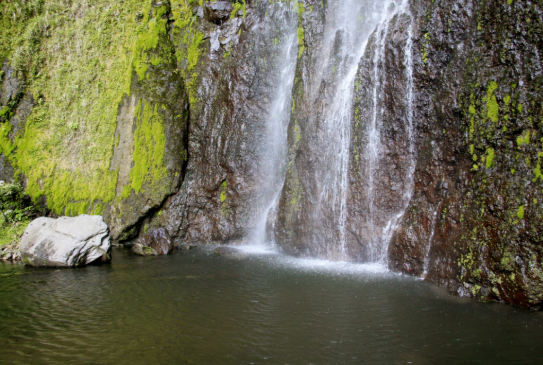 Tips
When to go
This trip is best to do during the rainy season so there is enough water for the falls. During the dry season the waterfall dries up a bit and won't be as full.
Also, go earlier in the day rather than later. If you can get there early you will likely miss the crowds and have better photo opps!
Bring these things with you:
Water
Good hiking shoes
Swimsuit
Sunscreen
Cash for transportation
Snacks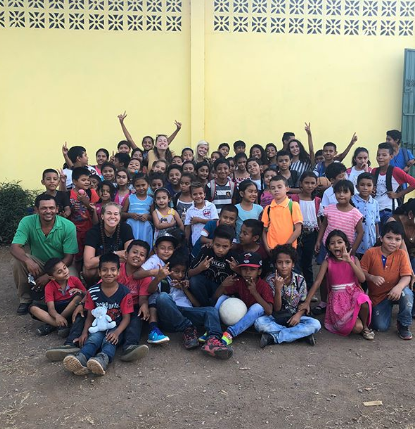 Ready for a semester in Nicaragua?
The kids you teach will steal your heart, your ILP group will become some of your new best friends, and of course, Nicaragua is amazing!
Start your application today by clicking the button below!