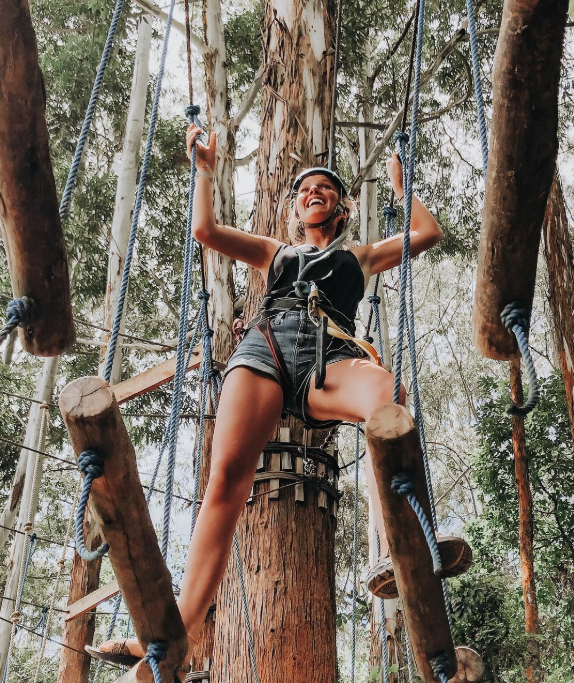 The country of Uganda is known for some world-class safaris and adventures, but we're big fans of zip lining in Griffin Park.
Uganda is just full of surprises — when you think of "Africa" I'm sure a few things like safaris come to mind, but that's not all you'll find. Our ILP volunteers in Uganda have done some of the coolest adventures around, like white-water rafting the Nile River, repelling down Sipi Falls and now the chance to zip line through the jungles.


---
See what else Uganda has to offer
Volunteering in Uganda
---
ILP volunteers are only teaching English and helping out with other humanitarian projects for a few hours during the week days, which means free time during the week and every weekend off to check out places like Griffin Park.
Zip Lining in Griffin Park

Info You'll Want

Helpful Tips

Getting Here
Zip Lining In Griffin Park
Found in the lush Mabira Forest is an adventure park where you can climb into the tree tops and zip line past monkeys and colorful parrots. Griffin Park is a whole park where you can choose to stay 3 days (they have overnight accommodations) or you can just head up for the day for a couple hours of zip lining.
The Course
There are six stations, with treetop platforms found about a 30 minute walk into the jungle. So once you arrive, you'll meet your safety instructor, go over the rules, get set up with the equipment (a helmet and a harness) and trek into the forest to the first platform.
As a head's up, you'll need to climb up to the first platform which is a tall tree studded with metal steps and pegs to help you climb up. It's kind of like a ladder, but some visitors have said that it's a little unnerving if you're afraid of heights! Once you get to the top, you'll get a little more instructions and start the ziplines! There are six to zip line between, letting you whizz through the leafy tree tops, pausing on the platforms to spot monkeys, lizards, and colorful parrots.
Once you reach the last platform, you'll zip line over and climb on down to walk back to return your gear.
Other Info
The guides are here to help you. You'll get a safety briefing before you head out, and there's someone there to help you on all of the platforms.
More Things To Do At The Park
Since the park is found in the gorgeous Mabira Forest you'll find a few other activities to check out if you want to spend more time here. There are nature walks, a bird watching tours, and a few restaurants as well as overnight accommodations if you want to spend 2-3 days here.

Get more info on the Griffin Falls Camp here.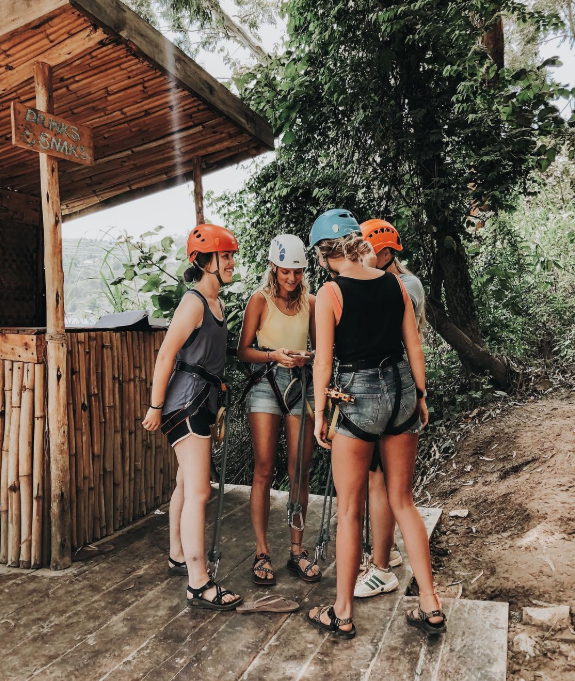 Info You'll Want
Costs
Depends on what you're looking for! There are several packages, ranging from $50 to $100 for the day of zip lining. The more expensive packages include lunch and transportation from Kampala.
Also, the park is owned by MAFICO, an organization focused on conserving the environment and empowering community projects like tree planting, help for HIV groups, education, sanitation, etc.
There are also overnight accommodations like we mentioned if you'd like to stay overnight.
Hours
Zip line tours are done from 8:00 AM to 1:00 PM, then again from 2:00 PM to 6:00 PM, daily. Plan on your tour taking about 3-4 hours.
You can get more information about prices and hours here.

Helpful Tips
You'll want to bring water and snacks for the ride to the camp, and you'll also want to wear solid shoes (I'd opt for tennis shoes) that you can hike around in and something that won't fall off your feet while you're zipping above the tree tops.

Head's up on the weather when you visit. You'll want to make sure you can still zip line if the rain is too bad (I'd call ahead to make sure your tour isn't canceled). Even on days when you have a little rain, it makes the platforms a bit slippery, so just be careful if it's been raining on the day of your visit.
If you just want to zip line, this is definitely a day trip thing: the forest is a couple of hours away from Kampala, and the course itself only takes 3-4 hours, so it makes for a perfect Saturday or Sunday adventure.

Getting Here
We mentioned it earlier, but the more expensive zip lining packages do include transport from Kampala which may be worth looking into just for convenience's sake, though figuring it out yourself will be more wallet friendly.

If you opt to DIY: From Kampala, you can take a bus to Jinja, where you can grab a taxi to take you to Lugazi (and the entrance of the park). We have some helpful information on buses in Uganda to help you plan your visit.

Here's the address for your taxi: Mabira Forest, next to Wasswa Village, 10 km from Lugazi Town along Kampala-Jinja highway, Kampala, Uganda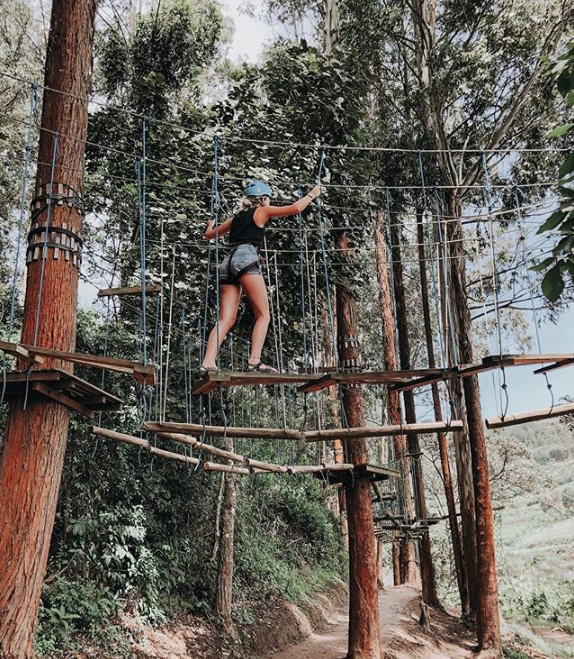 Uganda's ready for you
Come spend a semester here and see what this country has to offer (we think you'll instantly fall in love). ILP Volunteers have the chance to teach English and help with humanitarian projects just outside of Kampala, Uganda in a little city called Lugala.