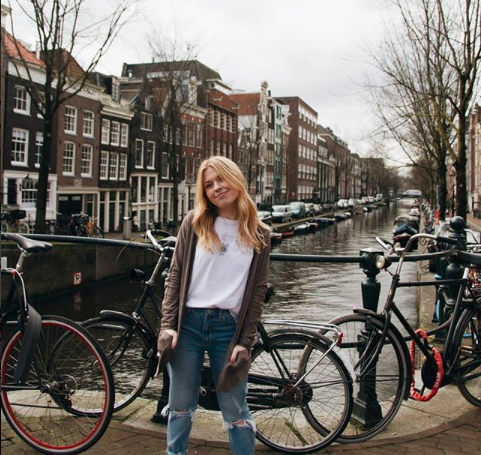 There are over 800,000 bicycles in Amsterdam (that's more bikes than people) and while you're vacationing there, you have to ride at least one of them!
As one of the most cycle-friendly cities in the world, Amsterdam has got to been seen by bike — here's what you can't miss in Amsterdam.
Want to do more than just travel through Europe? International Language Programs (ILP) lets you spend a semester volunteering in Europe, complete with vacation time.
Here's an outline of what you should do in Amsterdam, the pictures you need to take, our favorite places to stay (and other insider tips) for your trip:
Things To See In Amsterdam
How To Rent A Bike
Eat Stroopwaffles
Our Favorite Hostels Here
Things To See In Amsterdam
Anne Frank's House
During WWII, after fleeing Germany because of persecution, Anne Frank and her family hid from the Nazis for two years at the Prinsengracht house. Today, the front of the house is a thought-provoking museum dedicated to showing the atrocities committed against the Jews during WWII. The back annex of the building has been preserved to help give visitors an idea of what life was like for Anne and her family as they hid from the Nazis.
Pro Tip — You MUST buy tickets online if you want to guarantee yourself a visit. The wait lines can get horrendously long and you might not get a ticket if you just hop in lines even early in the morning. We suggest booking online here to beat the lines.
Address: Prinsengracht 263-267, 1016 GV Amsterdam, Netherlands
Hours: 9:00 AM to 10:00 PM

Cost: 10 Euro (online tickets are available two months in advance, with a 0.50 euro surcharge. Worth it).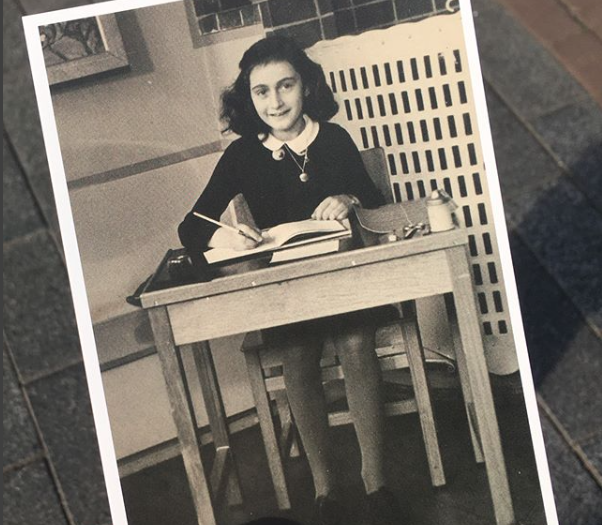 Come Face to Face With Original Van Goghs
Artist Vincent Van Gogh is from the Netherlands and no trip to Amsterdam would be complete without seeing the Van Gogh Museum. This particular museum houses several original Van Gogh pieces along with pieces from his contemporaries. It's an absolute must-see — we suggest spending a couple of hours here or longer if you're an art history buff.
Address: Museumplein 6, 1071 DJ Amsterdam, Netherlands
Hours: 9:00 AM - 7:00 PM, (9:00 AM - 9:00 PM on Friday and Saturday).
Price: 18 Euros, but that fluctuates depending on the special exhibits currently being featured.

Tips for travelers — (Get an e-ticket and a time slot to help avoid lines, which can get massively long)
Take A Canal Tour
Get the experience of seeing Amsterdam's canals and architecture up close though a canal tour. We've had a handful of ILP volunteers really recommend doing this with Floating Amsterdam tour company, so it's worth looking into! Boats are pretty luxurious and have a cover for rainy days. Included in all tickets is a skipper who can tell you all the tales of this city.
Tours are 65-75 minutes long.
Departure Address: Museumstraat 1, Amsterdam, Nederland
Departure times (everyday except Thursday):
12:00
13:30
15:00
16:30
18:00

Price: 15 Euro for their base ticket (VIP includes alcohol and is double the price)
See World-Famous Tulip Fields
Whenever people think of Dutch culture generally, clogs, windmills, and tulips come to mind. You can easily get to the huge tulip field via the metro (it's a bit far for a bike ride ... but doable depending on the field you choose. Here's info on one of the more famous fields, Keukenhof Gardens.
*Head's up — these gorgeous tulips are best seen in March and May.
Buying tulips: The best place in Amsterdam to buy tulips are at the world's only floating flower market: Bloemenmarkt. You can buy tulips to bring home and plant your own massive field. You can even get your packages of bulbs stamped so they won't be flagged down by customs. That link above has information about the market's hours and locations.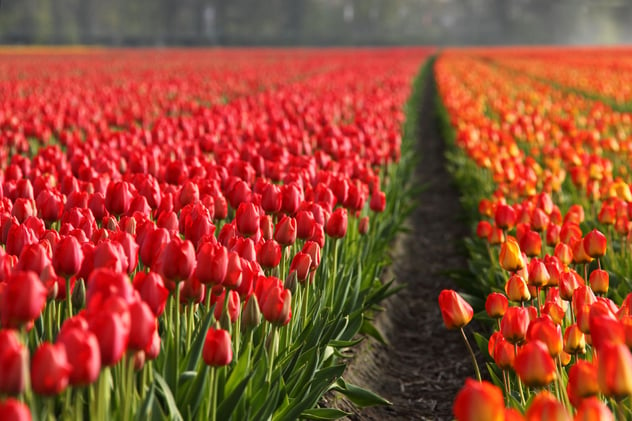 Escape From The City At The Begijnhof Courtyard
Located in the heart of the city, The Begijnhof is one of Amsterdam's oldest courtyards. This courtyard is also one of the most tranquil places to escape the commotion of the city. This quaint medieval courtyard features historical buildings surrounding a central green. The discreet entrance (via the Begijnensteed, off of the Kalverstraat) is well worth the find.
Here's the address of the courtyard:
Begijnhof 29, 1012 WT Amsterdam, Netherlands

How Do I Even Rent A Bike?
Don't worry, it's easy (ILP volunteers do it all of the time). You'll see tons and tons of rental agencies all around Amsterdam (look for the word ""fiet" (bike) in the title) at places like Central Station, the Leidseplein and Dam Square. Plan on paying around 7-10 Euros for a half day (plus a refundable deposit once the bike is returned safely).
This article has more specific info on where to find rental agencies if you'd like to take a look.
Time permitting, you should also check out a free walking tour in Amsterdam. They are all over Europe (find how to book one, here).
Your hostel might also have bike rentals — we have more hostel information below.
Or ... take a bike tour! We love that you're supporting locals this way. Check out Mike's Bike Tours for your first day in the city as a great way to get a feel for the layout of Amsterdam quickly.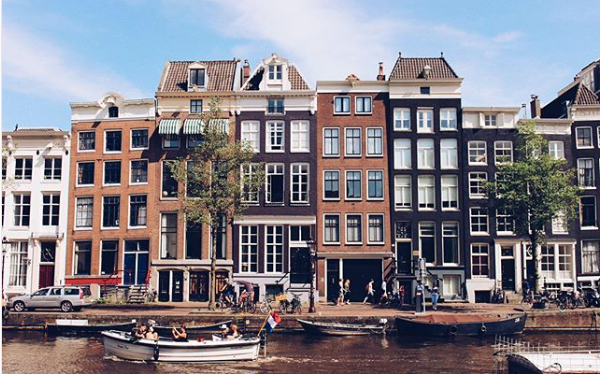 Eat

Stroppewafke
You absolutely have to eat some form of waffles when in Amsterdam. We're partial to Stroppewafke (or stroop waffles) which are thin, waffle patterned cookies filled with the ooey-ist caramel out there, and then dipped in chocolate. Get them hot off the iron and taste actual heaven. ILP volunteers love Van Wanderen:
Address: Gasthuismolensteeg 2-20, 1016 AN Amsterdam, Netherlands
We've also heard really good things about the Happy Pig Pancake Shop — you'll find a menu full of sweet and savory crepes, along with the classic Amsterdam waffles you're looking for.
Address: Rosmarijnsteeg 12
,
1012 RP Amsterdam,
The Netherlands
Our Favorite Hostels Here
Menninger hostel is an ILP volunteer favorite, complete with bike rental for the day and close to Sloterdijk transport where you can catch a train, tram or bus to wherever you're headed.
Shelter Jordan is a Christian Youth Hostel which is super close to favorites, like the Anne Frank House. Another ILP favorite, come for clean beds, great location, and no alcohol, drugs or partying allowed.
Flying Pig Hostel is very close to the Van Gogh museum and has superb ratings on Hostel World. Travelers and fellow ILP volunteers love the nice rooms, friendly staff and good location.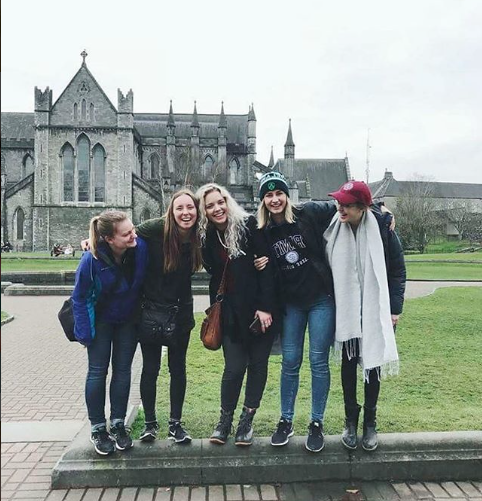 Ready to travel across Europe? How about living there for a semester? International Language Programs sends volunteers abroad to live in many countries around the world, including many countries in Europe! Here's how to pick which European country is right for you ... we know you want to volunteer abroad and have the opportunity to travel!
Click the button below to learn more.