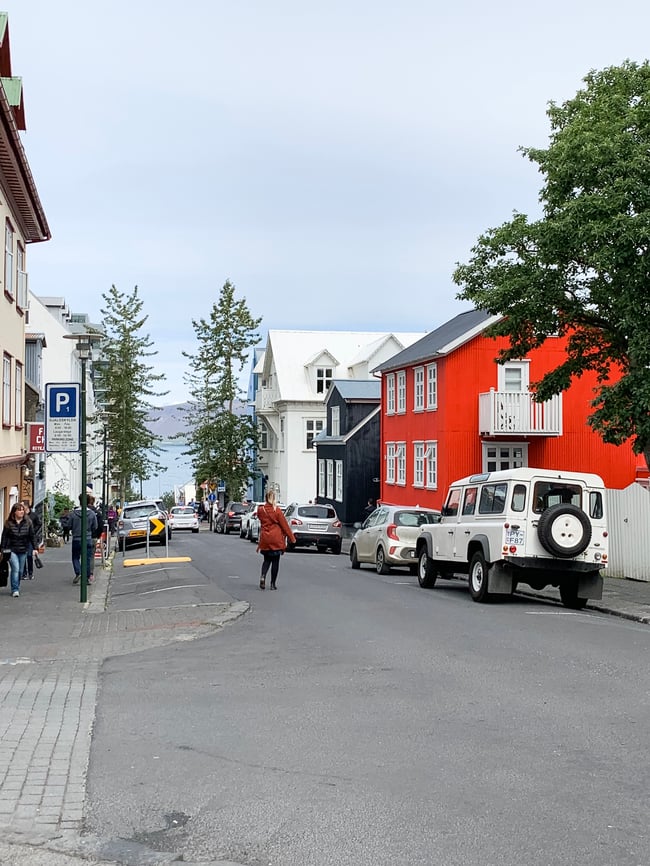 Iceland is one of the prettiest places you'll ever visit and Reykjavik is a great place to start your adventures! Head to Iceland for an incredible trip and make sure to listen to The Secret Life of Walter Mitty soundtrack while you're at it.
We are obsessed with Iceland! This gorgeous country will take your breath away and is full of amazing things to see and do. If you find yourself lucky enough to visit, you'll quickly see why it's one of our faves.


---
Looking for other magical places to visit in Europe?
We have a lot of favorite places in Europe! Here is a guide to some of our faves so you can plan your next trip!
---


Here is everything you need to know to make your trip to Reykjavik, Iceland one for the books.
What To Do In Reykjavik
Eat A Real Icelandic Hot Dog
Just thinking about these is making me drool... Iceland is known for having yummy hot dogs and this little booth is the best place to grab one! Get one with "everything on it" which means they will load it with sweet mustard, grilled onions, onion strips, and some sort of mayo. These really are a must eat.
Getting there: this booth doesn't have a concrete address but it is pretty easy to find. It's close to another restaurant, so follow this address which will take you to Hornid, then look for the little stand - Hafnarstræti 15, 101 Reykjavík, Iceland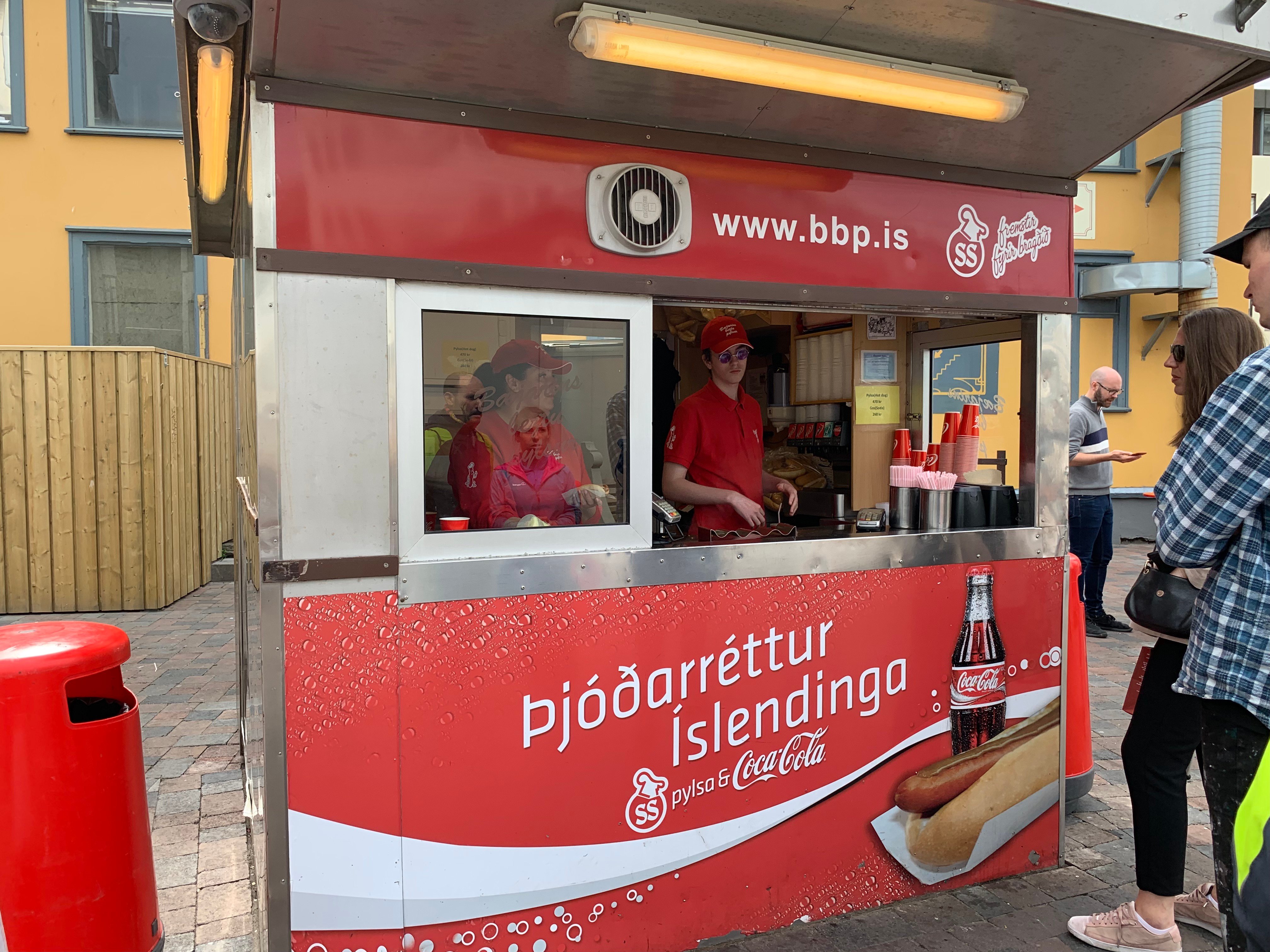 Take A Wildlife Tour
Reykjavik is a great place to catch a tour from. Some of the most popular are whale watching tours and puffin tours. Seeing those beautiful animals up close is amazing!
There are a lot of different tours and we'd recommend checking out Elding Tours or Special Tours. Both leave from Reykjavik and price start at about $80 USD depending on what package you choose.
Find Street Art
I was amazed how colorful Reykjavik is! Everywhere you go you'll find colorful buildings, sidewalks, and street art. Keep your eyes peeled for pretty paintings, especially when you are up by the Hallgrimskirkja church.
Visit Hallgrimskirkja Church
This church is a beautiful and really unique Lutheran church and is a popular stopping place for visitors to Reykjavik. It sits atop a hill and towers above everything around it and is actually the largest church in the country.
You can walk around inside and outside and even take an elevator to the top for views of the city. Outside you'll find a statue of Leif Erikson who is one of Iceland's well- known Viking heroes.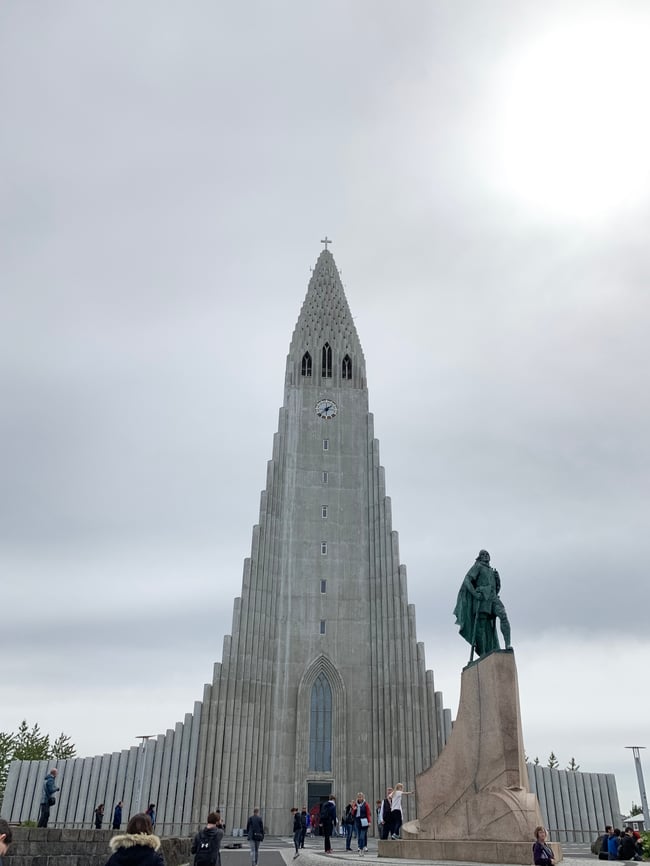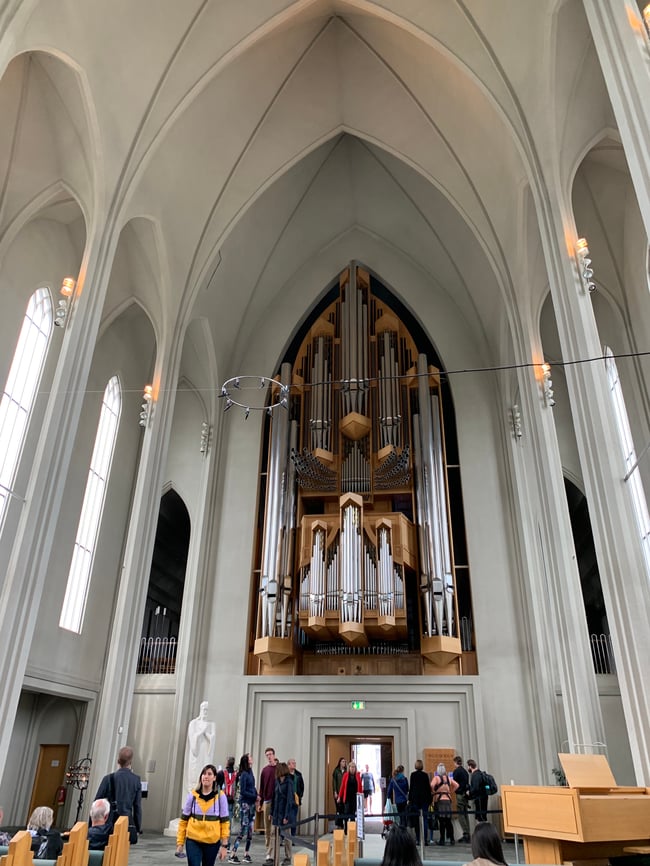 Grab A Pastry
This cute, colorful building is funky and full of yummy pastries. Head North (when you're looking at the church go left towards the harbor) a few blocks and you can't miss Braud & Co. You really can't go wrong with anything, so grab a few and try them all!
Address: 16, Frakkastígur, 101 Reykjavík, Iceland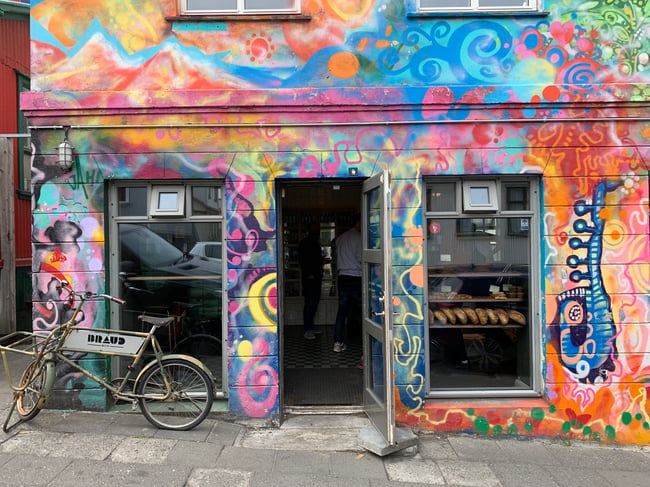 Day Trips from Reykjavik
Although Reykjavik is a great city, the best part of Iceland is getting out into the country and seeing the beautiful scenery, waterfalls, and hikes the country has to offer. Don't stress about not having a car, there are plenty of tours you can take to see some of the must-visit places!
The Golden Circle Tour
The Golden Circle is a popular route full of places you don't want to miss. This tour takes you to three different stops and gives you a great taste of what Iceland has to offer. On the tour, you'll visit a National Park full of beautiful scenery, Gullfoss which is one of the most amazing waterfalls in Iceland, and Geysir which is a field full of bubbling geysers.
This is such a good way to see some of the most popular spots in Iceland! The tour is about 7 hours long and starts at $60 USD a person. Here's a great tour company and their website with all the details.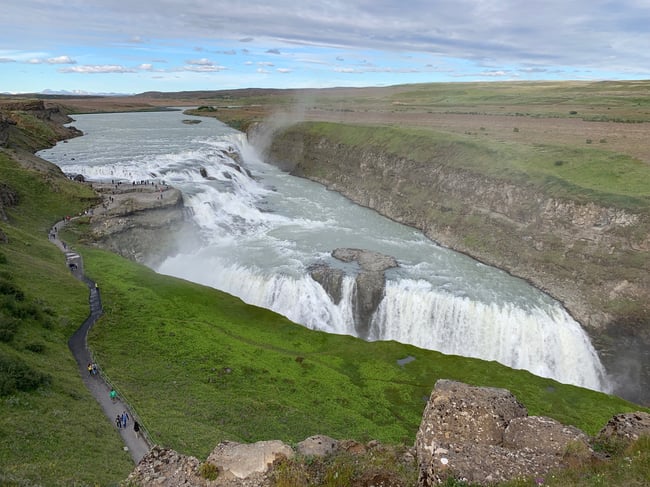 The Southern Iceland Tour
This tour covers some of my favorite things about Iceland! You'll see black sand beaches, drive past little villages, and visit Seljalandsfoss, which was my personal favorite when it comes to waterfalls.
This tour will take about 10 hours and costs about $85 USD. Here are the full details of everything you'll see on this trip.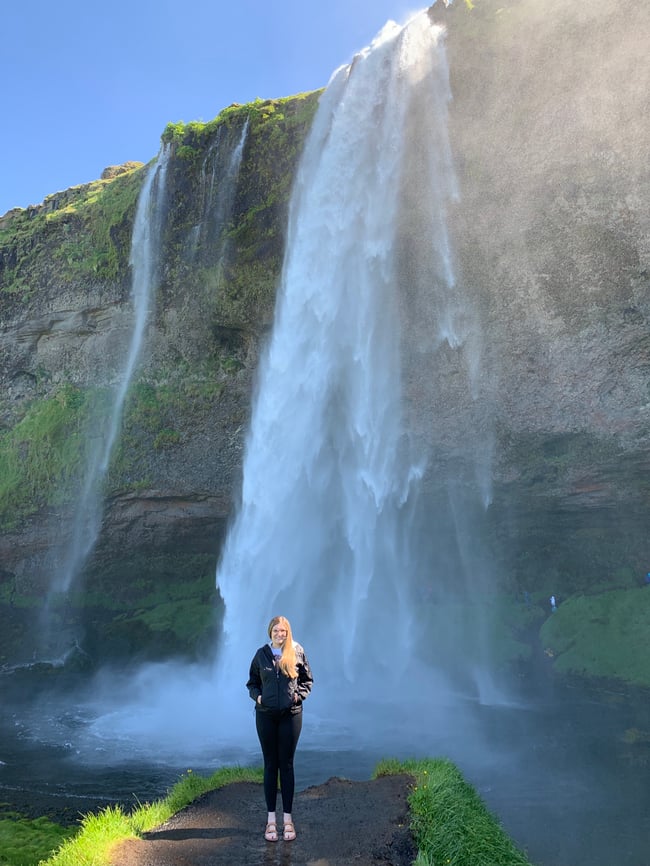 The Blue Lagoon
This is something that will immediately pop up when you start researching things to do in Iceland! The Blue Lagoon is a geothermal spa with warm, beautiful blue water, and a great place to relax during your trip to Iceland.
This can get pretty pricey so what I'd recommend is going later in the day. The later you go the cheaper it is and for us a few hours was perfect, definitely wouldn't need a whole day.
Getting there: you can book your ticket for the lagoon and a bus transfer on their website. This is actually one of the cheapest and most reliable ways to do it! Book that here.

Price: Your bus transfer will cost $43 USD and depending on how long you stay at the lagoon, plan on spending about $70-90 USD
Pssst- one of my biggest tips for lagoon is not to get your hair wet! The minerals in the water will dry your hair out like no other and can take a lot of work to fix it. If you do want to get it wet, make sure you put TONS of deep conditioner (choose a natural one so you're not adding chemicals to the lagoon) on it before you hop in (which still doesn't work sometimes.) Totally your call, but I'd just throw your hair up in a top bun to be safe!
Where To Stay In Reykjavik
Getting a place close the the city center is smart in Reykjavik because that's where most of what you'll be doing is and where tours pick you up.
Hostels
Hostels can be a great and are a fun way to meet other travelers. We'd recommend looking into The Bust Hostel, Hlemmur Square, or Kex Hostel. All three have great reviews, good locations and will be about $25 USD a night.
Airbnbs
Airbnbs are an awesome option if you want your own space. You an rent a whole apartment for your group and split the cost between you. This two bedroom is only $89 a night, this is bright apartment is only $110 a night, and this bright cute place is $128 a night.
No matter you stay in Reykjavik, book early! Things tend to fill up super fast and you want to have good options to choose from when booking.
How To Score Cheap Flights To Reykjavik
Iceland is pretty far west compared to the rest of Europe so getting there can be pricey, but don't let that stop you! Here's how to score the best deals on flights.
Head to Google Flights and type in a starting point (I used Stockholm, Sweden) and Reykjavik as the destination.
Click "view flights" and then on "date grid". The date grid will let you compare different dates to see what days are the cheapest. Do this for the airports near you to see what the best and cheapest day to fly are!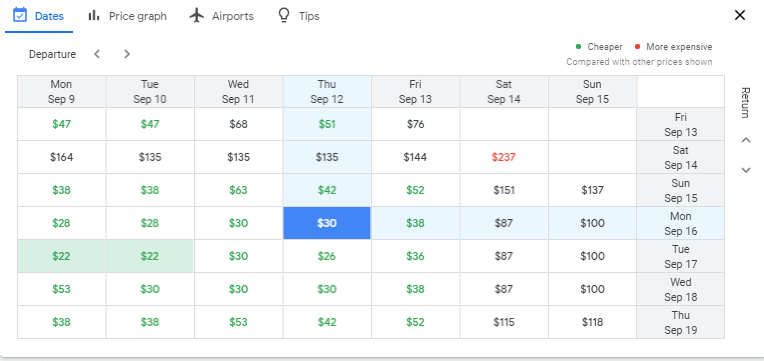 +One Last Tip
Iceland is expensive!! From food to lodging it will be quite a bit more than other places you visit (especially Eastern Europe). Something that helped us save money was bringing our own food and snacks. We took things like instant oatmeal, granola bars, and beef jerky to snack on and it saved us a lot of money. You can also grab meal ingredients from the grocery store and make your own food at your Airbnb or Hostel.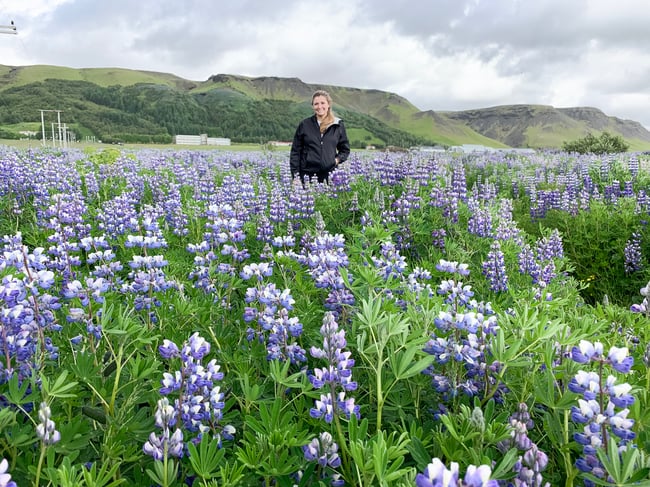 Wondering what a semester with ILP would be like for you?

Just click that button below and get connected with a representative in our office! They can answer all your questions and help you decide which ILP country is the right fit for you!