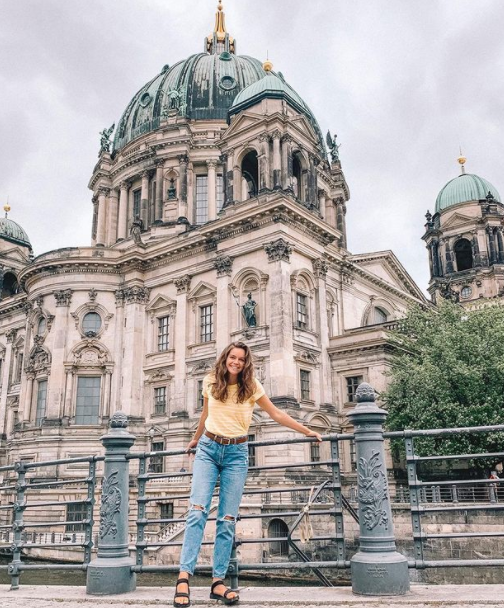 Ready to experience another amazing city in Europe? With so many museums and monuments that will leave you feeling all sorts of emotions about this city's not-so-distant past, Berlin really is a place for all history lovers!
As the capital and largest city in Germany (about 5x bigger than Paris), Berlin is a thriving center of culture, business, and history. Since so much of it was destroyed during the bombings of WW II (it's actually still the most-bombed city in history), most of the rebuilding has happened in the past several decades and as a result, it's more of a modern metropolis, speckled with reminders and ruins of the past. It may not be on your list of most charming European destinations, but we think it's still worth a visit!


---
Want to spend a semester in Europe for about the price of a semester at school?
How To Pay Less For A Semester Abroad
---
As a volunteer with International Language Programs in Europe, you'll have a lot of free time to travel around and visit other countries. Basically your vacation time usually adds up to two 4-day vacations, and a 10-day, plus every weekend. So you'll want to start planning your trips with the other volunteers in your group the week your semester abroad starts!
If you're passing through Germany at all, then you really should stop in Berlin. Actually, with many budget airlines that fly into Berlin, you can often find great deals on flights here. We recommend snagging a flight deal here, and then spending the day in Berlin before jumping on a train to go see other European destinations on your travel list.
Summertime is definitely the prime time for tourists, but Christmastime isn't far off. July is the hottest month, and January is the coldest. There is really no shortage of things to see and do, no matter what time of year you visit! Keep reading to get all of our suggestions.
Everything You Need To Know About Visiting Berlin
What To Do
Where To Eat
Where To Stay
How To Get There
How To Get Around Berlin
What To Do
Brandenburg Gate
There isn't much to do here other than snap a pic, but it's an absolute must-see! And probably the most iconic structure in the whole city. The gate has been used for several triumphal processions since its opening in 1791 (even for Napoleon), and miraculously survived the bombings of WW II.
Address: Pariser Platz, 10117 Berlin, Germany

Reichstag
This large building is the meeting place of the German parliament. It was damaged in a fire in 1933, and was not reconstructed until after the fall of the Berlin Wall. It now has a large glass dome at the center of its roof, above the debating chamber, to symbolize the modern transparency of the German government. Never again will they allow the atrocities of the past to occur.
It is free to go up to the dome, but you will need to have tickets. Visit this website for absolutely all the visiting info you'll need.
Hours: Daily from 8 am to midnight, but the last admission is at 10 pm.
Address: Platz der Republik 1, 11011 Berlin, Germany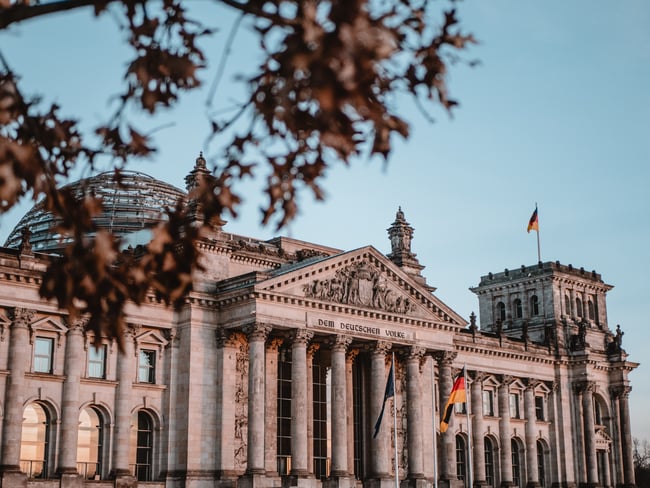 Tiergarten
Extending west from the Brandenburg Gate and Reichstag, this lovely park is the perfect place to take a little breather after the chaos of the city. It has little monuments placed throughout it, and is spotted with quaint and pretty areas just waiting for you to enjoy.
Memorial to the Murdered Jews of Europe
This unique memorial to the Holocaust is composed of 2711 rectangular slabs of concrete that are laid out in rows. It sits in the same spot where the "death strip" of the Berlin Wall once stood. Since there were over 6 million Jews killed during WW II, each one of these blocks stands in memory of over 2,200 individuals.
Address: Cora-Berliner-Straße 1, 10117 Berlin, Germany
Museum Island
In 1930, the last of five museums was completed on this small strip of land. Today, it is a popular point for all tourists because you can still experience the unique grandeur of each museum. The Pergamonmuseum (Pergamon Museum) is the most popular of the five, and it's here that you'll find the famous Ishtar Gate. The Bode-Museum showcases sculptures from the medieval era through the late eighteenth century. Stop at the Neues Museum to see the famous bust of the Egyptian Queen, Nefertiti. The Alte Nationalgalerie, or Old National Gallery, has quite a wide range of paintings and sculptures. Lastly, the Altes Museum (Old Museum), was the first on the island and still houses art and sculptures from ancient Greece and Rome.
If you're up for visiting all five museums, or even just a couple, then purchase this ticket that will give you admission to all of them! If you love museums, the $20 will be worth it!
Berlin Cathedral
Full of ornate and elaborate designs, this Protestant church is a major landmark, and the most iconic religious building in the city. It was mostly destroyed by a bomb during WW II and the reconstruction took decades to complete. The entrance fee is about $8, and really is a must-see for visitors.
Hours: Open Monday-Saturday from 9 am to 7 pm. Open Sunday 12 pm to 7 pm.
Address: Am Lustgarten, 10178 Berlin, Germany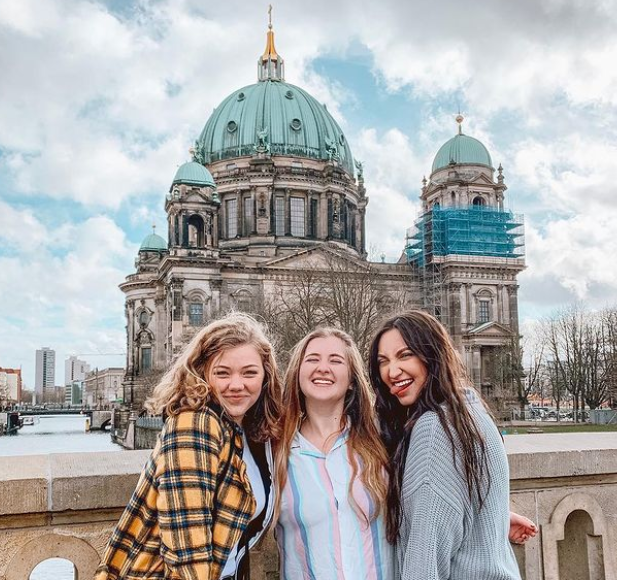 Berlin Wall Memorial
This outdoor exhibition includes the last remaining piece of the Berlin wall, and gives a general idea of the layout of the wall that stood there from 1961 to 1989. Check out this site for more info!
Hours: The Visitor Center is open Tuesday-Sunday from 10 am to 6 pm. The exhibition at the memorial site is open Monday- Sunday from 10 am to 10 pm.
Address: Bernauer Str. 119, 13355 Berlin, Germany
Gendarmenmarkt
This beautiful plaza is one of our favorites spots in Berlin, partly because of the grand churches that line its edges (all the heart eyes for Baroque architecture). The three most significant buildings surrounding it are the French Cathedral, the German Cathedral, and the Concert House. It's also the home of December's Christmas Market, but it will be a favorite stop no matter what time of year you visit.
Address: Gendarmenmarkt 5-6 10117 Berlin
Fernsehturm
This is actually the tallest building in Europe open to the public, and the views are unforgettable! If you want to see this panorama of the city from 666 feet up, tickets for the observation deck are about $18 and can be purchased from the ticket desk and machines at the Berlin Television Tower at Alexanderplatz. Fast track tickets are also available online if you want to skip the lines, although they're a bit more expensive.
Hours: Daily from 10 am to midnight, although you can't go up after 11:30 pm.
Address: Panoramastraße 1A, 10178 Berlin, Germany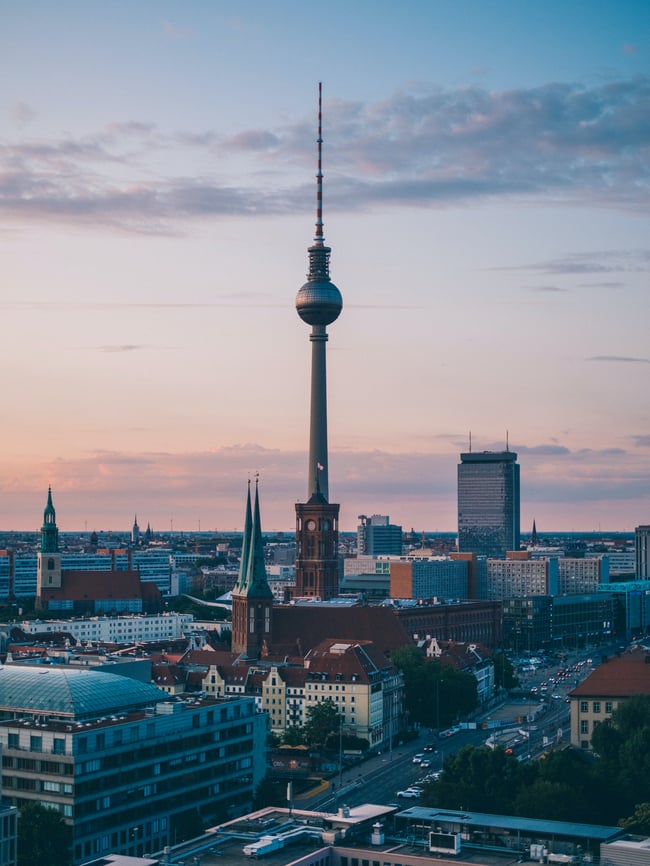 Where To Eat
As with most other cities in Europe, the food is half of the experience. Here are some of our favorite meals and where to find them!
Wiener Schnitzel
When in Germany, this is kind of a no-brainer. The famous meal is made from a thin slice a veal, coated in a fried crust of eggs, flour, and bread crumbs.
Scheers Schnitzel: Check out the menu here!
Hours: Daily from 11:30 am to 10 pm.
Address: Warschauer Pl. 18, 10245 Berlin, Germany
Schnitzelei: Check out the website here!
Hours: Monday-Friday from 4 pm to midnight. Saturday-Sunday from 12 pm to 11 pm.
Address: Röntgenstraße 7, 10587 Berlin, Germany
Currywurst
Known as THE street food of Berlin, this popular dish is a combo of international flavors. They've got the traditional German sausage, smothered in American-style ketchup, topped with curry powder spices from India. Although you'll see it sold everywhere, here are a couple of places we suggest!
Curry 36
Hours: Daily from 9 am to 5 am (yes, you read that right).
Address: Mehringdamm 36, 10961 Berlin, Germany
Curry Mitte
Hours: Daily from 11 am to 1 am.
Address: Torstraße 122, 10119 Berlin, Germany
Burgers
They have the meats. Literally. The burgers are juicy, the combinations of flavors are delicious, and all easily as good—if not better—than any you'll find in the US. Here are two of the best spots for you to try!
Rembrandt Burger: See the menu here!
Hours: Daily from 12 pm to 10 pm.
Address: Richard-Sorge-Straße 21, 10249 Berlin, Germany
Burgermeister: See the menu here!
Hours: Daily from 12 pm to 3 am.
Address: U1 Schlesisches Tor, Oberbaumstraße 8, 10997 Berlin, Germany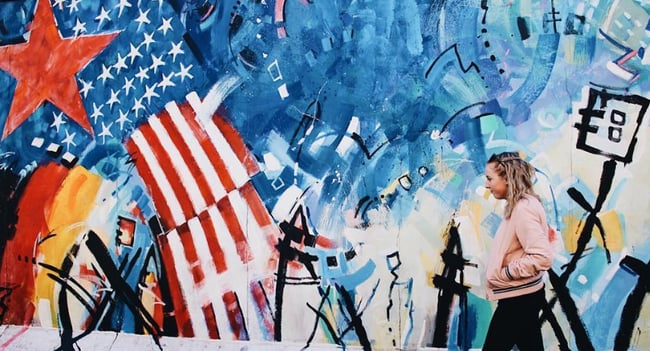 Airbnbs
Hostels
Berlin Youth Hostel International: Not far from Tiergarten, this well-located hostel will only cost you about $30 a night if you're able to snag one of the 4-bed rooms for your group. Plus with free breakfast and free wifi, that's really all you need.
Book your stay here.
Address: Kluckstrasse 3
Heart of Gold Hostel: To be honest, the coolest thing about this place is that every room was painted by a different artist, and it was all inspired by The Hitchhiker's Guide to the Galaxy. Definitely spaceship vibes! And almost 7000 reviews? It's not far from Museum Island, or the Brandenburg Gate, so great location. They have free wifi and a breakfast buffet for just over $5. Get one of their 4-bed rooms for about $40.
Book your stay here.
Address: Johannisstr. 11
Singer 109 - Backpacker Apartment Hostel: This place is ideal—even the bathroom situation (and let's be honest, that's a big deal)! Each room here either has its own bathroom or only shares with one other room. With a huge variety of rooms to choose from, you could pay $30-40 per night. They also have free wifi and it's not far from some of our fav Berlin spots!
Book you stay here.
Address: Singer Str. 109
+ One Hotel
It's a 3-star experience some volunteers have stayed at, citing the pluses of a pool, airport shuttle, and comfy (yet basic) rooms. Learn more here.

Address: Warschauer Pl. 6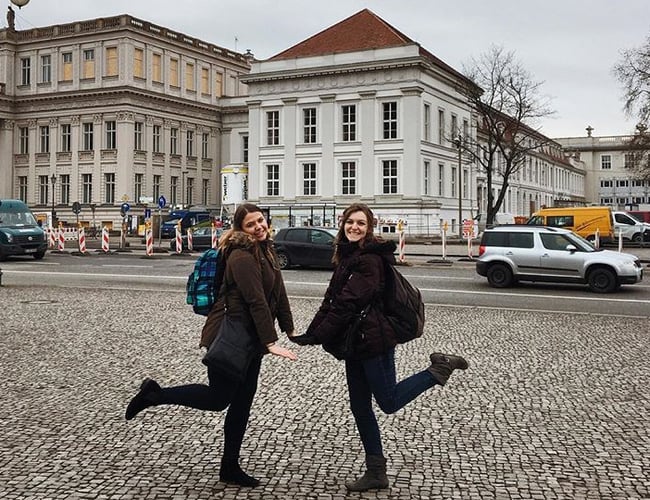 How To Get There
From all of the locations that our volunteers live in during their semester in Europe, flying to Berlin is going to be your best bet, both time wise and financially. But if you're determined to take an overnight bus, check out this website!
There are two airports that service this city. The Berlin Tegel Airport (TXL) is only 5 miles from the city center, while the secondary airport, Berlin Schönefeld Airport (SXF), is about 13 miles southeast of the city center. Although most travelers prefer to fly into the Berlin Tegel Airport, there are plenty of others who opt for the budget airlines that fly through Berlin Schönefeld. Either way you can easily catch an underground train from the airport to the city center.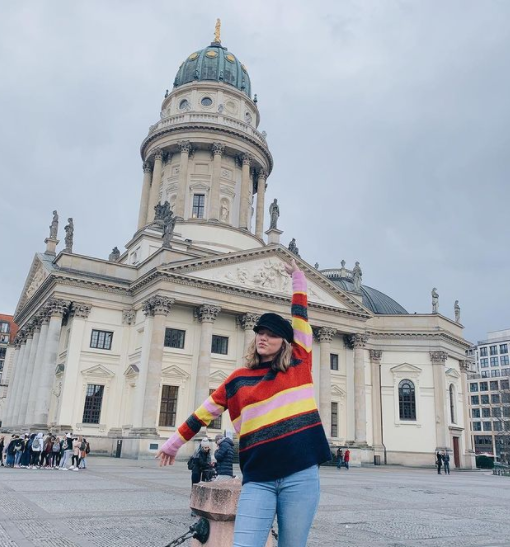 How To Get Around Berlin
Definitely the best way to get around is by taking either the U-Bahn (underground trains) or the S-Bahn (elevated trains). Their public transportation runs on a zone system, but thankfully most of the tourist attractions are located in the areas with the cheaper tickets. A ride will cost $2-$4, and as with almost every other country in Europe, make sure you get your ticket validated (stamped) when you board. If the inspectors catch you without a validated ticket, you will be charged about $75. Ouch!
Although travelers can get a Berlin WelcomeCard for unlimited rides on bus routes and tram lines, the service is pretty slow and the time you'll spend on the public transportation probably isn't worth it if you only have a couple of days to explore the city. If you're interested, visit this website for all info about the tourist card and the discounts it includes!