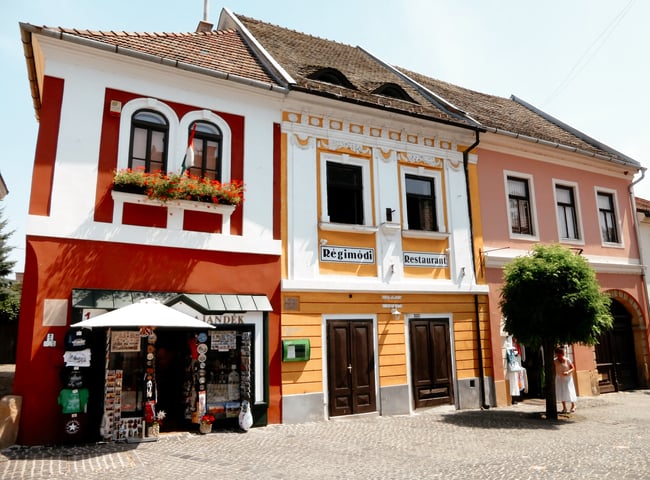 Why should Budapest get the all spotlight when it comes to travel in Hungary? We're shedding some light on a few nearby gems that shouldn't be overlooked!
Don't get us wrong... we're big fans of Budapest. Who doesn't want to soak in relaxing thermal pools and get a photo in front of the stunning Parliament building? We even have a guide to all things Budapest! However, we're here to let you know just how much adventure and culture can be found just a few hours outside of the Hungarian capital!


---
Dreaming of spending an entire semester in Europe?
Text an ILP rep to learn more about our Europe programs!
---

See what life used to be like in old rural Hungary, try foods specific to the region you're traveling in, visit historical castles with unreal views of the Danube River, and ride a toboggan down a mountainous bobsled track. If you venture outside of Budapest to one of these four nearby cities instead, I bet you'll get more than you bargained for.
Holloko
Szentendre
Esztergom
Visegrad

Holloko
This tiny village is super unique because visitors can see what life was like in rural Hungary before the 20th century. And because it's a UNESCO World Heritage site, the village's charm and authenticity has been really well maintained. When you walk along the cobblestone streets past century-old buildings it feels like you've traveled back in time. With its many museums, Holloko is the perfect place to learn about everything Hungary, from history and culture to customs and traditions.
If you're not a history buff, there are plenty of places in the old village to spend your time. Pop into shops for souvenirs, restaurants for local fare, or visit the Holloko castle which dates all the way back to the 13th century.
For a really special experience, you can even stay overnight in one of the old village guesthouses. This gives you a firsthand taste of what it was like to live here a century ago. For the most traditional accommodation, we'd recommend either Nefelejcs Vendégház Hollókő or Hollóköves Vendégházak. Not gonna lie... these are both on the pricier side but they've done so well to preserve the traditional decor. For a more budget-friendly option of this overnight experience, you can check out Kemencés Porta.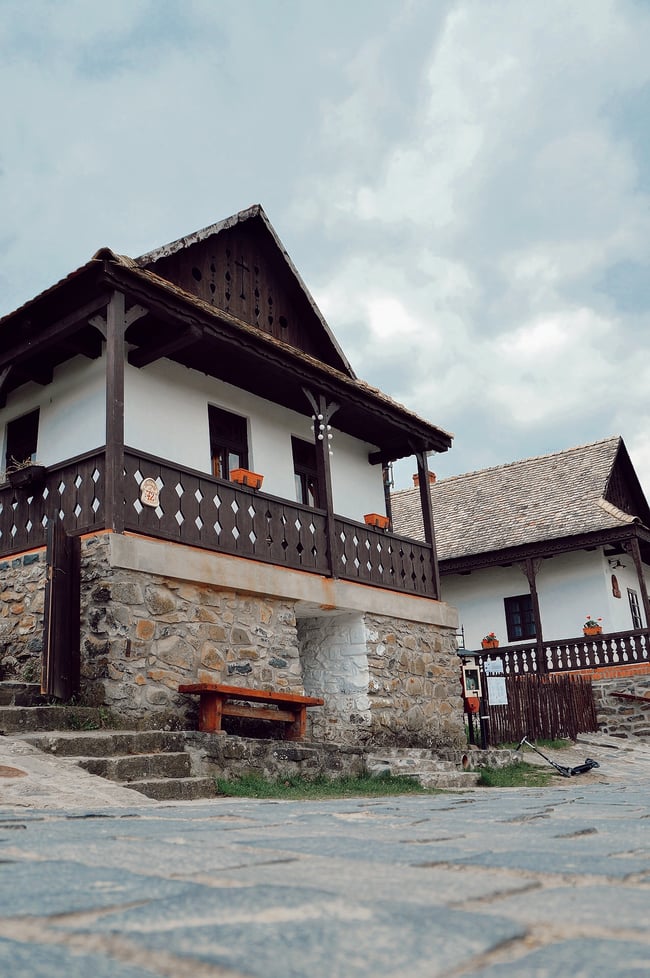 Szentendre
Not even an hour away from Budapest, Szentendre makes for a really easy day trip! There's a ton to do here, so we're just going to share our very top suggestions. First things first, you have to try langos (aka a deep fried flatbread) at Alom Langos! It's a super popular Hungarian street food that you can add either sweet or savory toppings to it.
Next, why not stop by the Marzipan Museum? If you didn't already know, marzipan is a confection made up of sugar, almond paste, and water and is typically used for decorating desserts. The museum here is filled with beautiful creations made entirely from marzipan. You'll find sculptures of Mickey Mouse, the Parliament building, and even life-sized cacti!
Since Szentendre is located on the bank of the Danube Bend, it's fun yet relaxing to take a leisurely stroll along the water. There's even a public beach nearby (Postman Beach) where you can hang out on the shore or take a dip in the water! And you can't leave the city without exploring the town square ("Fo Ter"). This charming and colorful square is packed with little shops, outdoor restaurants, cute cafes, and museums to pass the time in.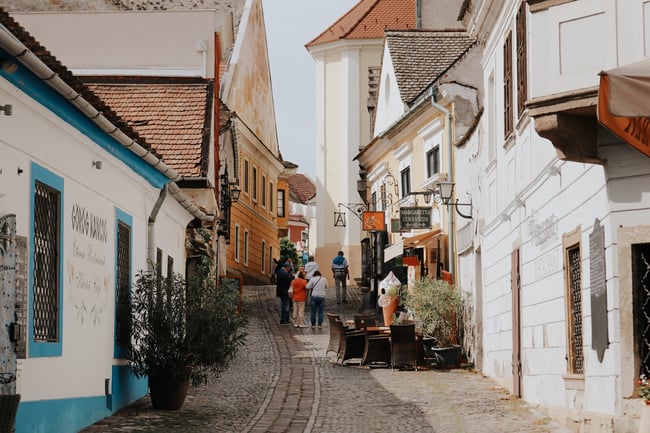 Esztergom
Three words: Maria. Valeria. Bridge. This 500 meter bridge stretches out over the Danube River. On one end of the bridge is Esztergom, Hungary and on the other end is Sturovo, Slovakia. You can either walk or drive across the bridge, but we'd recommend walking so that you can stop along the bridge to take in the gorgeous river views. It's also the coolest thing to be able to say you walked allll the way to another country.
For another unreal view of the river, you need to go to Castle Museum which is situated on a cliff overlooking the river. Especially from the tower, you'll be able to get some really great photos and take in a little bit of history too.
Not far from the museum is Esztergom's prized jewel and main attraction: Esztergom Basilica. Not only is it the largest church in Hungary, but it's also the tallest building in the country! Its beautiful exterior is further complemented by all the history waiting to be learned about inside.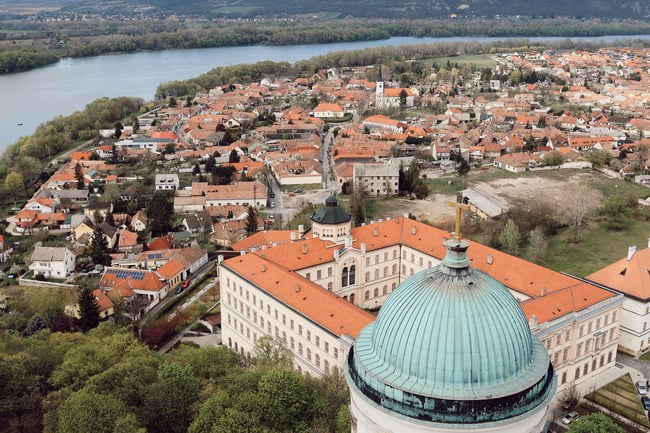 Visegrad
If you're looking for some outdoor adventure, Visegrad is your place! The first thing you'll want to check out is the Toboggan Park which is open both in the summer and winter! There are two different tracks to sled down and the price is based on a single, six, or ten-ride ticket.
If bobsledding wasn't enough to get your adrenaline going, what about zip lining over the Danube river? At Canopy Visegrad, you can do just that! Check out this video to see the panoramic views you'll get from the zip line. This experience will set you back about $20 USD, but in our opinion, it's so worth it!
While Visegrad is known for its many hiking trails, we'd suggest taking a hike up to the Visegrad Citadel since you don't have to go way out of the city to get there. We've read that it takes about 35-45 minutes to walk to the top but once you're up there you're rewarded with some seriously spectacular views of the winding river, rolling green mountains, and picturesque town.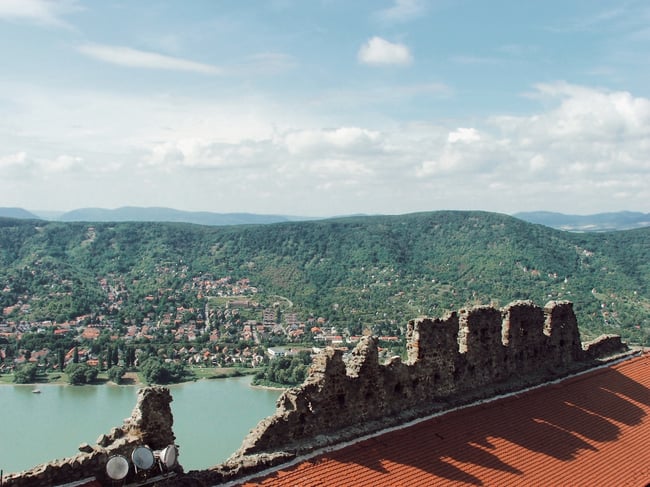 Ready for a European adventure?
We (International Language Programs) host volunteer programs in a handful of different countries around Europe. Our volunteers are college-aged individuals who teach English part-time and have weekends plus vacation days off to travel. This means that you get to teach the cutest kids during the week, then hop on a train, plane, or bus to explore everything that Europe has to offer!