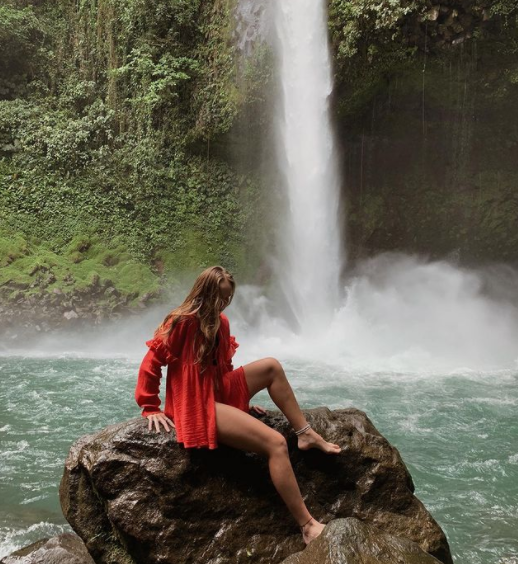 Suffering from a major case of wanderlust like we are? Hate to break it to you, but the best remedy is to travel. And if you can't travel, then get inspired by people who do!
The travel bug is so real! And once you catch a whiff, you'll never recover. But we're not complaining! Because exploring the world, tasting new foods, experiencing new cultures, and making new friends is pretty wonderful. And since we know how great this is, we love watching other people get to do it too! Plus, it gives us major inspiration for our own dream trips to bucketlist destinations.


---
Want to experience living abroad as more than a tourist?
Then you've got to learn more about International Language Programs!
---

Keep reading to get our ultimate list of amazing travel Instagram accounts! Follow them to get unlimited inspiration for your future travels, adventure guides, photography tips, and so much more. Fair warning: like us, you might find yourself looking at plane tickets....again.
What Are The Best Travel Instagram Accounts?
If You Want Major Travel Inspiration
Blonde Atlas
Whitney, a travel advisor and writer, shares well-articulated and lengthy captions with her stunning photos! She posts mostly about Europe, highlighting super popular places and lesser-known gems. We love her tips and journal-esque writing style! Check out her website too for travel guides and more tips.
Catch Me If You Can
Jessica Nabongo proudly states in her bio that she is the "1st black woman to travel to every country." Her posts are empowering, as she has a strong desire to inspire others to travel and experience the world around them. Visit her website to see lists of her favorite beaches, hotels, travel gear, and so much more!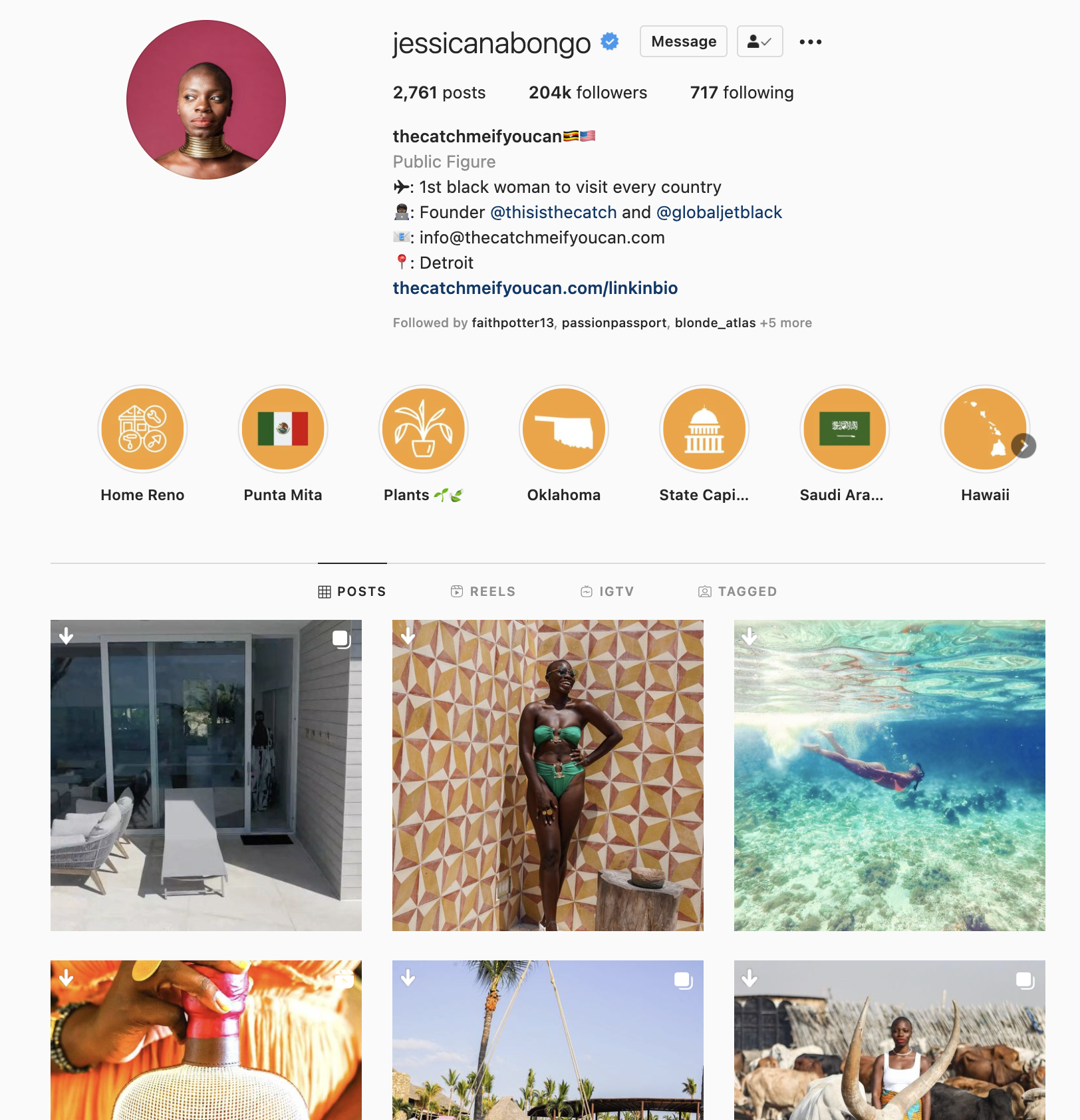 Destination Chaser
Andi is an adventure lover who grew up in Venezuela before immigrating to Austria with her mom and brother when she was 13. Her first vacation in Europe was to Rome when she was 18, and she has loved traveling ever since! She shares great photography tips and has story highlights about all of the countries she has visited as well.
Follow @destinationchaser here.
Find Us Lost
Selena Taylor is a travel blogger and photographer based in Amsterdam (although she recently moved to NYC). The first thing you'll notice is that her Instagram feed is just breathtaking! Her journey started with a 3-month road trip through the Balkans. One of our favorite pages on her website is the destination page where you can filter her guides and tips by location, trip type, and even duration.
Girl Eat World
Ummm so obviously the Insta handle was enough to get us hooked. But Melissa is adorable! Plus her photos are so colorful and mouthwatering! She lives in Singapore and actually started as a blogger, so her guides for popular destinations (especially the cities in Asia and Oceania) are really helpful. Food, travel, and visual storytelling are what she's all about!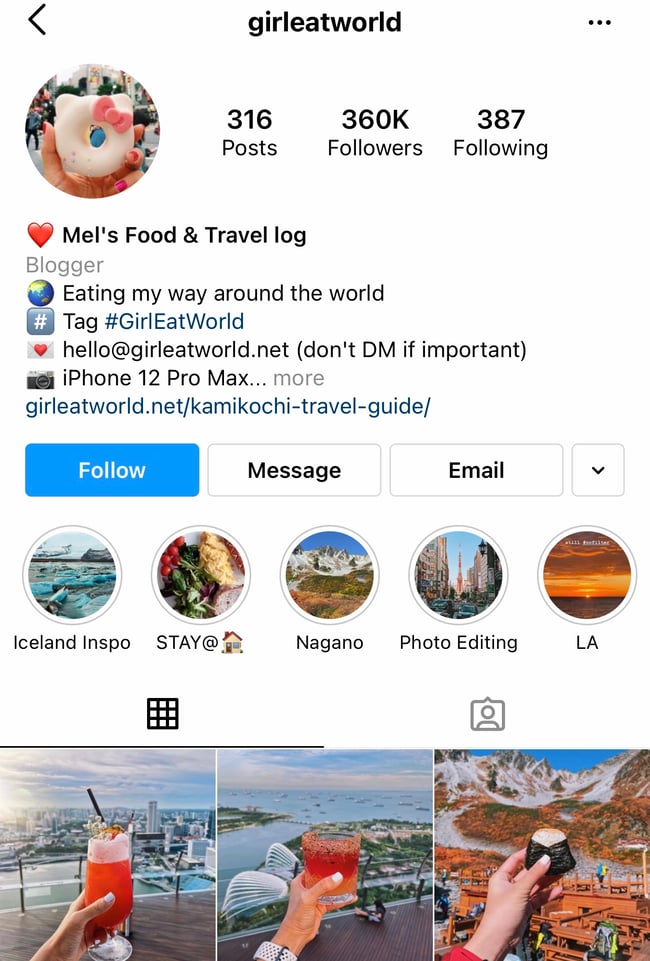 Girl Gone Abroad
Lauren is an American currently living the dream in Amsterdam. But her travel experience is very extensive—51 countries in 6 years! And get this...one of her many cool adventures included teaching English in Thailand for a semester. Big fans of that! On her website you can find tons of travel and lifestyle tips, plus posts about her adventures as a digital nomad.
The Pretty Cities
If you love stunning images of the world's most picturesque city spots, then this account is for you. A lot of the captures are of places and things that a tourist might overlook at first glance. But we'd happily jump into any one of these beautiful pictures!
The Slow Traveler
If you've ever dreamed of living in the English countryside next to the sea with lots and lots of books, then we've found your dream life. And Carolyn is living it! Every single picture is calming and ethereal. Do you think we could convince her to life swap for a few days....or weeks? Definitely a favorite follow.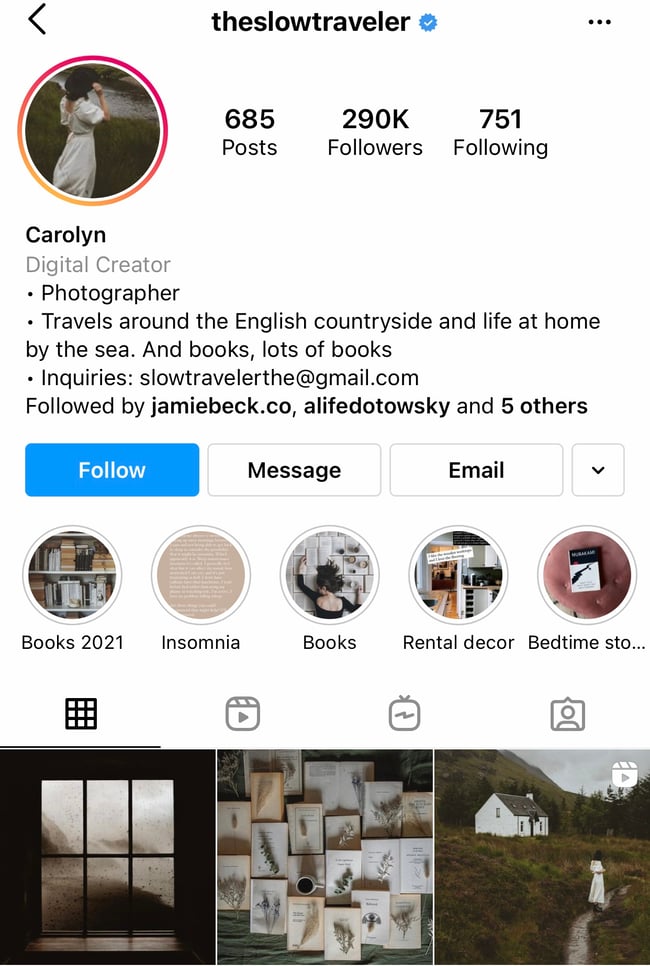 If You Want To See Families That Travel
Along Dusty Roads
Andrew and Emily are a couple of wanderers whose first adventure started with a move from London to Mexico. Their goal is to help people travel more and travel better. We're all for that! You've got to check out the "PLACES" tab on their website for some incredible guides and even more stunning, curated images. These two know what they're talking about.
The Bucket List Family
You've probably heard of them, and dare we say it? This traveling family seems to be the current title holder of "America's Sweethearts". Garrett and Jessica Gee have three adorable kiddos: Dorothy, Manilla, and Cali. They've traveled to 85 countries together, sharing photos and videos the entire way, and are currently living in Hawaii. With over 2 million followers on Instagram, their passion for adventure, culture, and service is well-watched and admired. Read more about their story and all of the amazing things they've done on their website.
Follow @thebucketlistfamily here.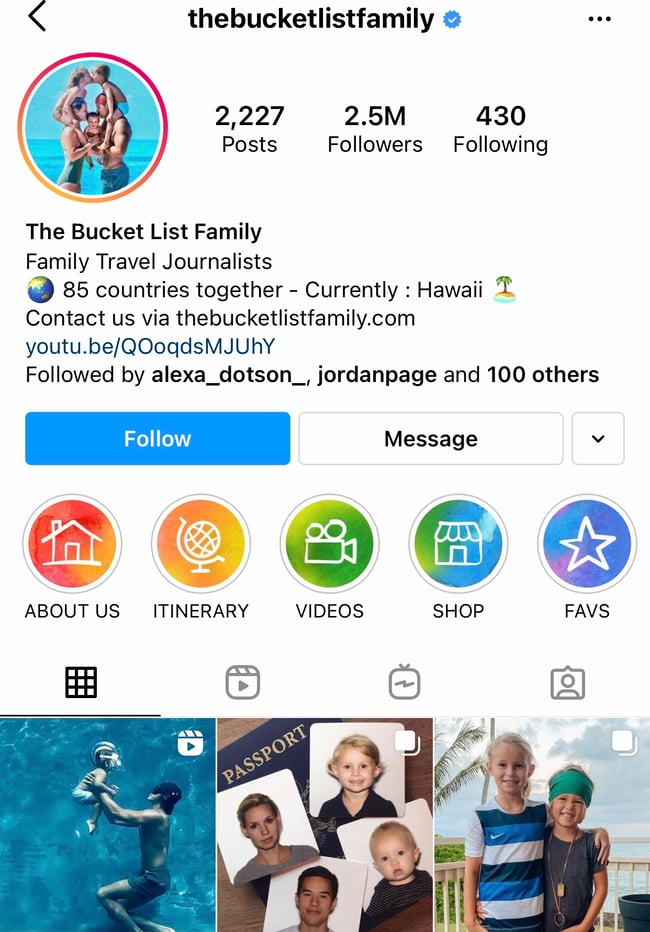 Counting Countries
Chloe and Jordan have set a goal to beat the Guinness world record for "Fastest Time to Visit All 196 Sovereign Countries". They've visited 80 countries so far and are currently living in Hawaii where they'll soon welcome their first baby. You can check out their website and definitely don't miss out on their awesome YouTube videos.
Follow @counting.countries here.
Our Family Passport
Shani, Kam, and Sav—a mom and daughter trio—are known for sharing the good, bad, fun, and ugly of traveling (all things that we are VERY familiar with)! We love their family travel tips, many of which can be applied to any type of travel. They believe in having experiences over things and have travel guides for countries all over the world. Absolutely visit their website!
Follow @ourfamilypassport here.
Salt In Our Hair
Hannah and Nick are all about sustainable travel, so of course we love them! But, we also can't get enough of their UNREAL pictures that are actually flawless. They are based in the Netherlands, but have guides for all of our favorite destinations on every continent. You can also visit their website for more tips and tricks than you ever knew you needed. But trust us, you need them!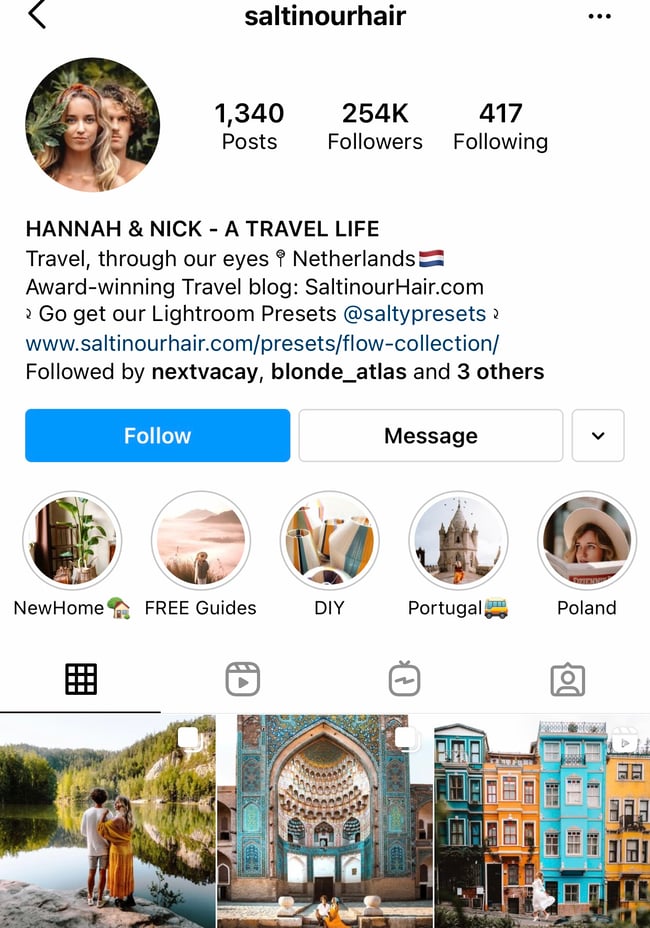 If You Want Accounts Featuring ILP Destinations
Costa Rica
Yeison and Samantha are 100% dedicated to showing you the outstanding beauty of Costa Rica (not that we need much convincing)! The trees and beaches and the wildlife—ideal combo. Don't forget to check out their website too! And yes, Costa Rica is another country that our volunteers can spend a semester serving in.
Discover Europe
If all you want is beautiful pictures of Europe, well friends, here you have it! Will you be bookmarking every photo on this Insta feed? Maybe. Any regrets? Never. And don't forget—ILP volunteers have the opportunity to spend an entire semester in Europe.
Follow @discover_europe_ here.
Discover Nicaragua
Wondering why we're ALWAYS talking about the beauty and adventures waiting for you in Nicaragua? Follow this account and you won't be wondering anymore. Instead, you'll be joining us in the "Jealous Club" where we sit and ogle over everything our volunteer groups in Nicaragua get to experience.
Follow @discovernicaragua here.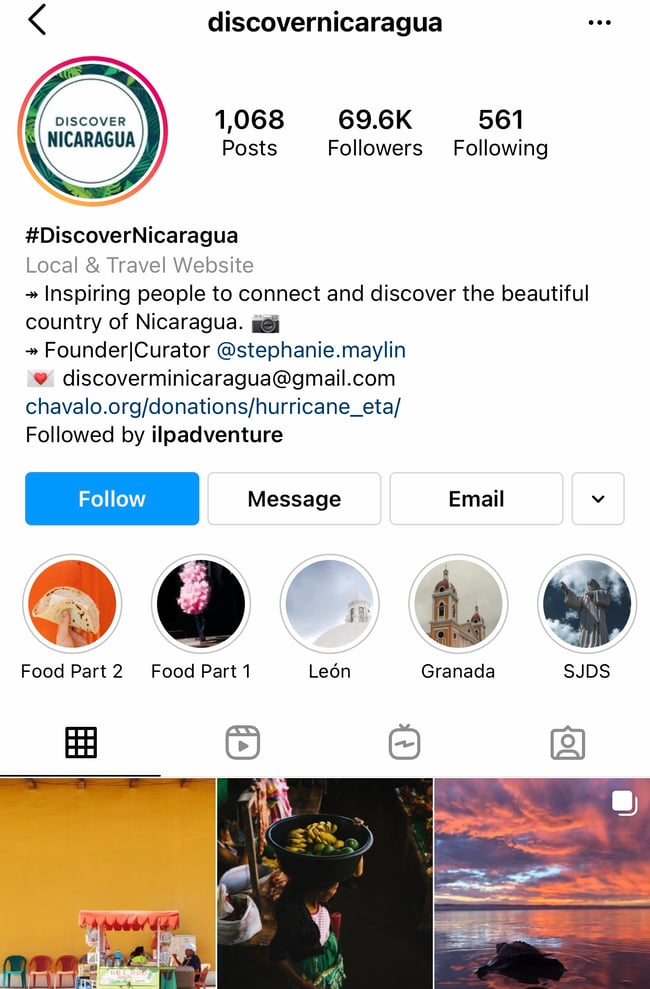 Dominican Republic
Looking for paradise? This account claims that you have to look no further. Those beaches? And palm trees? That perfectly turquoise water? Yeah, we're ready to believe them. If spending a semester in the Dominican Republic is something you'd love, we can make that happen too!
Follow @dominicanrepublic here.
European Best Destinations
Colorful buildings? Check. Famous landmarks? Check. Giving us a mega dose of the travel bug while convincing us that no plane ticket is too expensive? Check check. Now you know why we sit and daydream about going back to Europe ASAP!
Follow @europeanbestdestinations here.
Mexico Travel Channel
There's a whole lot more of Mexico to see than just touristy Cancun (although we love that beachside city too). Check out these photos to see why our ILP volunteers in Mexico are often surprised by how much they end up falling in love with this country! And for way more reasons than just that the best tacos in the world are found here.
Follow @mexicotravelchannel here.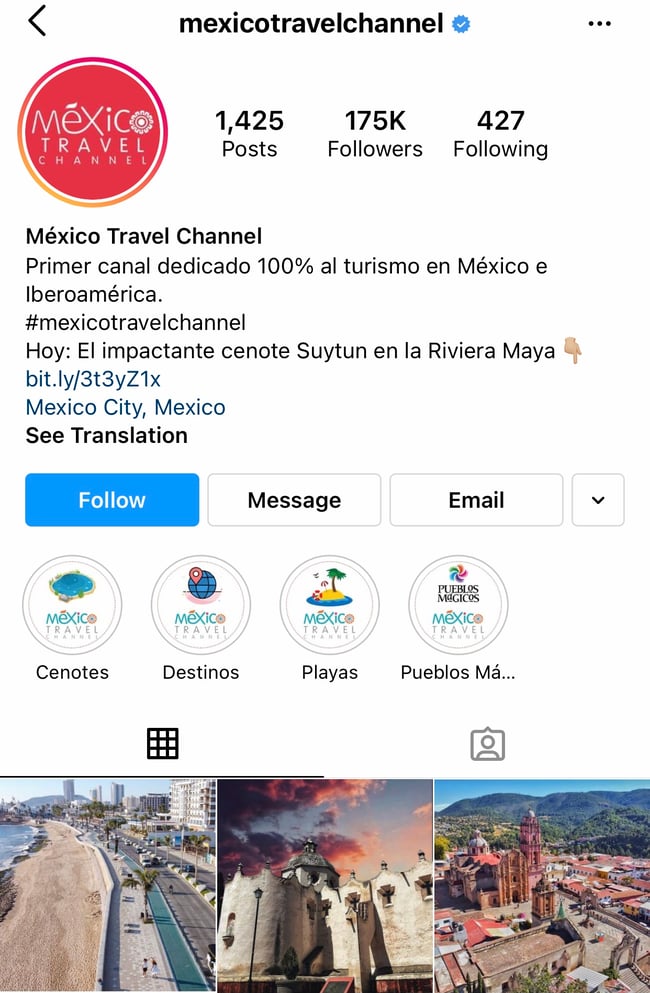 Thailand
We were already in LOVE with this country, but these pictures have us dying to go back for another dose. Hey hey cutie elephants, vibrant temples, and white-sand beaches? Oh, and all of those hidden gems we didn't know about the last time we visited? Yep, we're on our way. You can experience all of this and SO much more as a volunteer in Thailand through ILP. Hence, this is one of our most requested locations.
India
We are not here to pick the prettiest ILP countries .... but if we were, India has a really strong vote for coming in first place. From the most ornate palaces, cities painted in pinks, blue, and yellows, plus waving palm trees, and beyond intricate temples, the colors and designs found in India are astounding. You can come get a sneak peek at the prettiest perks of this country as an ILP volunteer in India — get ready for a semester of color!
Vanuatu Islands
How old were you when you first heard about these tropical islands? Hopefully today wasn't the first time because if so, you've been missing out! Say hello to some of the kindest and happiest people, the brightest sunshine, and the clearest water. And lucky for you, Vanuatu is one of ILP's newest locations for adventure-loving volunteers!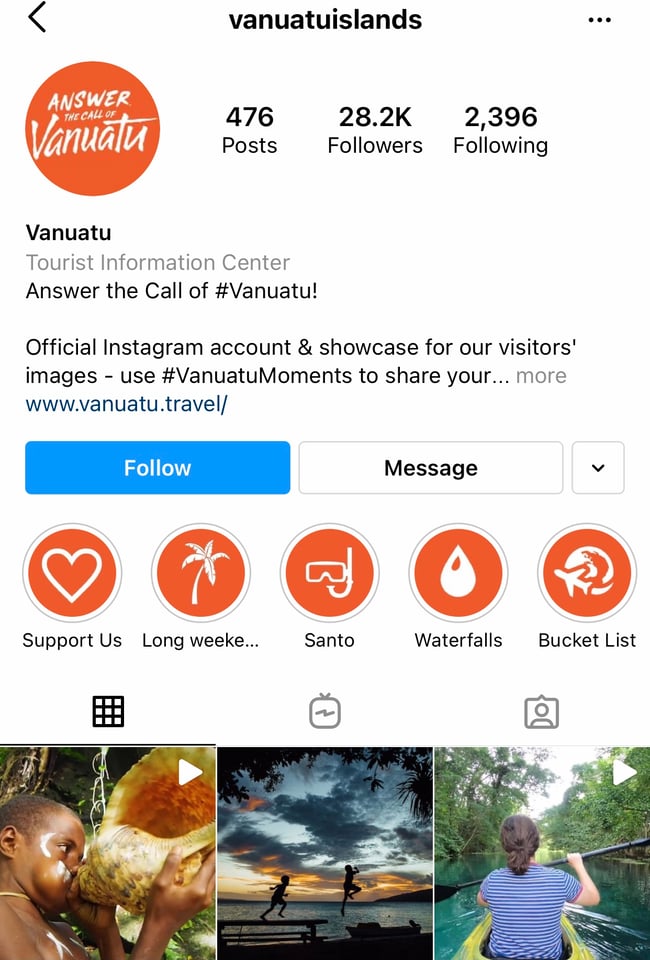 Our Very Own Instagram Accounts
ILP Adventure
Love seeing young people living their dreams and experiencing new cultures all while volunteering abroad? Their adventures are priceless, and their experiences are all we need to keep doing what we've been doing for almost 30 years now. Yes, they get to explore incredible destinations (we share a lot about those) and yes, there are really rough days (we try to share plenty about those too), but when all is said and done, we love following our volunteers every semester and sharing some of their highlights with you.
ILP Takeovers
Want to see and hear about everything from the volunteers' perspectives? This is the account reserved completely for them! This is where they get to tell us—in detail—about their experiences (both good and hard). Plus, they share all about what it's like to live and serve in their specific location. This is the perfect place to ask questions and get your answers from them first-hand.
ILP Adventure Pro
Not everyone who travels through ILP is a volunteer. These teachers are getting paid to work with kids at schools in Taiwan and Thailand! Plus, they get to explore dreamy destinations on their days off (of which there are plenty). Follow along to see what makes this experience unique from other ILP programs!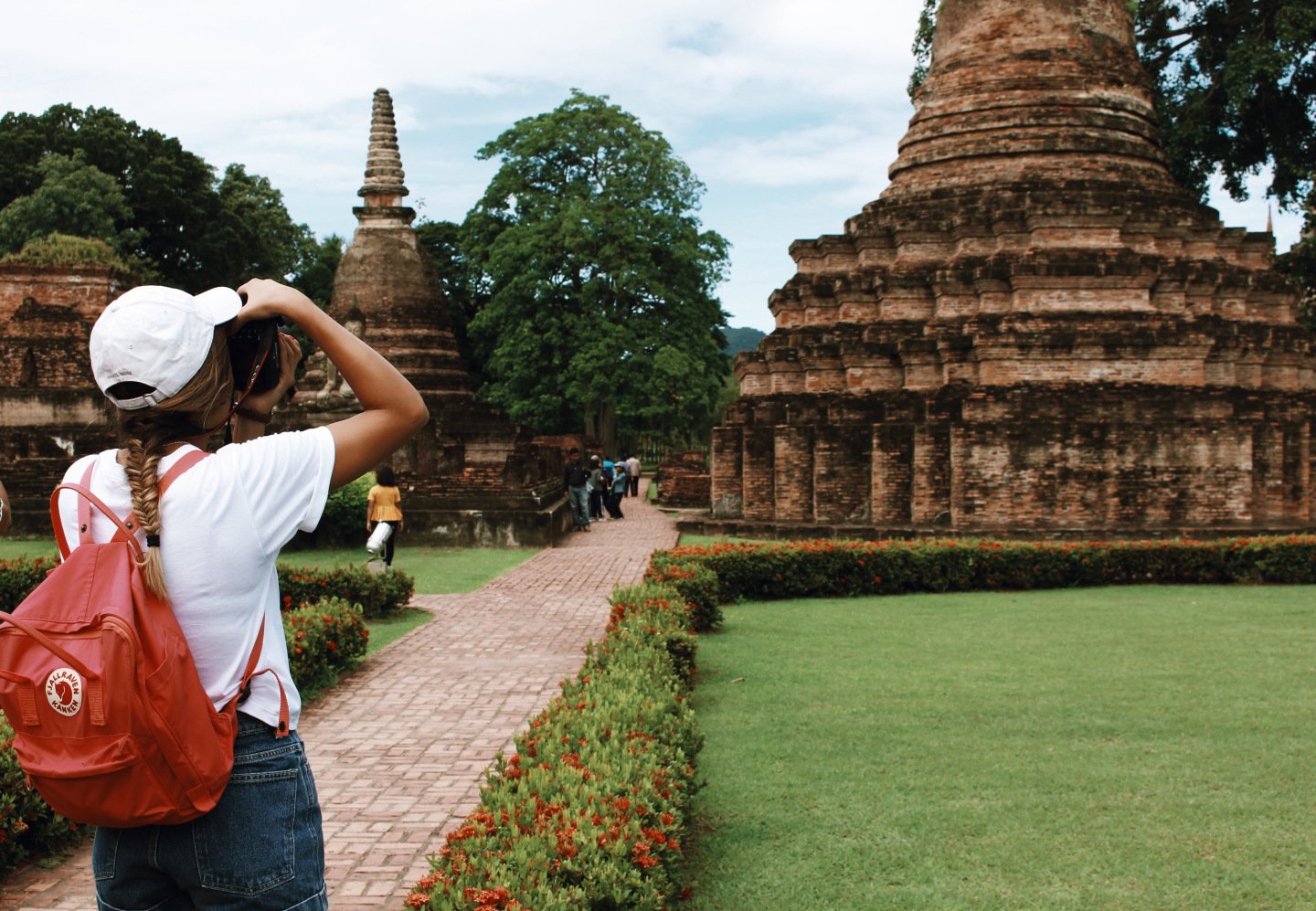 Ready to make your own travel and Instagram dreams come true?
A semester abroad of volunteering with ILP can make those a reality! We have quite the handful of countries for you to choose from. Click the button below to learn a bit more about each one!