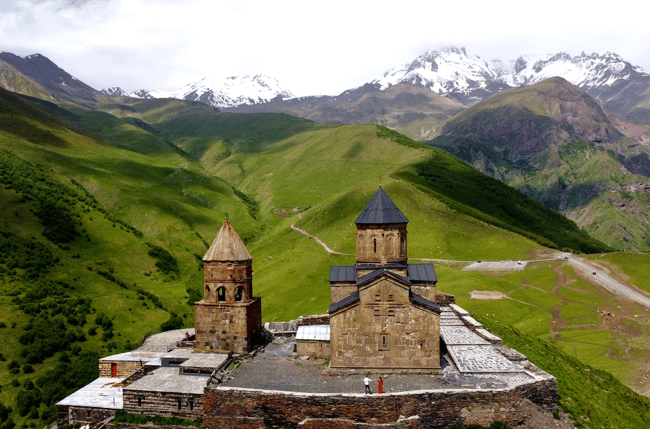 Ready for the most in-the-know European getaway? Come to Georgia — you'll find alpine villages, glittering beaches, hidden cave cities, the "it" spot for hiking, and more.
Out of everywhere I haven't been, Georgia is the country I'm itching to travel to the most. I've loved my time in Western Europe but recently, I've been traveling further east, delving into cities that don't get as much attention as places like Rome or Paris and I've loved it ... and want to see more.
One country that I'm absolutely dying to visit is Georgia, for oh so many reasons. I first got my introduction to this country when visiting Russia actually, when I fell head over heels with the food. You can find a lot of fantastic Georgian restaurants in Russia and after one bite, I knew I needed to know more about the country of Georgia.


---
Thinking you need time living and traveling in Europe?
See what volunteering with ILP is all about
---

Georgia is hiding some of the most beautiful monasteries I've ever seen, hiking to rival Switzerland, networks of caves, and some of the most uniquely pretty towns in all of Europe. It's rather mindblowing that so much can be crammed into a single country, but that's the reality for Georgia. And the more I researched, the more I started planning my own trip here.
There is way more to this country than I'm going to cover here, but below you'll find a short list of the can't miss things about the country of Georgia:
A Little Bit Of An Intro
If you're where I was, you have zero clue about Georgia — where it is, what the culture is like, and what there is to do here. We'll get to what there is to do here in just a minute but to start, here's a tiny intro about the country.
Georgia is sandwiched between Russia, Turkey, Armenia, and Azerbaijan giving you quite a mix of cultures. It's always been a country blended between East and West, with roots in Turkish and Persian kingdoms before being a part of the massive Russian Empire (and later part of Soviet Russia) until 1991. In fact, Joseph Stalin (birthname Iosif Dzhugashvili) was born in the Georgian city, Gori.
But so much about this country is just fascinating: the Georgian language is a part of its own linguistic group (some think that the 33-letter alphabet is based on the sort of Aramaic spoken in the time of Christ). Then there's the name — locals call their country Sakartvelo, but the origins of "Georgia" for English-speakers have roots back to the Persian Empire where the people were devotees of St. George (thus the name given by the crusaders).
And when it comes to what to do? There is so much! Plan on spending a few weeks in this country to even start seeing it all (but here's a taste, just to get you excited):
Starting With Tbilisi
The capital city of Georgia is where most people start their adventure, for good reason. The sprawling city is a unique blend of European, Asian, and Middle Eastern influences to create a capital that's full of mosaic bathhouses, stained-glass churches, summer palaces, underground bazaars, and art museums built out of old Soviet-era warehouses.
So much of the city can be experienced by just wandering around, peering down streets to old neighborhoods until you see a cafe, palace, flea market, cathedral, or art gallery that catches your attention.
Some of our highlights include a soak in the stunningly pretty Orbeliani Bathhouse, peering behind to see the Leghvtakhevi Waterfall, hunting for Soviet antiques at the Dry Bridge Flea Market, and taking the cablecar up to the Mother of Georgia statue (and nearby Narikala Fortress). Oh, and exploring many old, colorful neighborhoods. And cafes. And art galleries.
We love all there is to do in Tbilisi.

Nearby Tbilisi Advent

ures

Plan on using Tbilisi as a jumping-off point to oh-so-many adventures — Tbilisi is just 1-4 hours away from so many highlights of the country (can't you see why it's the best starting point for your Georgia experience?) Here are just a couple of places that are easy to see in a day or so, though there are many more:

Mtskheta is one of the best day trips from Tbilisi for a lot of reasons: think red-tile rooftops all situated around a curving river, and tons of UNESCO monuments in one place. Come see one of the oldest cathedrals in Georgia or the views from the Jvari Monastery before traveling on, or returning back to Tbilisi.

Georgia's wine country is also a favorite, with sweeping green hills dotted with stone towers and charming little villages full of vineyards and monasteries. Visit places like Sighnaghi or Telvai for all of this and more. Some say it's prettier than Tuscany, but you'll have to decide that for yourself.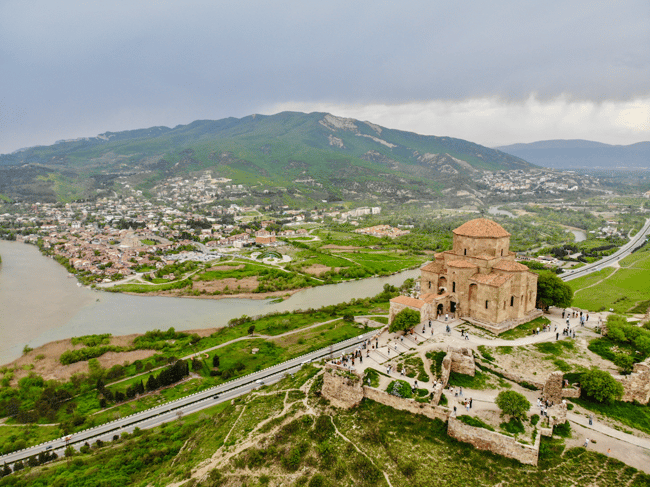 Perched Castles, Monasteries, & Churches
Honestly, seeing pictures of monasteries topping huge mountains is one of the biggest reasons I want to visit Georgia. There is just something so picturesque about these hilltop churches found all over the country. Though there are several to admire, here are the ones at the top of my list.
Kazbegi is a nearby getaway from Tbilisi for hiking, especially once you see pictures of Gergeti Trinity Church — one blogger said she saw this church perched atop the green hills and that was enough to convince her to come to Georgia (so, same — it looks amazing!)
Ananuri is a can't-miss stop on your way to Kazbegi. The medieval castle has seen its fair share of battles, but the fortress still stands tall in the surrounding mountains. And to make things prettier, the whole scene is backed by a turquoise lake).
Katskhi Pillar is also known as the most remote church in the world: being a tiny church situated on the tippy-top of a huge rock pillar helps earn that title. There's a monk who lives at the church and makes the treacherous climb down the ladder to gather supplies twice a week.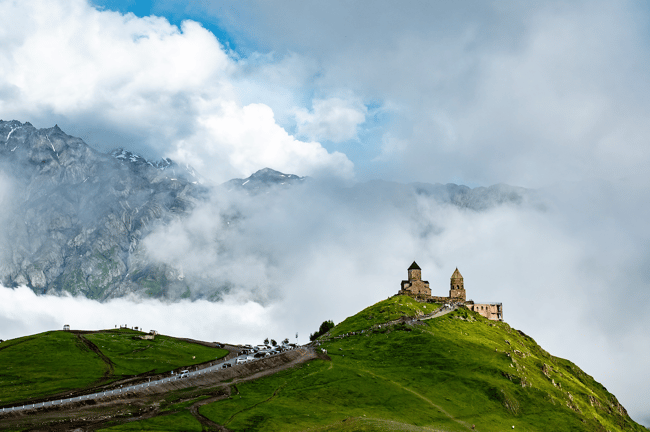 Alpine Villages + World-Class Skiing + Mountain Hikes
For those in the know, Georgia is the spot for hikers, climbers, and skiers, with tons of trails and runs to choose from, especially in the Svanti Region
The Svanti Region is one of the most under-the-radar gems in the whole country, partly due to location. Huge peaks cut deep valleys, creating an area that is remote and isolated. There are a few notable towns to visit like Mestia where you'll run into picturesque alpine meadows and wooden chalets, and a few day hikes, like trekking to the Koruldi lakes or Chalaadi glacier for amazing views.
It's also popular to hike to the tiny villages around Ushgali, which many say isn't just the best place to see in Georgia, but all of Europe. Don't miss it, if you have the time.
We also love the idea of taking a cable car up to Mt Zuruldi for stellar views ... and skiing down if it's the wintertime. For more skiing, plan on visiting the world-class mountain ranges home to two ski resorts, Tetnuldi and Hatsvali (a popular training ground for Russian skiers).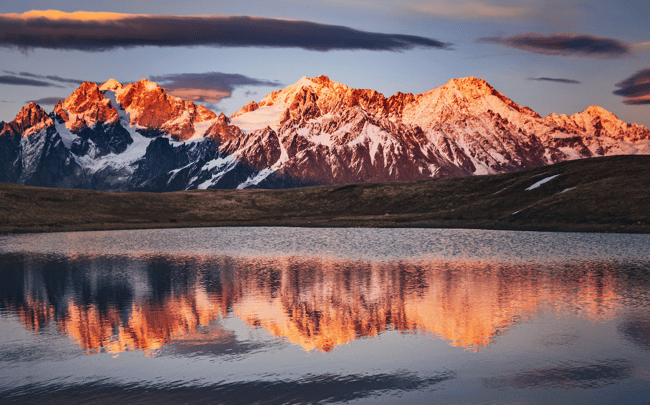 Black Sea Beaches
We love a good beach day, especially on the stony beaches all along the Black Sea. Georgia is home to quite a few seaside resorts (a popular escape for vacationing Russians), so plan on fitting in some ocean-side sunshine into your trip. Another perk? The coastline here has exceptional weather, with mild winters and summers in the 70°s Fahrenheit. Most visitors plan on swimming in the slightly salty water between July and September.
Top Beaches In Georgia
Kvariati is one of the most popular resorts, with bungalow cabanas and homemade lemonade. We're also fans of Kobuleti and Anaklia for an afternoon of napping or swimming. Or, lounge on the dark blonde sand of Shekvetili or Kaprovani (two of the only sandy beaches around, rather than the round black pebbles that are found on the other shorelines). Batumi is another hot destination location in Georgia.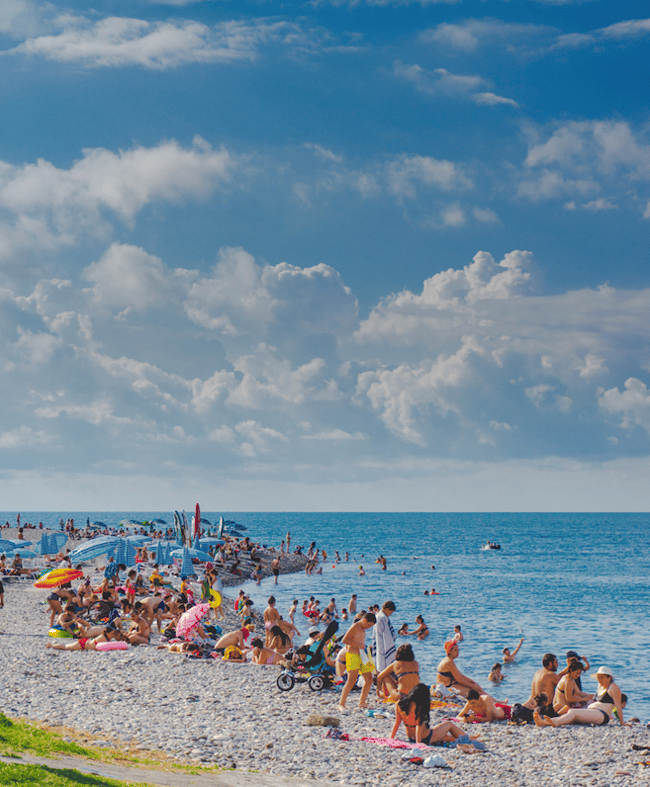 Canyons, Caves, And Waterfalls
The scenery in Georgia can't be beat. With dramatic mountains and deep valleys, you'll see canyons filled with blue water (that boast some amazing adventures), tumbling waterfalls, and impressive cave complexes, which create some of the best nature experiences in the world.
We cannot get enough of the waterfalls and canyons all over the country, but especially the ones in the Martvili Canyon. Plan on taking boat trips on the aqua river with steep canyons on either side of you, or tackling the walking trails to admire the cascades up close. Okatse is another top spot with walkways that overlook the huge gorge or head over to the Dashbashi Canyon for mossy waterfalls (you have lots of options in Georgia).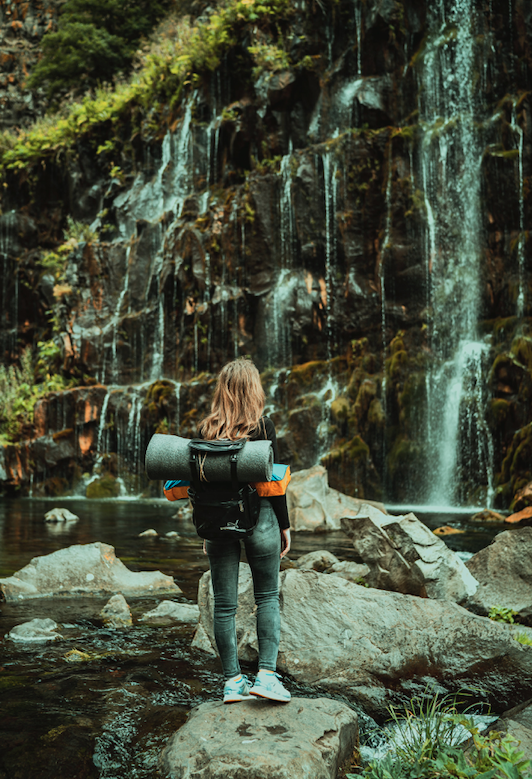 There are also caves, but not like you've seen before. Probably the most famous is the cave city of Uplistiskhe, which was once an ancient capital — historians believe people have lived in this sprawling complex since the 2nd millennium BC. The whole structure is amazing, a dizzying collection of caves complete with pillars, staircases, and tunnels leading you to the different levels. It's an incredible side trip to fit into your Georgia trip.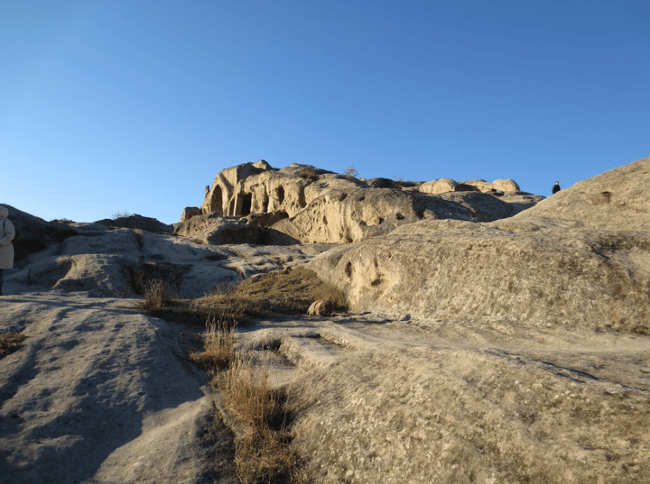 Looking into a semester abroad in Europe?
ILP (International Language Programs) arranges trips for American college-age volunteers abroad to come teach English in cities all across Europe for a few months. Volunteers get to spend their time exploring not only their home city and country, but also get to vacation all over.

Come spend a semester living with a host family, traveling around Europe, and of course, teaching. See where you can volunteer right here: