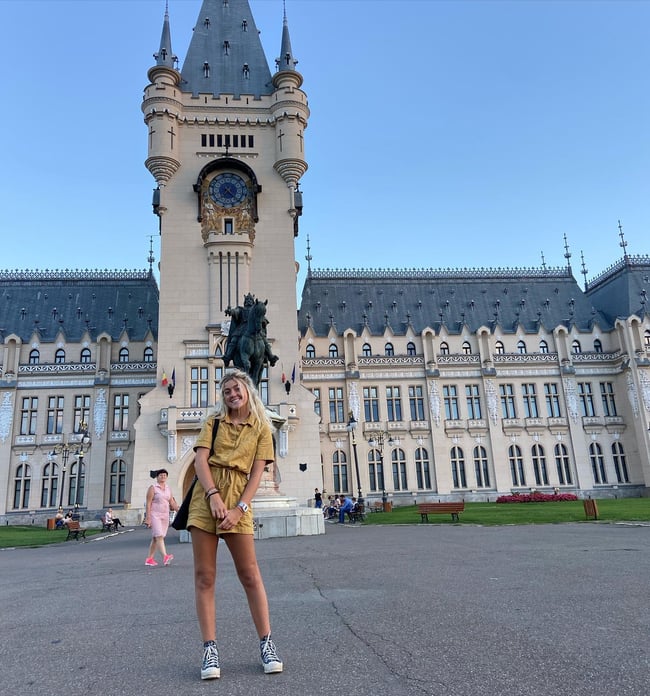 Find yourself in Iasi, Romania? Get ready for the highlight of the city — The Palace of Culture!
One of the best things about living in a country for an entire semester is the chance to see more than most tourists do on a quick little trip. And if you're spending any amount of time in Iasi, you'll need to visit The Palace of Culture at least once ... but if you're in Iasi for long? Get ready because this place hosts museums, events, festivals, and more — you'll want to spend all of your afternoons eating gelato outside of this beautiful palace!


---
Want to make a difference?
Serving in Romania gives you the opportunity to volunteer in an orphanage
---
Before we dive into all the things to do around the palace, we're going to give you a little history so you can have a smidge of background about this place — we suggest scheduling a tour to see the inside of the place, then spending a few afternoons and evenings outside on the grounds (soaking up all the things to do):
A Little History Behind The Palace
What Can You See Inside?
All The Things To Do Around The Palace
A Little History Behind The Palace
Built in the early 20th century, the palace is one of the largest buildings in the country, a gorgeous structure built in the Neogothic style (a nod as a closure to Romanticism architecture in this country). Besides being rather stunning, this building is massive — sprawling over 368,510 square feet, and housing over 289 rooms (and if you'd like to count them, 128 windows).
The building you see today used to be the grounds of another important building — the 15th century medieval Royal Court of Moldavia, which was built on the ruins of another place. See the trend here? The Palace of Culture now serves as the main focus of the city of Iasi, hosting museums and tours of the inside so you can admire the marble corridors and golden chandeliers.

Need a bit more history? Read all about the palace, here.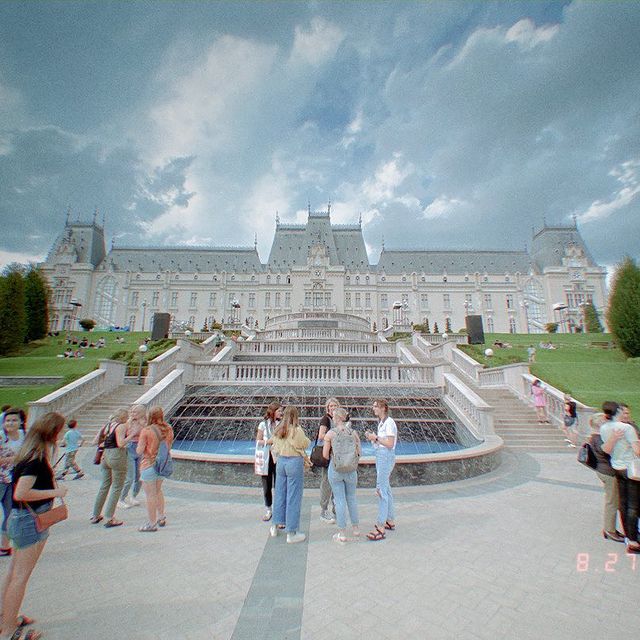 What Can You See In The Palace?

The Architecture
We get to the museums inside in a minute, but the architecture of this place is enough to buy a ticket to go inside. You'll see massive rooms carved out of white marble and massive staircases leading you up to to a viewpoint where you can gaze down at the huge mosaic found on the floor of the Gothic Room — it's an enormous, circle mosaic featuring the detailed depictions ancient creatures like dragons, griffins, and double-headed eagles.


Hours & Costs
10:00 AM to 5:00 PM, Tuesday to Sunday
Prices vary depending on what you are seeing in the palace. There is a palace tour, then the ticket costs for the museum (listed separately below). In any case, bring a student ID when purchasing tickets for a steep discount.
The combined entry ticket is 40 lei
Clock Tower ticket is 10 lei (guided tours occur on the hour, starting at 10:45 AM and ending at 3:45 PM.
Address (If you need it)
You'll easily spot the palace as you are exploring Iasi, but here's the address too!
Stefan cel Mare and Sfant Square nr. 1, Iasi, Romania, 700028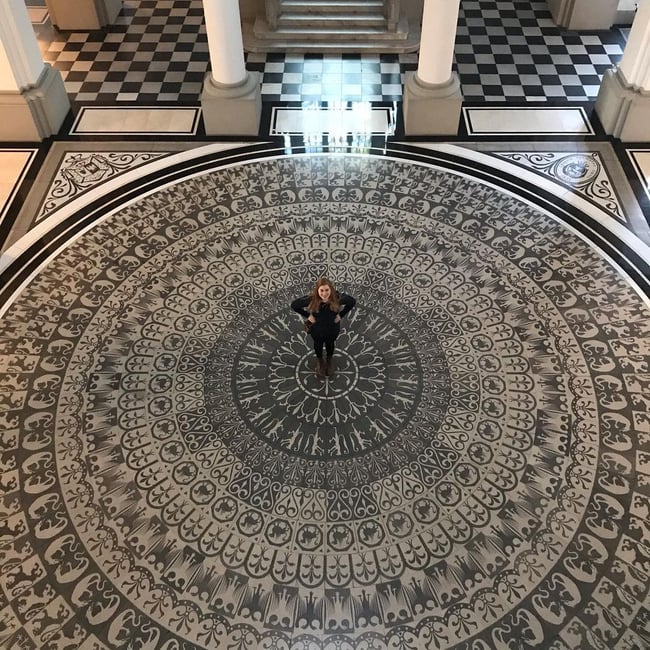 The Museums
The Palace of Culture holds four museums, which means you have a lot of ground to cover! We suggest making time to spend an afternoon (or a few) wandering through the Art Museum, Science Museum, History Museum, and Ethnographic Museum.
Each of these spots will help you learn more about Romania's rich history, but seeing everything all at once can be a tad overwhelming. Remember, these museums are all housed in one of the most lavish, elaborate, and highly decorated buildings in all of Romania. The art museum alone is home to over 8,000 pieces, 24 rooms, and 3 separate galleries in addition to the permanent exhibitions.

If you have the time, break up your visit and see the standard exhibitions, and go back to review the museum exhibitions that come through every few months.

Hours & Costs
10:00 AM to 5:00 PM, Tuesday to Sunday
Prices vary depending on the museum you are visiting. Make sure to take your student ID and you can get 75% off of admission. Here are the prices without your ID, which are very affordable:
Art and History Museums: 16 LEI ($4 USD)
Science and Ethnographic Museums: 12 LEI ($3 USD)
Address (If you need it)
You'll easily spot the palace as you are exploring Iasi, but here's the address too!
Stefan cel Mare and Sfant Square nr. 1, Iasi, Romania, 700028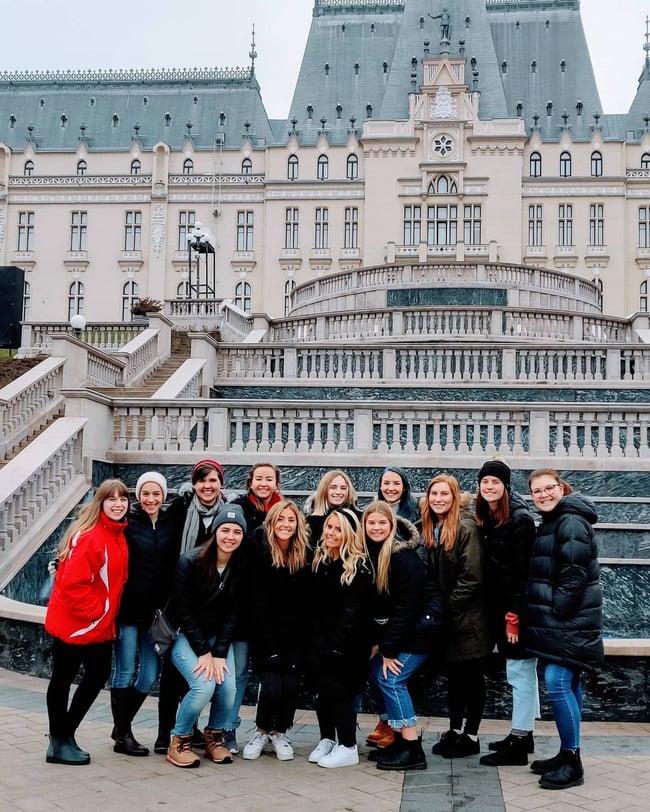 What To Do Around The Palace
Grab Ice Cream and People Watch
This is the best place to people watch because it's such a popular hangout spot for locals (and visitors). Also, since it's kinda the center of the whole city, it's a popular place to get photos taken. You may spot a bride getting bridals, or a whole wedding party!

We love snagging gelato from the nearby Palas Mall, sitting down on a bench, and people watching for the afternoon.
The Street Food Festival
There are few food vendors you'll find frequently around the grounds, but a few times a year, there are tons of vendors that come for a whole festival — one year, it spanned 4 days in early September if that's a helpful tip for Fall volunteers.

Wondering what to expect? Picture dozens of food trucks serving all kinds of dishes : waffles, cannolis, ice cream, gyros, fried chicken served in a cone (really), and more. Yum!
Ice Skate
In the winter there is an ice skating rink right outside the Palace, making it one of the most beautiful places to skate around in my book. Bundle up if you're headed here in the Fall and Spring and plan on skating circles with this stunning building in the background.
A Little Shopping
Around the Palace, you can often find vendors set up with their flower and souvenir booths — it's a fun time to walk around and see if you can snag a souvenir like a Romanian flag, painted eggs, colorful pottery, or a traditional blouse.
+ A Few Random Activities
There is always something going on around the Palace. Whether the Romanian flag is projected on the side of the building, street performers are out, or a fair is set up, you'll want to stop by often to see what sorts of things are happening around this part of town.
Think you're ready for more Romania?

Come spend a semester as a volunteer in this country! Volunteers in Romania will be helping with our orphanage program, with weekends off and vacation days to travel all around Europe. Come see if Romania is the right spot for you —