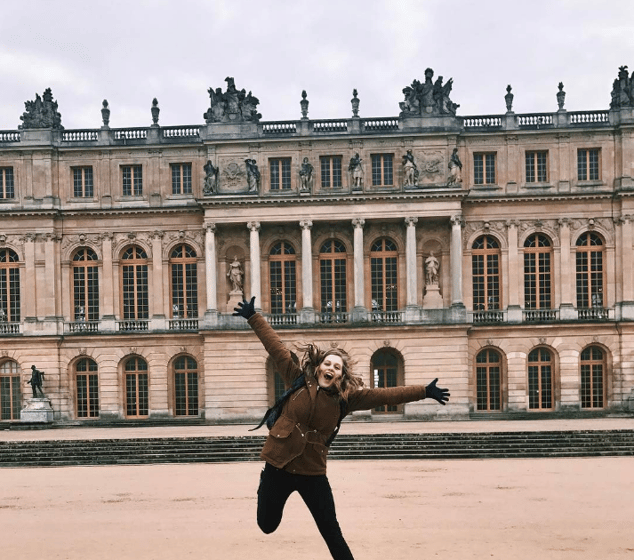 You're in Europe? Go directly to the chocolate aisle in the nearest grocery store, ASAP.
One taste, and you will quickly realize that the Reeses and Hershey's you've had your whole life are not that great, and there is a whole new world you'll about to enter. While I love all the other souvenirs you can snag while traveling around Europe, you should probably plan on bringing a whole suitcase back of chocolate.
---
Want to spend a semester abroad eating chocolate and volunteering? There are amazing European countries waiting, just apply.

---
I may be extra passionate about European chocolate, but once you find your favorite kind, I think you'll be on my level. I've narrowed down my absolute favorite brands to look for, my go-to flavors and a couple of other tips to make sure you don't waste your time when it comes to the chocolate in Europe.
Milka
You can't go wrong with Milka Chocolate. It's found all over Europe (and other countries ... but it's truly just way way way better in Europe). It's a rich and creamy milk chocolate with tons of mix ins, creating some truly mouthwatering flavors. It's at the top of this list for a reason — it's probably my favorite chocolate to buy in Europe. One thing that's really fun is that the flavors shift depending on where you are in Europe. There were flavors found in one country, but no where else. One particular chocolate Oreo option was so good, but I could only find in Hungary (don't worry, I brought back several bars, afraid I wouldn't be able to find it anywhere else).
And yes, that's a picture of my backpack filled with Milka bars when they went on sale. Not even a little bit embarrassed.
You'll find so so so many flavors: creamy chocolate studded with hazelnuts, rows with roasted almonds, rich chocolate nestled between Oreos, smothered with crunchy biscuits, etc. Even just their plain milk chocolate is to die for. If you're a huge fan, you'll try out the Milka Max, which is a huge bar of chocolate weighing in at 300 grams (the regular bars are around 90 grams).
Here are some you shouldn't miss (if you can find them):
Hazelnut and Raisin
Coconut "Bubbles"
Chocolate Oreo (regular Oreo is also good).
Milka + Daim (which is kind of like toffee)
Milka + Luc Biscuits
Milka Max wholenut caramel
Get a comprehensive country list of flavors here.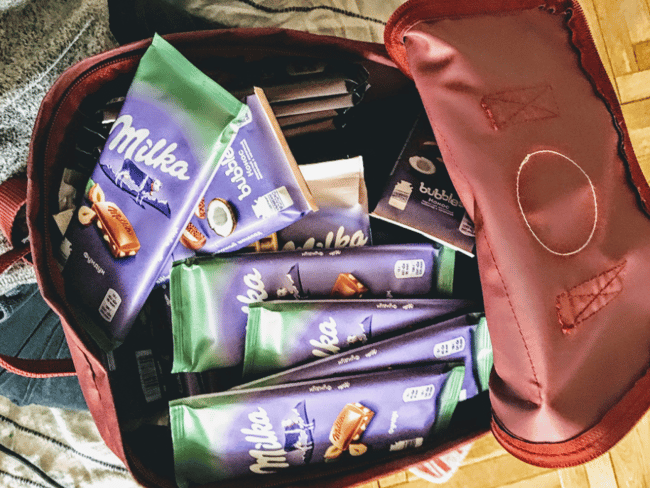 Ritter Sport
You might be a little familiar with these chocolate bars from home, but the variety in Europe cannot be beat. Milka is probably my favorite but only bit a little bit — for me, Ritter Sport is a really close second. I love the compact square shape, and really innovative flavors. The chocolate quality is also top notch. I went nuts in this grocery store in Munich that had HUGE Ritter Sport bars, but super fans should make their way over to Berlin, where you can make your own Ritter Sport bar. Seriously.
Similar to the Milka, you'll find that other countries around Europe are home to different flavors, but here are a couple to look out for:
Butter biscuit

Dark chocolate + hazelnuts
Coconut

Cocoa mousse

Honey salt almonds

Alpine milk chocolate

Dark chocolate + orange


Get a list of flavors

here.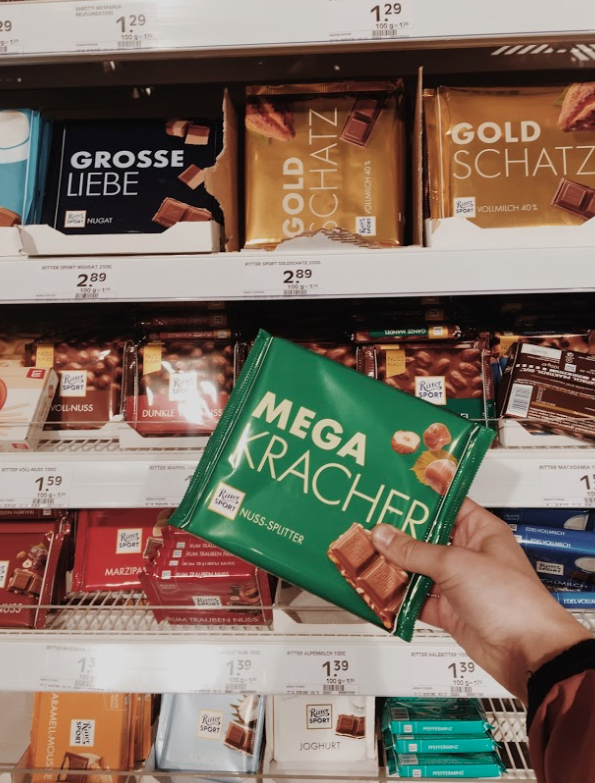 Kalev Chocolate
This is an Estonian chocolate brand, so if you find yourself in Estonia on vacation load up on it! There's actually a really cool Kalev store where you can buy all of their products, which range from small packaged chocolates (like candies), full bars, and t-shirts for the true fans. You can find it in Tallinn, here: Roseni 7, 10111 Tallinn, Estonia. It definitely has a big fan base — they've been making chocolate for over 200 years.

Favorite flavors (according to Auvi, who ranks Kalev as her favorite European chocolate):
White chocolate blueberry

Mint cookie

Dark chocolate grapefruit

Milk chocolate + macadamia nuts
Paska Chocolate
So this chocolate isn't a brand and actually comes in a few different names like Paska, Dadu, Magija but they all taste delicious. Our ILP Lithuania volunteers call these cheesecake bars because inside of these little wrappers, creamy, cheesecake filling is enrobed in chocolate. Um ... delicious.
Find these goodies in Lithuania — here's more on the price, flavors and where exactly to buy them.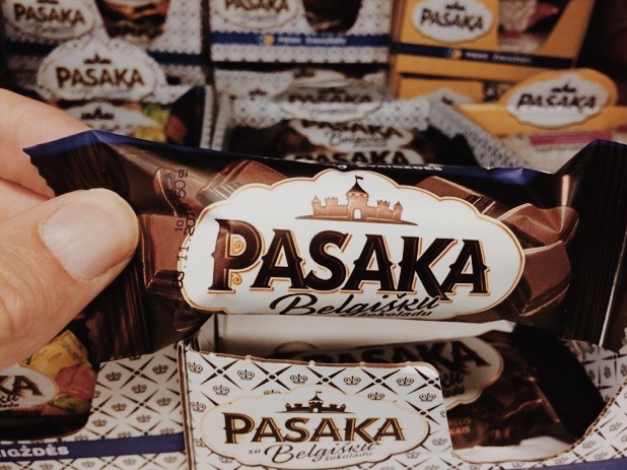 Kinder Chocolate
Another chocolate brand you may be familiar with if you keep your eyes out at the grocery stores here. You can find some varieties of Kinder here in the United States ... but I'm convinced it tastes better in Europe. Plus, there are a few you can't get in the US, like the classic Kinder Surprise egg. This chocolate brand started as one just for the kids (the company is Italian, but the word "kinder" means "kid" in German), but then the adults caught on. The company rolled out a few varieties that were for the grown ups, and it's been a fan favorite since. Here are my favorites:
Bueno Bar
Happy Hippos
Kinder Surprise
Kinder Joy
Kinder Cards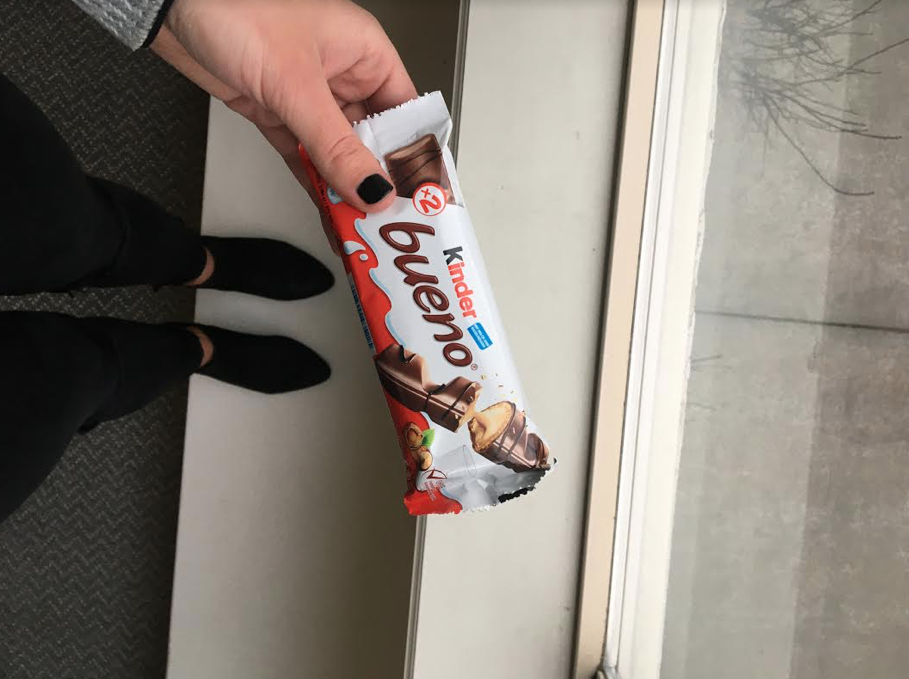 Brands You Know From Home
There are a handful of European chocolate brands that have made their way over to the United States, but they are absolutely worth trying once you get over to Europe. Keep an eye out for brands like Toblerone, Lindt, and Godiva once you make the flight over.
I have a feeling you won't run out of kinds of chocolate to try when you're adventuring around Europe.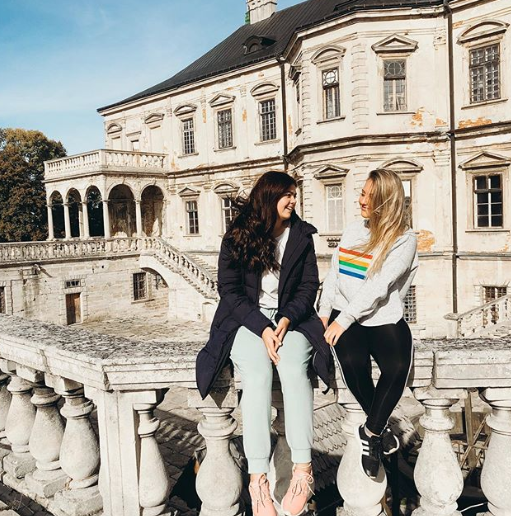 Need tons of time for all of this chocolate?
I thought so. I cannot even begin to guess how many chocolate bars I had when I was living and traveling around Europe with ILP ... but one thing's for sure — living in Europe for a semester is plenty of time to find your favorites. Sounds like you need to snag a spot in one of our European programs, ASAP.