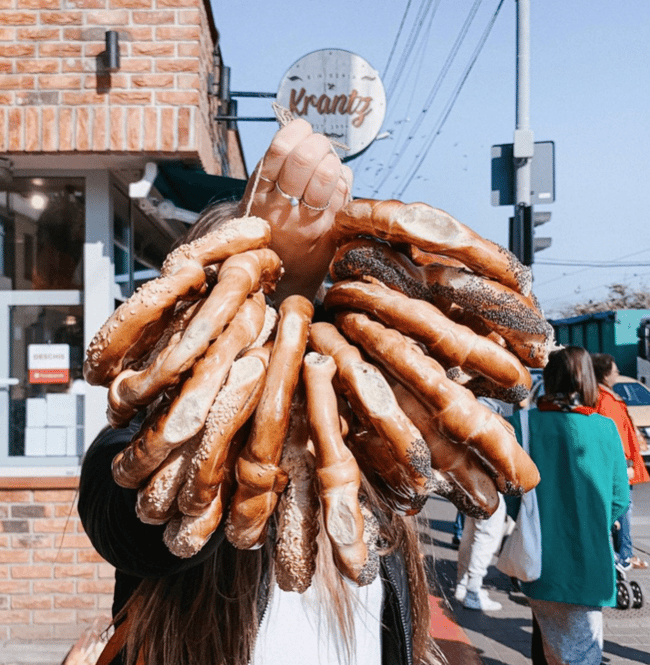 Chocolate filled pretzels, home of the "best burger I've had", and piles of amazing chocolate? Better pack a pair stretchy pants if you are planning on living in Romania because the food here is yummy.
Our Romanian alumni have a huge list of their favorite places to eat around their city (and I'm quoting here) "the possibilities are literally endless. These are just a few of our favorite places, however there are loads more." Better plan on living here for a whole semester rather than just visiting for a week — do just that by applying to be an ILP volunteer! That way you can try all these places…twice.


---
Love the idea of spending time living in Romania for your semester abroad?
See what volunteering in an orphanage is all about.
---

There are a few different categories of our favorite go to spots in Iasi, Romania, so hopefully this post breaks it all down in a way that's easy for you to find whatever you are craving.
The Palas Mall Food Court
Our volunteers love getting dinner at the Palas mall (and just hanging out here in general). There are more than a few top spots to grab dessert, dinner, or something else — there really is something for everyone in your group. The mall's hours are 10:00 AM to 9:00 PM, if that helps you plan your visits.
Mesopotamia
Shawarma (or gyros) are going to be a favorite meal once you have a taste. Look out for other shawarma places around Iasi (and on vacation), and at Mesopotamia. Some volunteers say this is the best place to get a shawarma. Though this dish is called a few different things, it's basically meat cooked on a rotating grill, shaved off into a pita, and wrapped up with veggies and a creamy sauce. Yum. Look at their website here.
SushiVo
A quick way to grab a sushi roll or two, SushiVo has quite the selection, but they also have noodle bowls if you're wanting something a little different. Get an idea of what they offer on their Instagram.
Creparia Bruno
Mmm if you have a sweet tooth, you'll love the waffles and crepes here. Get them piled high (or filled) with things like bananas and caramel, chocolate and blueberries, cream and cherries, spiced pears, and gobs of cookie butter. They also have some savory options like chicken and pesto filled crepes if you want to swing by for lunch or dinner. Peek their Instagram for more ideas.
La Folie
Grab an Eggs Benedict breakfast, or come for a lunch of grilled cheese, fried chicken, croissant sandwiches, etc. In the mood for something sweet? Come for really yummy cheesecake, eclairs, layered cakes, yogurt + fruit bowls, other desserts and smoothies. Look at their Instagram for their menu.
Moo Gelato
Volunteers come to Palas mall just for the gelato ... maybe even twice in one day. Find flavors like milk chocolate, Oreo, lemon cookies, honey + quinoa, and more (though the flavors tend to rotate, so you have to come often, right?). You can see what's waiting for you on their website.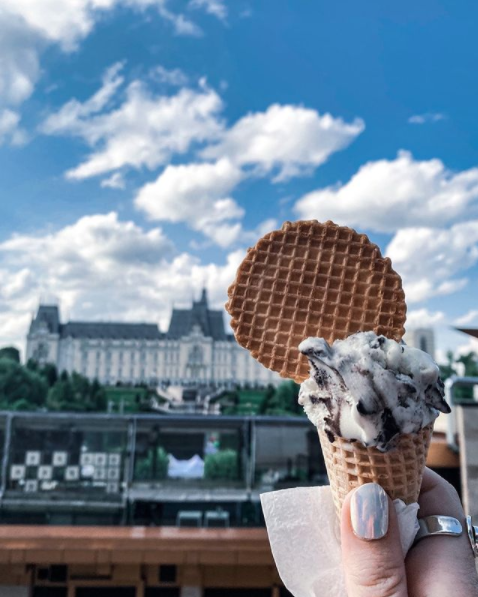 For A Taste Of Home
After a few months of eating the local food, you'll probably start craving some of your favorites. While you will find a few American chain restaurants in and around Iasi (like KFC), there are a few places where you can get a really good burger or a slice of cheesy pizza.
Vivo Burger
If volunteers could pick one restaurant to recommend, it would probably be Vivo Burger. Kat, an ILP Romania volunteer still says "their Vivo Burger is 10/10. To this day, it's the best burger I have ever had!". They also have an amazing falafel burger, good French fries (called potatoes on the menu), salads, slices of cheesecake, and a few other things you're sure to just crave.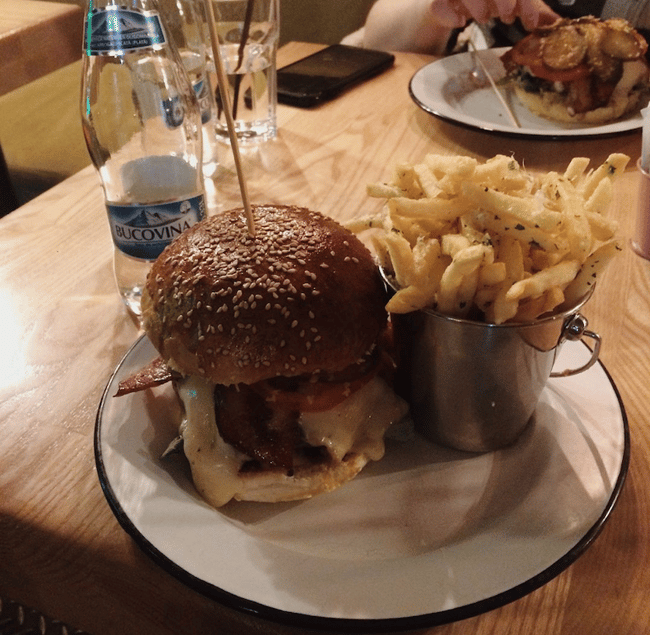 Salsa
We love so many things about Europe ... except that Mexican food is hard to come by when you're living and traveling around here. It just doesn't exist like it does at home. Iasi is pretty lucky because they have a Mexican restaurant that volunteers say help satisfy the craving until you can get home. Some volunteers absolutely love it and others say it's not quite as good as your go-to spot at home, but after not having anything close to Mexican food during your semester, it can help hit the spot. Order up things like guac, nachos, burritos, fajitas, and more. The pork quesadillas are to die for.
Address:

Strada Sfântul Lazăr nr. 27, Iași 700259, Romania


Hours: 9:00 AM to 11:00 PM (open until midnight on Fridays and Saturdays)
Visit their website here.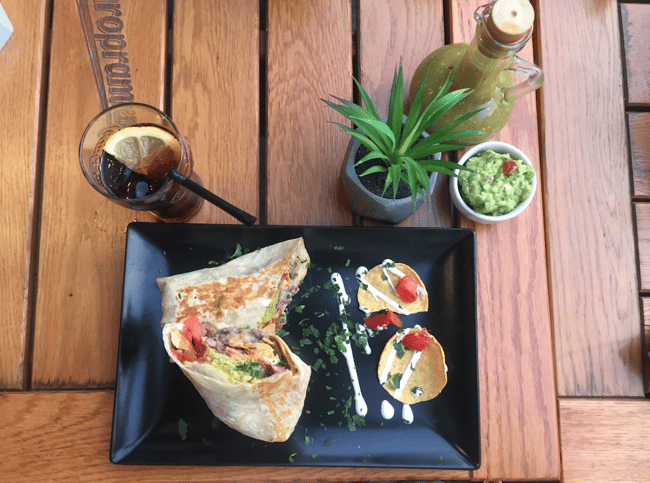 Magic Pizza
You know what to expect at a pizza place, right? Get a personal sized pie or a larger one to share. You can find multiple locations around the city. The restaurant also has fries, fried chicken, ice cream, and a few other options for dinner or dessert.
Address: Located on the Tudor Vladimirescu University Campus
Hours: 10:00 AM to 12:00 AM (2:00 AM on Fridays and Sundays)
Mamma Mia's
Past groups love the pizza, salads and pasta here, plus the eclairs. We suggest setting up an account which means free delivery when you order online. Hooray for pizza nights with your ILP group!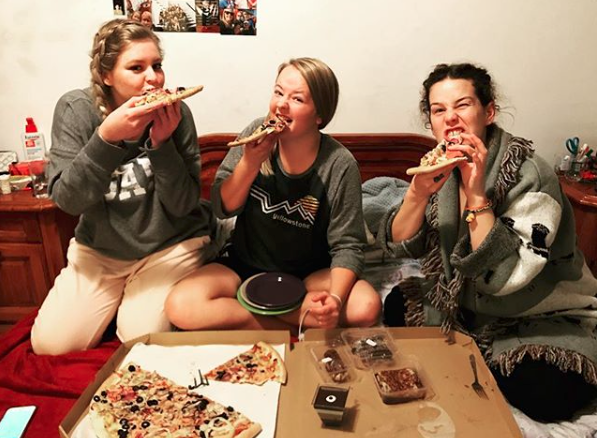 Treats + Snacks
So many of our other spots to eat are little carts and food stands that are perfect for when you need a quick snack or an easy treat.
Petru Pretzels (Snd Pizza)
If you go to Romania, you'll end up falling in love with the pretzels. It's pretty much a guaranteed thing. You will find pretzel stands alllll over the city of Iasi (and other Romanian cities) but we particularly love the ones at Petru. They're a pretzel chain with locations all over the city so keep an eye out for them. Our favorite? The chocolate filled ones, of course ... but they also have ones topped with poppy seeds, sesame seeds, sunflower seeds, and a pretzel filled with cherries. YUM.
Want something more cheesy and savory? Petru also does pizza.
Address: They're all over Iasi
Hours: 8:00 AM to 8:00 PM
See more on their website (like drinks, sandwiches, and other goodies).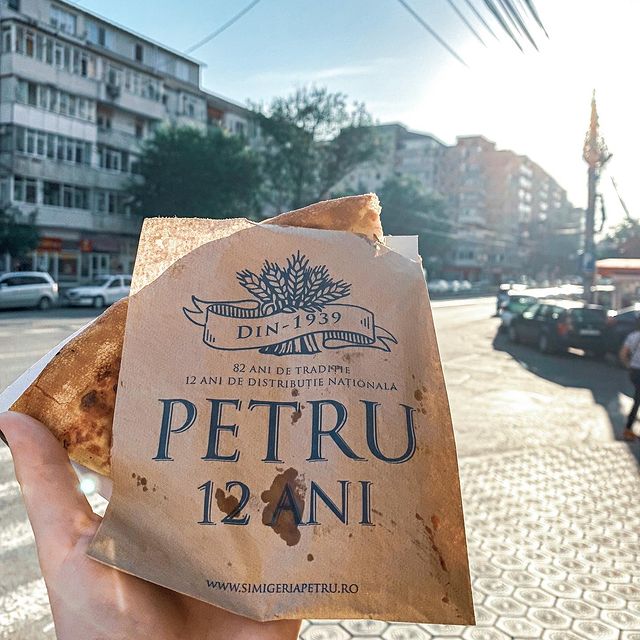 Simigeria Krantz
Ready for another pretzel place to be obsessed over? This is our favorite place to get a Romanian classic, the iconic covridog. It's basically a pretzel dog, and is going to be your go-to quick snack or dinner on the go when you're out site seeing. Simigeria Krantz also has killer poppy seed and sesame seed pretzels if you want to try those (you will).
Address: Strada Nicolina 2, Iași 700222, Romania
Hours: 7:00 AM to 9:00 PM (Closed Weekends)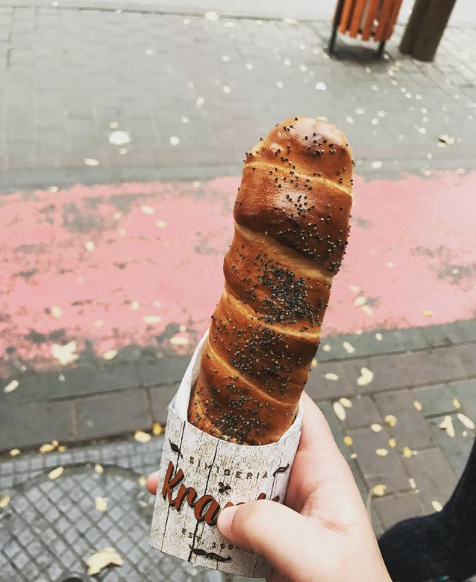 A Few Snacks To Try
If you just want something little, Romania has its fair share of chocolates, candies and other goodies you can find at pretty much every grocery store or little convenience store. Volunteers love anything Milka — it's a chocolate brand that is oh-so-good, with flavors like chocolate Oreo, nuts and caramel, coconut "bubbles", hazelnut and raisin, and so many more. You will love this and the other chocolate you can find in Europe. Bounty and Lion bars are also ones to try!
Chio is a chip brand where you can get flavors you love from home like sour cream and onion if you're craving something salty. Or you could try other flavors like paprika or shrimp.
Quandratini wafer cookies are another recommendation — you get can get these guys in classic flavors like chocolate, lemon, vanilla, and sometimes tiramisu, hazelnut, or Neapolitan.
Past volunteers have also loved all the flavors of aloe juice, and recommend trying the orange juice, too. We love the Cappy brand. For some reason, the juice is just way better over here!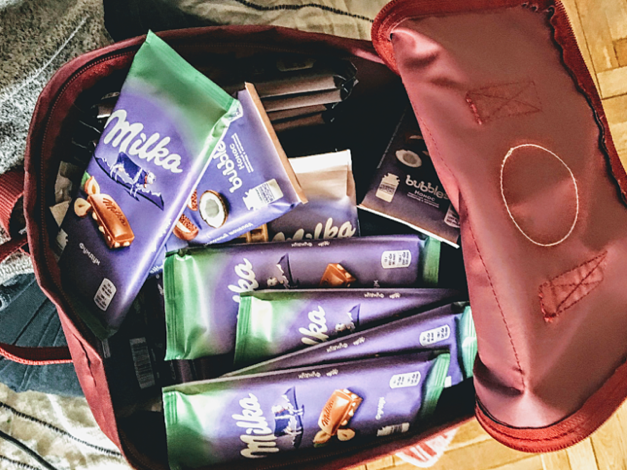 Favorite Romanian Foods To Know
As an ILP volunteer in Romania, you'll be eating some local dishes frequently — volunteers have meals provided, which is a part of your Program Fee. However, there are some dishes you'll want to try at a traditional restaurant, especially if you find a favorite. Get to know the local dishes in Romania then keep reading for restaurant recommendations on where to try 'em.
Mititie
Sometimes called Mici in Romania, you know it as sausage. You'll find it spiced with thyme, coriander, and anise and typically grilled with chicken and pork as a part of a mixed plate.
Gogosi And Placinta
Gogosi are kinda like a donut or French beignet, almost always filled with jam or chocolate and covered in powdered sugar. Placintas are similar, filled with cheese and topped with a mountain of cream and sour berry jam.
Mamaliga
Ever had polenta? It's very similar. Mamaliga is cornmeal made into a porridge and is typically served with meat, eggs, or even cheese and sour cream. It's a very popular side dish you'll probably have often.
Sarmale
Rice, pieces, and meat are all rolled into cabbage leaves and cooked in a rich tomato sauce. Yum. The picture below has a take-out order of several sarmales and a side of mamaliga.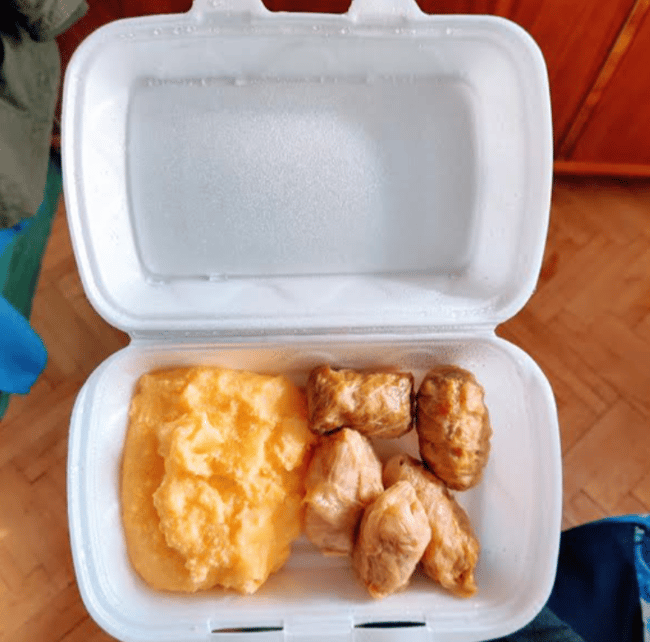 Our Go To Romanian Restaurants
La Placinte
Volunteers absolutely rave about the traditional meals you can get at La Placinte. Find very yummy things like potato dumplings, cabbage rolls, chicken stew, grilled skewers, kabobs, and sausages, along with tons of delicious desserts on their menu. Come see why this is one of the most popular places to eat in Iasi.
Address:

Bulevardul Carol I nr. 4, Iași 700505, Romania

Hours: 10:00 AM to 11:00 PM
Casa Bolta Rece
The food is something to talk about (find local favorites like soups, stuffed peppers, and more) but the decor is another layer to this restaurant. Find tables lined with embroidered tablecloths, white-washed walls decorated with old portraits, and an outdoor seating courtyard that's open in the warm weather.
Address: Strada Rece nr. 10, Iași 700115, Romania

Hours: 8:00 AM to 12:00 AM
See the menu here.
Oscar
This is one of the tastiest places to try some local favorites like chicken with sour cream and cheesy polenta, grilled pork and cabbage, rich and creamy veal stew, plus a knockout dessert — Gogosi (similar to a donut), piled high with cream and berries. The prices are also hard to beat, which makes this place a fav.
Address: Strada Lascăr Catargi nr. 12-16, Iași 700107, Romania
Hours: 10:30 AM to 11:00 PM

The Medieval Castle
Yep, this restaurant is a castle — officially called the Restaurant Cavalerul Medieval. The workers dress up in costumes and the food is quite good, but isn't that outrageously priced. Win-Win-Win. This spot definitely has a touristy and gimmicky feel which is fun to try out once. It's also open late which comes in handy. Find local dishes like grilled pork with pasta, chicken in a creamy sauce, Mămăligă (a porridge you have to try while in Romania) and a few others.
Address:

Soseaua Iasi - Ciurea, Iași, Romania


Hours: 11:00 AM to 12:00 AM
Get the menu here.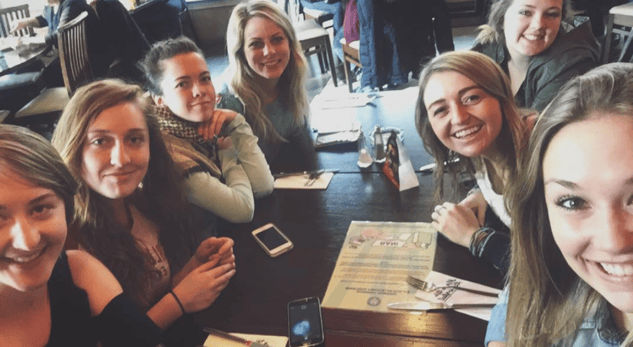 Are you dreaming about these restaurants yet?
Or thinking about the orphanage program ILP has in Romania? Come talk to a representative who's volunteered before about how to apply, how to save money, and can give you some answers to all your questions about doing a semester abroad in Romania: