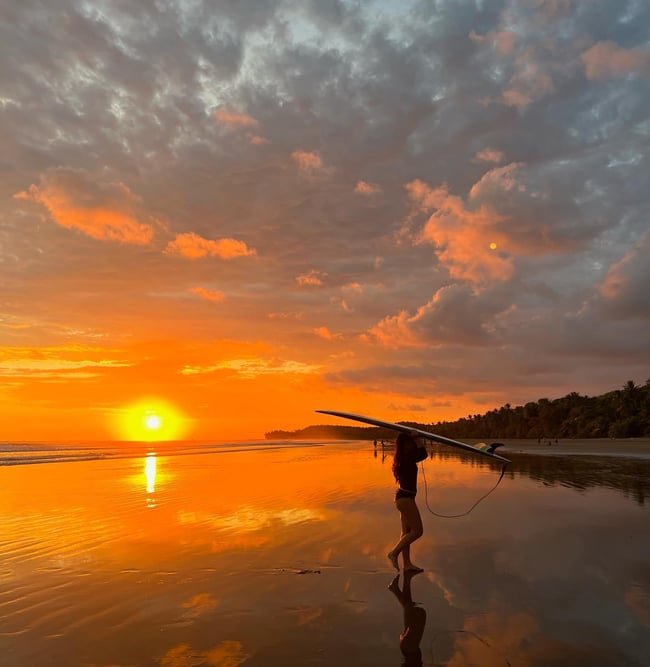 Compared to Costa Rica's 78-mile Caribbean coast, the 631-mile Pacific Coast has so many more dreamy beaches to snorkel, surf, and sunbathe on!
The Pacific Coast is definitely more developed than the Caribbean Coast. In a way, this is good because that means there are more delicious dining options, cute markets and boutiques, and accommodation options for every budget. More development also means more available amenities, like yoga studios, surf schools, wellness centers, and nearby grocery stores. The downside of more development on the Pacific side is that it can be a bit more expensive than the Caribbean side of Costa Rica. We think it's worth it for all that you can experience on the Pacific side though!


---
Is teaching English in Costa Rica right for you?
Learn more about volunteering there with ILP (that's us)!
---
There is A LOT to know about the Pacific Coast of this adventure-packed country, so we're going to try to break it down the best we can into these informational sections below.
A Bit About This Area
Info On Getting Around
The Best Coastal Towns & Beaches
Things To Know
A Bit About This Area
As we said before, the Pacific Coast of Costa Rica has a lot more going on! Since there's more development, it's going to be easier to travel around and hop between beach towns. Once you've gotten to the Pacific Ocean, Mother Nature is going to bless you with some seriously stunning sunsets because you'll be facing the west.
While in general the weather in Costa Rica is amazing with its warm and sunny days, there is a rainy season to consider when making your travel plans. The rainy season runs from about May to November and dry season is December to April. The Pacific Coast tends to be a bit drier even during rainy season than the Caribbean coast. And for even less rain, the north side of the Pacific coast will be drier than the central or south part.
But just because it's rainy season, that doesn't mean you shouldn't go! While it's not the most ideal thing to have it raining half the day (or even the whole day sometimes), it's less crowded and prices are much cheaper!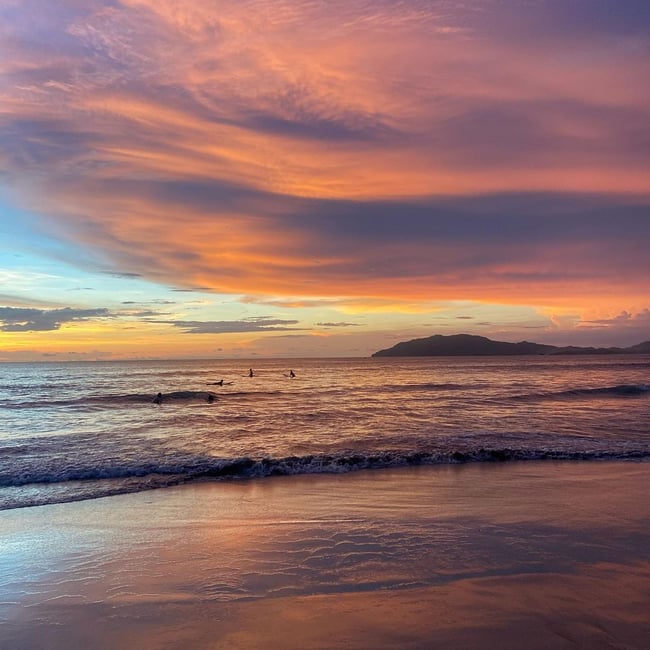 Info On Getting Around
The Pacific coast is typically the most convenient for tourists who are flying into the country because it's closer to the two international airports in Costa Rica: Juan Santamaria (airport code SJO) in San Jose and Daniel Oduber (airport code LIR) in Liberia. LIR is the easiest access if you're headed up north, while San Jose is centrally located for the rest of the country.
No matter which city you're coming from though, you can take another domestic flight, a bus, shuttle, or private taxi to get to whichever beach you want to hit up first. For example, there's a shuttle company that takes you from LIR to Tamarindo beach (which we'll spill all about soon!) for $30 a person and it takes about 2 hours, sometimes less. You could also take the public bus for just over a few bucks but it'll take more time.
In general, buses are the cheapest mode of transportation but may take longer. And shuttles (either shared or private) or Uber/taxis are more convenient and get you to your destination quicker but are more expensive.
If you're not traveling from an international airport, and instead a city where we send ILP volunteers to teach English, you could always just google "how to get from _____ (your ILP Costa Rica city) to ______" and options will usually pop up for a bus or shuttle service.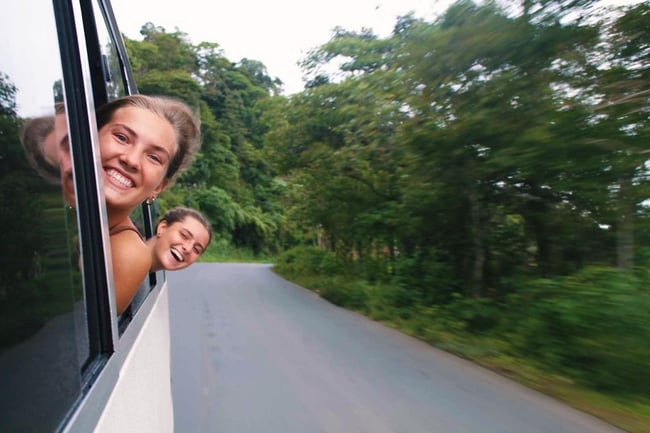 The Best Coastal Towns & Beaches
Just to make things easy, we're going to begin at the north end of the Pacific Coast and work our way down south through the best beach towns you can find on this side of the country.
Playa Flamingo
With fine white sand and crystal blue water, it's no wonder that Playa Flamingo is one of Costa Rica's most popular beach destinations. The pace is slower here than it is in nearby Tamarindo (which we'll gush about next), but in a good laid-back type of way. This is where you'll want to be if you just want a good beach to chill on and some great water to swim in.
If you're looking for some crazy water adventures straight from the beach, you may have to go somewhere else. You can definitely do some water activities, (like snorkeling) here, but not right off the coast. We'd recommend taking a boat tour if you really want to see the good stuff. A lot of boat tours include not only snorkeling equipment, but paddle boards and kayaks so you can switch it up with the water activities. They usually include snacks, drinks, and transportation in the price too!
Tamarindo Beach
About 30 minutes away from Playa Flamingo is the bigger, more developed Tamarindo Beach town. If you only do one thing in Tamarindo, you need to try surfing! If you've never surfed before, this is totally the place to learn. The warm water and light currents make for the perfect surfing conditions. You might want to check out lessons with Iguana Surf Shop, who have been operating since 1989! They have group lessons ($45/person), semi-private lessons ($65/person), and private lessons ($80/person) available.
After a couple hours out on the waves, take to the white glittering beach to decompress. Have yourself a little snack while relaxing on the soft sand, open up a good book, or simply watch the waves roll in. On the main town boulevard, there a tons of spots to go for lunch or dinner and the cuisine is all so diverse! You can find traditional Costa Rican food, sure, but you'll also find Italian, Mediterranean, Japanese, and organic + eco-friendly cafes serving vegan and vegetarian dishes.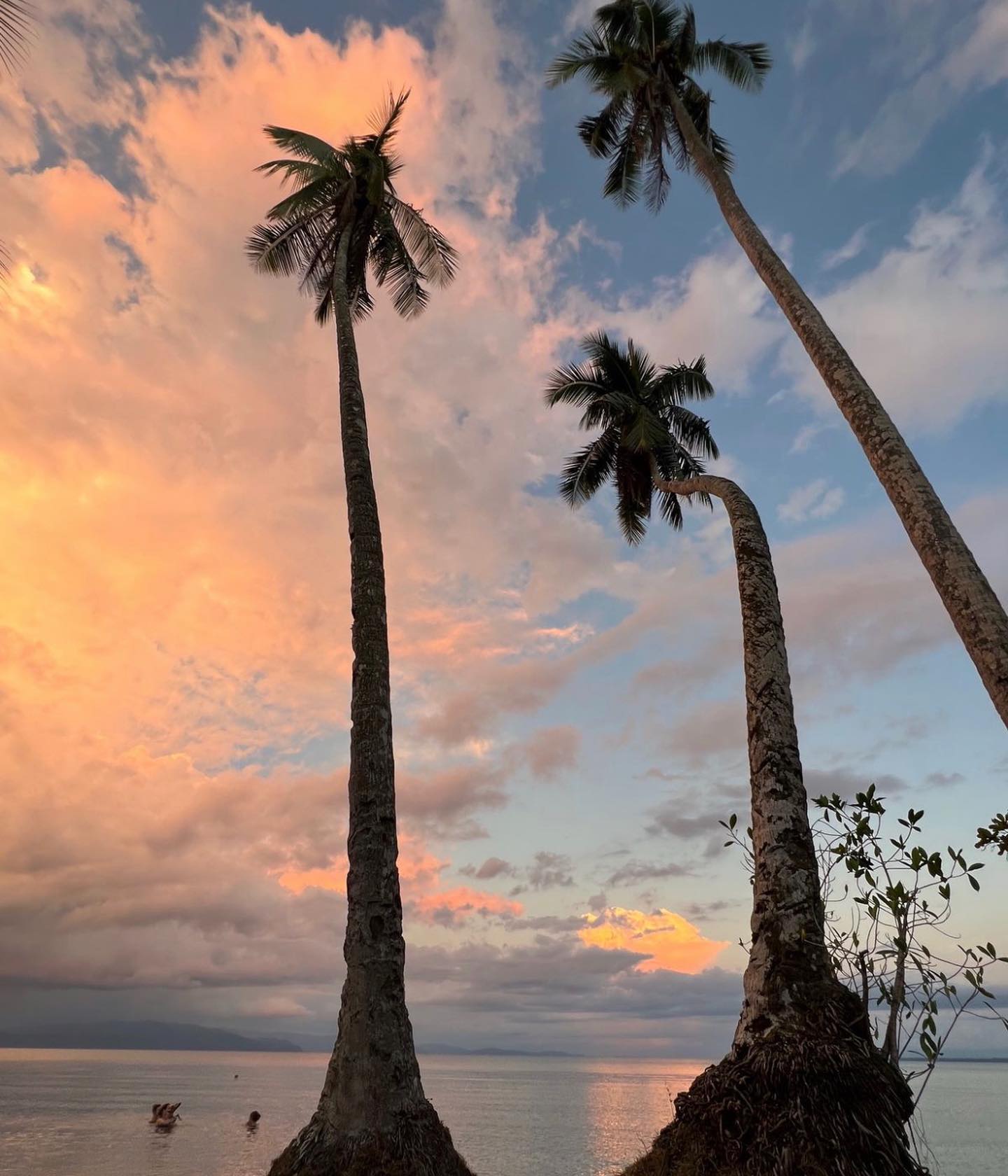 Nosara
Nosara (and its nearby beaches) really encapsulate slow living and the famous Pura Vida lifestyle. Things go much slower here and no one is really in a hurry. The vibe is low-key and laid back and people appreciate the smaller, simpler things in life. Yoga and surfing is the lifestyle here. And the fact that there's hardly any development on the beach helps to ensure that this area goes unspoiled.
Something really cool to know is that Nosara is actually located in a Blue Zone (the Nicoya Peninsula). Blue Zones are parts of the world where people live much longer than the global average due to a number of factors like healthier diets, closeness with their community, having a life purpose, and having low stress. I don't know about you, but THIS seems like the place I would want to vacation... or live.
Nosara Beach is one of the three main beaches in Nosara and is definitely known to be the least crowded. The beach actually runs all the way to Ostional Wildlife Refuge where sea turtles go to lay their eggs in a safe space. Nesting season runs from July to December. You could also visit Playa Guiones, a white-sanded beauty where more intermediate and experienced surfers go to catch some waves. Playa Pelada is also a great option to take a stroll down a shell-scattered beach and even has a blow-hole that shoots water up around some rocky reefs.
Playa Samara
Don't overlook Samara Beach! Pretty palm trees line the light sand beach, making the perfect backdrop for your travel photos! The water itself is great for swimming because of how calm it can be. Don't forget your snorkel though... there's a gorgeous coral reef right offshore that's just begging to be explored. Along with the yoga and surf activities that are so popular in this area, you can also have a taste of adventure by going on a horseback ride, doing a canopy tour (aka zip lining), or going stand up paddle boarding.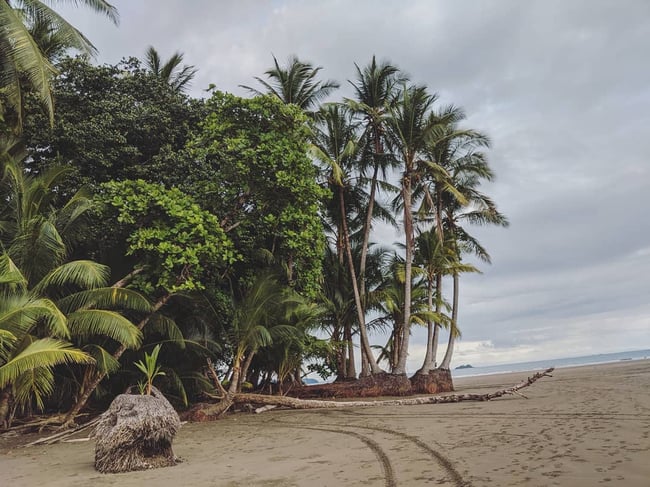 Santa Teresa Beach
Calling all wellness lovers! Santa Teresa, also located in Nicoya Peninsula (remember that Blue Zone?), is filled with fresh fruits, delicious seafood, eco-conscious individuals, and yoga... lots of yoga. This area actually kind of reminds of us Bali in a way. Santa Teresa Beach is the main place you'll probably want to sprawl your towel out, and definitely where you need to be if you're looking for a sweet sunset. There's plenty of relaxation and rejuvenation to be had here!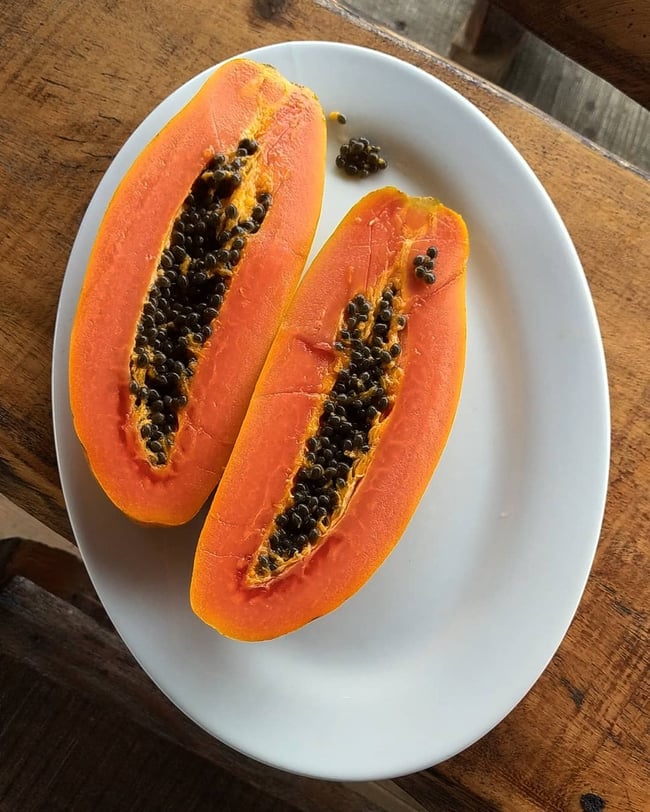 Montezuma Beach
Say hello to the cutest little bohemian beach town! Montezuma is more off the beaten path than other beaches you might find on the Pacific coast. There's only one main road that goes through the small town, separating the mountains from the ocean. And since the town is so small, it's super walkable. Playa Montezuma is the biggest and most popular beach in the area. It'll be hard to take your eyes off the turquoise blue water here! Some of the shores are rocky though which look really cool sticking out of the sand and water, but just be careful around them if you go in the water. After a day by the ocean, pop into the charming town center for mouth-watering dining options and a bit of shopping.
Dominical
The rainforest meets the ocean in Dominical. On one side you have a thick green jungle and on the other side there's a stunning blue ocean with unreal waves for surfing. Rent a board yourself if you've already got the hang of it or learn from a pro by booking a surf lesson.
There's plenty of palm trees dotting the beach, so hang up a hammock between a couple and unwind. Bring your own (we recommend Enos!) or buy one when you get there. If you want to really relax, you've gotta take a yoga class in a bamboo studio! Classes are held daily at the cutest little eco-lodge, Danyasa. Whatever you do here, good vibes are guaranteed.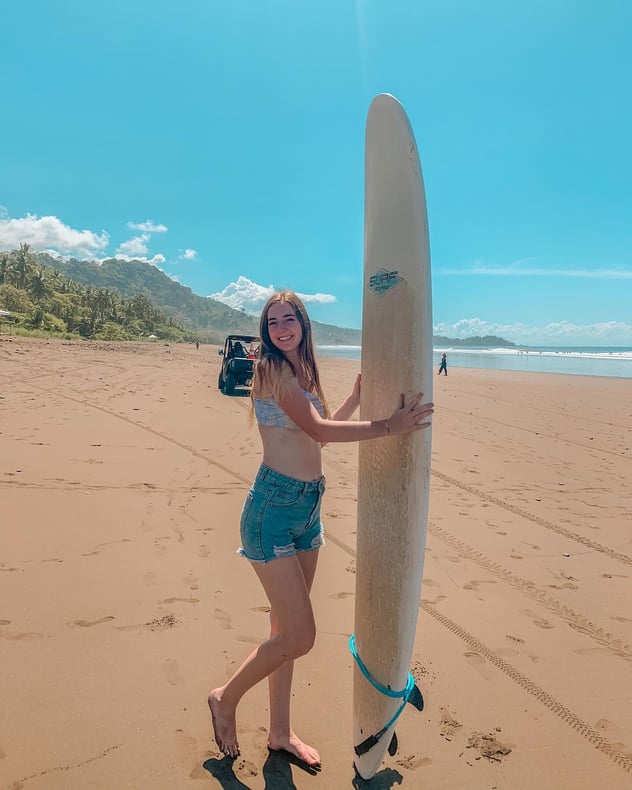 Uvita
How lucky are our ILP volunteers that get to live in Uvita? A quaint and tiny beach town on the Costa Rican coast. They've even been able to take surf lessons after they're done teaching their ILP classes or on weekends! We're so jealous, but we're just doing our best to live vicariously through them. If you don't have an entire semester to spend here, we'll just tell you what you've gotta do if you come for a visit.
Playa Uvita. One of the prettiest beaches on the southern Pacific coast. Uvita's beaches are actually all protected by Marino Bellena National Park, so there is an entrance fee just so you know. But this means that the beaches and the ocean are super pristine because it's protected and so well taken care of. And the gorgeous lush mountains that seem to pop out of nowhere behind the beach... qué linda! You can even witness the Humpback Whale migration if you're here during the right time. From July to November, Humpbacks from the south migrate up. And from December to April, whales from the north migrate down to have their little whale babies. All around, Uvita is just a super relaxing place. Because it's smaller and more of a village, everything is just really local which we love!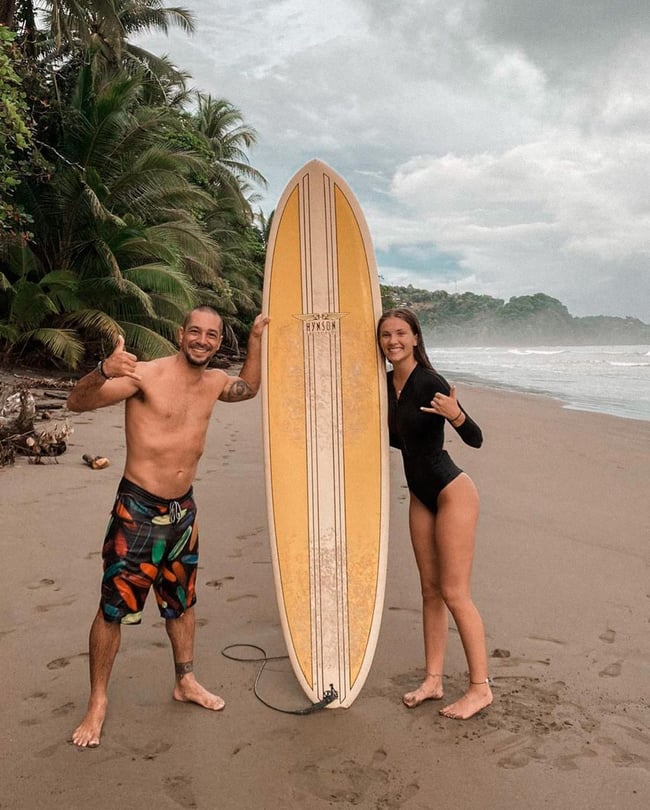 Things To Know
We want to warn you that Costa Rica, specifically their Pacific Coast, is known for having riptides — a powerful underwater current that can pull swimmers in. Whenever you go out swimming in the ocean just be careful! We've read that if you do get caught in a riptide, try to go toward the beach at a 45-degree angle (rather than swimming straight back in). Once you're out of the water, you'll be able to walk back to the area of the beach you started from.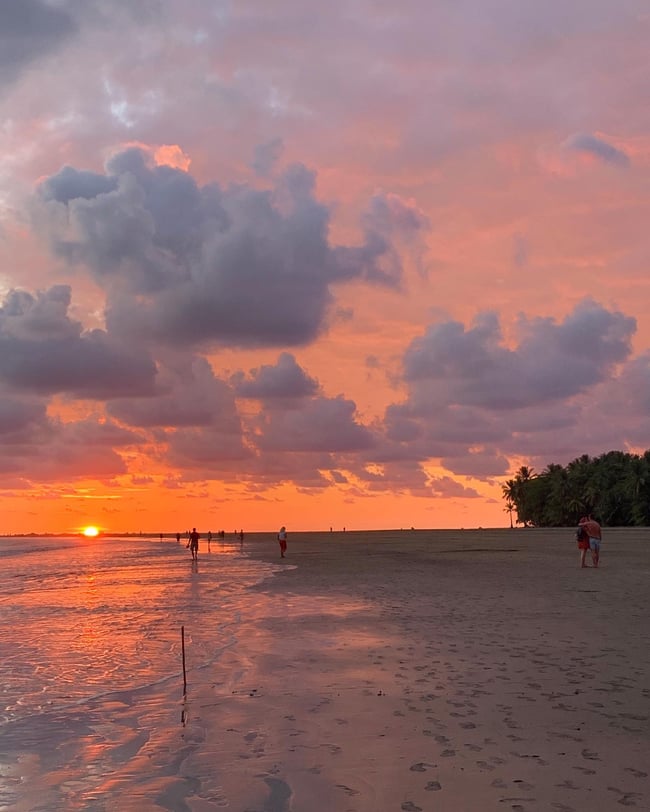 Dying to visit Costa Rica's beaches yet?
We don't blame you. International Language Programs (ILP) sends college-aged volunteers to places all over the globe, including Costa Rica! Teach English during the day and go to the beach to catch the evening sunsets. On weekends and vacation days, travel further to other little beach towns or rad national parks. With four months there, you'll have more than enough time to see and do it all. Click the button below to start your application!