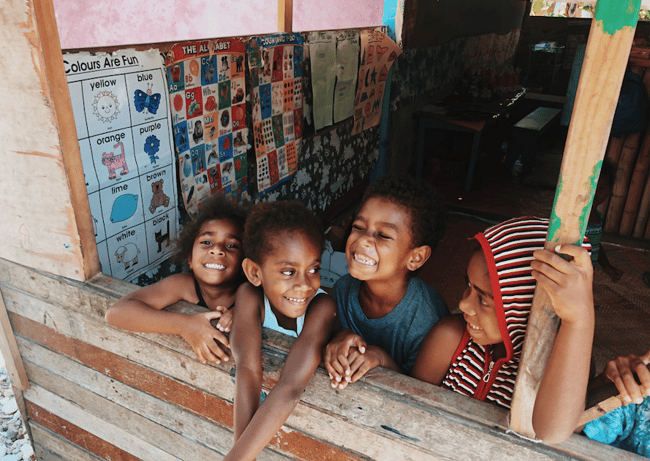 Teaching English in Vanuatu is just a bit different than teaching English in our other ILP programs.
ILP's more than thrilled to start a program in the South Pacific, and we think volunteers headed to Vanuatu are going to be in love with their new island home. It's the stuff vacation dreams are made of, with dense mangrove jungles hiding turquoise swimming holes and more picture-perfect beaches than you can count. Ah, we seriously love it here!


---
Come to the South Pacific with us!
We'll make this easy — come apply to volunteer in Vanuatu right here.
---

While those adventures are perfect for all of your time off, volunteers are headed to this island chain to teach English and there are a few unique touches only found in this program that we're so excited to share with you (and want to make sure you understand so you're picking the right country for you!). Like our other Exchange, Hybrid, and Humanitarian programs around the world, you'll be helping children learn English which will greatly impact their future.
But in Vanuatu, that impact is a little more direct, because of the way to education system is set up.
Learning In Two Languages
So one of the main languages of the country is Bislama, a creole language based in English with a touch of French. Bislama's an important part of the culture, but there is also quite a bit of English on the island, too.

Since both English and Bislama are spoken in Vanuatu, classes are taught in both … but there's a catch. Until 3rd grade, kids have classes in Bislama, then things switch to English. Can you imagine having classes in one language, then suddenly switching around 10 years old? However, there's another little twist. Many of the kids don't speak Bislama or much English, because they speak one of the dozens of local languages and dialects at home, which make classes in both languages hard to follow.
Learning English is where ILP comes in. You'll be teaching in an after school program for kids who around the age of 3-6 years old and potentially some students up to third grade. Here the kids can learn to become naturally fluent in English before it's essential for success in school. Unfortunately, there's a high drop out rate in Vanuatu. While that's caused by a handful of factors, hopefully giving kids this foundation in English will help decrease the high dropout rate that tends to occur when kids fall behind in English classes.
All ILP programs help children learn a skill that will benefit them in the future, but in Vanuatu, English is a skill that's needed now while they're young.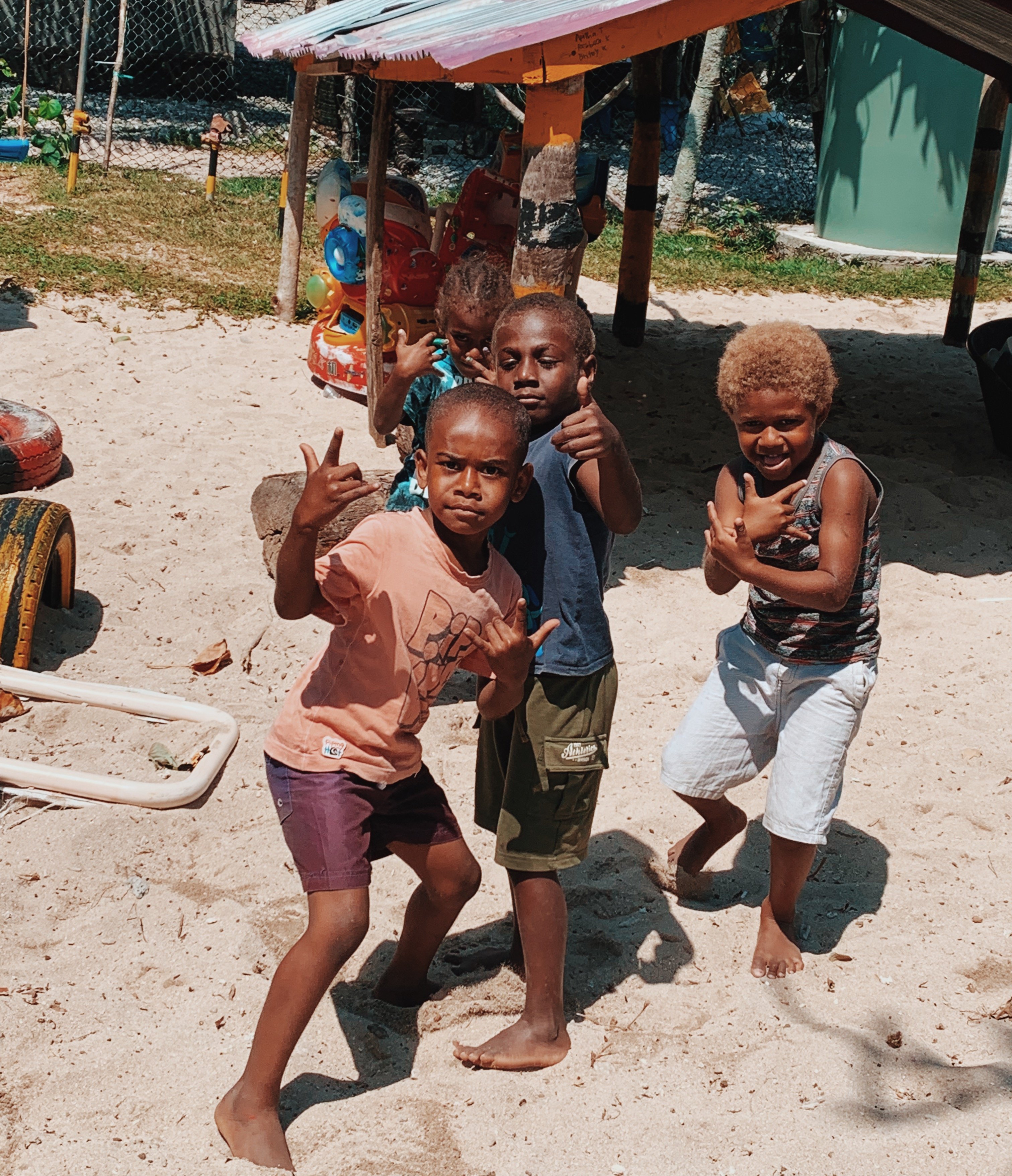 The Island Teacher Shortage
Another unique part about teaching English in Vanuatu is how you'll be helping with the teacher shortage — to put it bluntly, there simply aren't enough teachers for all of the students attending classes. When one of our directors visited the island you'll be living on, he talked with several members of the community who shared more than a few stories that really paint the picture of the shortage. Like one teacher, who's in charge of three or four full rooms of students of all different ages. This teacher spends each day running between four rooms, teaching for a few minutes before dashing to the next room, and teaching for a few minutes there. Teachers here are doing the best they can, but their time and attention are spread thin.
Because ILP volunteers focus on smaller groups, students get more individual time with a teacher, which is not only unique, but incredibly valuable to these kids. There's also a chance volunteers will be able to step into schools as a teacher's aide to help alleviate the pressure of one teacher trying to teach four different classrooms.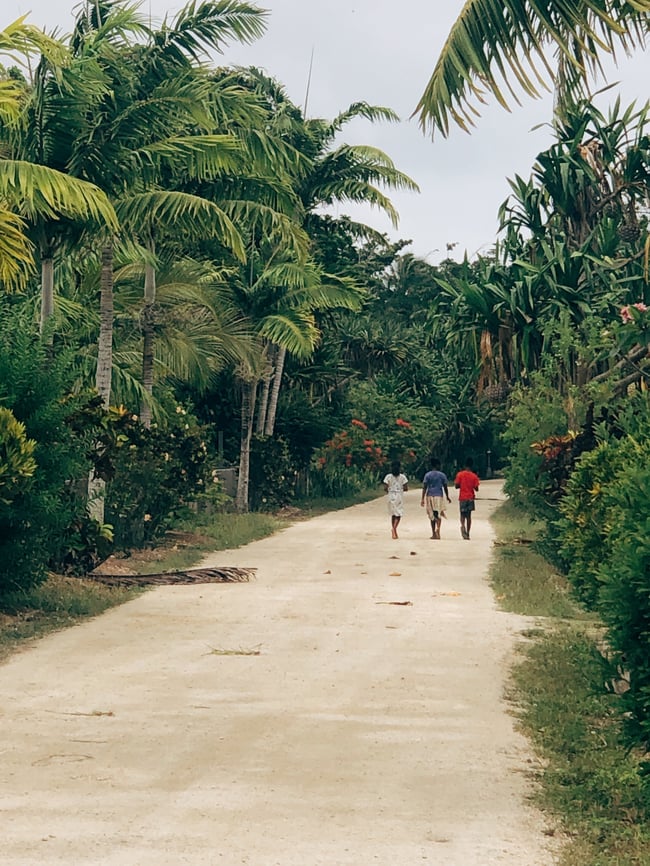 The ILP Impact
Like all of our other English Teaching programs, we're also focused on the impact of speaking English. Vanuatu's just on the cusp of tourism. Unlike places like Fiji which have had years in the tourism industry, Vanuatu is just starting to see more and more people discover the island. Like any country focused on succeeding in the tourism industry, speaking English is pretty invaluable when applying for jobs.

It's also worth mentioning what speaking English does in the future. You know how lots of people go out of state to attend a different college or university? That's really common in other countries, except instead of going to school in a different state, they go to school in a different country. For people in Vanuatu, some of the closest universities are in English speaking countries like Australia, so in order to apply and be accepted, speaking English well is crucial.
Thank you for wanting to give back and help in this humanitarian program!
About Teaching Here
We've heard more than a few ILP alumni say that "teaching is best but hardest part of my semester", which is true in any ILP country! However, because of what we've explained above, teaching has some unique challenges and difficulties in Vanuatu in particular.
Teaching is always a big part and focus of any ILP semester, but Vanuatu volunteers should anticipate a challenging teaching semester during their tropical semester.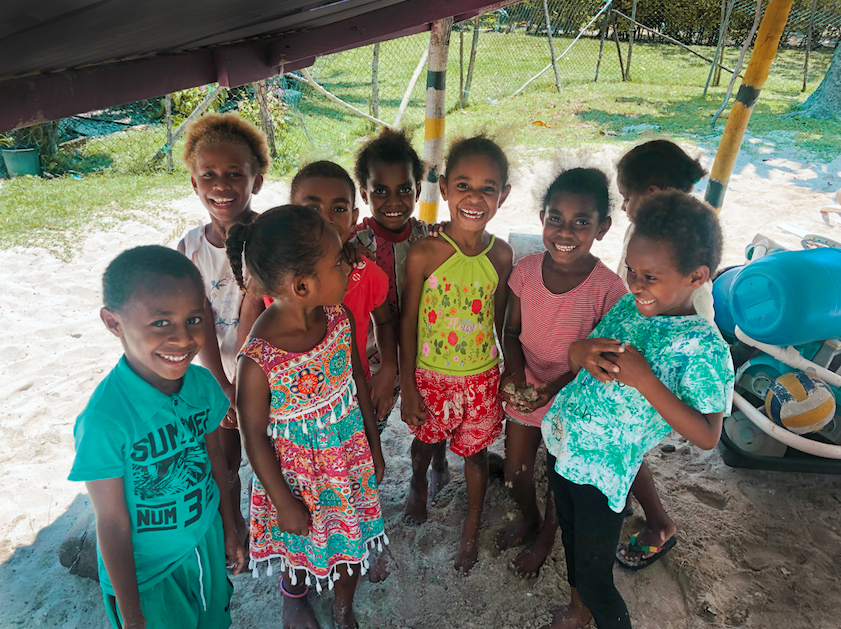 You're going to love Vanuatu
Come spend a semester here as an ILP volunteer! You're set up with free time, weekends off, and vacation days to help you see the country (and nearby countries) when you're not teaching English. See what this country is all about here: