Alumni of International Language Programs are always so excited to share their tips and tricks with future volunteers! Here's how to access some of their best.
As you're preparing for a semester abroad with ILP, you'll probably have questions about things related to packing, teaching ideas, travel inspiration, and a lot more! We sure did! Why not get your answers from our alumni and other volunteers?


---
Since we're talking about Facebook, are you already following us on Instagram?
Check out our volunteers' adventures on @ilpadventure!
---

The ILP Facebook Groups are such a great resource since they are full of answers to questions posted by past volunteers! And if you can't find the exact info you're looking for, then you can post your own question and have it answered by our awesome alumni. Here's how to do it:
How To Find And Join The Facebook Groups
All of these Facebook groups are private, so you do have to be accepted into the ILP program as a volunteer before you can get access into one. After you're accepted, we'll give you links to join the Facebook groups so that you can start connecting with other volunteers and alumni.
Heads up: it does sometimes take a few days for your request into a group to be accepted. You can always contact your representative if you need a reminder of where to find the Facebook groups.
How To Search For Specific Info Within A Group
There is already a lot of helpful information in past conversation threads! You'll questions from people getting ready to volunteer, past and current volunteers sharing their own tips, and even some helpful posts from ILP. For example, if you have questions about what type of backpacks past volunteers recommend, do a quick search within the page and see what has already been shared.
On A Computer
1. Go to the ILP group you want to search within.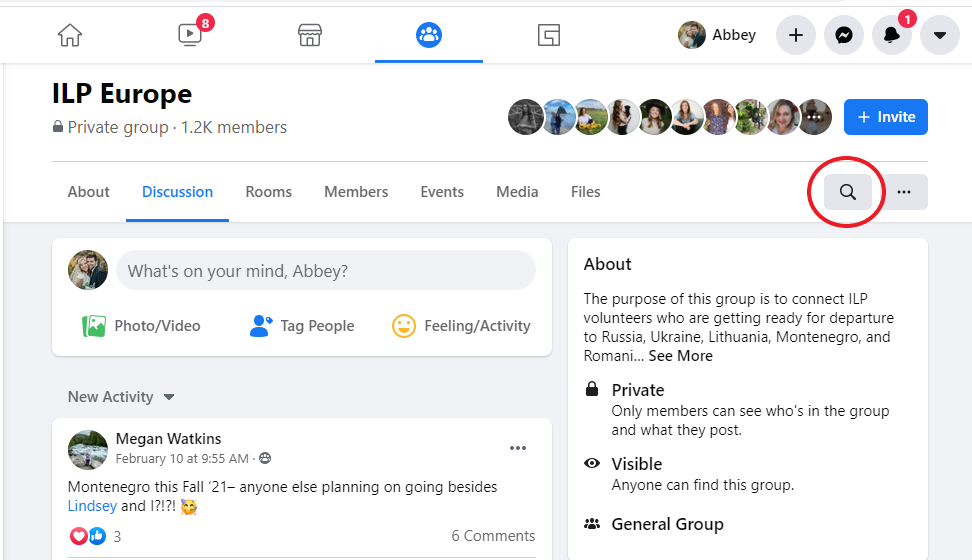 2. On the right-hand side of the page you'll see the magnifying glass, and just click on that. It will pull up a search box and you can type in a key word for whatever you're looking for. I entered "backpack".
3. You can select certain settings (like "most recent"), and then just scroll through the page to see what others have shared! If you can't find anything related to what you're looking for, post your own questions and others will reply.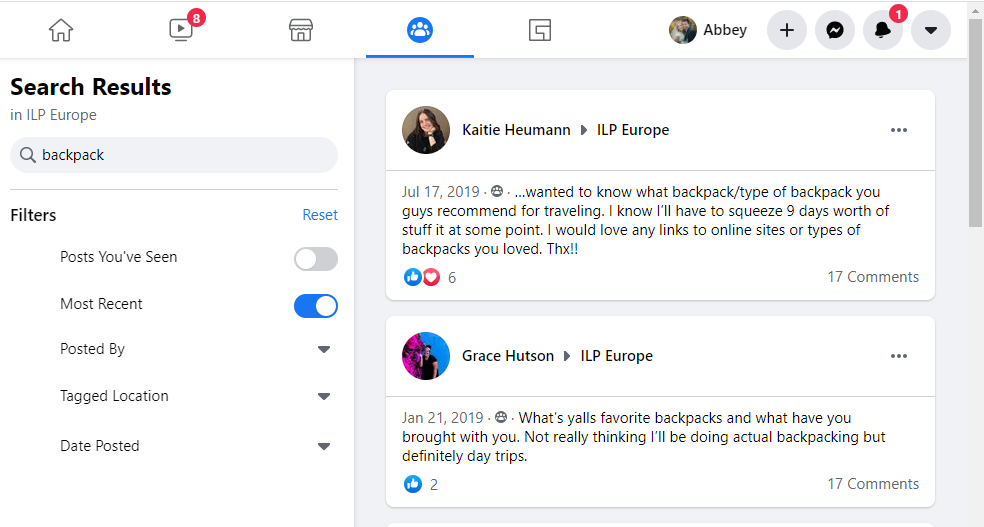 On A Smart Phone
1. Go to the ILP group you want to search within.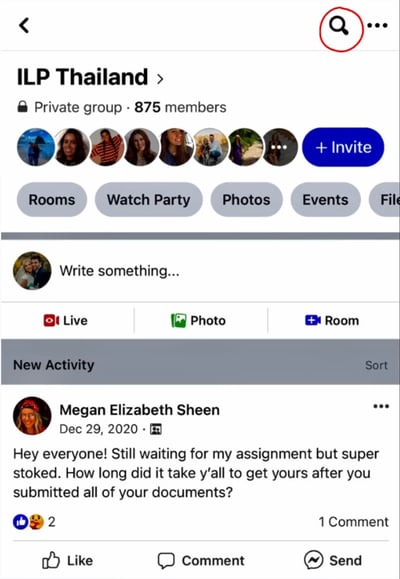 2. Click on the magnifying glass in the top right corner and enter a key word for what you're looking for.
3. Scroll through the searches to find answers your questions! If you can't find what you're looking for, post your questions and our wonderful alumni will reply!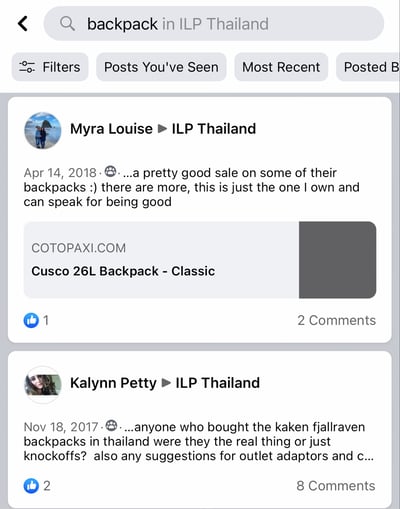 Other Resources
Our Official Facebook Page
Aside from our Facebook groups, we also have a public Facebook page that anyone can follow! Every week we not only share posts from our own blog, but also helpful and interesting posts for adventurers and volunteers that we find on other websites.
ILP Takeovers On Instagram
This is probably THE MOST helpful resource for volunteers preparing to leave. The videos and posts on this page are created by current volunteers and alumni who want to share about their experiences! In the highlight bubbles, you can find videos of house tours, classroom schedules, vacation itineraries, etc. Although some things change each semester, this is the place to get the best idea of what your experience will be like as a volunteer with ILP. Start following ILP Takeovers today!
Our Blog
This is probably a no-brainer since you're already on our blog. But, here's just a little reminder that we literally have HUNDREDS of posts packed full of info about ILP, vacation ideas, general traveler tips, lesson ideas, and so. much. more. You can easily type in a specific search that will pull up all blog posts with anything related to what you're looking for. Or, just click on one of our highlighted topics located on the side! Check out our blog and then sign up for regular adventure updates.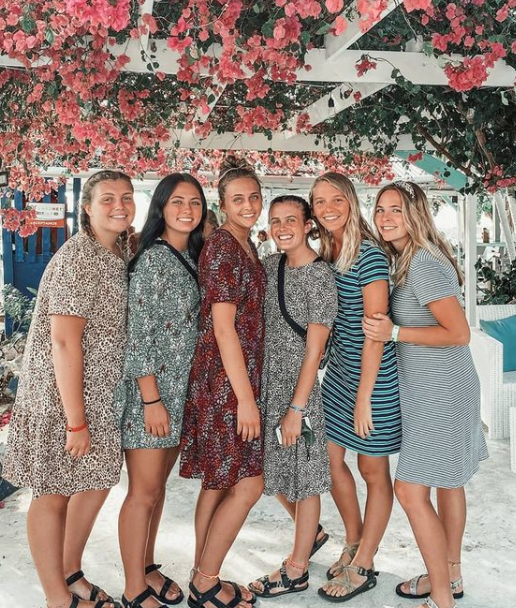 What if I still have questions?
We always have several ILP representatives working in our office who have volunteered abroad with us at least once before (although many of them have been multiple times). They love answering questions, sharing about their own experiences, and can help you find info specific to the country you are going to.
Click the button below to get in touch with one of our representatives: