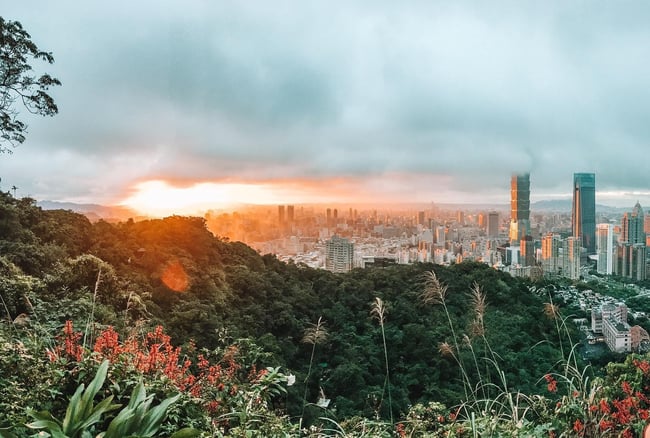 Visit sprawling night markets (and try the best snacks), stay in utterly charming mountain towns, hit the best beaches, and a bunch of my other top spots.
I've been dreaming about going to Taiwan for years. I mean, when you have a best friend who lived there for a year teaching English and gushed all the time about the food, the beaches, the cities, the mountains, the cafes, and the things to do in this country, it's kind of hard not to want to do the same thing yourself.
For me, it worked better to volunteer elsewhere in Asia and Europe as a volunteer with ILP, but I always have their paid teaching program hanging out in the back of my mind where you can live in Taiwan for 6 months or a year+ and get paid for it.
(Oh, if you didn't know, ILP has two programs: a volunteer program in several locations around the world and a paid professional program in Thailand and Taiwan). You can read way more about both programs, but here, were all talking about the incredible vacations our paid professional teachers take while teaching English in Taiwan.


---
Read Next: All about getting paid to teach English in Taiwan
---

In the professional program, you're teaching full-time so the focus of this experience really is the kids, but that doesn't mean you don't also have time to explore Taiwan. Paid professional ILP teachers in Taiwan have time off and vacation time (just like our ILP volunteering program). Leaving Taiwan is an option, of course, but honestly? This country has everything you're looking for. Here's just a taste of the highlights to hit while you're here!
(We're moving roughly from north to south if that helps orient this list.)
Jiufen, The Cutest Mountain Town
Jiufen is first for a few reasons. I've been hearing about this city for years, from a handful of different people who have said "I would move there in a heartbeat" or "If I could only visit Taiwan once more, I'd go here"). The picturesque mountain town of Jiufen has a lot to convince you to visit. For one, the scenery is stunning. If you're a fan of Studio Ghibli, the scenes from "Spirited Away" may look familiar (lore says the popular movie was inspired by the scenes in Jiufen, which is hard to debate once you see the terraced tea house here that looks like the famed bath house in the film).
Or maybe you're a sucker for the narrow alleyways, hung with red lanterns, and filled with food vendors in the evenings? The Old Street has food stalls aplenty, with lots of tea houses, pottery places for souvenirs, and shops aplenty. While you're there, make sure to photograph and visit the famous A-Mei Teahouse, hike up Mount Teapot, and eat your heart out (Jiufen is a foodie's paradise). Nearby, you can explore the Shifen Waterfall if you'd like to stretch your time in the area to more of a day trip (or longer).
Getting Here: Easily reached by bus, train, or taxi. About an hour away from Taipei (a bit longer if you're going via public transport).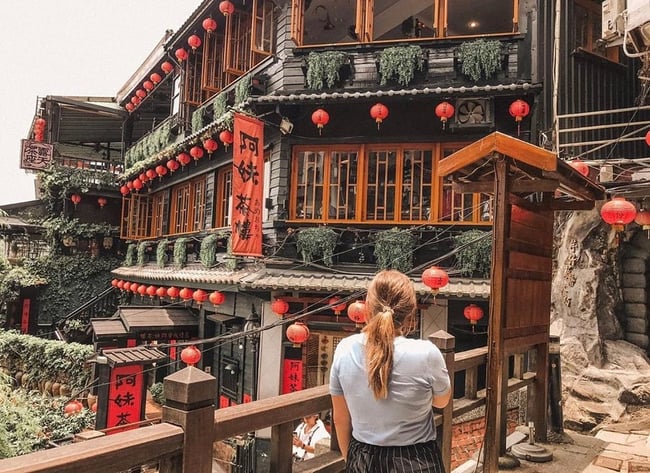 Night Markets + Beaches In Keelung
Ready for a beach trip? Head to Keelung, a bustling port city full of adventures like the huge Zhupu Altar temple complex, the Fairy Cave Temple, statues and temples in the Zhongzheng Park, the sites on the Heping Island Park trails, the colors of the Zhengbin Port houses, and of course, some beach time. Catch a bus to visit Dawulun Beach, one of the best in the area (with golden sands and gorgeous, calm, blue water).
Just don't leave without eating every tasty thing that catches your eye at the night market. There are tons and tons of acclaimed markets in Taiwan, but some say the night market in Keelung is the best. Dumplings galore, salted pork, noodles, crab soup, fresh juices, tempura, and bubble tea are just a sampling of all the foods to try while you're here.
Getting Here: Keelung is about an hour from Taipei (and about an hour from Jiufen if you'd like to hit all three cities on your visit to the north).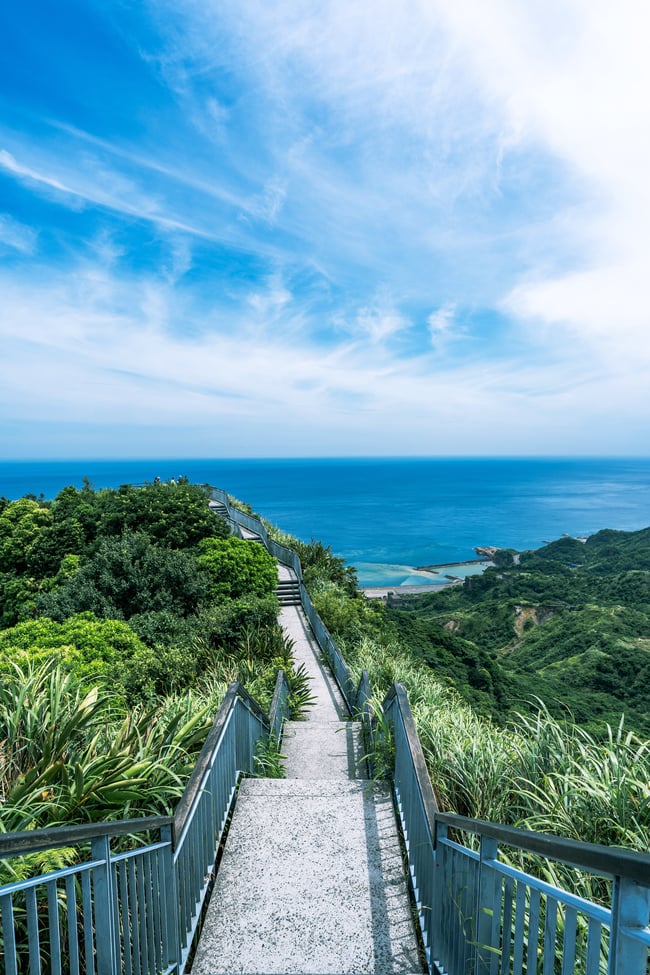 Some Taipei Highlights (Just Some)
There is so much to see in Taipei. I'm not sure how you can even justify a highlights list because, with so much to see and do, your highlights are probably going to look totally different than someone interested in seeing Taipei's parks and palaces, because you're here for the museums and street markets.
That being said, Taipei does boast a few things that are kinda "unmissable" for every visitor. If I were you (and here for a few days) here's how I spend my time. First off, time at the Palace Museum. Where else can you spend hours admiring thousands of historically weighty and culturally stunning pieces of artwork? Don't miss the calligraphy section, even if you just have a little bit of time here. I'd also love to grab a bite to eat around Tamsei (between exploring temples and the seaside found here, of course). For dinner every night you're here, maybe head to the Shilin Night Market, which is famed for a maze of Taiwanese treats (though you can also get good food at the nearby and quieter market near the Long Shan Temple). The nearby Herb Alley is another spot to explore if you have the time. Just don't miss the chance to eat at the night markets whatever you do.
Hiking around the hills of Taipei is also something to make time for (Elephant Hill is rather popular), same with the impressive changing of the guard ceremony that happens in from of the imposing Chiang Kai Shek Memorial Hall. Stopping by the Sun Yat Sen Memorial Hall wouldn't go amiss, either. A ride on the Maokong Gondola is another thing to add to your itinerary especially if you're headed to the Taipei Zoo.
If you're looking for really cool wandering areas, the quirky designs in the Ximen district is a cool thing to do. Di Hua Street is also crammed full of history and a lovely place to just stroll around. Or get a piece of nature at the Beitou Thermal Area ... and that's just to start!
Getting Here: Taiwan's capital city is well connected, with buses, trains, flights, and taxis from every corner of the island.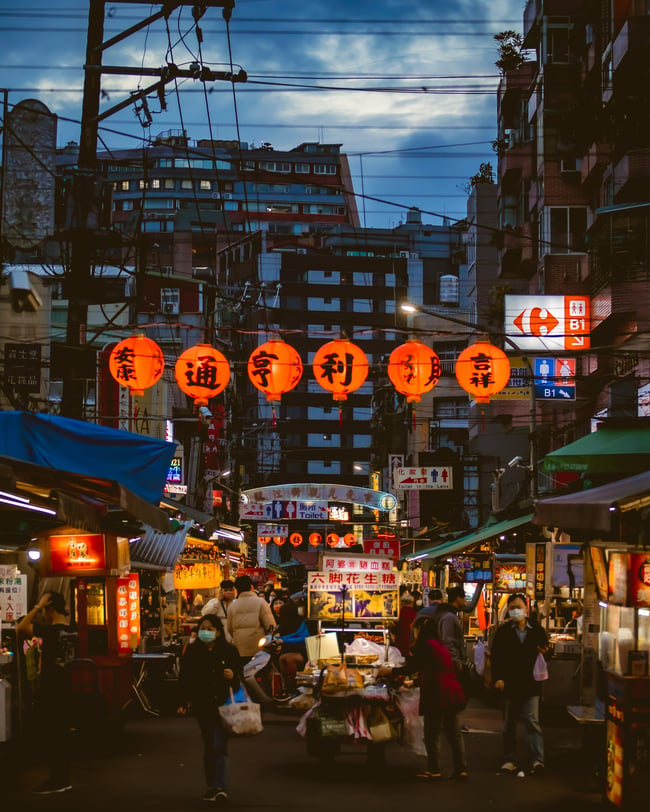 Waterfalls Galore At Taroko National Park
Come peer over the edge of a marble canyon that dives impossibly deep into the valley below ... this impressive gorge rivals the Grand Canyon, with hikes studded with waterfalls and picturesque temples. While you're trying to figure out what to see and do in the park, you might want to hit some of the best scenic spots (here are a few to get you started): The Eternal Spring Shrine, the mystical blue pools on the Shakadang Trail, the ocean views of at Qingshui Cliffs, the Tunnel Of Nine Turns, and of course, the scenic dropoffs of the gorge on the Zhuilu Old Trail.
Getting Here: From Taipei, you can either take a flight (an hour) or a train (2 hours) to Hualien City. From there, snag a 1-hour bus to the actual park.
From Taichung, it's a 4-ish hour train ride to Hualien City.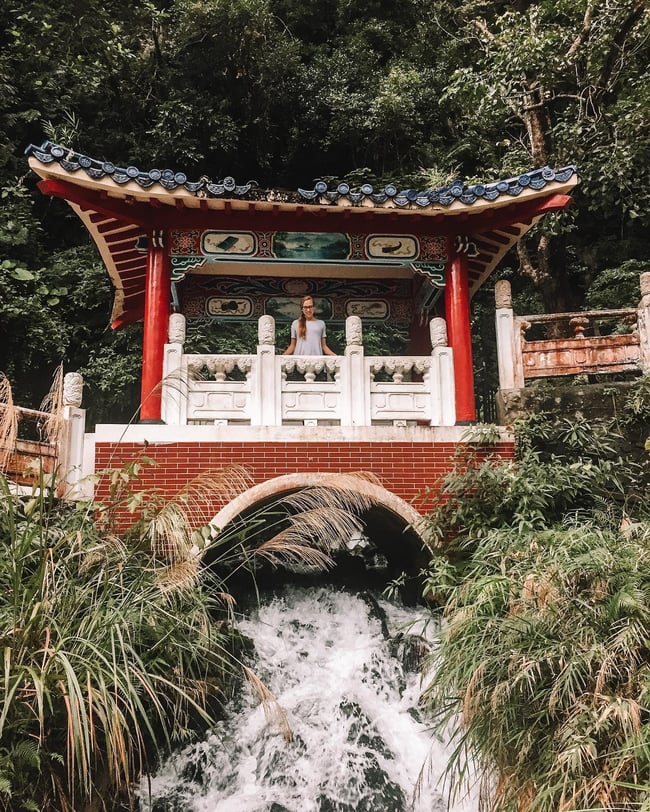 Colorful Ice Cream At Rainbow Village
The colors and pictures opportunities of this place make it a top spot to visit, especially so once you consider the history. At first glance, Rainbow Village looks just like the name — a smattering of little shops and homes painted in every color imaginable, and embellished with psychedelic patterns, icons, and figures. The colors and charm of this place are both pretty hard to beat (same goes with the rainbow colored soft serve here), but the significance goes much more than just surface level.
The now colorful village used to be temporary army housing, home to soldiers who had recently returned from fighting Mao Zedong's government in China. Some families purchased their homes in these villages, while others decayed as many of the soldiers and their families moved out. However, one man stayed, focused on preserving his home. On a rumor that his village was going to be destroyed, a retired soldier Huang Yong-Fu began painting his home and the surrounding buildings in bright vivid colors and patterns. After 40 years of living here, it had become home to Huang Yong-Fu. His artwork quickly gained the attention of a nearby university, which raised awareness to preserve the village (and the artwork) which canceled the demolition.
Now, over a million visitors come to admire the artwork which has expanded past the "Rainbow Grandpa's" bungalow to cover the walls, rooftops, and even the street of the village. Supposedly the Rainbow Grandpa at age 100 is still touching up his artwork (if you're lucky enough to see him on your visit).
Getting Here: The Rainbow Village is found about an hour outside of the city of Taichung (easily reached by bus).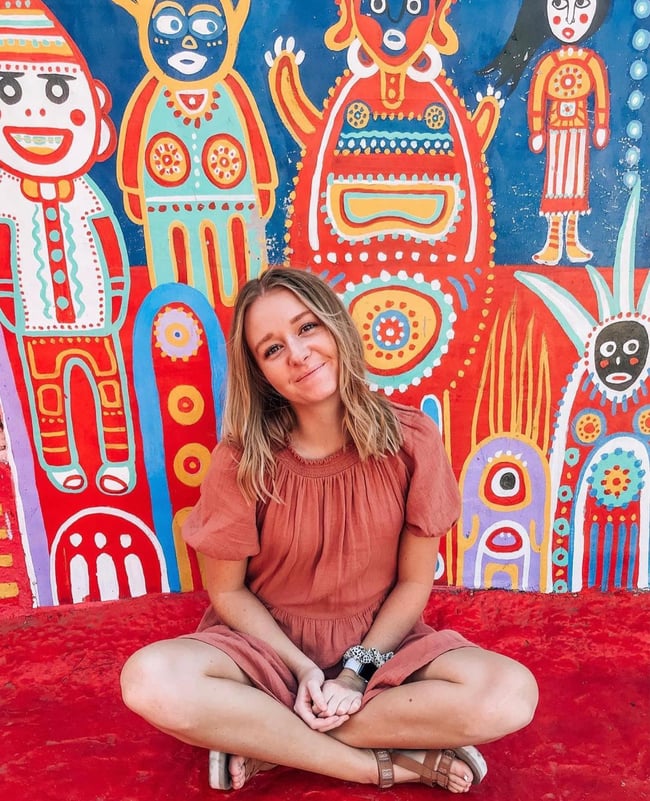 Taichung City's Top Spots
There's a lot to see here, especially if you consider all of the spots people visit on a day trip from Taichung (we've listed a couple of them on this list, but there are several). But don't just spend your time in Taichung as a jumping off point! There are plenty of highlights to explore before you hop on a bus or train to visit outside of the city. First off, explore the Taichung Cultural Heritage Park. What used to be a sake distillery has turned into a space filled with statues, gardens, artwork, and colorful lanterns. The Natural Way Six Arts Cultural Center is another photogenic space to explore and happens to be very close to Chun Shui Tang, the restaurant credited to have invented the very first bubble tea drink (you've got to have one).
If you'd like something else sweet, it's worth it to wait in line at Miyahara, an ever-so-popular ice cream place serving up creative scoops from their Harry Potter-esque interior. Have your treat at the nearby Taichung Park. Before leaving, take some rather colorful pictures on Animation Lane (most people stop by to get a selfie with the Totoro bus stop mural, though there's a lot to see in the area. Oh, and a visit to the Feng-Chia Night Market is another place to explore ... same with the flower market (found about an hour outside of the city).
Getting Here: Travel by plane, high-speed train, or bus. It's anywhere from 1.5 - 3ish hours from Taipei.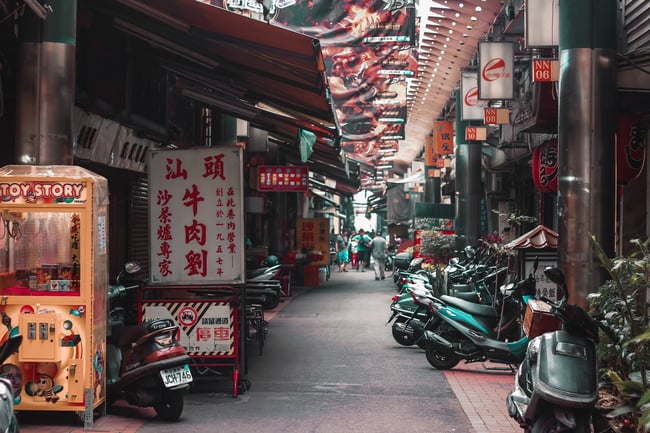 Sunsets At Sun Moon Lake
This lakeside vacation is another can't-miss stop, pulling millions of visitors every year who want to see one of Taiwan's most popular destinations. A quick peek at what a visit to the Sun Moon Lake involves is pretty convincing — it's a gorgeous scene, filled with rolling green hills surrounding a glittering lake (which has some spectacular sunsets).
The rim of the lake has tons of things to do, tucked along the shoreline. Take a short walk on the famed Hanbi Trail, which gives you quite a view from the Yule Pavilion. Or, walk to Shuishe Pier in the early hours to catch the sunrise. But if I were you, I'd rent a bike for the day and cycle the bike path around a portion of the lake that lets you stop off anytime you want at the tourist attractions along the way. Snap pictures of the small yet colorful Longfeng temple, stop for a view at the floating Xiangshan Scenic Outlook platform, then stop at the Northwest Observation Point.
You can also hop on a bus to admire the Wenwu Temple then another bus over to have lunch at Ita Thao, a bustling port town that has roots as an indigenous village (the street food here is top-notch). Xuanzang Temple is another one to explore if you haven't had your fill yet (you can get there via bus). Ci'en Pagoda might have the best view of the lake from above if you want to make the climb (if not, biking to Shuishe Dam is another spot to see the sunset).
Getting Here: It's about a 4-hour train ride from Taichung City.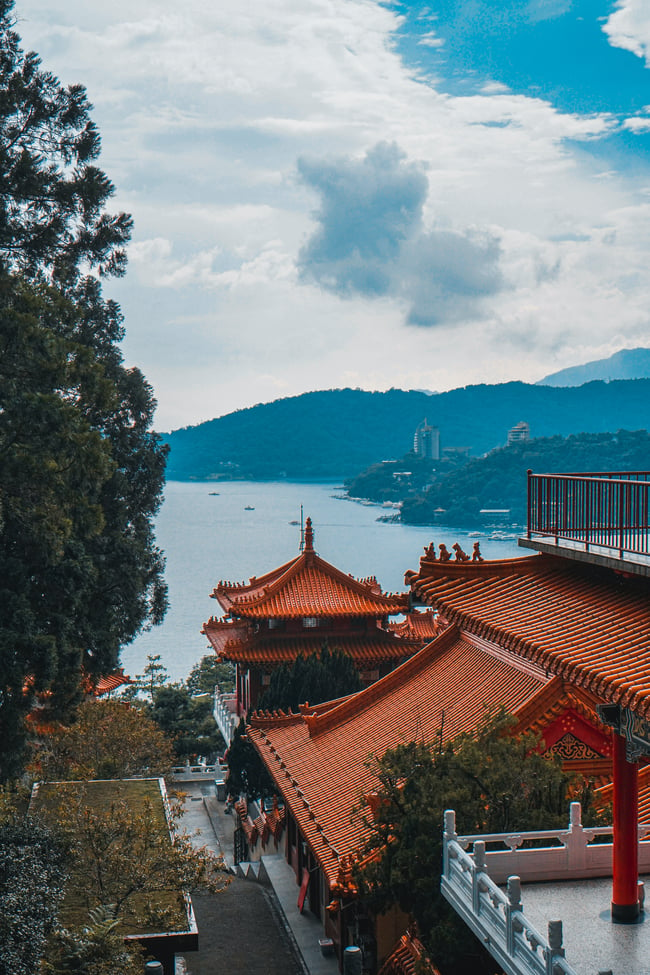 Snorkeling Near Kaoshiung
I know Taiwan is an island but I didn't know the coastline would boast such pretty islands. The coastal city of Kaoshiung has enough to keep you busy for a few days (see the city by bike, head to the twin Dragon and Tiger pagodas, wander the massive Fo Guang Shan Monastery, etc.) but I'm all about a snorkel trip to nearby Lambai Island.
Also known as Xiaoliuqiu (小琉球), this itty-bitty island has warm waters, sea turtles hiding in the waves, stunning scenery, and swoon-worthy beaches. You'll probably want to spend a couple of days here to soak up time at Secret Beach, ChungAu Beach, and Venice Beach, plus time to get your fill of snorkeling (and seafood).
Oh, and while you're around this part of the island, I've heard rave reviews of the Fo Guang Shan Buddha Museum — it's about a 1.5 train ride outside of Kaoshiung and supposedly is well worth the trek out there! Sounds like you need to spend more than a few days around Kaoshiung to fit this all in!
Getting Here: Take a quick ferry ride over from Kaoshiung (Kaoshiung is in the south, about 2.5 hours from Taichung).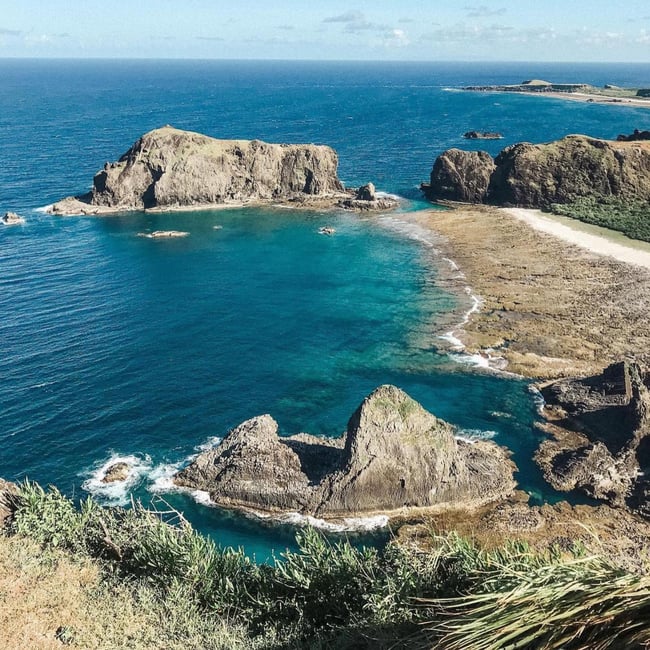 We're really just skimming the surface
This little recap is just a taste of what's waiting for you in Taiwan ... though we'd love to tell you more! Just starting an application will get you in touch with our Professional Teaching rep who can answer any questions you may have, fill you in on the experience, and help you get started: