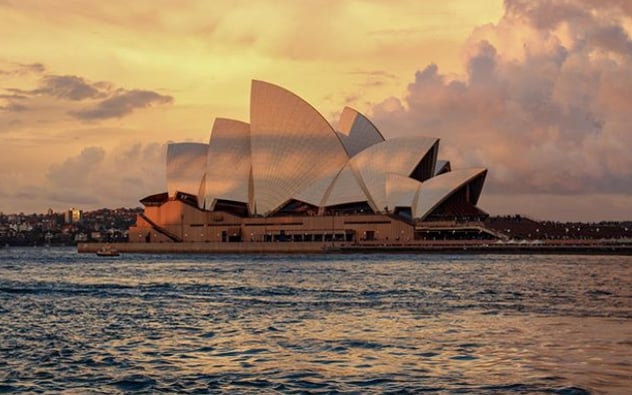 Planning a trip to the "Land Down Under" but not sure where you want to spend your time? Here are a handful of the highlights in our favorite Aussie cities.
It's common knowledge that there is nowhere in the world quite like Australia. And not just because of the cutie kangaroos and koalas. Just think about all of the stunning beaches and world-famous landmarks! Not to mention everyone's favorite Aussie accents. So of course it's on your travel wish list, right?
If you're planning to spend a semester abroad as an English-teaching volunteer with International Language Programs in either Thailand or Vanuatu, then Australia is a great (although somewhat pricey) vacation destination for you! After reading about some of our favorite things to do here, we're betting you'll agree that the memories you'll make here are absolutely worth the price of your round-trip flight.


---
Want to see some of the other places our volunteers get to explore during their semesters abroad?
Follow us on Instagram @ilpadventure
---

Once you (and at least two fellow volunteers) decide you're going to make this trip to Australia happen, you then have to figure out which city you're going to spend most (if not all) of your time in. There are three specific cities that we absolutely recommend, and you can't go wrong with any one of them. The best part is that the best flight deals from both Thailand and Vanuatu often lead here as well. Here are just a few of the highlights you'll get to experience depending on which one you choose.
Highlights Of Popular Australian Cities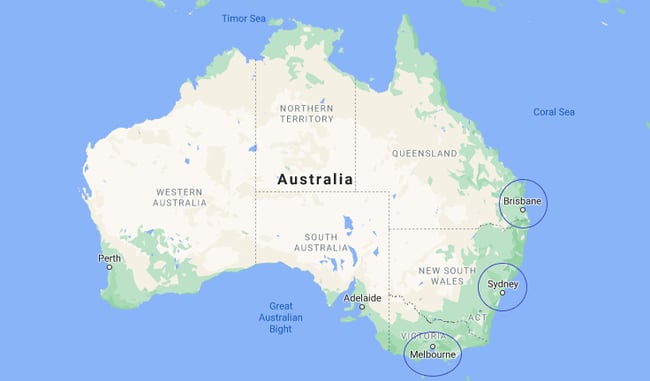 Things To Do In Brisbane
Queensland Art Gallery And Gallery Of Modern Art
If art is your thing, then these two galleries—with over 17,000 pieces of historical and contemporary art—will leave you enthralled for hours. They're open daily from 10 am to 5 pm and entry is totally free. Yay! Check out their website for info about current exhibits and other important details.
Lone Pine Koala Sanctuary
This park was founded in the 1920s as a sanctuary for injured and orphaned koalas. Today, it is still the world's largest koala sanctuary and is a place for locals and tourists to connect with and learn from Australia's native animals. So, if you're wanting to meet a koala or feed a kangaroo, this is the place to go! A day pass is $42, which is absolutely worth this once-in-a-lifetime experience. Check out the official website for more details.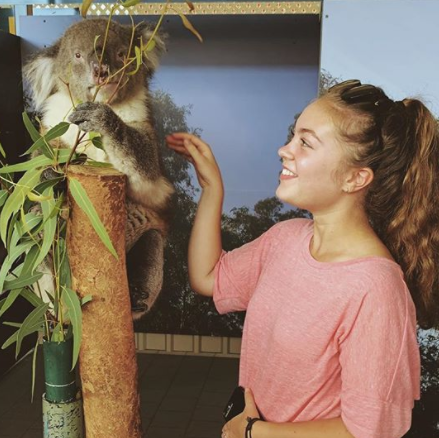 Eat Street
Ready for a feast of the senses? This is THE place to go for a weekend evening (Friday, Saturday, and Sunday) of food and fun! There are countless stalls where you'll find mouth-watering tasties from all over the world. Plus, you can sit under twinkling lights and listen to live entertainment while savoring these goodies. Come hungry with $3 for the entry fee, plus additional money for any food you'll be purchasing. Visit the official website for more info.
Get more on things to do in Brisbane, here.
Things To Do In Sydney
Harbour Bridge and Opera House
Obviously you can't visit Sydney without making a stop at these iconic landmarks. Lucky for you, they are right next to each other and the perfect place to get pictures. Check out this blog post for tips on the best photo spots and views of the bridge and opera house. If you want to catch a live performance at the Opera House in the evening, here's where you'll find the current info and updates.
Luna Park
Do you love amusement parks? Here you'll find roller coasters, a Ferris wheel, a train, and so many other fun rides that will provide hours upon hours of fun memories. Tickets are $50 and currently can only be purchased online. The operating hours just depend on the time of year you're going, so make sure you check those beforehand. And major bonus, it's right next to the Harbour Bridge. For more info, here's the official website!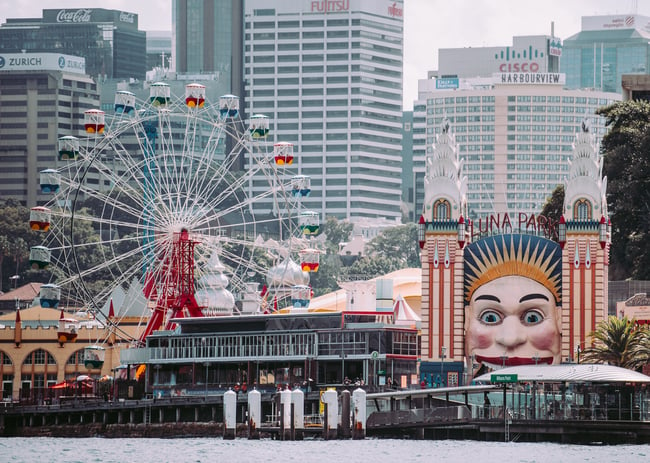 Royal Botanic Gardens
There are a lot of beautiful botanic gardens in Australia, but this is its oldest. If you're looking for a place to relax and have a picnic away from all of the hustle and bustle of the city, this is your place. Wander through the themed gardens, learn about the Aboriginal culture, and shop for garden-themed souvenirs. You can also pay $10 to take a ride on the Choo Choo Express, led by a guide who will tell you all about the history and landmarks of Sydney while on your train ride. The open hours are seasonal, so check them out here. Plan your visit by taking a look at the official website.
Bondi Beach
This is Australia's most famous beach, so although it gets busy thanks to the popularity it holds among tourists and locals alike, we still think it's a spot you cannot miss. Great views, warm sand, the bluest water, and great surfing?!
The best way to get here is probably by one of the Express buses that leaves from the center of Sydney and will get you to Bondi in about 30 minutes. You can also catch a train, which results in an 11-minute ride to Bondi Junction Train Station, but then an additional 15-minute bus ride to get to the beach is required. Check out this website for more of the specific details! The bus fares system is a bit complicated, as it's based on how many sections you travel across, but plan on spending about $5 each way.
If you have the time, absolutely take the scenic coastal walk from Bondi to Coogee. It's just over 3 1/2 miles long, so you can make it in about an hour each way. It starts at the Bondi Icebergs ocean pool, then weaves along the top of the cliffs. 100% worth the trek!
If you're willing to travel a bit, Manly Beach is another great place to spend the day. Some argue it's even better than Bondi, so why not check out both of them?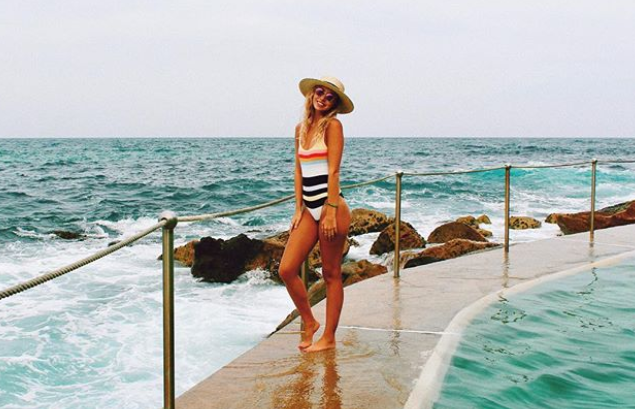 Things To Do In Melbourne
Flinders Street Railway Station
This is Australia's oldest train station and in the 1920s was actually the busiest railway station in the world. With a yellow facade, it is still an iconic monument of history and architecture. And, some even say it's haunted by a ghost named George, who stands on the platform with his fishing equipment.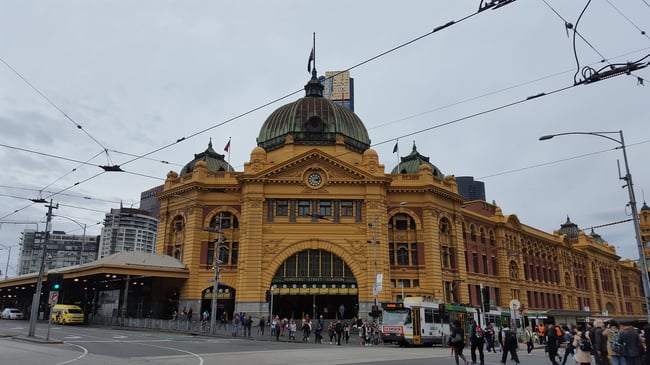 Melbourne Zoo
This is actually Australia's oldest zoo and has been open to the public since 1862. It is unique because the animals are able to roam around in areas that greatly resemble their natural homes. We're talking kangaroos, wallabies, platypuses, koalas, and wombats. A ticket is $38 and you can check out the operating hours and current exhibits by visiting the official website.
The Block Arcade
Do you like boutique shopping? Or even window shopping? Then this iconic location is the spot for you. Here you'll find gift shops, restaurants, art exhibits, and of course, boutique fashion shops. Check out the official website to get more of the exact details.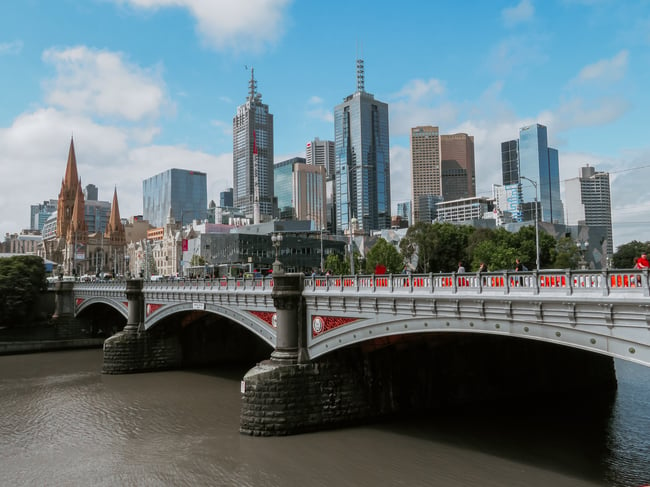 St Kilda
This seaside playground is home to many of Melbourne's most popular tourist attractions, including the pier and another Luna Park like the one you'll find in Sydney. You can also go paddleboarding, relax on the beach, and make sure you don't miss out on walking down the boardwalk at sunset to see the 1000+ penguins who have made St. Kilda breakwater their home. Check out the official tourist website for more details.
+Flight Tips
From Vanuatu
If you're volunteering in Vanuatu for a semester, then a trip to Australia during your scheduled vacation time is totally possible! The cheapest tickets are usually $300+, but you may also find prices hanging at around $420 round-trip to Brisbane, $470 round-trip to Sydney, $450 round-trip to Melbourne. You're most likely to find those prices by just looking at flight availability on Google Flights or Skyscanner. Your departing airport is in Port Vila, Vanuatu and then your group gets to choose which airport in Australia you would like to fly into.
From Thailand
Spending a semester in Thailand? We've already had volunteers head to Australia for a vacation and they've absolutely loved their time there. The cheapest tickets are about $600 round-trip to Brisbane, $430 round-trip to Sydney, and $400 round-trip to Melbourne. You can depart from either of the two international airports in Bangkok, but just make sure you know exactly which one you are leaving from and arriving at.
If you know that a visit to Australia is a top priority for your semester, then we recommend looking at these flights as soon as you have your vacation dates, since the more flexibility and time you have, the better deals you'll be able to find.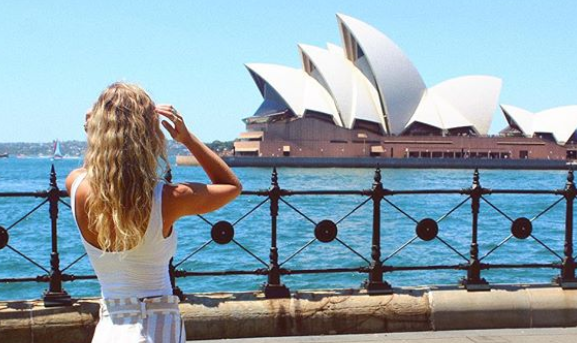 Wanting to spend some time abroad but have questions about how it works?
Since all of us have volunteered with ILP ourselves for at least one semester, we are here to answer any questions and love talking about our experiences! Click the button below to learn some of the basics about the program.