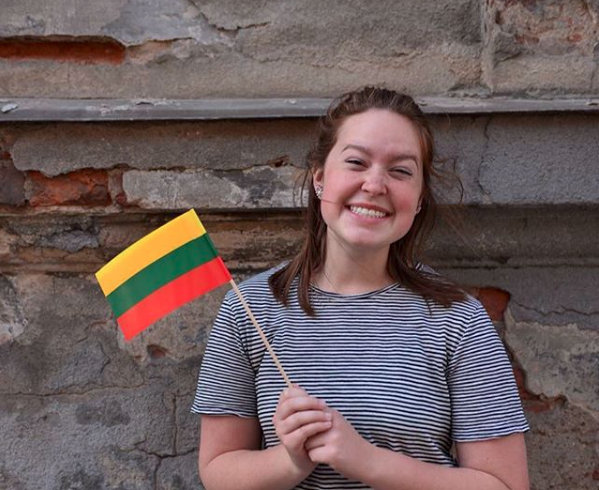 You don't have to speak another language to volunteer with ILP (just English!) but it always helps to know a few words in the local lingo.
I didn't speak a word of any of the languages where I would be spending a semester. Not a single word of Ukrainian, or a word of Lithuanian ... but I am so glad that I put in a little bit of effort once I got to that country so I could communicate just a little bit! Seriously, the easiest way to learn a language is by living there, trust me.


---
International Language Programs (ILP) in countries all over the world:
Click here to start your application now
---

Oh and just a reminder, you're not required to speak another language with ILP, but it does come in handy. I was really glad that I downloaded a couple of apps and learned a handful of helpful phrases just to help me get around when I was living abroad with ILP.
Below is a list of helpful websites and apps you may want to download now to get a heard start, plus we have some links for our ILP volunteers heading to certain countries, so keep reading for those.
Learn A Language With These Sites
Duolingo
Duolingo is an awesome website that has over 15 language to choose from (and counting). You'll grasp the basic skills needed for the language and then build from there. You can find reading, listening, writing and speaking activities which will help you be really immersed in the language. Doing that mix of things will help it stick better and help your progress quickly. There are even quiz options that let you test what you know and help you review what you don't.
You can set it up to receive daily reminders to study and it's totally free. Music to my ears.
Get it here on Android and here on Apple.
Busuu
This site helps you learn a language in just "10 minutes a day". With great activities to learn and retain grammar, quick lessons and opportunities to speak to natives, you can't go wrong. You can also download the app and then download each lesson so you can practice even when you don't have internet. Practicing on the go is awesome and hey if you have a 10+ hour flight ahead of you, you might as well fill the time.
Get it here on Android and here on Apple, both for free.
Memrise
If you want to learn vocabulary this is the place for you! With over 150 languages to choose from, they'll keep you busy forever. This site uses interactive flashcards that include clever tricks and humor to help you memorize. And, you can download the app which makes learning on the go easy.
Get it here on Android and here on Apple.
Mondly
Download this app to learn 30+ language. It has multiple activities to help keep what you are learning locked in your mind. It also has a great way to track what you are learning so you can see you progress. An easy, simple app to use.
Get it here on Android and here on Apple.
Rosetta Stone
This one you may have heard of. It's more of an intensive guide to learning a language with impressive results if you stick to it. They focus on learning by immersion, so you'll be exposed to the target language in lots of different ways to try and create that kind of atmosphere.

Get it here on Android and here on Apple.
For Our ILP Volunteers
If you're focused on learning a few phrases and wanting to study the language a little bit before you head on over, we have some resources for you. Each one of these posts below focuses on a language that's spoken in ILP countries where you can volunteer (and/or places you'd like to vacation). You'll find helpful phrases and a couple of more resources target for that specific country.

Have some questions about teaching, traveling, or volunteering?
We've got you covered. Did you know there are a team of representatives who work in the ILP office who are here to help you answer all of your questions? Each have volunteered with ILP at least once and can tell you what you'd like to know.