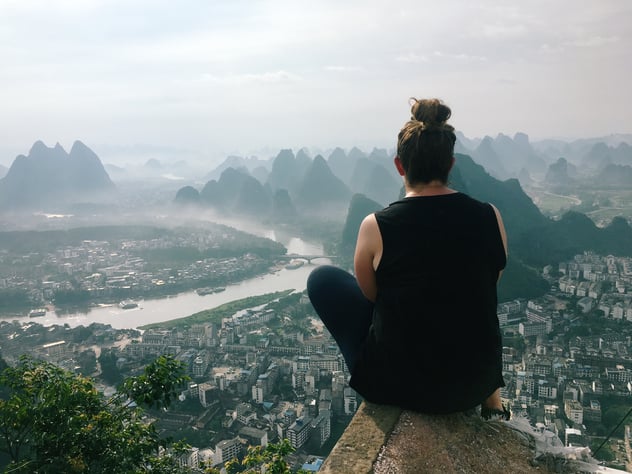 Yangshuo is one of my favorite China travel destinations - and pretty much every ILP volunteer who has spent a semester in China agrees with me! It's also home to some of the best scenes for your Instagram photos and this is a really easy spot to get a great shot.
---
*Quick ILP Update — we have closed our semester abroad program in China and are not updating info found in this post. We're keeping this post live as it may be a helpful resource for you, but know that information was last up to date at the time this post was published.
---

Yangshuo is the cutest little Chinese town famous for river rides on bamboo rafts, rolling mountains nicknamed the "Dr. Seuss" mountains, and rice fields. If you love outdoor adventure, come to Yangshuo!
There's a few places where you can get incredible view points (like this one in nearby Xingping). But this viewpoint I want to tell you about is the TV tower hike.
The TV Tower Hike
This hike gets its name because it sits near a couple of TV towers in the hills right in Yangshuo town — this trail takes you right up to one of them. The best part about this particular hike is that it's within walking distance from West Street.
West Street is where you're going to want to be if you're in town, so find a hostel as close to West Street as you can get and then you're within walking distance to this hike as well. Easy peasy. You can get 360 degree views of the mountains from the top and it is stunning.
When I came home from my trip, every time someone asked me about how it was they always said, "I saw that pic of you with those mountains. What was that?? That was so cool." It's a hit.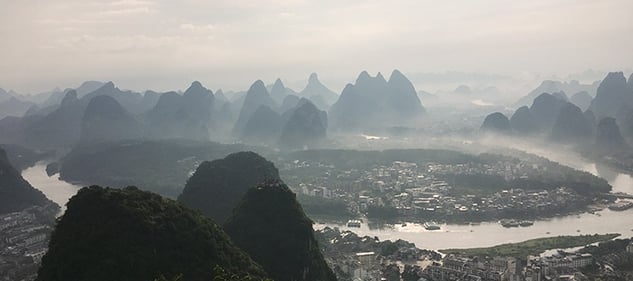 Finding The Trail
Like I mentioned, you can walk to the start of the trail easily from West Street by heading through a neighborhood.
There's no signs and there's no way you'll find it unless you have directions — I tried to make it as easy as possible with photos below at every turn. Trust me, it's easy to get to, you just need to know where to go! Make sure to take these directions with you so you can find the hike (don't try to just wing it).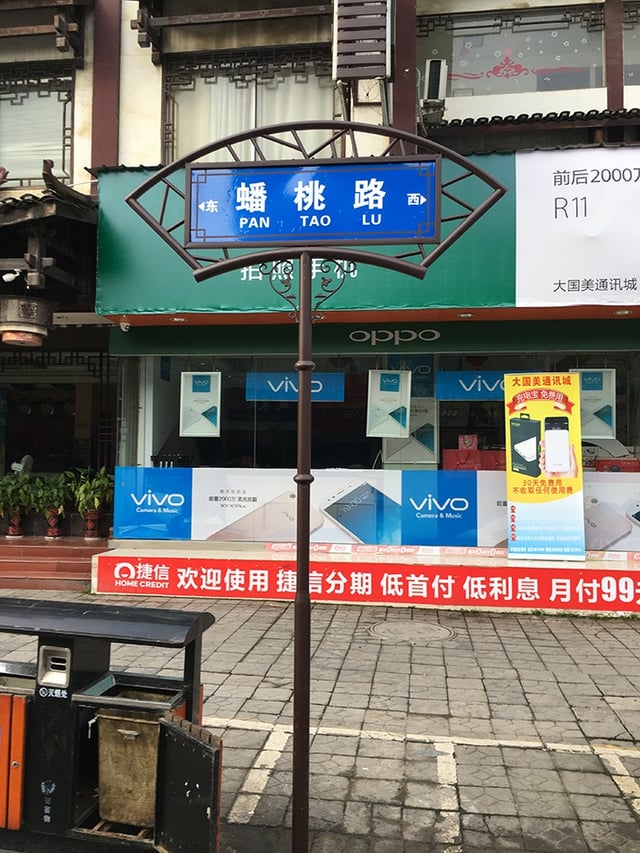 Coming from West Street, head right on Pantao Road. Pantao is the busiest road that runs through the city perpendicular to West Street so you can't miss it. All of West Street area is pedestrians and motor bikes, so Pantao is the first road you come to with all the car traffic.
Past the round-about there's a couple pedestrian overpasses, so use that to cross the street.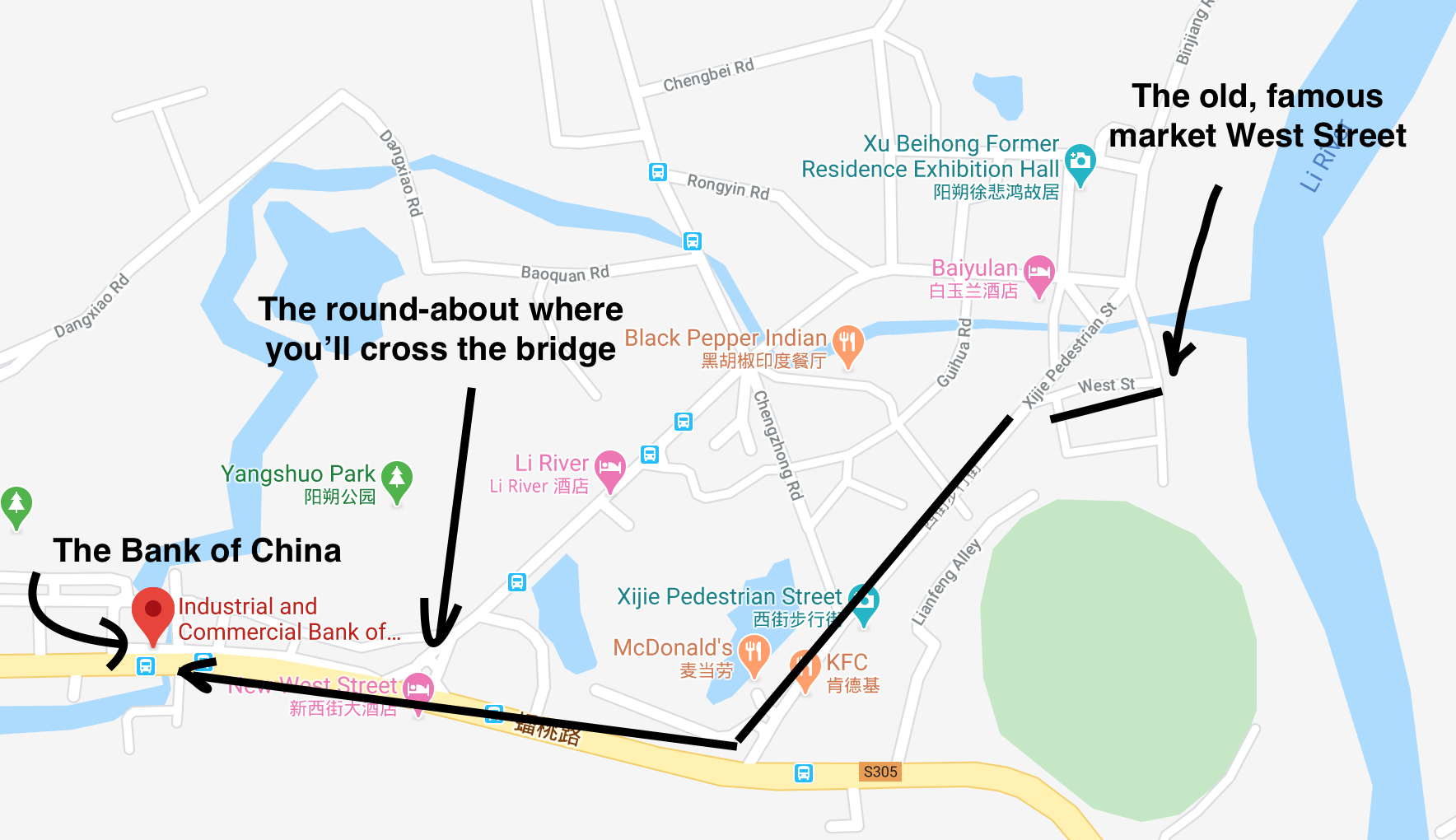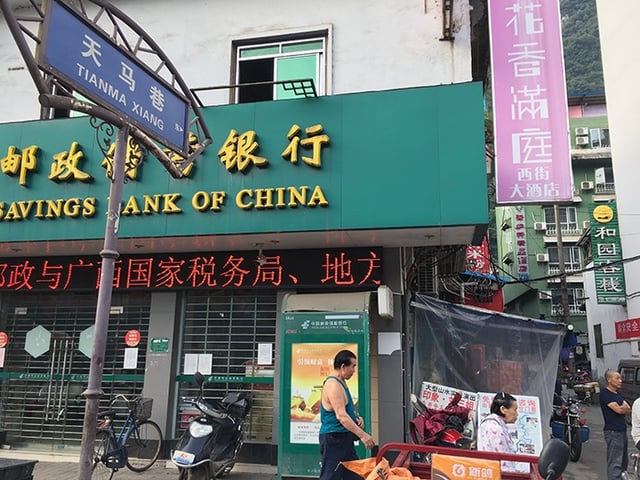 When you come to Tianma Xiang street, turn left and head into those back streets. There's a Bank of China on that corner, so just look for that bright green building with the yellow lettering and turn after that.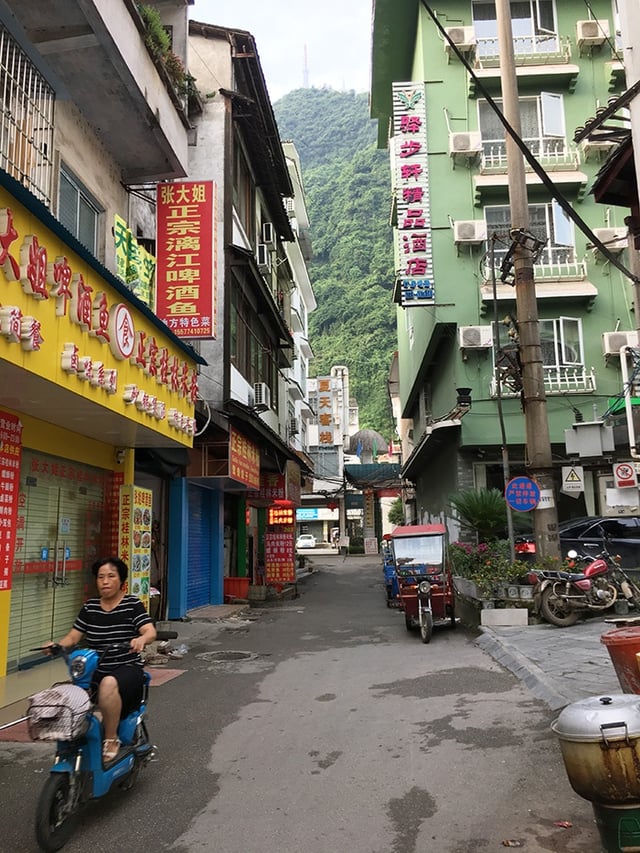 When you turn left this is what you'll see. This area is a neighborhood, so the only tourists here (like you!) are going for this hike. You'll see locals, homes, a few cars, and a couple shops. Be ready to jump out of the way if you hear a motorcycle coming because they're not expecting tourists here.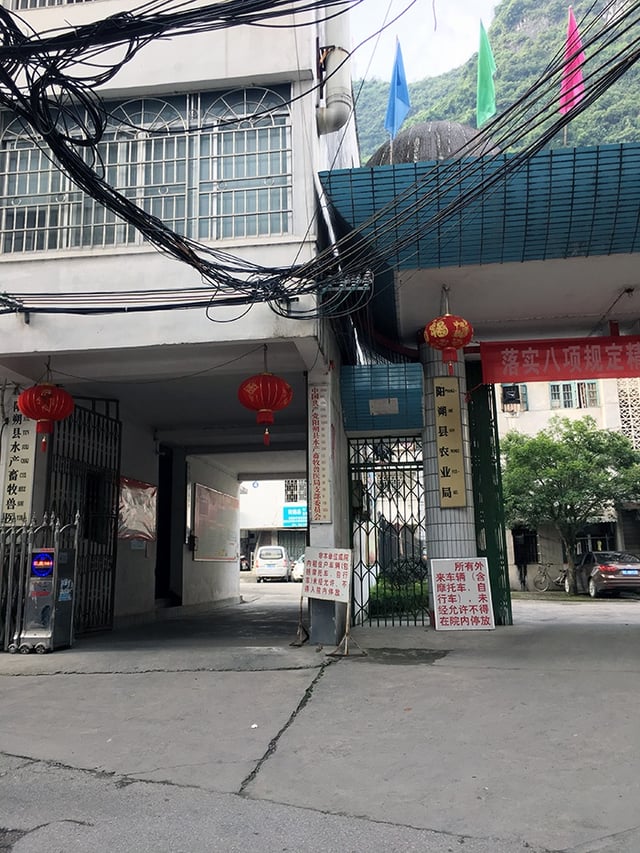 Keep walking straight on that road as far as you can, then when you come to a couple gates continue following the road to the left.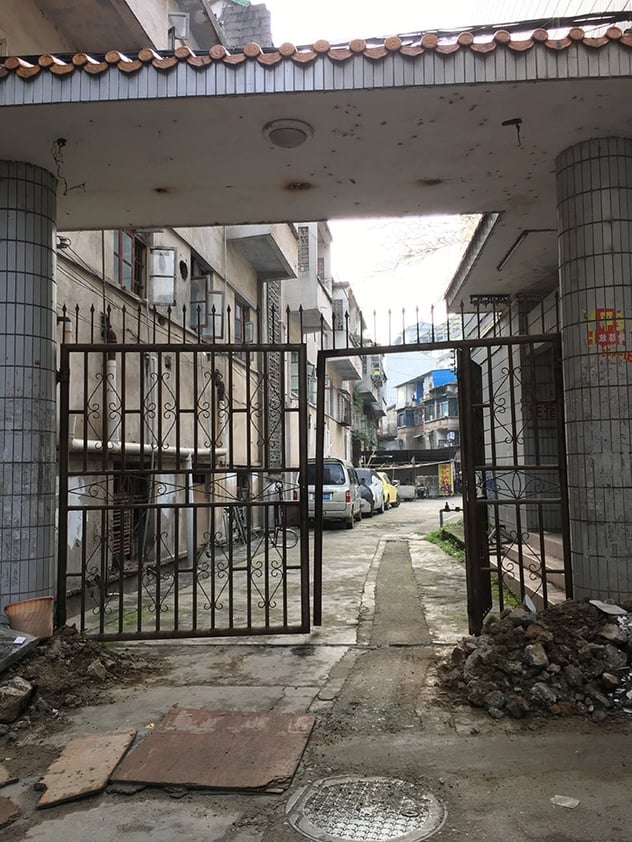 After turning left you'll come to more gates that look like the photo above. Turn right at the gates. The street gets more narrow and steep here.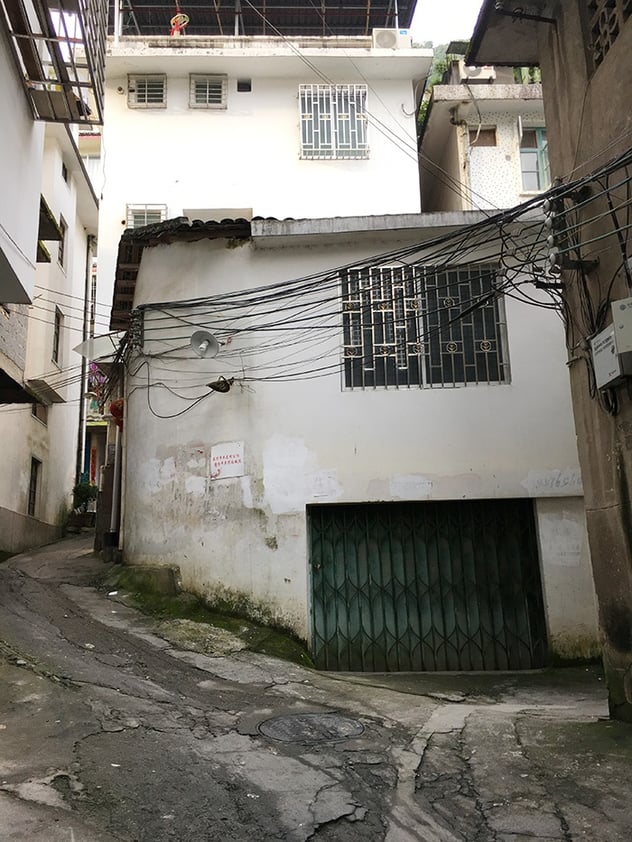 Keep following the street up the hill.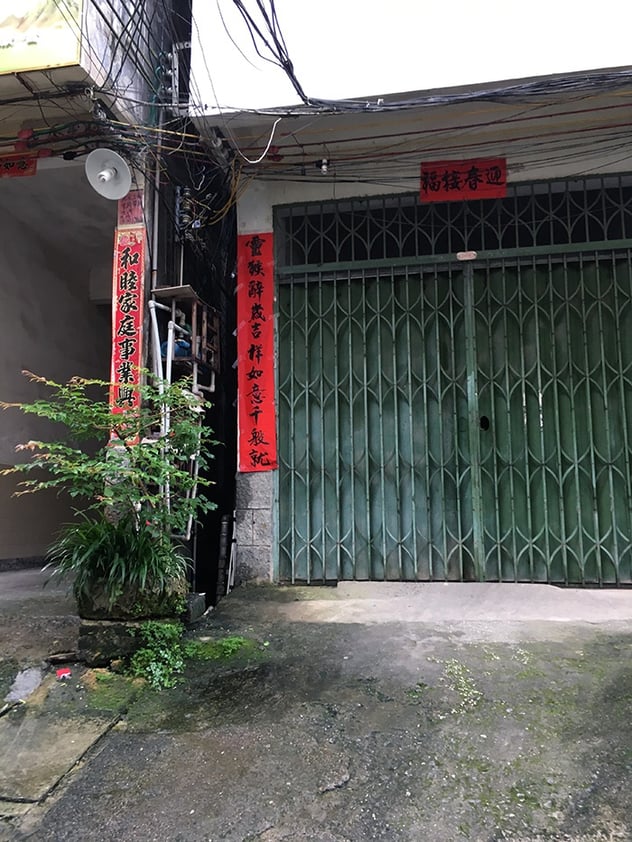 When you get to the top of the street and see this green gate, turn right.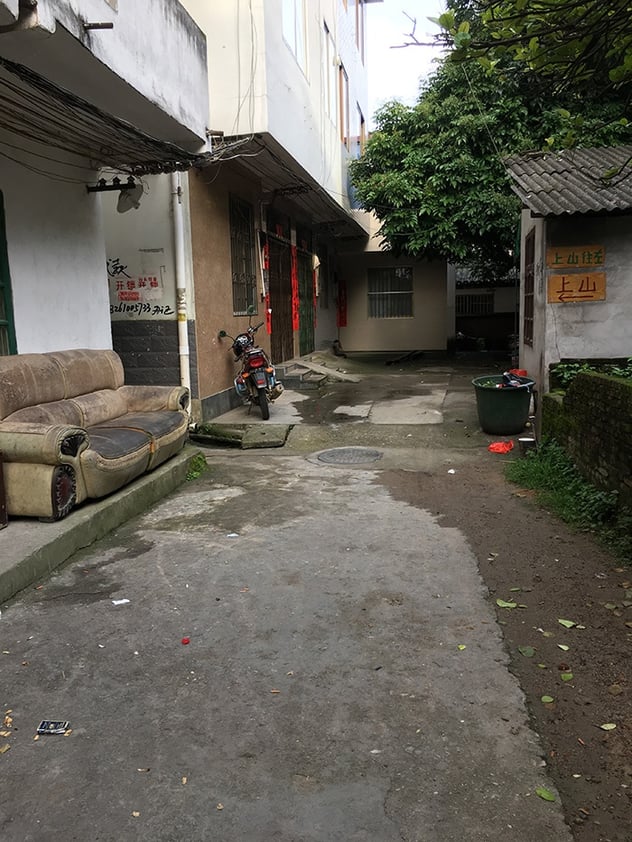 You'll see a row of homes and you might even see some old couches out front (not sure how long they'll be hanging outside).
We paused here not sure where we were going and an on-looker waved at us to go the right direction. There's definitely no reason for tourists to be up here, so they know you're looking for the hike!
Turn left into the alleyway at the end of the street. In the photo it's just after the couch. Update — in July 2020 a reader told us that the couch is no longer there, but luckily it should still be really easy to know when to turn (because you've essentially hit a dead end here).
You'll see yellow signs here on the right that point you towards that alley.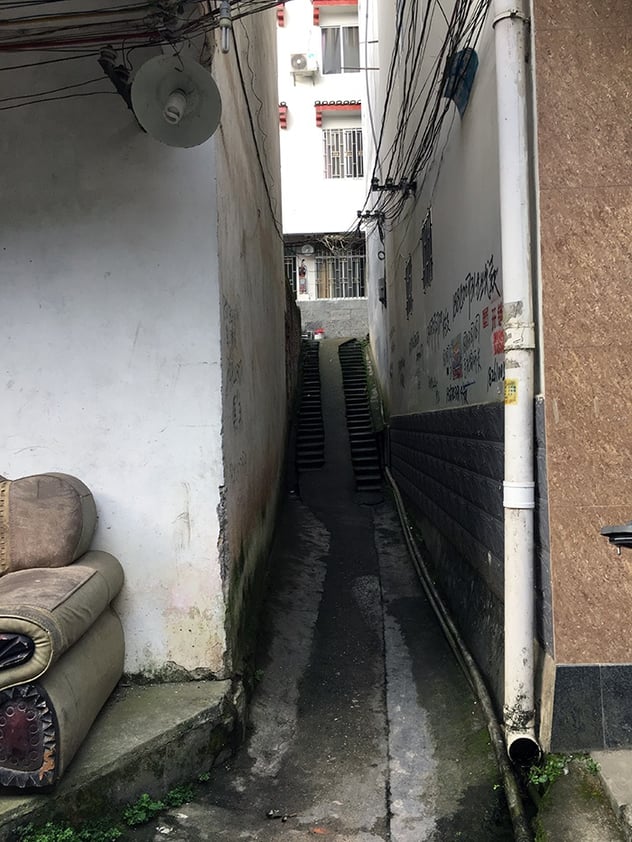 When you see this alley you know you're almost to the trail head! Head up the stairs and turn left.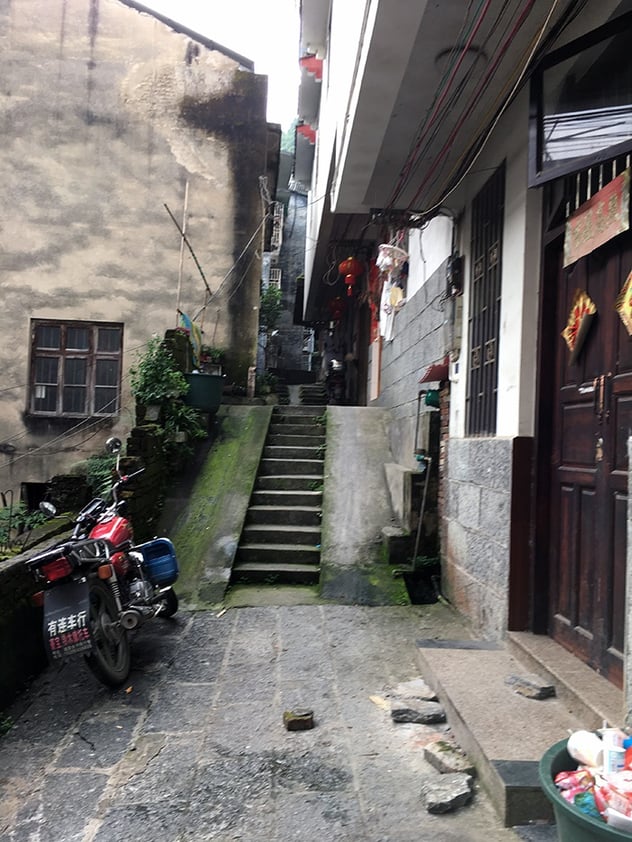 You'll reach another set of stairs and just keep heading straight.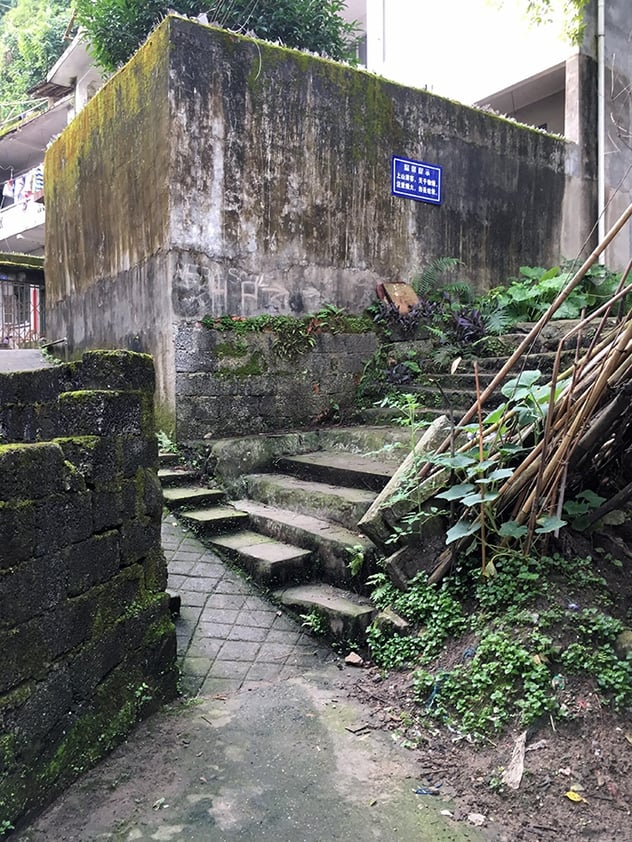 Once you see some more stairs heading towards the right, this is the start of the trail...you made it! You're going to be out of breath before you even start on the trail, but don't be discouraged because this is where the views start getting oh so good. Head right up the stairs and the path will be clear from here on out.
A Bit About The Hike
The trail is strenuous. It's straight up for the majority and the humidity is what really adds to it. Just take it slow. The views are beautiful on the way up so take water breaks and enjoy it. I would say I'm in decent shape, not an avid hiker, and was able to do the hike no problem.
Once you see can start seeing the TV tower in the distance you know you're getting closer. Someone actually lives at the TV tower, so there's a gate when you get to the top. He'll let you in for a fee of 10 yuan and then you can walk through to see the great 360 degree mountain and city views of Yangshuo!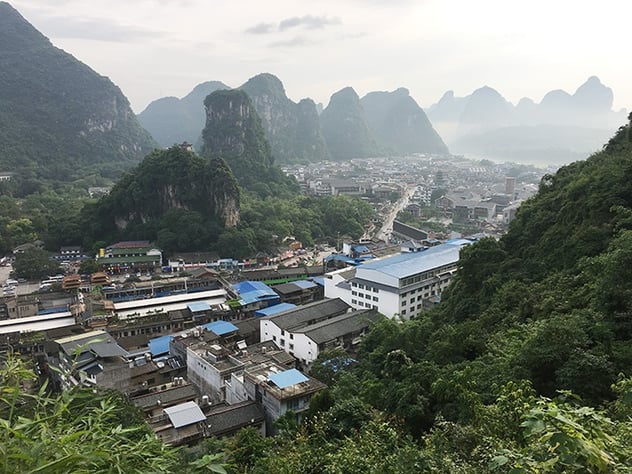 Know What To Expect
It took me almost an hour to get to the top (starting from West Street) — and that included several water breaks. I'd recommend going in the morning so it isn't as hot and there won't be as many people either. So, plan for 2-3 hours depending on how slow you hike and how long you want to sit and enjoy the view at the top.
Bring bug spray if you've got it. I got lots of tiny bites along the hike.
Be careful! Bring lots of water. The humidity combined with the steep hike means you need to take care of yourself. Also, the viewpoints from the TV tower isn't guarded all around. You really need to watch your step and don't put yourself in danger for a perfect photo, okay?
Because the view point is someone's home...it may not always be open. When I got there, no one was at the gate to let us in but it was semi open so we let ourselves in. After about 30 minutes he came out and it seemed like he was getting ready to leave so he wanted us to leave too and rushed us out of there. He left as we did and locked the gate behind us, so I felt really bad for anyone that we saw hiking up on our way down! That was on a Sunday, so I'm wondering if certain days of the week are technically closed? Or if it kind of just depends on if he's home? There was a language barrier so I couldn't ask, but even if you can't get inside the gate I think it's still worth it because you can still get viewpoints like this right before you enter into the TV tower ...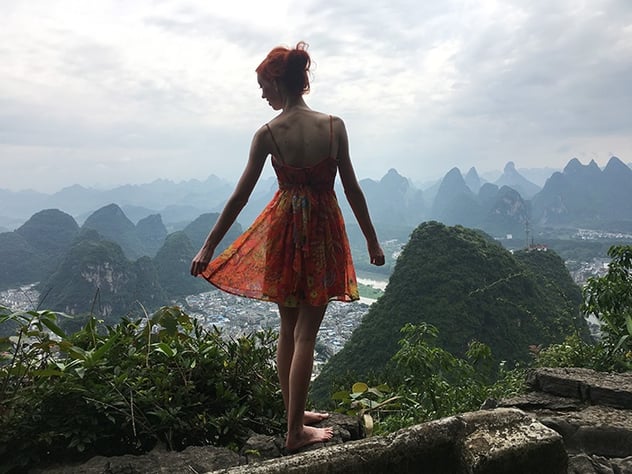 Ready for more world adventures?
We (International Language Programs) host volunteer programs in a handful of different parts of the world. Our volunteers are college-aged individuals who teach English part-time and have weekends plus vacation days off to travel. This means that you get to teach the cutest kids during the week, then hop on a train, plane, or bus to explore everything that country has to offer! Learn more on our Instagram: