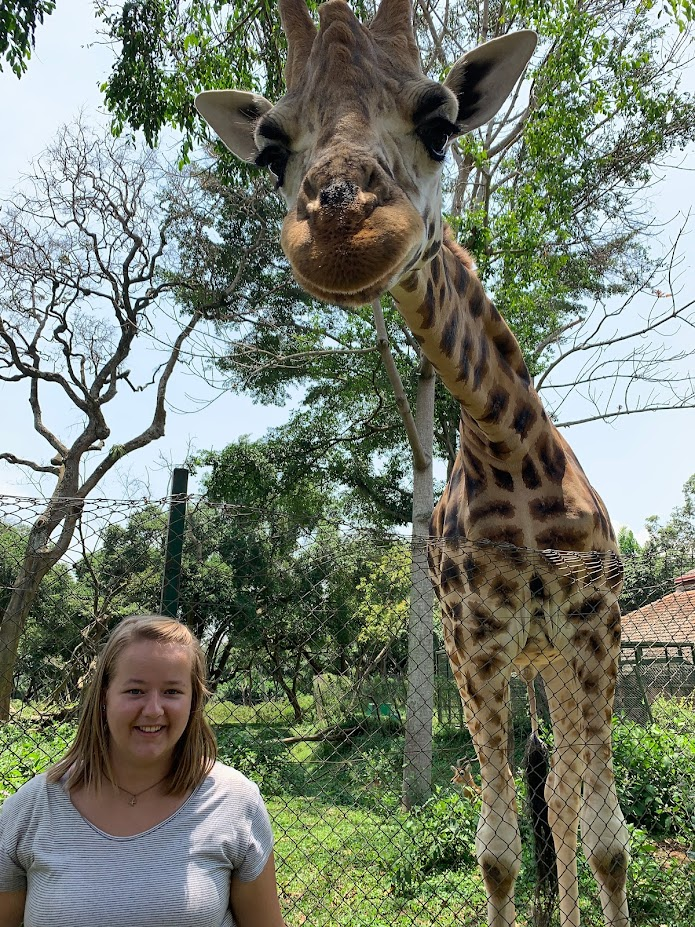 While you're in Uganda you'll be able to hang out with elephants on a safari of course, but at this wildlife conservation centre in Entebbe, you can help baby elephant Edward or little Charles with breakfast.
If you're looking for the chance to get to know some of the animals you'll be seeing on safari, we have found the place for you. The Uganda Wildlife Conservation Education Centre is the place where you can have some one-on-one time with your favorite African animals like cheetahs, giraffes, the rare Shoebill bird, yes, two cute-as-can-be baby elephants.

---
Need more Uganda in your life?
ILP Volunteers have the chance to call this country home for a semester
---


There are about a dozen of other adventures you're excited to experience in Uganda, but here's the breakdown of what a visit to this Conservation Centre is all about:
About The Uganda Wildlife Conservation Centre
In a country once ravaged by poachers and dictators, an orphanage was initially built for injured animals in need of help, which was later turned into a zoo: The Entebbe Zoo (named after the city it's located in). However, with so much political instability, many of the animals were neglected and unfortunately died. Later though, once the country got back on its feet, the government stepped in.
Realizing the importance of helping these animals and keeping them safe and healthy (inside and outside of the wild), the orphanage-turned-zoo was reestablished as a Wildlife Conservation Centre in 1994. It's still sometimes known as the Entebbe Zoo, but now, field trips from local schools and visitors from all over are all educated on the importance of helping our favorite safari animals as much as we can. There are a lot of great reviews from visitors (both online and from our ILP volunteers) and they seem to have really made great strides as compared to the earlier years.

On a visit, you're welcome to help out with feedings, join the cheetahs for a walk (or run!), and say "hi" to one of the rarest birds in all of Uganda.
Hang Out With Elephants, Giraffes, Camels, Cheetahs and More

The Wildlife Centre sits on quite a bit of land to help mimic the wildlife and natural habitat of chimpanzees, white rhinos, giraffes, monkeys, leopards, a couple of cheetahs, lions, zebras, buffalos, warthogs and a few others.
Most residents were rescued by the Uganda Wildlife Authority. Some are taken from people who tried to keep them as pets or were saved from poaching. Others were orphaned. All able animals are returned to the wild as soon as possible.
The entire program is structured around keeping the "guests" at the Centre happy and healthy, and are more than happy to have visitors help out on the day-to-day projects, like animal feedings!
Quick note — The animals at the Centre will change over time, and this post was written to highlight some of the ones who were currently there at the time this post was written (so it may be a bit different when you arrive). The best part about this Centre is that you have the chance to get to know each of the animals by name, so it will be fun to get to meet the current residents when you're there!
Breakfast With Baby Elephant Edward
Charles used to be the only elephant at the Centre, but now baby Edward has joined the crew. Edward was found stuck in the mud without his family pack and was brought to the Centre at just one year old. Rescued from drowning, elephant Charles is a bit older at 6 years old, and he typically munches on over 60 pounds of watermelon, carrots, pawpaw, pineapple and eggplant, among other things, every day. You can help the trainers give him a snack or two on your visit.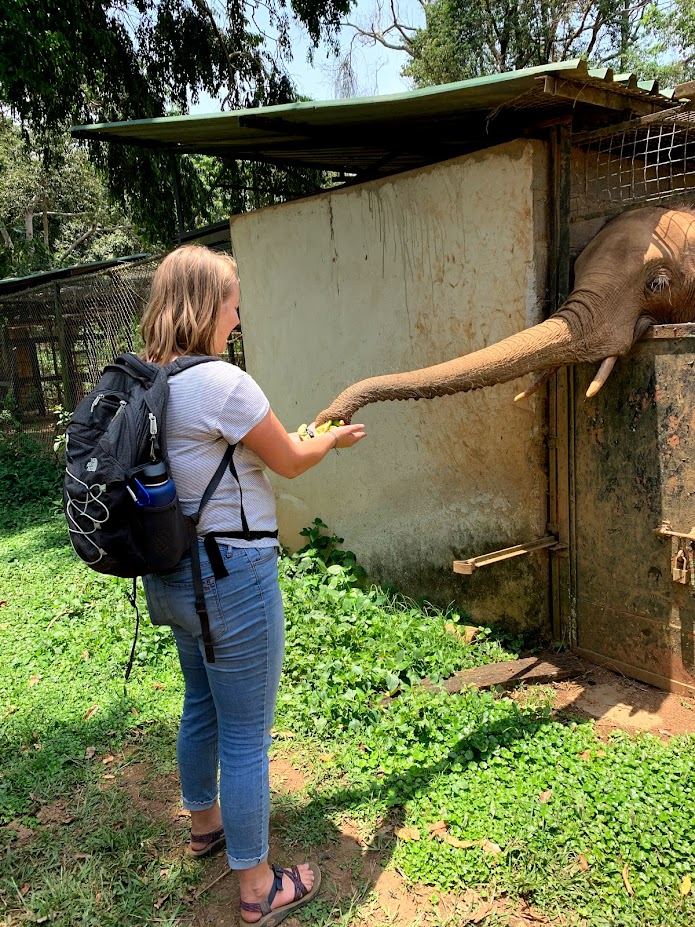 Race A Cheetah
Meet Pian and Upe, two cheetahs who live at the Wildlife Conservation Centre. The Centre is trying to recreate their life in the wild, encouraging them to sprint for their food and you're invited to join along.
Here's how it works: You'll stand on one side of the enclosure with a cheetah next to you …. Don't worry, you'll be outside of the exhibit while Pian and Upe are inside. An expert trainer has a prop that looks like prey to the cheetah — the "prey" is set loose when a whistle blows, encouraging the cheetahs to run for their lunch. When you hear that whistle, see if you can outrun the cheetah!

Good luck: these spotted racers can sprint up to 70 miles per hour!
Share Snacks With Giraffes
You'll find a few giraffes at the Centre who love their snacks. Keep an eye out for sticky purple tongues, and those thick lashes. The Centre also helps with animal relocations (which sometimes need to happen), so you might find a few more giraffes than the residents three that live here.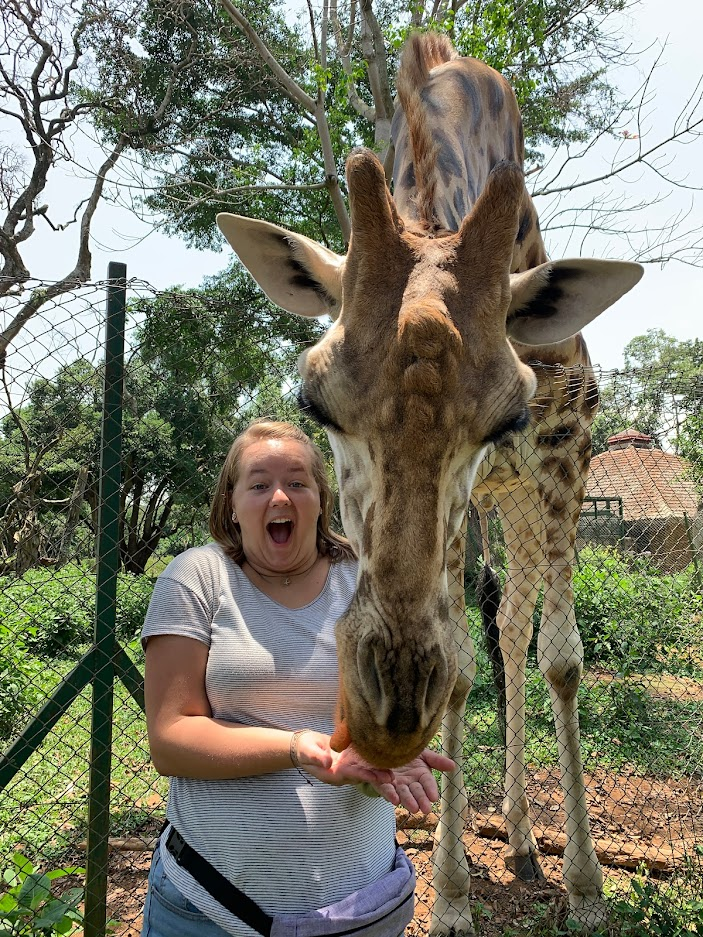 Bow To The "Buckbeak" Bird
Ever heard of the Shoebill? This rare bird is losing its home (the wetlands that used to span across a few African countries but are now shrinking). These huge birds can grow up to four feet tall, and one bird, in particular, loves to say "hi" by bowing …. but only if you bow back. (This might sound familiar to anyone who knows about the Hippogriff from the Harry Potter series, am I right?)
Sushi is one of the five Shoebills at the Centre; he's about 30 years old now but was found years ago after an expatriate tried to take him out of the country illegally as a pet. Luckily, he's safe and sound and is happy munching on raw fish in the Centre after saying "hi" to any visitors who stop by.
One ILP group visited and said this little guy would climb on their shoulders when they bent over low for him. They are such characters!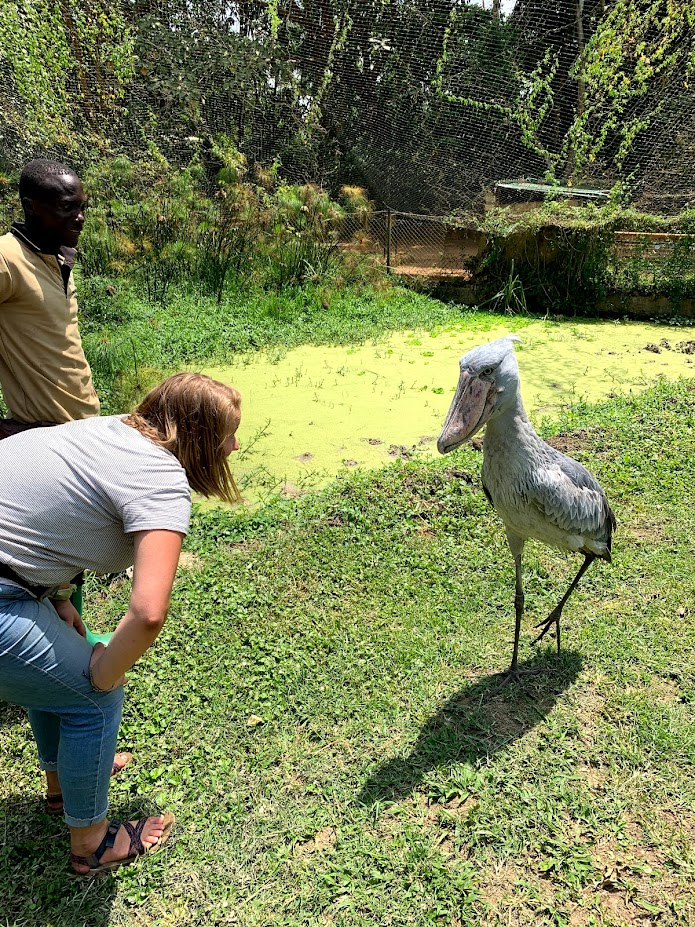 +A Few Other Animals
Earlier in 2018, you could also view a lioness and her three cubs, as well as Uganda's national bird, the crested crane. Like the Shoebill, the crested crane's homes are found in the disappearing wetlands. There are also chimpanzees, ostriches, two rhinos you can get close to, and a warthog named Pumba among some others.
As mentioned before, the ultimate goal of the Centre is to return animals who are able, back to the wild ... but there is always someone new for you to hang out with!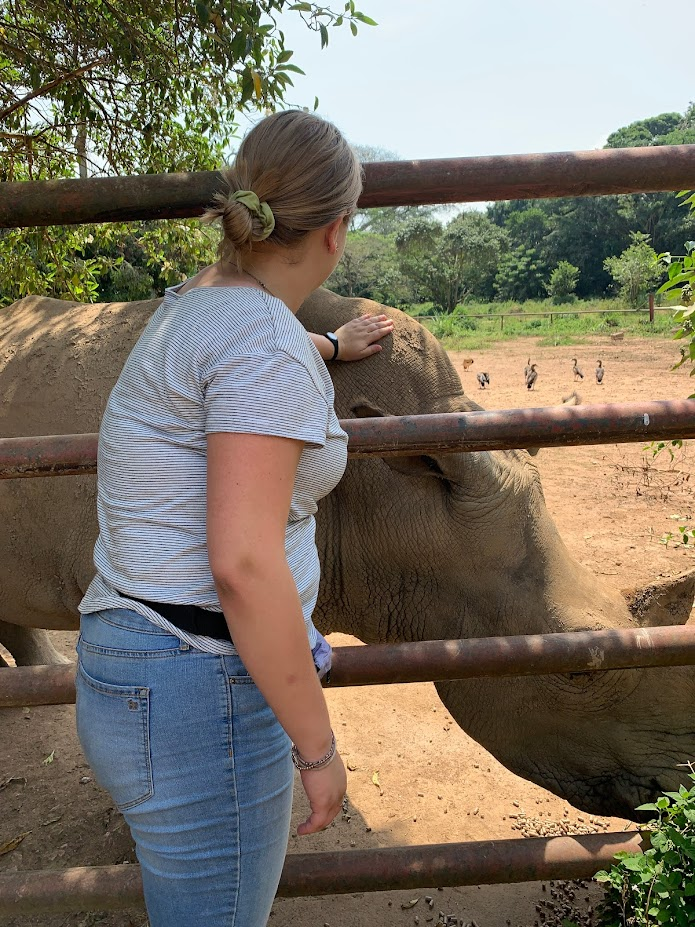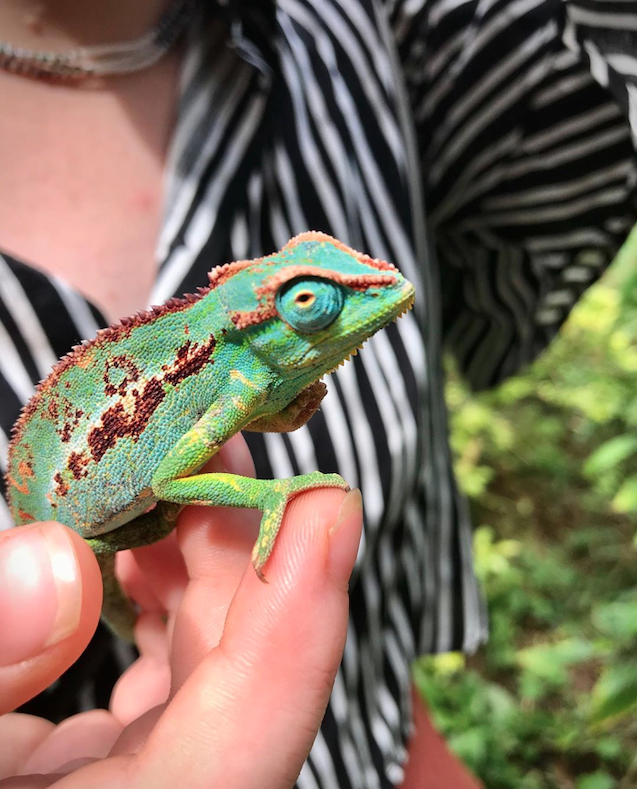 Costs + Hours
Costs
Behind The Scenes Tour
We're starting with our recommended option! This tour costs $70 and is highly, highly recommended if you can work it into your budget! It includes your entrance fee, a guide who will take you around the Centre and introduce you to each of the animals, and chances to have up-close encounters.
One ILP group did this tour and said, "We did the Behind the Scenes experience, which was super cool because we got the back story on each of the animals, like why they needed to be in the sanctuary and what the sanctuary was doing to help them. It is honestly something I totally recommend because it's so cool to be up close and personal with these animals."
Plan on about 3 hours for the "Behind the Scenes" ticket.
Quick tip — It's smart to book your spot in advance to make sure there is space available for the day you're planning your trip!
There are full-day volunteer opportunities as well if you're interested: Get more information on their website.
DIY + Budget-Friendly Option
It's also possible to just come explore on your own — in that case, you won't have a guide, but similar to a zoo it's easy to explore and there are helpful signs to help you find your way. You'll still be able to see all of the animals (you just won't have those interactions that we've talked about).
This entrance fee for foreigners is $15.
Park Hours
Open daily from 8:30 AM to 6:30 PM
Contact Info
You can find them on their website and on Facebook.
Getting To The Centre
The Ugandan Wildlife Education Centre is found in Entebbe, a city that sits on the shores of Lake Victoria, about an hour or two away from Kampala (the country's capital, and near where ILP volunteers will be living). As a reminder, Uganda is home to some serious gridlock traffic around the capital, so that can increase your travel time.
For ILP Volunteers — The city of Entebbe is close enough to Kampala that you can visit the Centre in a day, but there are also a handful of nearby adventures so we suggest making a weekend out of it! If you're planning for a 1-day adventure though just make sure to plan plenty of time to arrive and return home (considering the traffic that can increase travel time).
If you want to take a bus, it should take around two hours and cost around $12 if you use this service to get from Kampala to Entebbe.
You can also split a taxi fare, which should be about $25 for a one-way trip.
Ready to get involved in helping animals and doing more in Africa?
Come be a part of ILP's ILP's Humanitarian Program in Uganda! We are currently accepting applications online and have a spot waiting for you to join one of our groups there — get ready for a semester of safaris, helping kids, and more!