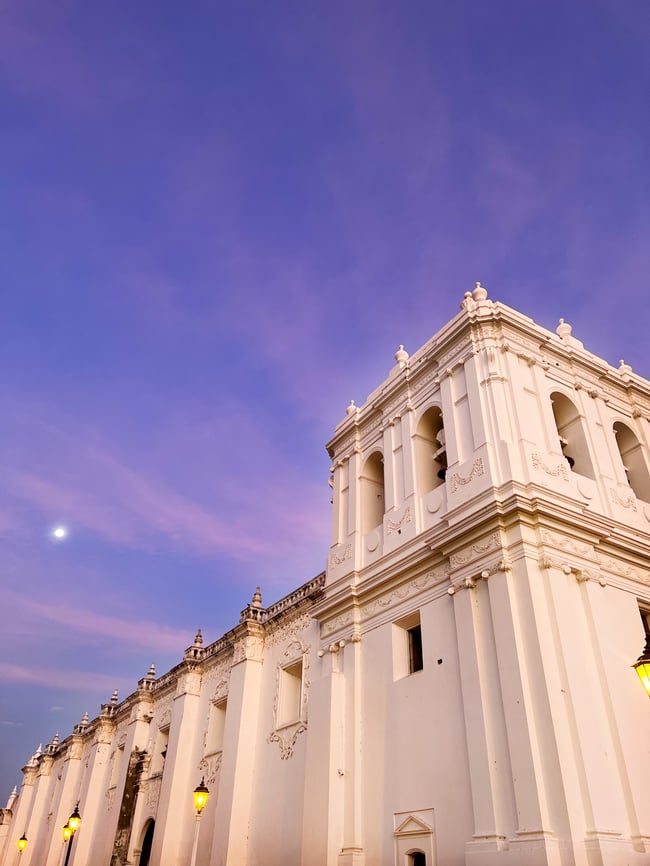 If you're headed to Nicaragua for the Spring semester with ILP, you get to be in the country for one of the best weeks of the year — Holy Week.
Year-round, Nicaragua's full of tropical weather, beautiful beaches, volcano hikes, and island vacations ... but if you're picking the best semester to come to this country, Spring semester wins, hands down! Along with all our favorite vacations and weekend trips, Spring semester volunteers are lucky enough to be in the country for the holiest week of the year, Samana Santa. During Holy Week, the entire country shuts down to celebrate with a string of festivals, parades, events, activities, and services that you get to be a part of.


---
Not an ILP volunteer yet?
Read all about Nicaragua (and fill out an application) here!
---

It's a full week of parades and celebrations you won't want to miss, which is why we got all the details from an ILP group who made the most of the festivals during their semester here (complete, with some tips and pictures):
A Bit About Holy Week
Holy Week isn't just found in Nicaragua — all across Latin American countries, communities set aside time to remember the life of Jesus Christ (mostly focusing on the crucifixion and resurrection). It's often the most important holiday of the year, trumping Christmas by a landslide. In Nicaragua, you'll see a cultural blend of traditions, centered in Spanish Catholocism and indigenous practices.
We'll get to what this week looks like in a minute, but we wanted to emphasize how unique and popular Holy Week is. It happens just once a year (in the springtime) and these events are often attended by hundreds and hundreds of people (more in the larger cities). Along with all the festivals, parades, processions, services, and more, you'll also find a unique mix of foods made only during Holy Week. Make sure to try Almibar: a mix of cooked tropical fruits (like mango, papaya, etc) in a thick, spiced syrup. Yum!
Granada is one of the best places to participate in Holy Week, which is a major perk for our ILP volunteers who call this city home!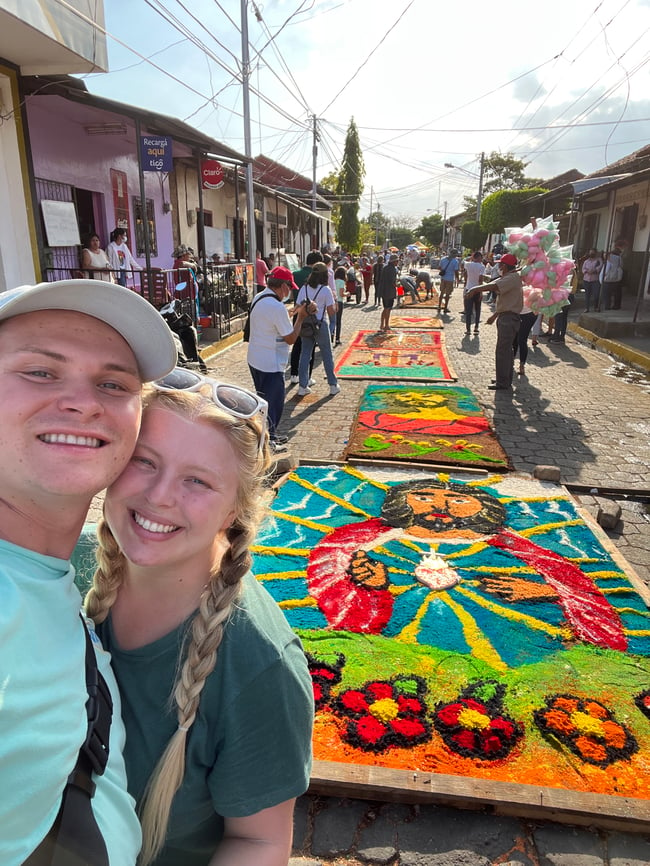 The Week's Schedule
During the week, there are separate days reserved for unique celebrations, however, you'll notice that every night, there are different parades and processions to the different churches around Granada. Past groups have also filled time helping out with several service projects — we have more info and ideas about that, below:
Holy Tuesday
Come visit the islets of Granada to participate in an event organized by the Chocote community. Here, the procession of the cross takes place on the water, where viewers visit fourteen stations via boat. Here's what one ILP volunteer said about her experience:
"The Stations of the Cross is a common Catholic practice that occurs around the world during Holy Week. It is like a mini-pilgrimage and includes 14 different stops/prayers that portray Jesus' last day on earth. In Granada, they do their own Stations of the Cross on water and visit 14 different families and businesses that have alters/crosses prepared at each one. The families prepare the alters with flowers and fruit as an offering to Jesus and then collect them on the main boat that carries a statue of Jesus carrying a cross. Over 25 boats follow along. Some are bigger boats you would normally take out on the islets and then there are a lot of small boats that local families row along and join along the way.
"You can go to the Iglesia Guadalupe in Granada and they will direct you towards a house on the next street over that sells tickets out of their home. Get your tickets a couple of weeks early — they are $10. The procession starts at 7:00 AM and goes to 11:00 AM or 12:00 PM. There is a bus from Iglesia Guadalupe to where the boats start (it takes you back to the church after things are over). Please remember that this is a religious event with people worshipping, so be very respectful! We were the only foreigners there!"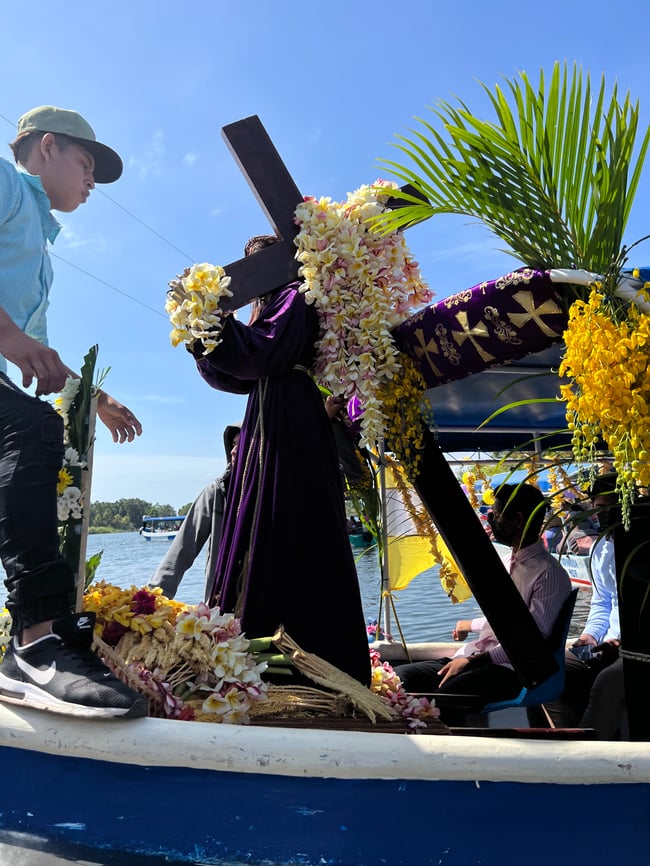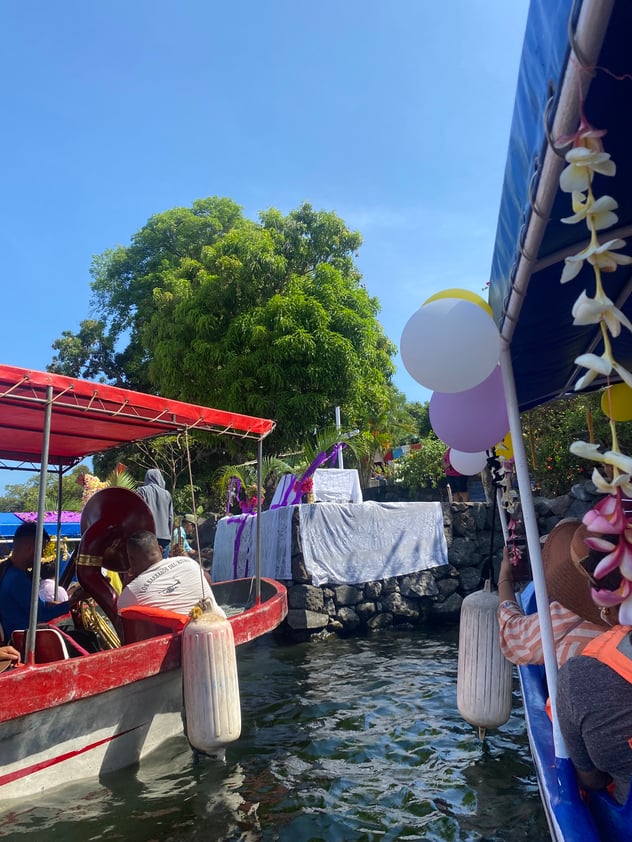 Good Friday
Do not miss the sawdust paintings during Holy Week! Every Good Friday, artists come out to the main square and make elaborate "carpets" out of colored sawdust and other materials to create detailed portraits and scenes. Here's what one volunteer said about her experience "they will wet the sawdust and dye it so there are bright and vibrant colors completely filling the streets. It really was one of the most beautiful and miraculous things I've ever seen — I was in awe of the talent and dedication! Some people will also use flour, salt, corn, wheat, beans, and even sand from the local volcano Cerro Negro."
Many travel to Leon to see the sawdust carpets (most start around 11:00 AM and end around 3:00 PM or 5:00 — it's in the Sutiaba neighborhood), but in 2021, Granada, started hosting their own paintings as well. Find them by the big yellow church by the central park.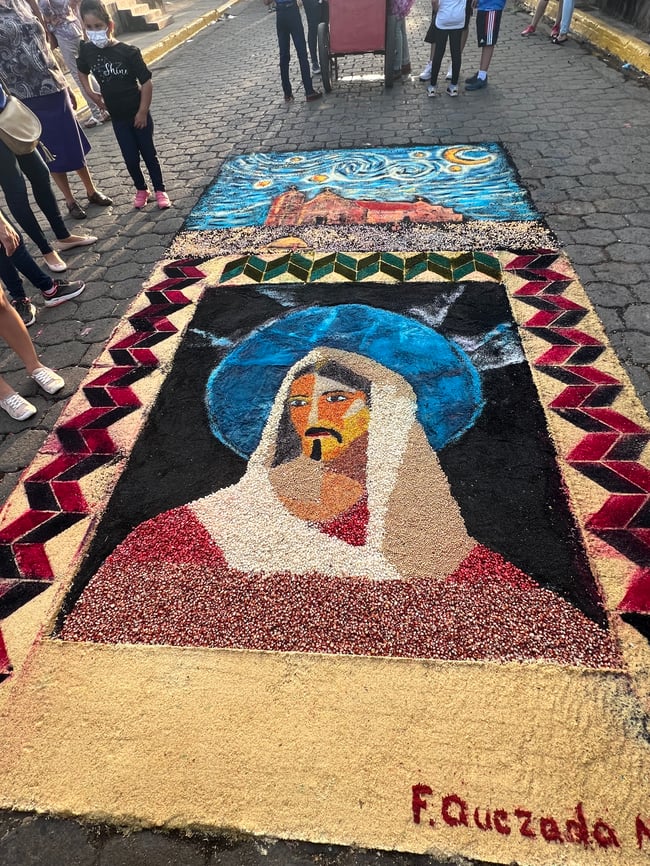 The Dog Parade
Usually, this celebration starts before Holy Week, but it's one to make note of. One of the most popular parades and services around the holiday is the so-called "Dog Parade", where dozens of dogs are brought to the Iglesia Magdalena church in Granada. Here, dogs of all sizes and breeds are dressed up (with awards to best dressed) to celebrate San Lazaro Day. Owners attend a service to show thankfulnesses or to ask for blessings and miracles (dogs attend thanks to the biblical passages about Lazarus, who was brought back from the dead by Christ (there's a reference about dogs who were said to lick the sores of Lazarus).
The big celebrations occurs in Masaya, but there's a version celebrated in Granada, so no need to leave town. You'll need to ask around to see when it's held (the dates fluctuate). Past groups had luck asking the InTur office in Granada for the right date, time, and location for their semester.
A Few Other FYIs
You Have The Week Off Of School
Because the whole country pauses to celebrate, school is canceled for Holy Week, so no need to teach or plan lessons! That leaves plenty of time to participate in the celebrations during the week plus do more for the community. Past groups have also dedicated their time off from teaching to help out with some service projects (more on that below).
Celebrating In Granada
Plan on sticking around Granada during this week of celebrating! During the week, bus schedules are limited and some shops/hotels are closed, but you're lucky enough to already be in Granada, where you can wholly participate in the festivals, processions, and celebrations without needing to leave town.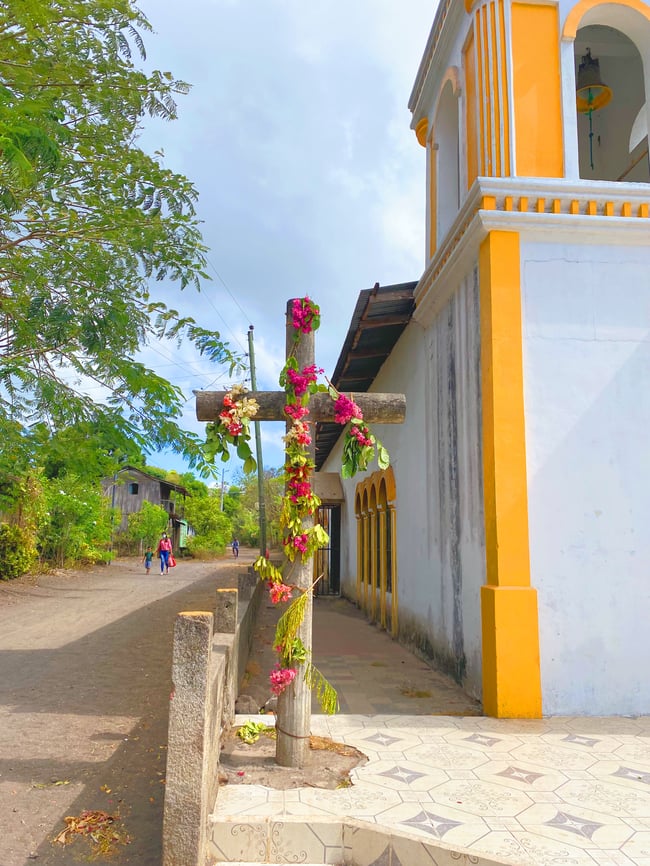 Add In Some Service Projects
Nicaragua is one of our Humanitarian projects, where you're volunteering your time to teach English to kids who are a part of an after-school program. Since you won't be teaching, past Spring semester groups have focused on several service projects during their time off during Holy Week.
Feel free to talk to your Local Coordinator for more ideas, but here are some past groups that have brainstormed or worked on during their semester. Here's what Ashley P. (former Nicaragua HT) had to share:
Donations
"Donations are always welcome and useful. Lots of families have needs for food and clothing (bags of rice and beans go a long way for families). The local staff you work with "can direct you to which families need what, but about half of the kids' families struggle to be able to buy basics like food and clothing. You can bring old clothing you or family members would be getting rid of, or there are a lot of thrift shops here you could find cheap clothes at! As of Spring 2022, we bought the school a first aid kid, menstruation kits, and cleaning supplies. This probably can be replenished in a few semesters. Here are some specific items that are needed:
Clothing (shirts + pants sizes S-M in both kids and adults)

Shoes for specific kids (would need to take their shoe sizes)

Food (Rice, beans, sugar, oil)

First aid kits (Band-Aids, masks, big bottles of hand sanitizer*, aspirin, Neosporin, pads for the menstruation kits)

Cleaning supplies (sanitizing wipes, floor cleaner, table spray cleaner, paper towels, and cleaning rags)
Projects For The School
Cleaning – "The school can always use help! We spent a day cleaning desks, sweeping, mopping, and washing and dusting the walls. Cleaning out the little gutters in the flowers on the tops of the wall makes a huge difference and practically makes it look like you repainted it already." This is a project that could be done every semester.
Organizing — "There also is an area in the main room that needs organizing. If you walk into the school immediately on the left there are a lot of chairs, tables, and miscellaneous items that need to be organized."
Painting – "We also bought paint supplies to repaint the school. We repainted the front yellow wall and most of the side wall. There is still a little over a big bucket of paint left and the rest of the supplies are at the school. Future groups could continue repainting it."
Bee's Nests – "We also used some donation money to have the fire department remove a couple of bee nests from the trees above where we teach. They were distracting, a teacher got stung, and we felt like it could be a hazard for the kids. This costs about 300 cordobas."
Making Pinatas
Other groups have also asked around to see if they can help their student's families (many have businesses). One group helped make pinatas! "Kendy's mom (Gloria) has a piñata business that she runs with her sister-in-law out of her house. Their busy seasons are especially Christmastime and August. They can teach you how to make them and then you can help them crank more out faster!"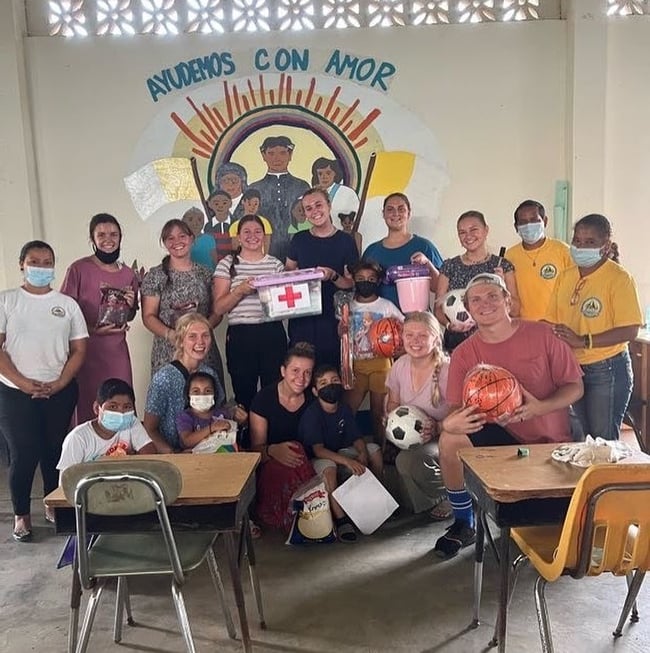 Good news for you!
We're accepting applications for volunteers looking for an adventure in Nicaragua — come spend a semester volunteering here! We're ILP (International Language Programs) and have had 30+ years of experience sending groups of college-aged volunteers abroad for a semester of travel and service.
We love our program in Nicaragua and think you may too — learn more here.