Anyone volunteering in Mexico could spend every single weekend visiting one of the rad cities that are just a short bus ride away, but definitely make sure to spend at least one weekend in Guadalajara!
Filled with history and stunningly pretty streets, you'll find what you're looking for in Guadalajara. It's just one of the many (many) weekend spots our ILP volunteers love to visit — remember you'll have vacation days during your semester and every weekend off, which makes a quick trip to Guadalajara pretty much a must-do.


---
Ready to see what else this country has to offer?
This Mexico Destination guide is crammed full of our favorite places.
---

To make your weekend trip even easier to plan, here are the best tips on what to do, places to eat, recommendations on where to stay, and more.
Why We Love Guadalajara
The Historic (And Photogenic) City Center
The entire city of Guadalajara has been around for ages, crammed full of towering cathedrals and a historic downtown. It's one of Mexico's largest cities, but tourists tend to hang out in the historical part of downtown to admire the colonial age buildings. This whole area is rather walkable and as pretty as can be.
Keep an eye out for huge murals around the city painted by José Clemente Orozco, who is one of Mexico's most important artists. You'll find his work dotted all over the city. Also, don't leave without visiting the outside and inside of the Guadalajara Cathedral! It's a stunner.
In a nutshell, just bring your camera and check out the opera, the theater, tons of museums, and an amazing and HUGE market in the city on at least one of your days in Guadalajara.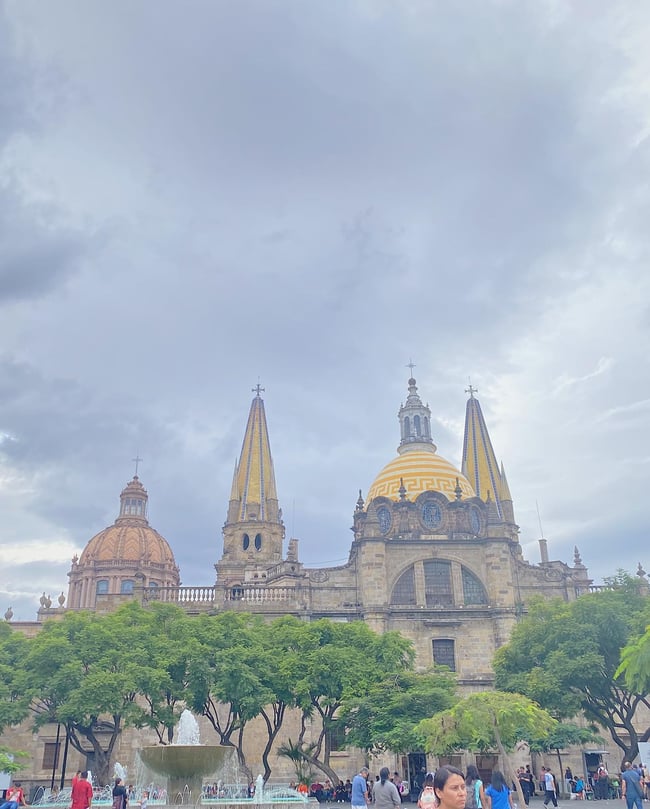 Plenty of Things to Do
Free Walking Tours + Food Tours
One huge thing to do in Guadalajara is a walking tour. We've mentioned a suggested hostel below that offers a free walking tour if you'd like to join that group, or see why one ILP group "cannot recommend this tour enough", or you can find your own (they are all over).
Food tours are also a huge thing to do in Guadalajara: this link mentioned above (it's also right here) is one option that takes you around the local markets and vendors right after the walking tour they conduct at 12:30 PM, daily. The cost for the food tour is $15, but your hostel might also have some options. Any way you do it, a food tour in Guadalajara comes highly recommended.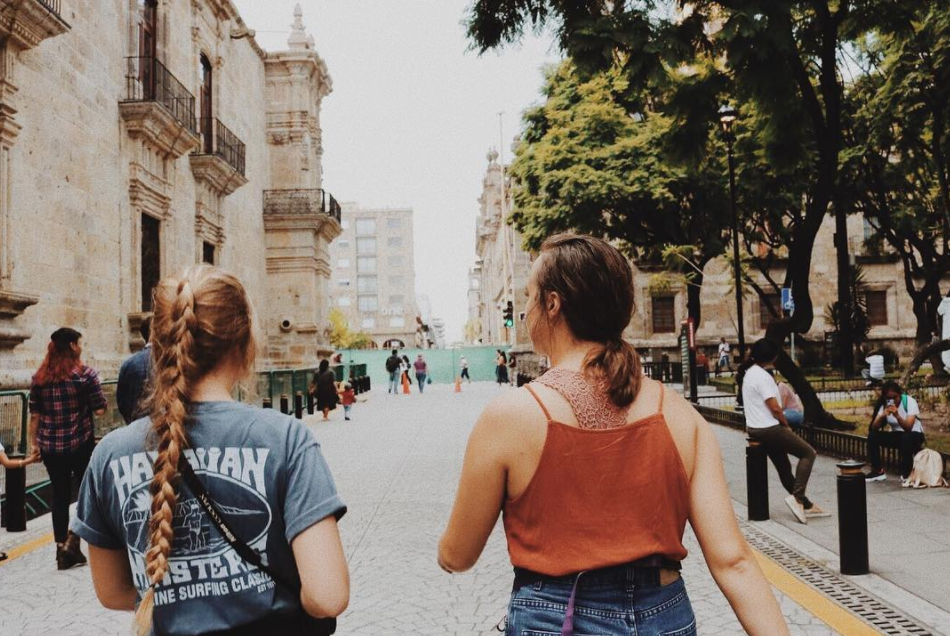 A Festival for Everyone
Although there will always be something exciting and new to see in the massive city of Guadalajara, they also host some incredible festivals that are well worth watching if you can schedule it. Whether you're an art lover, a foodie, or a history buff, there's a festival here in Guadalajara for you!
Let's start off with the biggest festival they have — Fiestas de Octubre. This festival takes place during the month of October (October 8 - November 8 specifically) and celebrates Mexico's culture and music. There are concerts, dance shows, films, painting exhibits, and food tasting. The festival starts off with a bang by having a Parade of Allegorical Cars (Allegorical Cars are basically floats that have a ton of decoration and dancers) that go along Avenida 16 de Septiembre-Alcalde, from Niños Héroes to the Glorieta de la Minerva. There will be mariachi bands and folk dancers going along the street as well. This festival is really popular, bringing in visitors from all over, so you'll want to book your bus tickets and hostels in advance! Learn more about the festival here.
Another famous festival they have is great for all music and art lovers out there — the May Cultural Festival. This event is a celebration of music and art which takes place from May 8 to 31. Each year the festival focuses on a different foreign country and then showcases their music, dance, and art. More information about specific times, performances, and locations can be found here!
Although there aren't as many festivals during the winter months, there's always something to do. They still celebrate nationwide holidays such as Carnival (which takes place in February 3 days before the beginning of Lent and includes masked dancers). There are still concerts that take place during that time and lesser known festivals that take place. For more information about any concerts check out this website here.
You can learn more about when Mexican festivals take place here!
The Cute Neighborhood of Tlaquepaque
A little suburb outside of Guadalajara, Tlaquepaque is the colorfully adorable city you have been waiting to visit. We love all the things to do in Guadalajara, but secretly think that visiting Tlaquepaque might make the whole bus ride here worth it in the first place. And actually, you might even consider looking for a hostel in this part of town and making it your home base while you're in Guadalajara.
You might already know a bit about what Tlaquepaque looks like if you've seen an alleyway strung with a ceiling of colorful umbrellas on Instagram. Tlaquepaque is all about walking along the pedestrian street (Calle Indepencia) and having lunch at one of the restaurants in the El Parian complex, serenaded by mariachi bands. They are usually there for about an hour between 3:00 and 4:00 PM.
Tlaquepaque is known for its art and it has a wonderful market and they sell hand-crafted pottery and traditional wares. There's an artisan market and a ceramic museum you can visit as well. If you're more outdoorsy, they also offer tours of the local ruins Guachimontones.
If you're wondering about the food, we have heard amazing things about the ice cream shop, la Michoacana, and the street churros which some thought were "the best in Mexico" (Churros Rellenos Tlaquepaque is the name if you want more info).
Here's some more information if you're interested in visiting.
Getting Here:
Timing depends on traffic, but you can get here in about 20-40 minutes usually. Our suggestion on getting here is to Uber over. It'll probably be around 100 pesos or so.
Hang Out At The Zoo
If you're interested in hanging out at the zoo, plan on spending about half a day (it's pretty big). Apparently, it's one of the best in all of Mexico — one of our volunteers in Mexico said, "who knew that the coolest zoo i've ever been to would be in Guadalajara, Mexico? 10/10 recommend!"
So if you love the idea of visiting a bird sanctuary, hanging out with some monkeys, peering into the huge glass tanks at the aquarium and feeding the giraffes, this place is for you. They have everything from tigers to sharks (and pretty much everything in between). It's also massive: Past groups suggest getting the Diamond package (it's about 300 pesos) if you want full access and the ability to ride on the sky trains which will save you from so much walking. Or, plan on wearing comfortable shoes and definitely getting your steps in for the day.

Address: Calle Paseo del Zoológico 600, Huentitán El Alto, 44390 Guadalajara, Jal., Mexico
Hours: 10:00 AM to 6:00 PM, daily (Check on holidays: some holidays affect hours).
Here's the website for more information.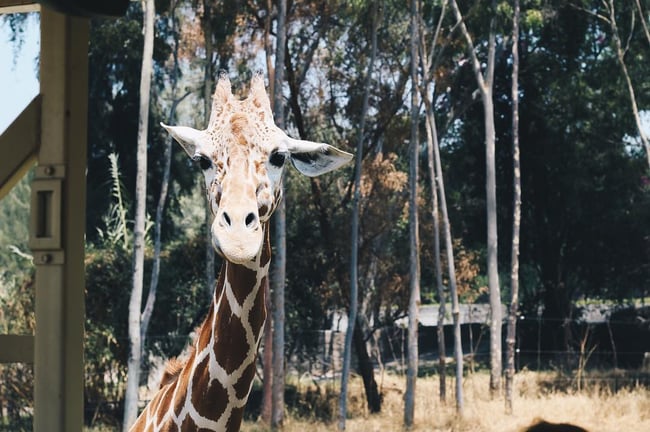 Visit the Gardens in Parque Colomos
Parque Colomos is a large green park in the northwest part of the city. It's full of walking paths and picnic areas, making for a great place to spend a leisurely afternoon outdoors.
A trip here is a nice break from the hustle and bustle of downtown and is one of the more relaxing places to visit in Guadalajara.
A walk through Parque Colomos can include admiring the hundreds of sculptures along the walking path, wandering through the Mexican garden, visiting a plant nursery, seeing the swan lake, hearing local hummingbirds and parrots, and enjoying the stunning Japanese Garden.
This park is also mentioned in the mariachi song about Guadalajara therefore Pepe Guizar Monuments are engraved in every corner of this park.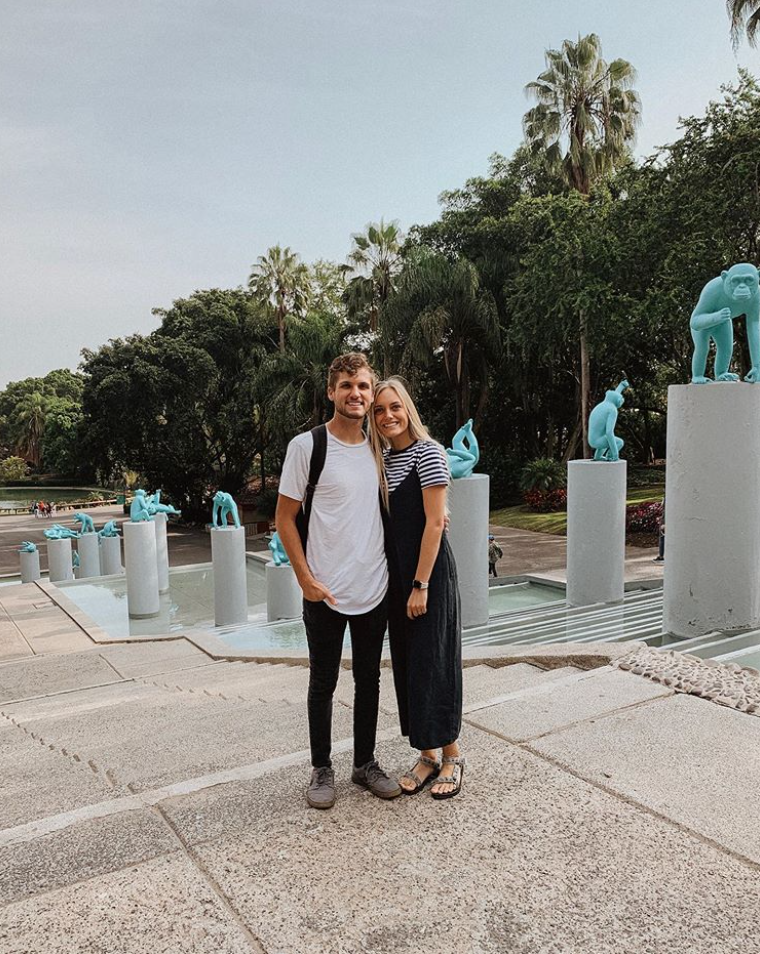 See A Show
Now there are a ton of local concerts and cultural performances that are held in Guadalajara, but they also have a theater that you can visit named Teatro Degollado. This neoclassical style building features a ton of performances that range from cultural Mexican dances, to international operas, to more contemporary performances.
You can tour inside it when there are no performances and see the beautiful architecture, but Teatro Degollado is best experienced with a show. The tickets cost about 200 pesos, and just know that it's held in Spanish.
Here's their website for more info.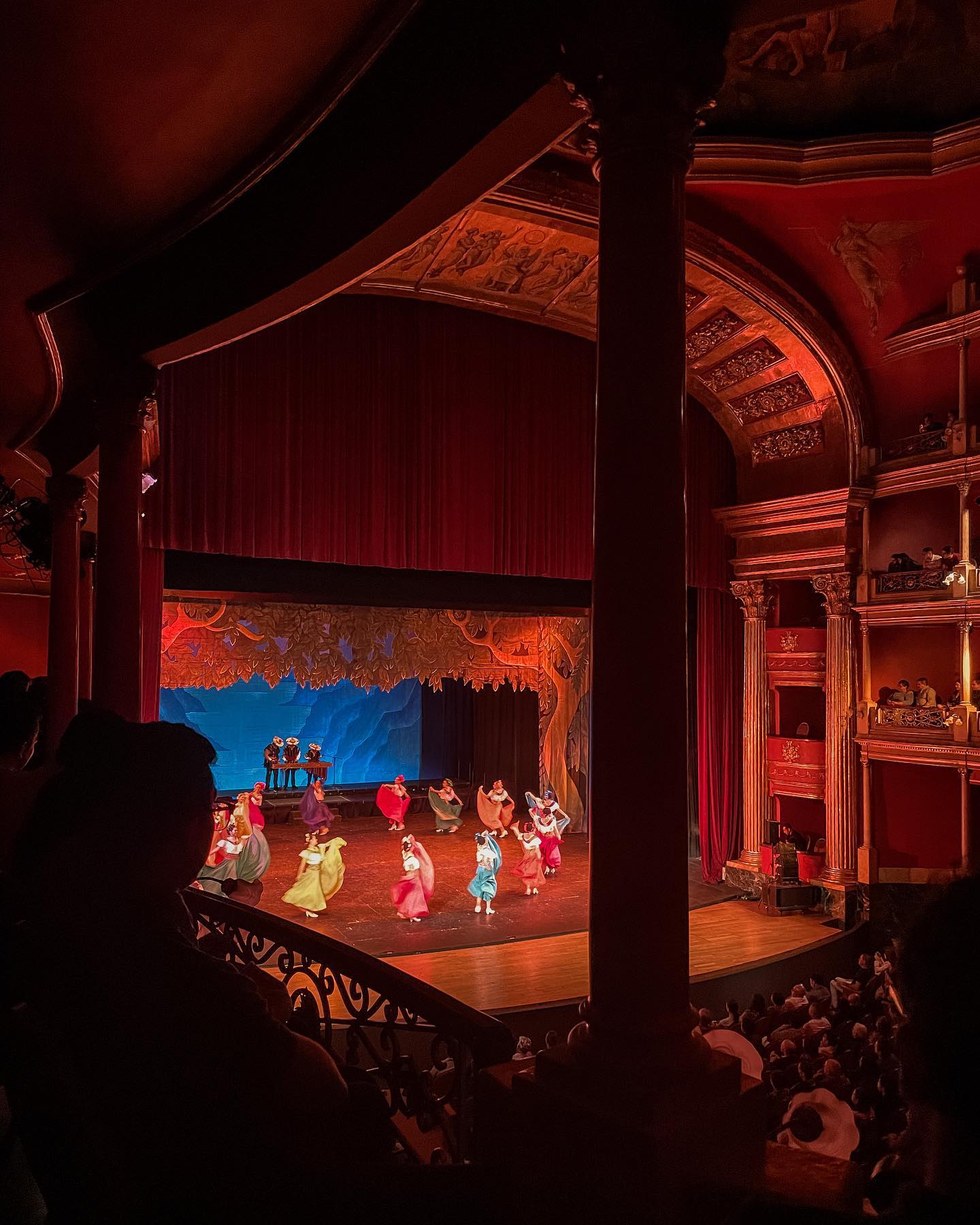 Wander the Around Mercado Libertad
Mercado Libertad is a sprawling indoor market located in the historic centre of Guadalajara. For an all-out assault on your senses, wander around the maze-like stalls of this huge market that seems to be selling just about everything under the sun.
Volunteers have called it "an amazing and HUGE market". They also recommend joining a walking tour ... yep, it can get a bit overwhelming.
It's best to come to the market hungry, as there's a large food court here cooking up several local specialties like tortas ahogadas and delicious bowls of pozole. It's fast, cheap, and super local — a winning combination.
See A Soccer Match
Soccer is huge in Mexico, and should be a part of your ILP semester! Past groups have fit in a soccer match while in Guadalajara — the main teams are the city are Chivas and Atlas if you want to keep an eye out for either team. Even past groups who said they weren't big sports fans said it was a highlight of their visit!

Just so you know, there is a pretty big rivalry going on between Chivas and Atlas in particular (where crowds can get pretty boisterous and loud, plus inexpensive tickets are harder to come by when they play each other).
As far as tickets go, they're available online, or you can purchase tickets at the team outlet stores in town (there's an Atlas outlet and a Chivas outlet). Or, you can purchase tickets at the ticket windows of the stadium.
Prices vary wildly, but are can sometimes be found in the 125 - 890 + peso range depending on who you're seeing and where you're sitting. That shakes out to be around $6 USD for the upper tier tickets if you're seeing a casual game, not a big rivalry match.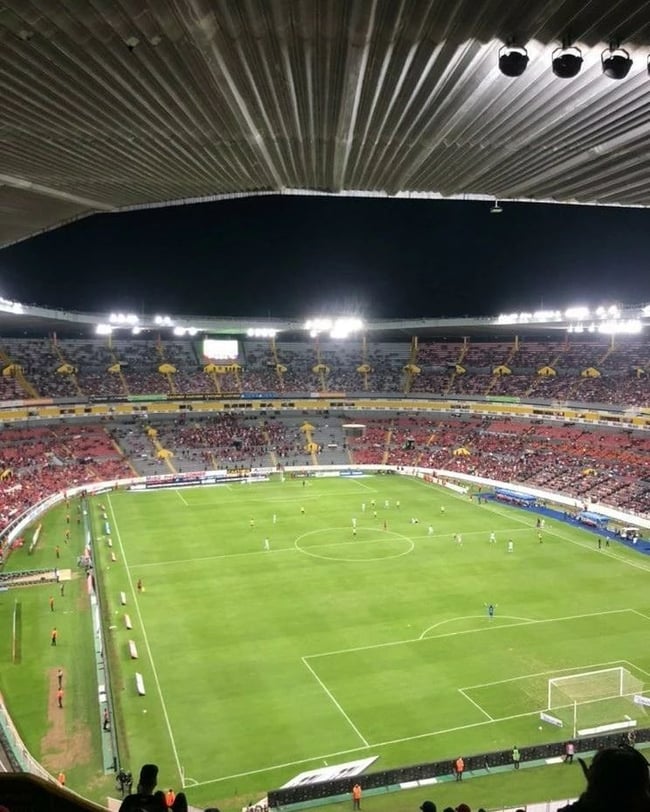 Visit The Temple
For members of the Church of Jesus Christ of Latter-Day Saints, you can take the chance to visit the temple found in Guadalajara. It's easiest to get there via taxi or Uber (it should cost about 120 pesos if you're starting in downtown Guadalajara) and it's worth the trip out there.
Here's the address:
Av. Patria #879
Fracc. Jardines Tepeyac
Places To Stay
There are more than a few budget friendly options in Guadalajara, but here's a recommendation from past volunteers to get you started:
"We stayed in the Roof Backpackers Hostel, and it was great! The service was amazing, especially because the desk man spoke English. The only downside to this hostel was the lack of air conditioning and the stuffy room made sleeping uncomfortable. Another note: towels are not included!"
We've had several ILP groups stay at one hostel in particular and continue to hear good things about it — "We stayed at Hostel Hospedarte which was one of the best hostels I've stayed out. We highly recommend it!" This hostel is affordable, includes breakfast, and offers a free walking tour of the city if you stay there. It's also pretty conveniently located within walking distance to so many things. Plus, who doesn't love a colorful hotel that has a hammock hung by the reception?
This Airbnb is another popular pick with ILP volunteers (we love the bright colors, good price, and good location). Book here.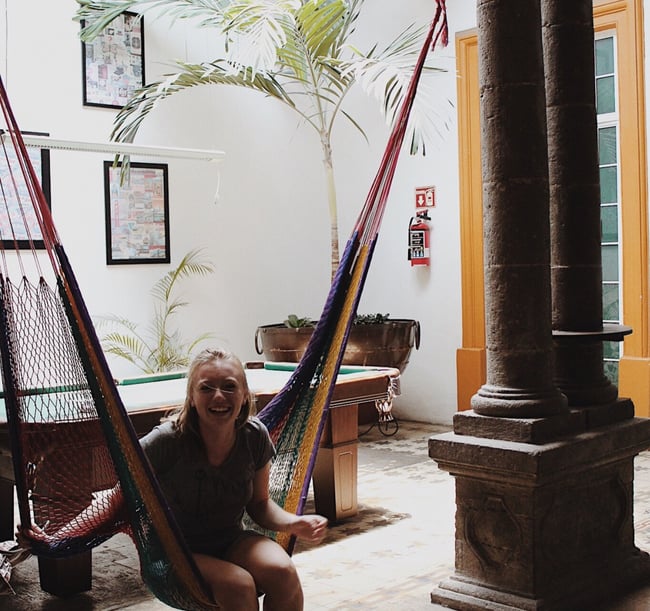 Places To Eat
Apart from the foods at the market (please visit the main square and try some local Mexican street food, like fresh churros or elote!) a few ILP groups mention a place called CHAI. It's an affordable and yummy chain restaurant that has good breakfast dishes and favorites for lunch and dinner. Here's a peek at the CHAI menu to give you an idea on prices.

Here's the address of one in Guadalajara:
Avenida Vallarta 1509
Guadalajara 44160, Mexico
La Casa del Waffles is another favorite, with some of the best waffles around (who would have guessed, right?). They have tons of options, like waffles topped with Nutella, or fresh strawberries, or filled with chocolate chips. They also have really yummy drinks and hash browns.
They have several locations in and around Guadalajara.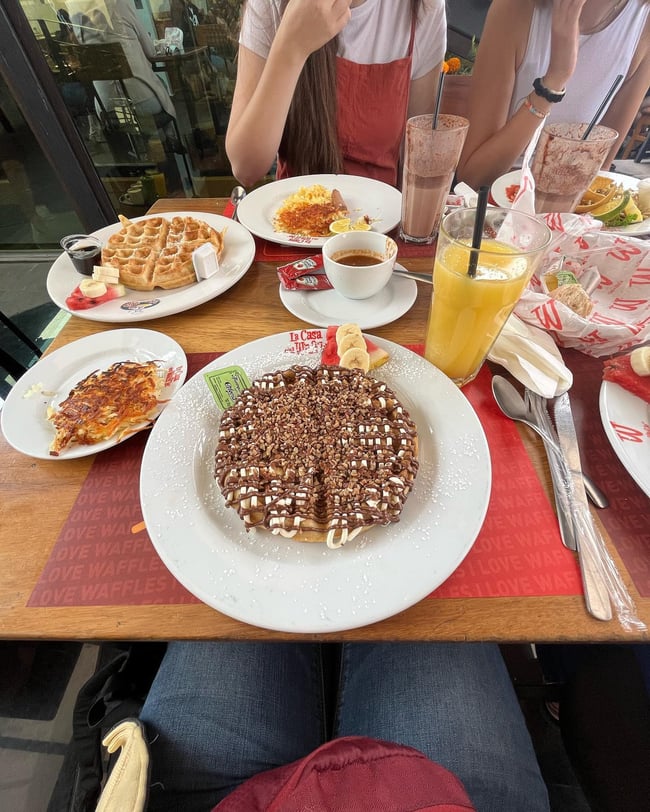 +Other Tips
How Long Should You Stay?
"We loved Guadalajara!" and "It was one of our group's favorite cities to visit!" are just a few quotes from volunteers who have visited this city. Some choose to visit on a three day weekend, but "it can easily be done on a regular weekend if you wanted to" in the words of one ILP volunteer. Some groups even visit just for the day "though you could easily spend several days there."
(Hint hint: you should probably spend at least one full weekend in Guadalajara).
Getting Here
It's a cinch, thanks to the buses.
If you're coming from Irapuato, it's about 400 pesos for a bus ticket and should take about 3.5-4 hours. There are several bus companies who regularly make this route that picks you up at the Avenue Primero de Mayo in Irapuato, then drop you off at the main bus terminal. From there, it's an easy taxi ride into the main part of town, which is probably where you'll be staying for most of your time.
Getting Around The City
You'll do a fair bit of walking, but past groups also suggest hopping on the subway to get around. The subway goes to the bus station and is way more affordable than an Uber (it's 10 pesos per ride).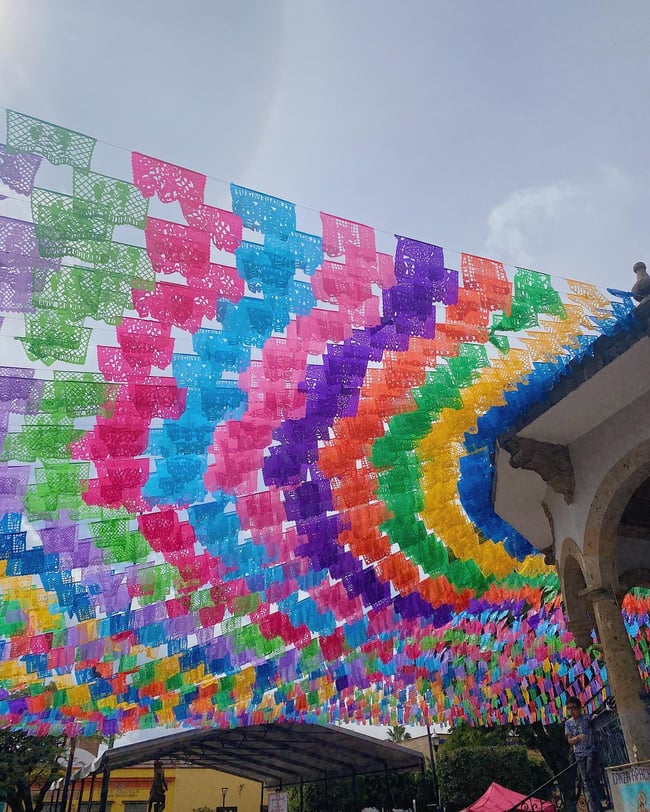 See the real Mexico
We love the favorite beaches most tourists know about, but something about spending every weekend in a different city and calling Mexico home for a semester seems to be the best way to experience this country! See what living in Mexico as a volunteer is like, right here: