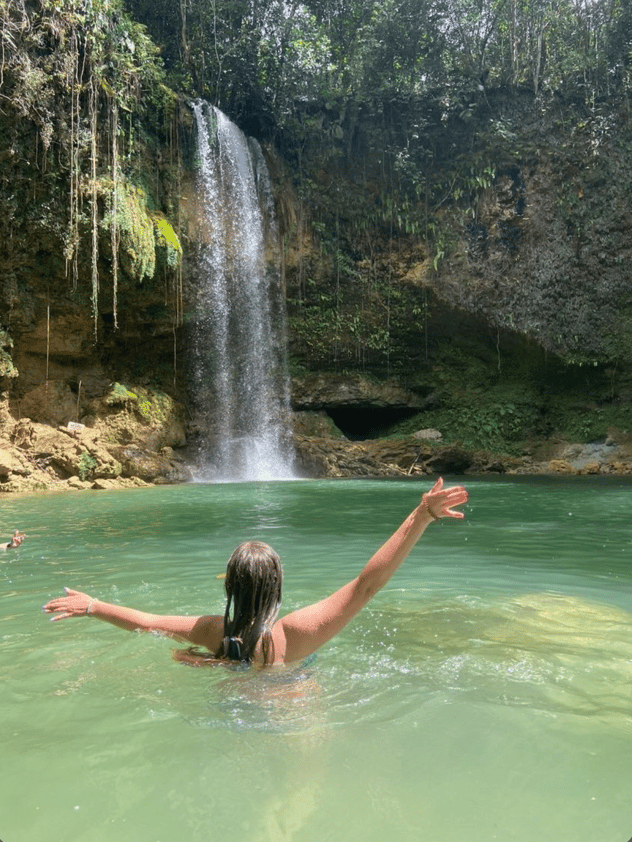 These tumbling blue falls are just a taxi ride away from Santo Domingo (and are just as pretty as they look in the pictures).
Find yourself in the colonial city of Santo Domingo? If you're volunteering in the Dominican Republic for a whole semester, this capital city is a must-see day trip or weekend getaway. It's a city full of churches, colorful streets, and a hidden blue oasis to keep you plenty busy, but you won't want to leave without taking a taxi to this nearby set of waterfalls while you're in town!
Salto de Socoa is a gorgeous waterfall colored an impossibly pretty shade, with pools that make for an ideal swimming spot. It's a perfect half-day adventure to add to your Santo Domingo itinerary, especially since we have all the details to make your visit here a cinch.


---
Spend A Semester Living In The Caribbean!
All About Volunteering Abroad With ILP.
---

This waterfall is more of a local's spot, but we have some advice from a group of volunteers who visited and shared some tips on their trip to help you out: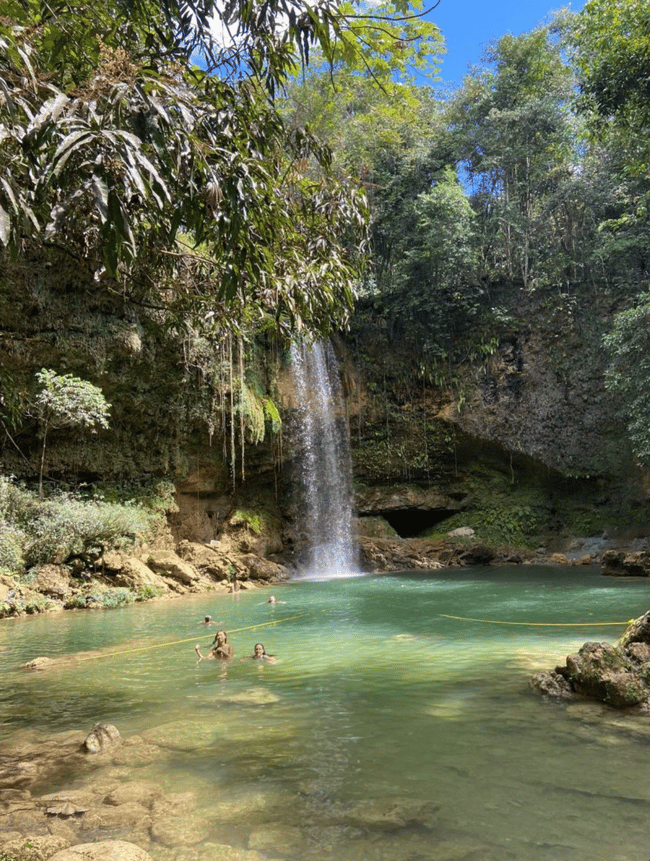 A Bit About The Falls
Salto de Socoa is the name of this towering waterfall, around 60 feet high, tucked in a thick and lush jungle just off one of the main roads north of Santo Domingo. We'll get to transportation info in just a second, but it's found around an hour away from the capital city in the province of Monte Plata.
This place is gorgeous — picture a beautiful oasis fringed with palm trees and the thick jungle found in the middle of this tropical island ... plus the color of the water is pretty unbeatable. That picture-perfect shade of blue-green water levels off into a shallow area that's good to hang out in, but also plunges to be quite deep (best to avoid if you're not a strong swimmer).
The main fall is the main attraction, which tumbles down to create quite a swimming spot. However, there are some lower cascades further down the river if you want to venture off from the biggest pool. All in all, it's a beautiful place to take a swim.
Some Info To Know
About The Hike There
There is a little hike that gets you from the parking area down to the actual waterfall. It gets steep in one section, so past ILP groups recommend you're prepared to trek up and down what can be a steep climb. They suggested having some sturdy, waterproof hiking sandals (like Chacos or Tevas) to help you keep your footing on the sometimes slippery path. The hike takes about 15ish minutes.
We've mentioned this before, but the water can get quite deep. This is a natural swimming spot with no lifeguards or facilities, so please be mindful of your swimming ability and other safety measures.
Things To Bring + What To Expect
We've gotten some recommendations on what would be helpful to bring on your excursion to Salto de Socoa and have them linked below to make shopping for them even easier. We're an Amazon Affiliate so we do receive a small commission if you shop Amazon products from our page (we only share items that we think you'll really love). Thanks for the support!
I love traveling with a drybag so I can keep my valuables with me whenever I'm swimming — you can find a link to some of my go-to travel accessories (like those drybags) on the ILP Amazon page. There aren't lockers or anything like that available to stash your things in, so it's best to keep all of your belongings close while you swim.
There aren't facilities around the falls, so pack for the day: bring plenty of water, snacks, or even a picnic lunch if you're here for the afternoon.
As we talked about above, you'll want a pair of hiking sandals for the way up and down (and getting around the rocky edges of the pool).
Make sure to be changed into your swimming suit before arriving at the falls. There aren't places to change down by the waterfall.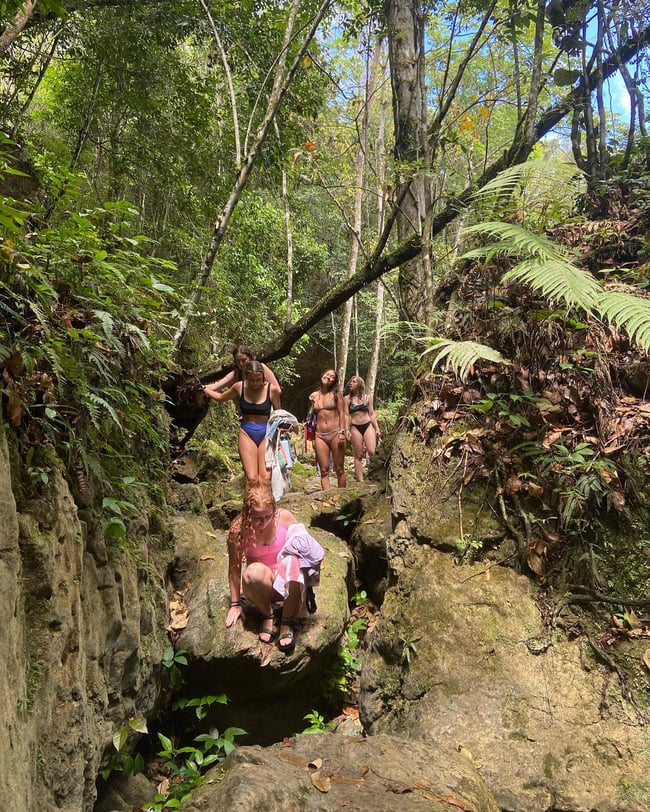 Hours + Costs
It's 50 pesos to get into the waterfall area — Salto de Socoa is found on private property so that fee allows access to the falls. The entrance to the falls is behind a gate where you'll pay your entry fee, then start the hike down.
There's a 50 peso fee to park there (handy to know for your taxi that's waiting for you while you swim: more info on that below).
The waterfall is typically open from 7:00 AM to 6:00 PM, but there aren't official hours.
This place can get a little crowded on the weekends with local families who've packed up folding chairs, coolers, and maybe even portable grills to set up among the rocks for a picnic, just as an FYI. This place can feel so remote and untouched if you can visit when you have most of the falls to yourself!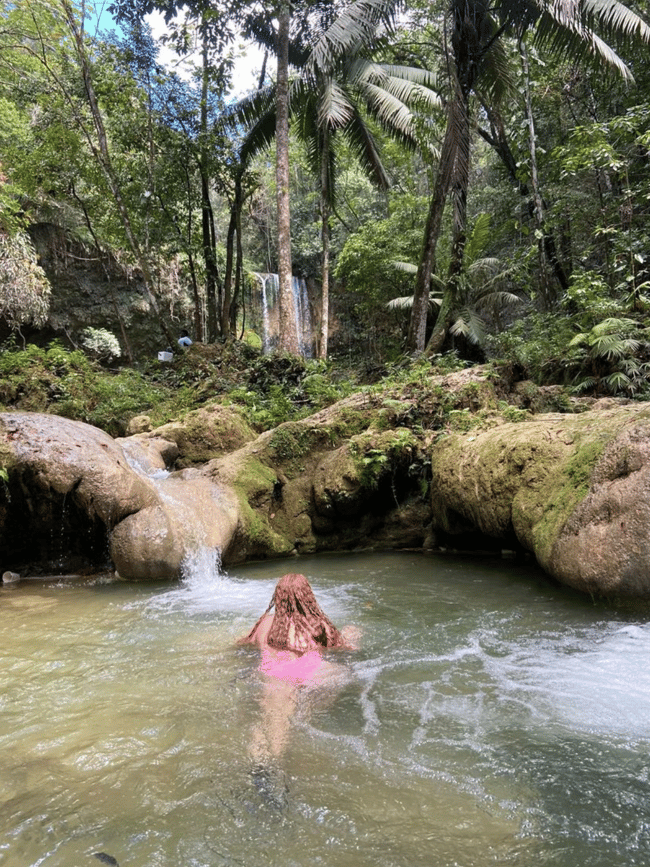 Getting To The Waterfall
By Taxi
This is the best way to go. Past ILP groups mention they took an Uber up to Salto de Socoa but there wasn't cell service at the falls (and no taxis driving past) which made getting back to Santo Domingo tricky. Luckily, their Uber was willing to wait for them there, but they recommended you take a taxi and arrange the waiting time before booking. That way, you have a guaranteed ride back to Santo Domingo.
It's about an hour and 15 minutes to get there from the capital city, and groups said it's "100% worth it! "My group agreed that it was the funnest day while we were in Santo Domingo!"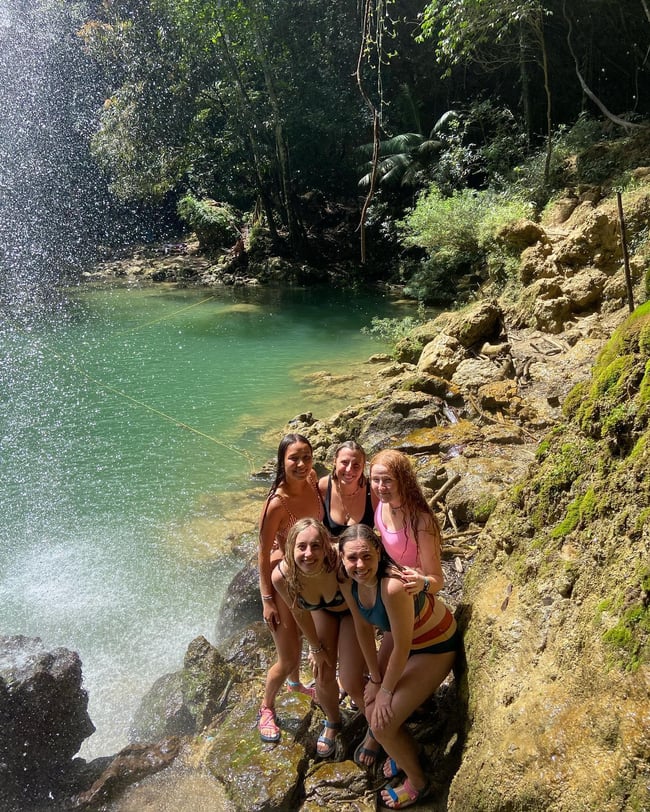 Don't just come to the Dominican Republic on vacation
Come spend a semester here instead! Live just minutes away from the beach and make a big difference in this humanitarian program.
International Language Programs (ILP, that's us) sends groups of college-aged volunteers to teach English in the Dominican Republic, along with a few other countries. You're set up with a group to teach, travel, and live with, with a part-time schedule. Volunteers have every weekend off, plus vacation time to explore everything on this island.
We can't wait to see if the DR is right for you!