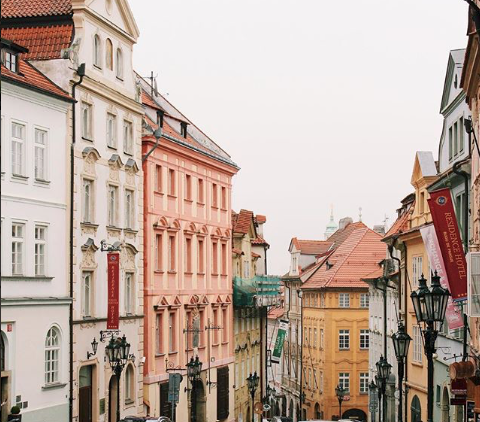 If you don't travel to eat all the amazing food on this planet, start in Prague because the food here is drool-worthy. 

We love pretty much everyone about spending a semester in Europe. Think about it — you'll be living in Europe, teaching English part-time, and using the rest of your day and weekends (and vacation time) to hang out in cities like Prague.
Come spend a semester in Europe (for real)
Come apply to volunteer with ILP
Now that you'll be living in Eastern Europe, you can easily make it over to go explore the Czech Republic, specifically the city of Prague. Now, we can go on and on about how Prague is one of the THE best place to experience (our guide for Prague has all the details you need) but if we get serious, it's all about the food:
Trdelnik
This is pretty famous and you just can't miss it. You will die over these delicious chimney cakes. So technically, they aren't Czech but they are divine. It's a warm dough rolled onto a metal tube and cooked over a fire — once baked, it's brushed with butter and rolled in cinnamon and sugar. Now, the tough part. Do you line it with Nutella and topped with whipped cream or get the entire thing filled with ice cream? Better order two .... we think this might be the best treat in Prague.
You'll be able to find these in little carts around the touristy parts of the city ... but that blog post above does have some info on a couple of favorite vendors if you're looking for a recommendation.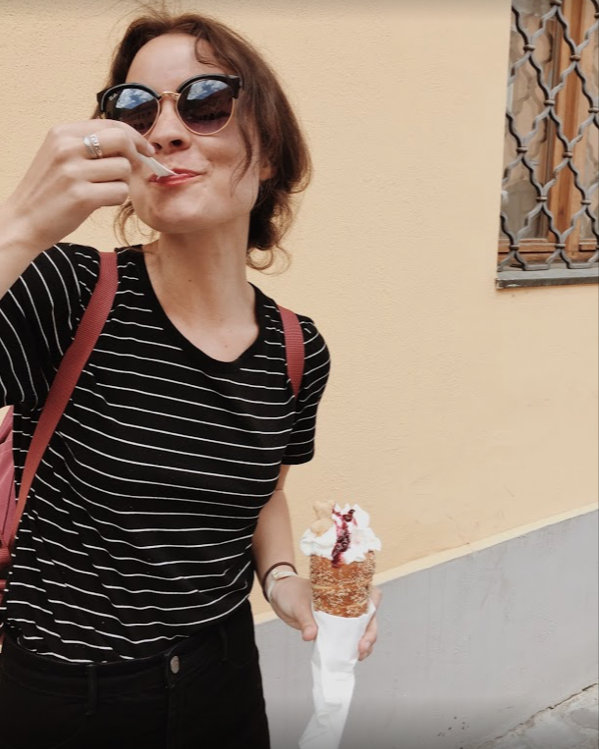 Smažený Sýr
Um, this is deep fried cheese, so you know what's coming for you. Hot, gooey cheese with a crispy crunchy outside. It's a big block of cheese (typically a cheese known as Edam) that's battered in flour and eggs, then covered in breadcrumbs and fried to golden perfection. Sometimes you'll have this dish served with cabbage or french fries, another form of potatoes, sausage, or on a roll like a sandwich.
You can find this famous dish in a few places, but one place known as U Pinkasû is a number one spot. It's one of the oldest eateries around and is known for good Czech food (and some touristy options).
Address:

Jungmannovo nám. 15/16, 110 00 Můstek, Czechia

Hours: 10:00 AM to 11:00 PM
A restaurant known as Doba is another place where you can order up this dish.

Address: Heřmanova 592, 170 00 Praha 7-Holešovice, Czechia


Hours: 4:00 PM to Midnight (6:00 PM on Sundays)
Kolach (or Makový koláček)
If you're not convered to the world of kolaches, welcome. These are bread-like pastries with a variety of fillings (I'm partial to the sweet ones but you can get savory ones). It's similar to a danish, but for some reason, so much better. Plan on trying several flavors like poppy seed custard or apricot. You'll be able to find these is bakeries scattered across Prague, in farmer's markets, and in a handful of cafes and coffee shops around the city.
Here are a couple of recommendations if you don't want to scout out your own:
Perníčkův sen
Address:

Haštalská 757, 110 00 Staré Město, Czechia


Hours: 10:00 AM to 6:00 PM

Cafe-Cafe
Address:

Rytířská 10/10, 110 00 Staré Město, Czechia


Hours: 10:00 AM to 11:00 PM
Want Kolaches In Utah?
You're in luck! There's a fantastic bakery called Hruska's found in Salt Lake City, and Provo, Utah that serves some traditional and non-traditional kolaches. Get there early because they tend to sell out a couple hours before closing (or earlier, especially on Saturdays ... sometimes they are sold out by 10:00 AM or earlier!).
SLC Address:

2030 S 900 E, Salt Lake City, UT 84105


Provo Address:

434 W Center St, Provo, UT 84601

Hours: 6:30 AM to 12:00 PM
Some Favorite Street Foods
Langos
This dish is a unique favorite, sorta like a pizza bit with a twist. Fried dough comes out crispy and fluffy and is topped with a spoonful of garlicky tomato sauce and sometimes cheese. It's not exactly like pizza, but that doesn't mean it's not tasty. You can also get a sweet version which is that same fried dough but topped with chocolate or Nutella.

These are sold in little roadside carts, particular in the Old Town Square.
Bramborák
Crunchy and delicious, Bramborák is another kind of street food treat you're bound to fall in love with. It's a flat, fried potato pancake, and you might see them sold where you can find Langose, since both are fried to a crispy perfection. You can order these up on cafes and restaurants, but you can also get them right off the street. Supposedly, there's a good group of vendors who sell these tasty snacks around around Wenceslas Square.
Chlebíčky
Chlebíčky aren't really street food, but you'll see them all over and are definitely worth tasting. A Chlebíčky is like an open faced sandwich topped with a variety of yummy things, like boiled eggs, potato salad, ham, salami and other favorites. They're served at most every occasion (like holidays, birthdays, and other big events) but you can find them in a handful of delis:
Sisters Bistro
Address: Dlouhá 727, 110 00 Staré Město, Czechia
Hours: 8:00 AM to 6:00 PM

Jan Paukert
Address: Rohanské nábř. 671, 186 00 Praha 8-Karlín, Czechia
Hours: 7:30 AM to 9:30 PM, closed Saturday and Sunday
Kofola
Thirsty? This fizzy soft drink is kinda like a cola and was very popular in the 1960's and 1970's when you could not get popular American drinks like Coca-Cola and Pepsi thanks to the Communist rule that gripped the country. You can find bottles of the popular soda or if you order it up in a restaurant, some pour it on tap into big glass tankards. You'll be able to find this stuff all over, from little markets to most restaurants and eateries.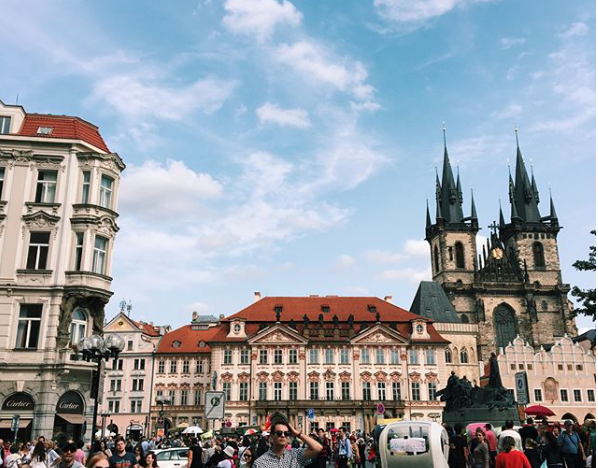 Dying to taste all of these treats?
Come take a vacation to Prague, a pretty popular spot for our volunteers in Europe. If the idea of vacationing around Europe while you're living there as a volunteer, come learn more about our program.