Dresden, Germany is full of amazing history and of course...it is gorgeous. Add this city to your must-visit list and see what it has to offer!
Obviously there are many amazing cities in Germany! And since your time in Europe is probably limited (even if you have an entire semester there as a volunteer through ILP), you're probably wondering why we recommend Dresden as a destination.


---
Looking for other amazing cities in Europe?
Here's a guide to some of our very favorite!
---

We love Germany and Dresden is one of our favorite stops when it comes to learning about Germany's rich history and eating yummy food! Volunteers have had great things to say about this city and it's easy to see why. Keep reading to learn all about the things you can't you miss when visiting Dresden!
First, A Little History
Knowing a little background on Dresden is essential to fully appreciating the city. It's hard to imagine now, but at one point in time, during World War II (1945) Dresden was bombed and major parts of the city were destroyed. It was utter chaos and 25,000+ people lost their lives. The city was basically flattened and after years of rebuilding you'd never guess how much damage this beautiful city once took. There are a few original buildings that were carefully rebuilt like the Opera House, several churches, and the Zwinger Palace. Make sure you keep your eyes out for them as you are exploring the city.
What You Can't Miss
Frauenkirche
Frauenkirche is a gorgeous church and was completely destroyed due to the 1945 bombing. The ruble and remains of the building sat for a long time as a memorial for the war and eventually the remaining bricks were collected and used to restore the church. Now you can't miss it as you walk through old town Dresden. Make sure you stop and try to imagine what it may have been like after being destroyed. It takes you on a walk back through time.
Make sure you buy a ticket to the top and see amazing views!
Address: Neumarkt, 01067 Dresden, Germany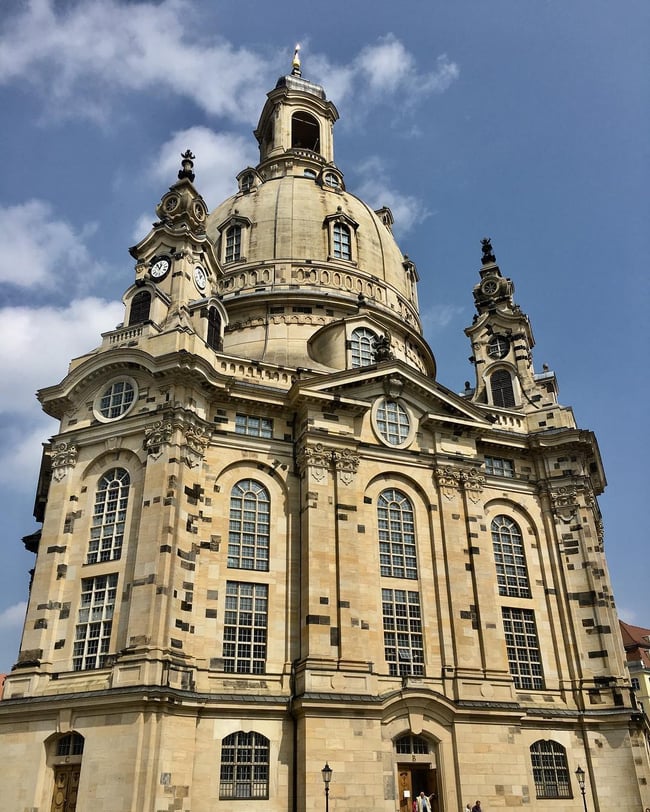 Bruhl's Terrace
This is nicknamed the "balcony of Europe" and is the perfect place to go just to walk around, people watch, and grab a drink at a local cafe. The terrace spans above the river and is a beautiful place to visit, especially at sunset.
Address: Georg-Treu-Platz 1, 01067 Dresden, Germany
Holy Cross Church
This is another church that had to be restored because of the World War II bombing. Now you can stroll through and look at all the pretty art and climb the stairs to the top for views of the city.
Address: An der Kreuzkirche 6, 01067 Dresden, Germany
Fürstenzug
This large mural is amazingly intricate and a landmark in the city. The mural is huge (335 ft. long!) and depicts a procession of the rulers of Saxony. You have to walk past and snap some pictures so you can say you really visited Dresden!
Address: Augustusstraße 1, 01067 Dresden, Germany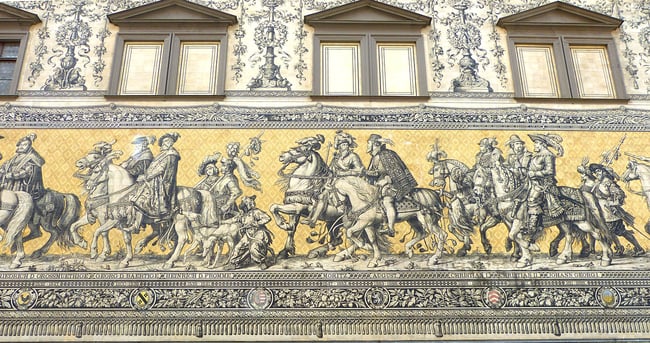 The Dresden Castle
This castle is beautiful and postcard perfect! It once was home to rulers in Dresden, but now houses many different museums and exhibits where you can learn more about Germany and its history. Make sure you have time to walk around the outside and inside of the castle when visiting.
Here's the website to see more about events and exhibits
Address: Taschenberg 2, 01067 Dresden, Germany
Katholische Hofkirche
The Katholische Hofkirche aka The Dresden Cathedral or Cathedral of The Holy Trinity is one you don't want to miss. This Catholic church is absolutely stunning and very big! Make sure you walk around inside and outside as well as do some people watching. It's a popular place for visitors!
Address: Schloßstraße 24, 01067 Dresden, Germany
Zwinger Palace
The Zwinger Palace is another building in Dresden that was almost completely destroyed. It has now been rebuilt and it a beautiful place on a warm summer day. Make sure you visit the gardens and look at the fountains throughout the courtyards. You'll feel like you're in an old European movie.
The whole Zwinger complex itself has a lot to see. There are art galleries and other exhibits you'll want to check out as well. Here is more info on what you can expect to see as far as exhibits and events go. It's about $16 USD to enter.
Address: Sophienstraße, 01067 Dresden, Germany

Try Yummy Food
Most of visitor's favorite food comes from the outdoor street carts and markets you'll see throughout the city.
There are a few things you'll definitely want to try while in Dresden:
Sauerkraut
A German staple! Sauerkraut is cabbage that has been cut very small and fermented. It's delicious plain and also paired with different sausages or bratwursts. Grab a side to try when you stop for some food! Honestly, anywhere you get food will have it!
Bratwurst And Sausage
If you're going to eat one thing in Dresden make sure it's one of those! Germany does wursts so well — you'll be craving them even after your trip. The little food carts and markets in the city have delicious wursts and if you are looking for a good sit down restaurant try Watzkes Wurstkuche (Dr.- Külz-Ring 11
01067 Dresden).
Schnitzel
Schnitzel is another German food you'll want to get your hands on. It's a piece of meat pounded flat with a meat tenderizer and fried in oil. The flaky goodness of schnitzel is one you will instantly love!
For good schnitzel a lot of people recommend eating here or here.
Pretzels
Grab a pretzel (or three!) and dip it into spicy mustard for the perfect German treat. This is the perfect snack to eat on the go as you're walking to the next beautiful church on your list! Again, the street carts are where it's at, but here's a list of the best restaurants in town to grab one too!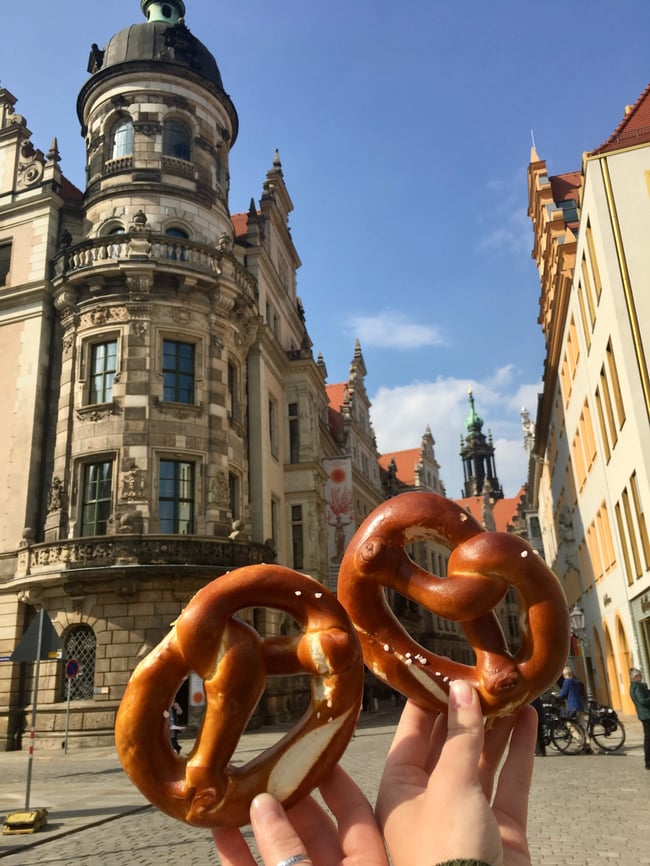 Where To Stay In Dresden
If you decide to spend more than a day in Dresden you can find pretty inexpensive housing options.
Hostels
If you want to go the Hostel route Hostel Mondpalast starts at about $19 USD a night for a dorm room bed. The A&O Hostel starts at about $18 USD for a dorm room bed. Both have great reviews and are not too far outside of the city center.
Airbnbs
Airbnbs are also a great way to go when you're looking for a place to stay. This Airbnb sleeps up to six people and is only $50+fees a night (remember to split that price among your group! This Airbnb is $75+ fees a night and sleeps up to four.
Getting To Dresden
Flying
The Dresden airport (DRS) is an option if you're flying in. We love booking on Omio to find European flight deals, but Google Flights also brings up some great deals too.
Bus From Prague
Quite a few volunteers have paired a day trip to Dresden with a trip to Prague, Czech Republic. They are only about two hours apart which makes it pretty hard to resist.

Flix Bus has great prices and will only cost you about $15 each way! Just make sure to book your tickets ahead of time online so you can get enough for your group.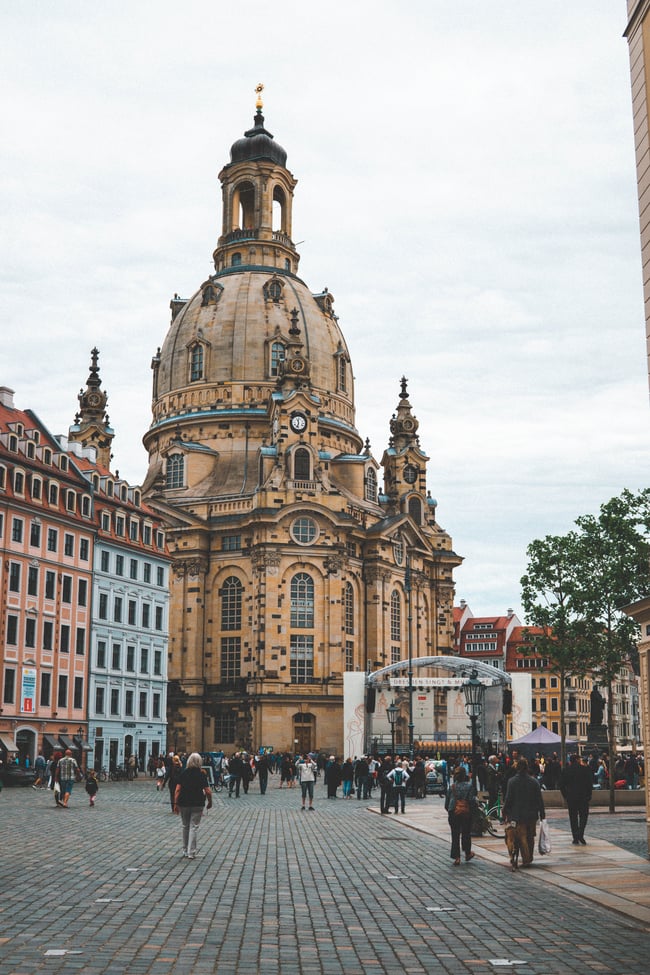 Europe has so much to see and do, so why not spend a full semester there?
Come volunteer with us in Europe, make a difference in the lives of the kids you serve, and spend time vacationing to all your bucket list places! We know you'll be a big fan! Click the button below to learn more about volunteering with us!