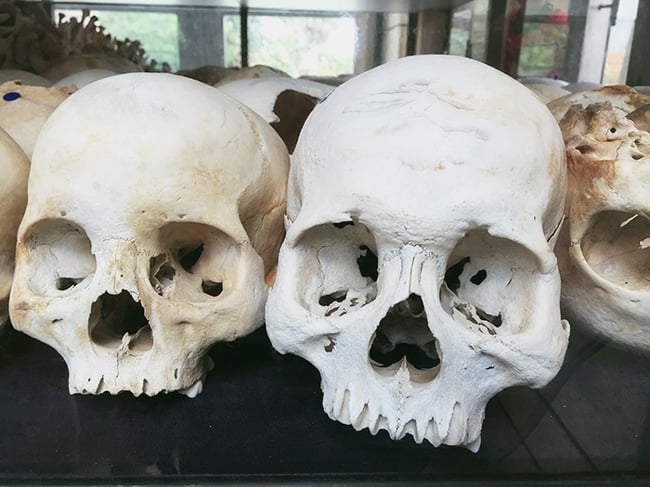 Did you know there's a place in Asia eerily similar to the Auschwitz concentration camp in Europe? You can go and see for yourself what happened in horrific events of the 1970's.

Cambodia is the country of your travel and adventure dreams. It is soaked in culture and many of the locals speak English making it easy to explore. Plus, it is still very undeveloped which allows you to see a world that you've most likely never seen before. But even with it's stunning waterfalls and amazing ruins, there is a lot of devastating history that actually happened not that long ago.
---
ILP volunteers in Thailand can come see Cambodia on vacation!
Learn more about volunteering in Thailand here
---
The Killing Fields is a place where one military leader was able to take so much control that mass murders occurred across the area by his command (sound familiar?). This is one piece of history that is worth a visit. But before you go pay your respects at the mass graves, we highly recommend understanding the events.
What Happened?
To make a long story short, Pol Pot was a military leader who lead the murder of 1/3 of Cambodians in just four years. Can you even wrap your brain around that? One third of the country! Essentially anyone that deemed a threat to his position was killed.
"Better to kill an innocent by mistake than to spare an enemy by mistake." - Pol Pot
That was his philosophy. His strategy was to level the playing field of the country by murdering anyone with any education at all. Teachers, doctors, business owners. Anyone with glasses was considered educated. Anyone who spoke a foreign language or held a passport was murdered. Anyone with soft hands was murdered. Anyone who wouldn't do the killing was killed. There wasn't much distinction between who should be killed...if there was any question they just were.
What Are The Killing Fields?
It is an area where many were mass murdered and buried. Today you can visit the location and walk the grounds where everything you happened. You'll learn about the events as you tour the area and hear personal stories from some who escaped. It is life changing to say the least.
Similar to the concentration camps in Europe that you're probably already familiar with, the people arrived at the area not aware of the fact that they were there to be killed.
Because the burials were done so recently in history and because the graves were so shallow, pieces of bone still wash up to ground level when the rains come. To this day grounds workers continue to periodically clean up the bones from those who have passed on throughout the paths that you'll walk as you explore the area.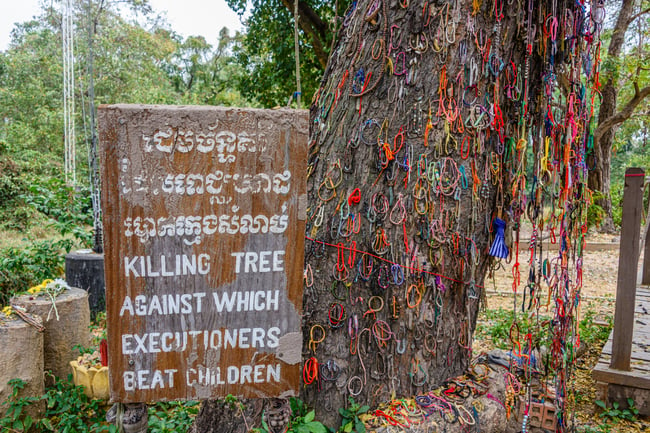 Where Is It?
Phnom Pehn, Cambodia. There are similar mass graves throughout the country, but this spot was the largest and most destructive and therefore the most famous.
How Do I Get There?
While volunteering in Thailand through International Language Programs you'll have the opportunity to explore Cambodia during one of your vacations from teaching English if you choose. It's a quick flight from Bangkok, Thailand to Phnom Pehn, Cambodia.
If you are volunteering in China, you are nearby but it's a little trickier to get to Cambodia. China visa restrictions are such that you cannot leave the country during your teaching semester. We have however had ILP volunteers who chose to travel on their own after the semester and visit countries such as Thailand and Cambodia before heading back to the United States or Canada, but it can be quite expensive.
From Phnom Pehn:
You can book a driver if you want pretty easily. This company picks you up from your hotel and brings you back for $15 USD, including an English speaking guide in an air conditioned van. They also include a stop at the Genocide Museum (Prison S21) which is also a must see for this trip.
You can also arrange a trip with a tuk tuk driver to drop you off, wait, and bring you back, but honestly the prices really vary depending on who you ask. Some say $10 for a return trip, but others have said $20+ so it really depends on your bargaining skills and your tuk tuk driver. Don't forget you need to tip too.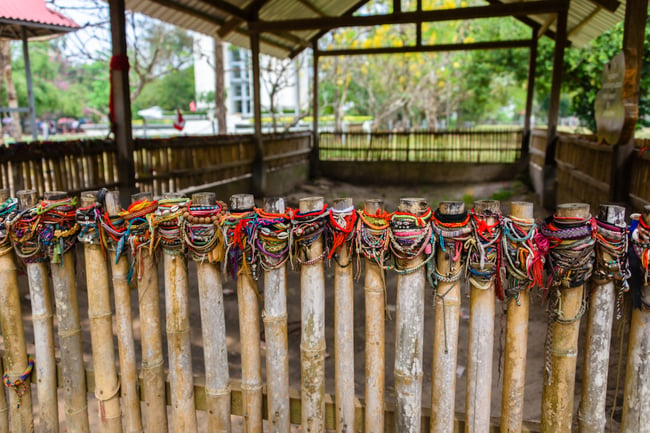 What Should I Expect?
Most tours are a half day, so keep that in mind when organizing your day. You'll likely either do a morning trip or an afternoon, and plan for around 4-5 hours in total, including transportation.
As you can imagine, this is a very heavy experience. You can purchase an audio guide when you arrive and they'll provide you with headphones. I highly recommend getting that. As you walk the grounds, you can hear what is significant along the way, and it's a great way to become informed, but also be able to go at your own pace. There were many times that I wanted to just stop and sit for a minute and process everything, and I wouldn't have been able to do that if I was doing a live tour. The audio tour is perfect.
Bring small currency to pay for entrance fees. At Prison S21, you'll want $5 for the entrance fee and $3 for audio tour. At the Killing Fields, you'll want $3 for the entrance fee and $3 for the audio tour. Those prices are all in USD, and in Cambodia they do accept US cash!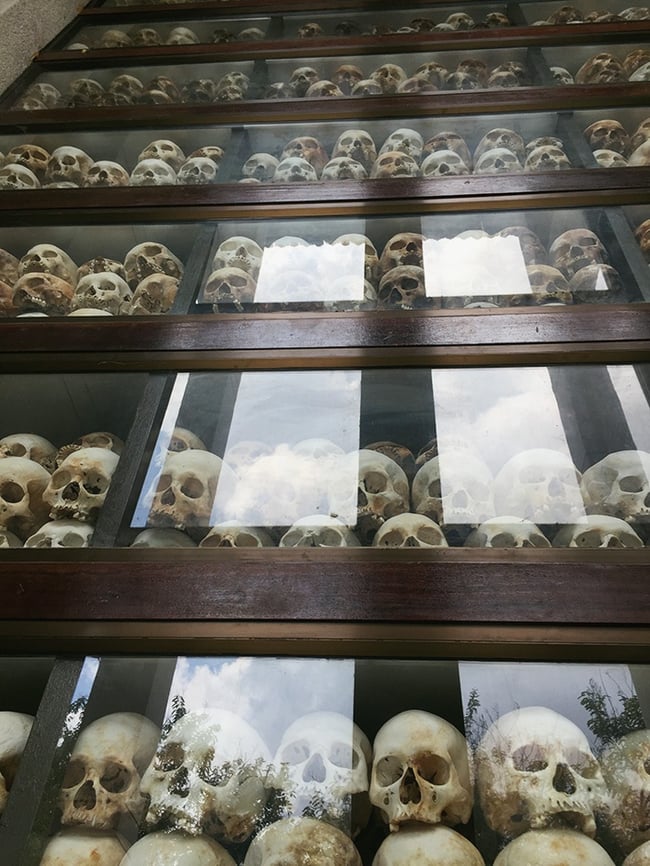 Interested in learning more about volunteering in Asia
and visiting places like the killing fields?

Click that button to leave your info and we'll be in touch. Our ILP representatives have all volunteered before, so they've been in your shoes and can help you get everything figured out.