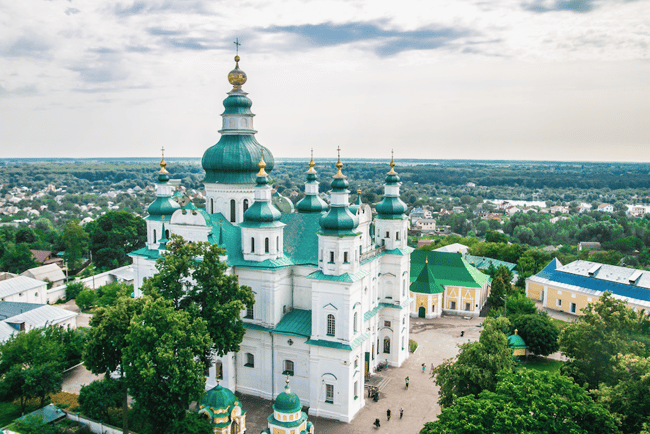 Ukraine has some of the most beautiful cathedrals around and this cute little city is full of them!
We love visiting gorgeous cathedrals while traveling Eastern Europe. The intricacy and uniqueness of each one is breathtaking! Ukraine has a lot of amazing cathedrals to see and this city will be a great day trip or weekend trip for those volunteering in Kiev for their semester abroad with ILP. Look at these other great weekend trips while you're at it!


---
Getting ready to head to Ukraine?
Here's our guide to visiting this beautiful country!
---

Here are the details you need for making a trip to these amazing cathedrals happen!
Visit ALL The Cathedrals
Use your time in Chernihiv to see as many cathedrals as you can. There are tons scattered throughout the city and they are all so unique. Here are some of our favorites!
Saviour Transfiguration Cathedral
This cute cathedral is smaller than many others in Chernihiv, but is just as beautiful! Built in the 11th century, this is the oldest building in Chernihiv and that in itself makes it special. Parts of it have been rebuilt since then to ensure it is stable, but there are also original parts still standing. Prince Mstislav was the one who had the cathedral built and died before it was completed. He is now buried there and you can see his burial place.
Some have said that bells ring out every day, so you may be lucky enough to catch that. We've also heard this cathedral is a must visit!
Boris And Gleb Cathedral
The Boris and Gleb Cathedral is a perfect example of classic Chernihiv cathedrals. It is beautiful inside and outside, but also very simple in its design. Inside the cathedral you can still see parts of the original fresco patterns full of birds and florals. It's seriously beautiful!
It is located just right across from the Saviour Transfiguration Cathedral, so it's a good idea to check these out in the same visit. In the picture below, you can see the Saviour Transfiguration Catehdral, and Boris & Gleb peeking out behind the tree branches.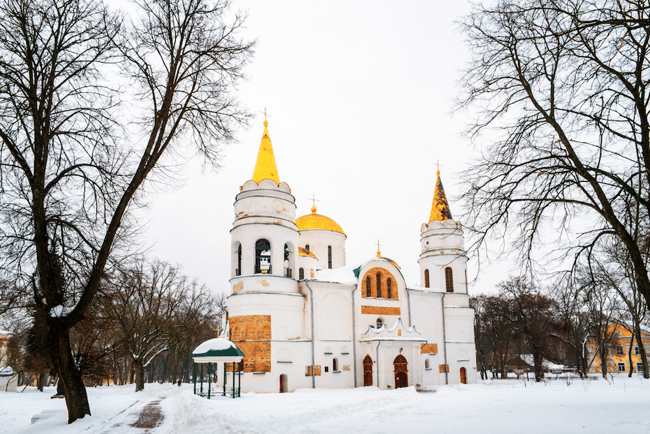 Trinity Monastery
This is one of the largest churches in Chernihiv and we sound likea broken record here but ... it's one you can't miss. It looks similar to the Saint Sophia Cathedral in Kiev with its green domes and gold spires. Not only is the outside gorgeous, but the inside is amazing and intricate, so take a look inside while visiting.
Pyatnytska Cathedral
This is one of the most unique cathedrals in Chernihiv. Made out of brown bricks, its unique design stands out from the rest. It has been rebuilt and restored after being hit by a soviet bomb in 1943, but the original design of the structured stayed the same.
Catherine's Cathedral
This cathedral is simple in design but gorgeous! The building itself is pure white and has five bright, gold domes topped with crosses, making it really stand out. This cathedral is a very traditional Ukrainian design.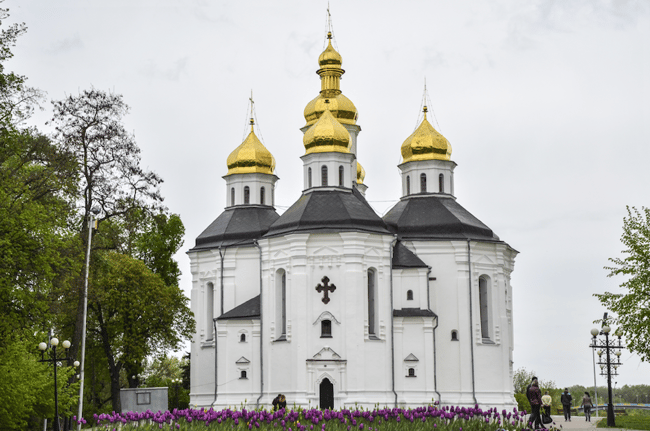 Holy Assumption Monastery
This is one of the oldest churches in Ukraine and the oldest in Chernihiv. It has had a long history when it comes to being damaged but the renovations have kept it intact. Definitely make this a stop as you are exploring in Chernihiv.
Yeletskyi Dormition Monastery
This is the largest church in Chernihiv and also one of the oldest in Ukraine. This is one of my favorites because of its pretty spot near the river and beautiful trees all around. Yeletskyi Dormition will definitely catch your eye with its size and beauty, plus who can resist some dark green onion domes?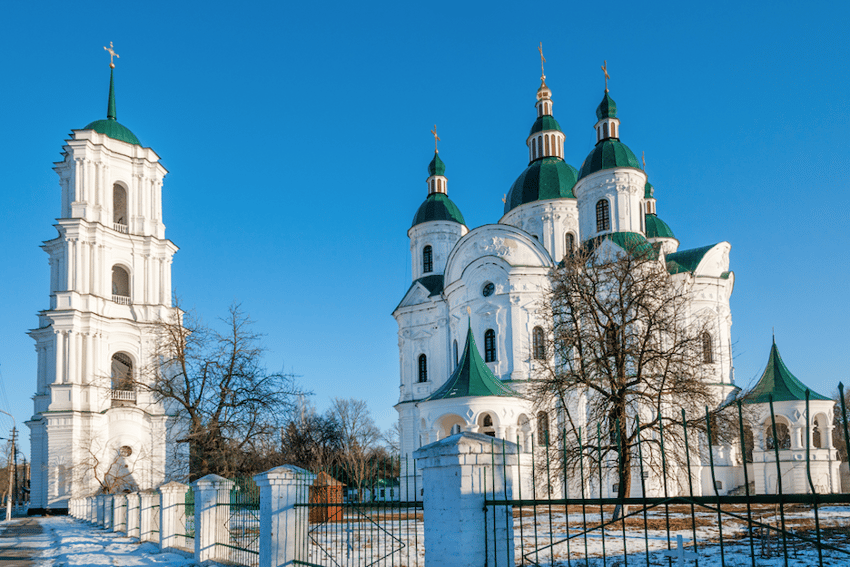 Finding The Cathedrals
When searching for the addresses online it is hard to find concrete addresses for each cathedral. Instead, head over to Google Maps, type in the name of the cathedral and the city, and check the map for a little marker telling you where to find it. This will help you see what cathedrals are close to each other and help you plan a route.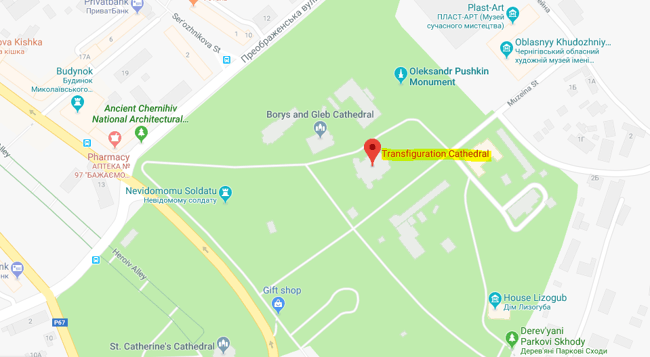 Getting There
Chernihiv (Chernigov) is a great day trip or weekend trip from Kiev (More details on other day trips/weekend trips here). It's easy to get to and totally worth it if you're looking for a new place to visit.
Public Bus
Buses will go daily to Chernihiv and give you the most flexibility on times you can leave. Tickets are about $9 USD round trip, and 1.5-2.5 hours depending on what ticket you purchase. Book here
Train
Trains go on random days to Chernihiv so it's not guaranteed one will go on the day you are planning your trip, but you might as well check it out and see if it's an option!
Price wise, it's about $3 USD one way. It can be hard to find roundtrip tickets on the same day with the train. So, you could take a train there and a bus back if you want the experience of a train. Plan on a 3 hour train rice, book here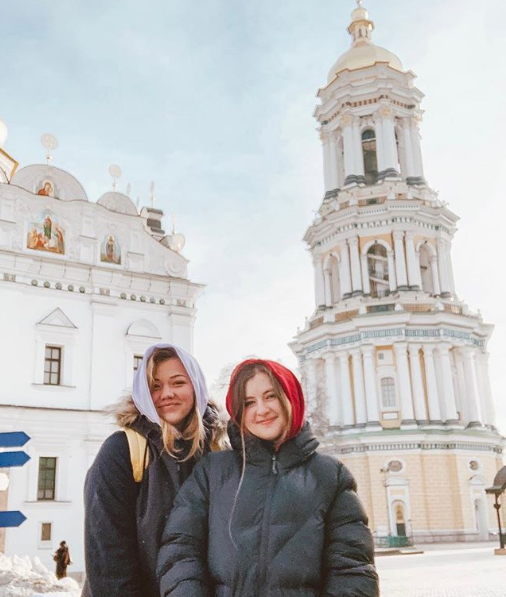 Dreaming about spending a semester in Ukraine?
We know you'll love this gorgeous country and rich culture! Enjoy walking around the beautiful cities, trying the yummy, traditional food, and traveling throughout Europe ... there's really nothing better.