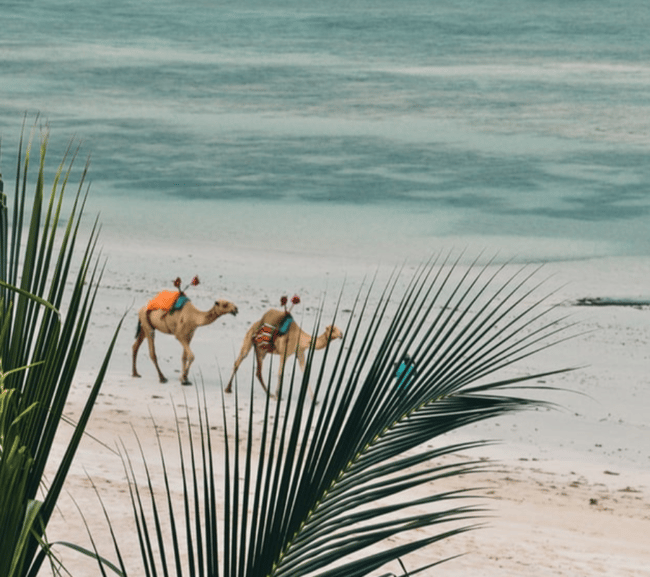 We're dreaming of island getaways off the coast of Africa … anyone headed to Uganda should schedule a trip to the Lamu Island during their vacation time, that's for sure.
Overall, Africa might be most known for sprawling grasslands and safari, but that's not all this continent is hiding. Rimmed with coastlines boasting some of the world's most picturesque beaches should convince anyone to come spend a semester in Africa .... just to get the full effect, right?


---
See what living and volunteering in Uganda is like, right here.
---

Any one of our ILP volunteers who call the country of Uganda home is easily close enough to hop over to Kenya on vacation, which means the island of Lamu is also in reach. Lamu Island is a paradisiacal getaway, a crescent shaped island that's found almost directly east of Nairobi, Kenya's capital city.
With gorgeous beaches and an Old Town reminiscent of a busting port influenced by half a dozen cultures, Lamu Island is the getaway you're looking for.
Things To Do On And Around Lamu Island
Insider Tips
Getting to Lamu Island
Things To Do On And Around Lamu Island
Lamu Old Town
Visiting this island's old town has you touring a town heavily influenced by Arabian architecture. You'll find white coral-brick structures with characteristic pointed arches, surrounded inner courtyards and elaborately carved wooden doors. You'll also find the space dotted with ancient Swahili forts and mosques Overall, the country of Kenya has a strong Portuguese influence (thanks to early colonialism), but this area of the country lets you see a strong Swahili and Arabic presence, along with Indian, Persian and European touches.
Do Some Shopping
Around this area, we suggest checking out a couple of art vendors (you can find wood carvings, beaded belts and stacking silver rings — check out Mohammad's Silversmith shop for the rings at a great price). There's an Old Town market on Harambee Road that boasts local artwork, handbags made from recycled products, and wood carvings. #2 Degrees South is also a good place to shop.
Visit This Fort
Lamu Fort is also a must-visit spot: Typically open from 8:00 AM to 5:00 (closed on weekends) you can pay $5 to tour the fortress-turned museum which is full of artifacts and explanations of the island's culture. Well worth an hour of your time!

The fort is found on the eastern side of the island, along Kenyatta Road.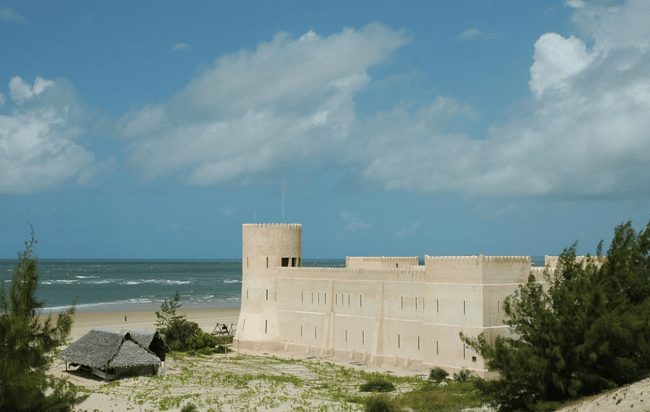 Beaches On Lamu
Being an island, you're expected to schedule out some time to lounge in the sand and hit the waves. Lamu has a few spots to hang out on the beach, but don't forget about hiring out a boat to go island hopping for an afternoon. The whole island just takes an hour or two to walk across, or you can hire a boat or donkey to take you.
Shela Beach
One of the top spots for snorkeling around Lamu. Found on the eastern tip of the island, you'll find golden sands and waving palm tress and a more pristine town than what can be found in Lamu Town. Boutique hotels tend to cluster around there too, if you're looking to stay the night. You'll find several boat companies itching to take you out for a snorkeling tour at any of the hotels or storefronts along the streets in Shela. It'll take you about 45 minutes to walk here from the Lamu Town, or a 10 minute boat ride costing a couple of dollars.
After you're done snorkeling, get a view of the Shela town from above— just start at Msafini Hotel and walk towards the dunes and climb up for a view. That sand does get quite hot, just as a head's up. Peponi is a restaurant in Shela that comes recommended if you're hungry after your climb.
Kizingoni Beach
Found on the opposite tip from Shela (nestled on the western side of Lamu Island) is also a good jumping off point for snorkeling and boat tours. There's a coral island just off the coast of Kizingoni beach named Kinika that has excellent snorkeling. Some divers report hanging out with a few schools of dolphins that migrate through here.
In general, plan on paying $30-$45ish for an all-day snorkeling tour (Which typically includes lunch and all of your gear) around Lamu.
Yoga On Lamu
Yoga is quite popular on the island. Shela Yogi is a good spot (found near Shela Beach), as is Banana House (also found near Shela Beach). Fatuma's Tower is also one that comes recommended. Plan on paying $6-10 for a lesson, which is steal.
Island Hop
Don't leave before island hopping the surrounding archipelago by dhow, which is a traditional boat of carved wood used for a couple of hundred years. You'll find similar boats sailing around East Africa and India. Getting along via dhow is an affordable option to get you to some of the most stunning beaches around Lamu. You can find dhow tours for the day taking you to surrounding islands like Manda Island, which lies just to the east.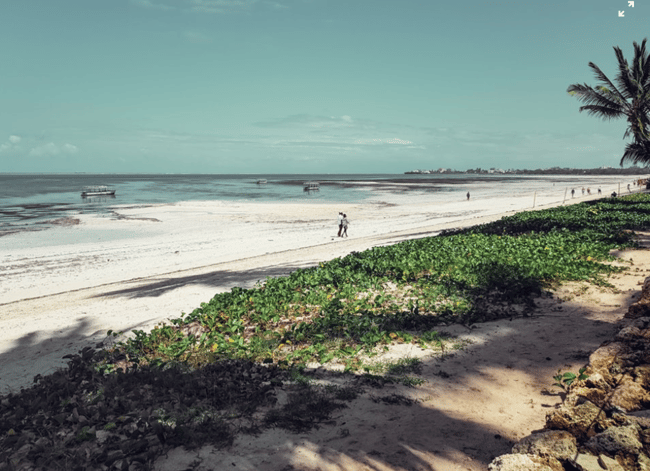 Insider Tips
Food
There's a heavy mix of Swahili dishes with Indian and Arabian influences. Dishes like seafood pizza are also popular, and you'll find lots of fresh, locally caught seafood on other menus for great prices; a couple of dollars for lobster, or snapper, or octopus.

Labanda — Head here for some local food for around $2. Try Ukwaju, which is local juice made from tamarind.
Whisper's Cafe is a popular place to get coffees, fresh juices, pancakes, desserts, hummus and veggies, pastries, a rad lime-and-coconut cake, and other foods worth trying. There's also a small shop attached that's worth poking around in. Both these spots are found on the eastern side of the island near Shela, Labanda is on Corniche Path and Whisper's Cafe is on Kenyatta.
Get mango and avocado smoothies (or fish and rice) at a place called Mangrove Center which is along Harmabee Avenue, at Lamu Town Center.
Getting Around
There are no public use of cars here so the island has a very small, "step-back-in-history" kind of feel. Everyone gets by either by walking or riding a donkey. You can hire a small boat to take you around the island if you'd like to reach something on the other side.
When To Visit
The ideal times are from July to September, where you'll have some cooler temperatures. April and May tend to be rather rainy, with warmer months in January to March.
What To Pack
As a head's up Lamu Island (and surrounding areas) are conservative, with a large Muslim population. Best to dress conservatively in flowy pants and modest tops to respect the local culture. You may be on an island, but it's not appropriate to be walking around in short shorts, short dresses, or swimming suits.
Getting to Lamu Island
It's a cinch once you get to Nairobi. For our volunteers, your option is to fly out of Entebbe which is a couple hours outside of the capital, Kampala (ILP volunteers are living in a suburb of Kampala).
You can find daily flights to Nairobi from Entebbe for around $300 (it's a quick 1-hour flight). From Nairobi, there's one daily flight that gets you to Lamu Island (the Manda Airport, which is just a 5 minute boat ride that'll get you to Lamu Town); flights from Nairobi to Lamu (the Manda Airport - LAU) are about $130, but can hover around $109 roundtrip some times of the year. It's about an hour flight.
One you land at the Manda Airport, you'll need to take a ferry over to Lamu island; it'll be clearly marked once you get off your plane.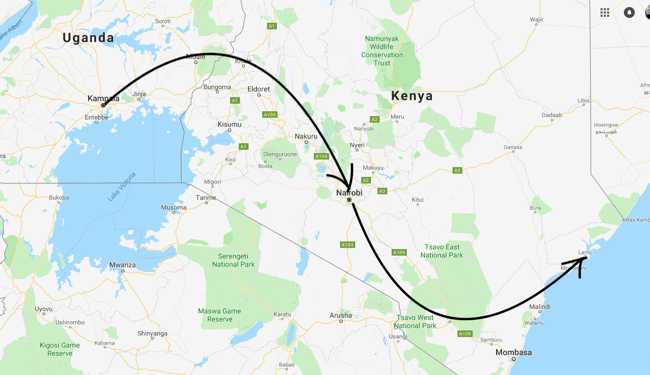 Come to Africa with us!
ILP has a volunteer program with opportunities to teach local kids near Kampala, Uganda which means spending time in Uganda giving back and making a difference, with time off to explore other countries like Kenya. Get more information about our Humanitarian Program in Africa right here!