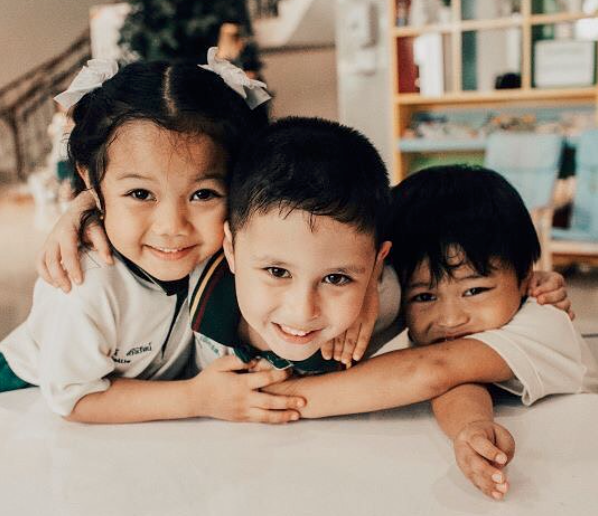 While you're volunteering abroad with ILP, you can spread your service to more than just the classroom. Here's what some of our volunteers have been doing recently.
Our volunteers are awesome. You guys really are.
(And assuming you're awesome, you should be an ILP volunteer too)
When you're going abroad with us, you spend some time (20 hours per week) working with little children for 3-5 months. Ask any past ILP volunteer - it's rewarding, but man are those kids exhausting!
I think the thing that keeps our volunteers coming back for more and more is how much of an impact you can make during just one short semester. You can change the lives of others and your own - forever. That leads to volunteers wanting to find more things they can do to make a difference while they're living abroad.
Here's a few things we've noticed volunteers doing...
And this is on their own! During their own free time they're out doing amazing things in their communities. Props guys.
Walk Around And Meet The Locals
You can make an impact just by saying "hello!" (or something as simple as bringing along a Polaroid camera).
As a foreigner, you're going to stick out and be noticed. You can quickly leave an impression by simple saying hello and smiling at a stranger. Or, if the moment is right, sitting and talking with someone new.
Carly and her group took some time to play around a little with the Cambodia children who were selling items on the street.
"My new goal is to be able to help children all over, like this sweet girl here, to no longer be exploited for money and to give them the opportunity to have a childhood they deserve. So glad we were able to play with and love the two little girls we met in Cambodia. It broke our hearts to leave them but made our hearts full to be able to put a smile on each of their faces."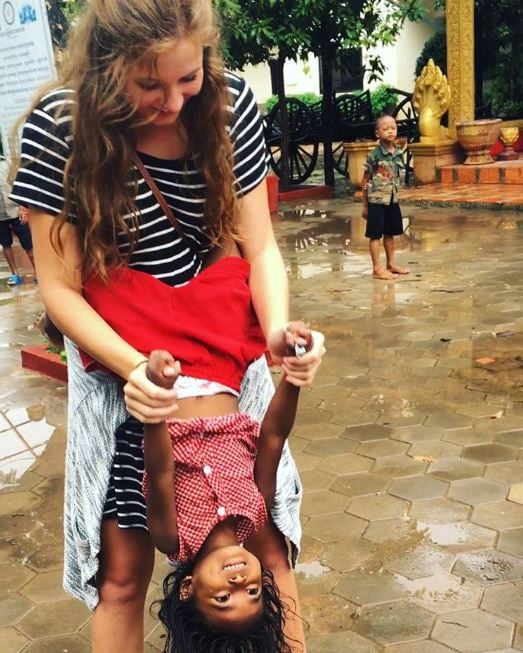 Visit The Elderly
The group who is volunteering in the Dominican Republic went to visit a local retirement home and spent the day giving of their time and their smiles.
Whitney said,
"We got to visit the old folk's home today and this cutie just wanted to hold my hand. Raphael stole my heart."
Another ILP DR volunteer was able to make an enormous difference just by buying a single movie ticket for the sweetest 70 year old man.

Give Back To Your Community
In the Dominican Republic, we are in touch with an amazing organization, Dominican Starfish Foundation, who builds home for those in need. They actually were a part of ILP starting our volunteer program in the D.R.
Our group of ILP volunteers took the chance to help paint a new home that was being built by that organization.
"Today I had the opportunity to paint one of the Domincan Starfish Foundation houses. Before this family moved in they did not even have a toilet or other day-to-day-things we take for granted back home. I just am so grateful to be here experienceing and learning so much. I definitely wish I could do more to help everyday but I'm grateful for every opportunity I get and I couldn't be happier to be alive."
Another ILP group fundraised enough money to help out their sweet cook Tamaris — read more about that story here.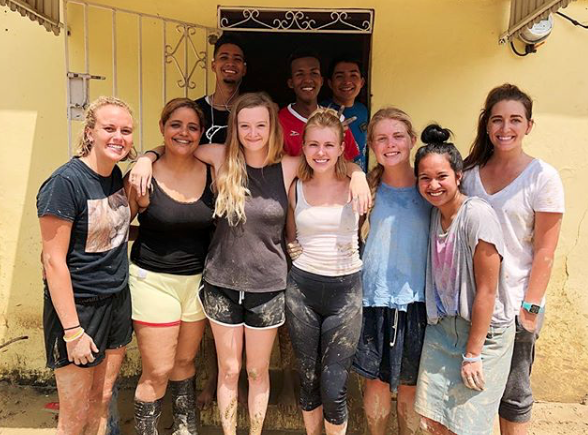 Clean Up Your Neighborhood
Some groups have gotten big trash bags and gloves at their local grocery store and brought it with them on walks to the beach or their favorite ice cream place. On your walk, just pick up the trash you see to help clean up the streets (literally).
This is a great option because it's something you can do consistently throughout your semester and it doesn't take much organizing. Just grab a few things from your store and start making a difference.
Start Your Own Fundraiser
One ILP China volunteer noticed the kids she was teaching could do with a little more service — she fundraised enough money to provide dental hygiene kits for her kids. You'll want to see cute pictures from this service experience!
Just noticing a need and being proactive about fixing the problem is a good approach to a small service project.
So, how do you find opportunities like these?
During your semester abroad with ILP, the best thing you can do is get out of your room and explore as much as you can! That sounds like a pretty obvious one right, but it can be easy to crave the familiarity of your room and Netflix binge during your free time. Don't do that! Get out. Walk around. Meet the locals and you'll be surprised by the experiences you run into.
One ILP China volunteer noticed the kids she was teaching could do with a little more service — she fundraised enough money to provide dental hygiene kits for her kids. You'll want to see cute pictures from this service experience!
Also, talk to the Local Coordinator of your group. They coordinate your school and live there in the country with you. They may know of different things groups have done in the past or perhaps help you find more things around the community where you can serve.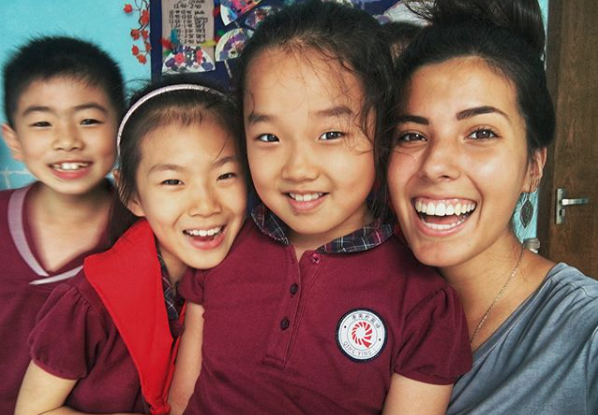 ---
Thinking about the chance to go abroad with ILP? (Go you!)
Make a difference in the country you live in for a semester while serving with other college-aged volunteers. It's a service abroad experience to remember, both for you and for all the lives you touch.
Learn more about what the ILP experience is like by scheduling a call with a representative. They've already done a semester abroad with ILP and can help answer all your questions about how it works!