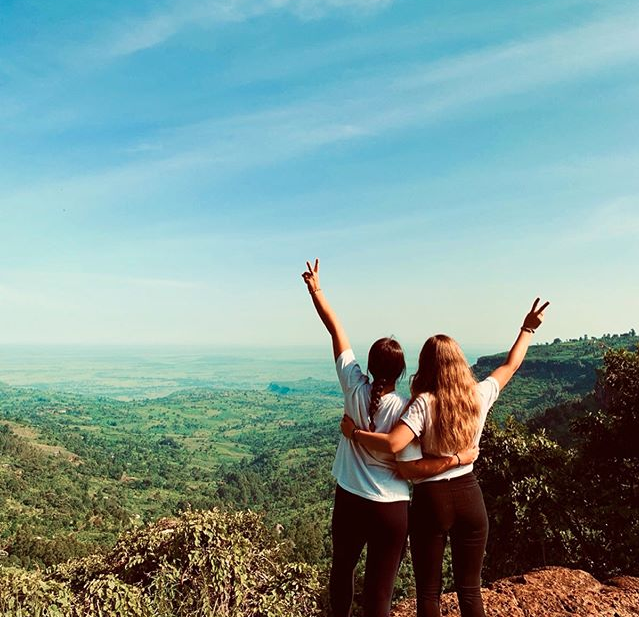 Hike deep into the green jungles around Kibale and see if you can spot a family of chimpanzees hanging out in the afternoon.

A trip to Africa is all about once-in-a-lifetime experiences, in more than a few ways. Our volunteer set up in Uganda have the opportunity to provide humanitarian help in lots of different ways — giving an English education, helping with clean water projects, volunteering their time at a local orphanage, but are also set up to have some of those life-changing adventures that can only happen in this part of the world.
---
Are you interested in making a difference in Africa?
Come see what volunteering in Uganda is about
---
One of those experiences is the chance to go chimpanzee trekking! Gorilla trekking is a very popular tourist activity and Uganda is one of the best places in the world to do it! But it comes at a huge cost (plan on a several hundred dollars to around $1000 just for the permit). It's an incredible experience and something you should look into if you have the cash, but if you don't have the money, you can still have the chance to pull on your hiking boots and peek through the jungle to find some chimpanzees! It's a very similar experience for lots less, and one of the top things to do in Uganda.
What's The Trek Like?
Where Do I Go?
Costs + Other Details
Going With A Tour
Helpful Tips For Your Trek

Other Chimpanzee Opportunities
What's The Trek Like?
There are a few different options (keep reading for more info on that), but essentially you can visit the chimpanzees for a short amount of time by accompanying a guide on a 2-3 hour long primate walk. Guides have scouted out where the chimps are beforehand, and you'll get to spend about an hour observing them before returning back to camp.

Or, you can sign up for a habitation experience, which is an all day experience where you see more of these animals in their natural habitual. You'll start early (about 6:00 AM) and to hopefully catch the chimps waking up, eating, resting, playing and hunting, before they make an evening nest around 7:00 PM. You'll be set up with a guide who'll point out the chimp's habits and customs while you get a front row seat to a day in the life of a chimpanzee. It gives you the chance to experience chimpanzees in a very "Jane Goodall" way: something you can only do in a few places in the world.
Either way, both options provide you the possible chance of getting close to these animals and seeing them hang out on a typical day. If you're interested in a more immersive experience, I'd definitely opt for the habitation experience. We'll get into pricing in just a minute, but it's only $50 more to have several hours tracking chimpanzees than it is for just a 2-3 hour excursion. You'll get more out of your experience for about the same money!
Where Do I Go?
Our pick is Kibale National Park. It's "the best" place to spot chimpanzees in this country, but there are other options (like in the Budongo Forest). There are some 5,000 chimpanzees found in the country, and Kibale is home to a high concentration of family packs.
Another perk of this park? For trekking in Kibale, you can only have a max of 6 people per trekking group. We love that your experience is going to be really intimate and small rather than a huge and disruptive tour.
You'll find Kibale National Park west of Kampala, the country's capital. It sits between Queen Elizabeth National Park (to the south) and Murchison Falls National Park (to the north), which are both popular safari spots ... but we're all about a safari in Murchison Falls if it comes down to it.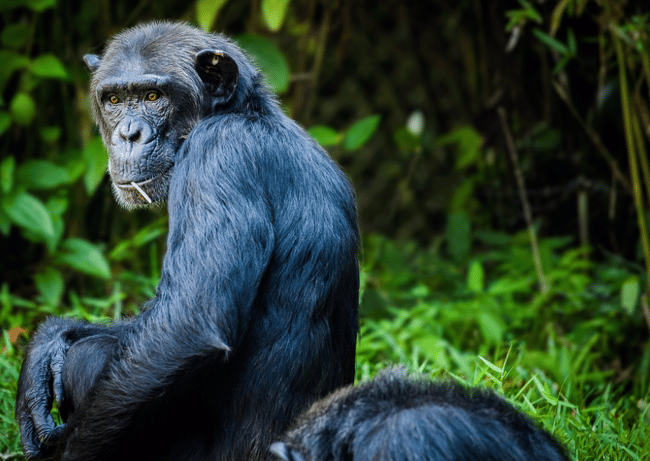 Costs + Other Details
Get A Tracking Permit
You are required to obtain a tracking permit before your trip. The total number of permits per day is limited, so you'll need to book these in advance (but it's pretty straightforward).
If you won't be going with a tour operator who'll handle this all for you, you'll need to get your permit yourself. You will need to email info@ugandawildlife.org to obtain a permit. You'll let them know the date of your trek and they'll get back to you on availability. Visitors will be able to pay via wire transfer (they'll provide proper banking information).
You can also visit the UWA headquarters office in Kampala and book (and pay for) your permits in person: Plot 7 Kira Road, Kampala, Uganda. The office is open Monday to Friday 8:00 AM to 5:00 PM, Saturdays at 9:00 AM to 1:00 PM, and closed Sundays.
If you're joining a tour, which we love, they usually take care of the permits for you.
Choose Your Trek Option + Costs
For the shorter primate walk, there's a $150 permit fee for foreign non-residents. This includes the fee for your guide, and the park costs.

For the longer, all-day habitation trek, there is a $200 permit fee for foreign non-residents. This rate includes the guide fee and park entrance fee into Kibale for 6 hours.
*You can check pricing and other information with this PDF, issued by the Uganda Wildlife Organization.
You'll want to make sure whether the tour you book includes the permit or doesn't include the permit. Remember, a permit is required so if your tour company does not handle booking permits, you'll need to follow the instructions outlined above for obtaining and paying for your chimpanzee tracking permit.
Going With A Tour
There are companies who will arrange everything for you — your transportation from Entebbe (typically), your accommodation, the trekking options + required permits, meals, etc in a package deal. Make sure that your company is handling the tracking permit and where pick up is, and other details. Most tours will not include the tips in the price you pay, and it's customary to tip your chimpanzee tracking guide (so make sure you account for that).
One ILP group went with a private tour group, Insight Travel and said "we only saw 3 (chimpanzees) but it was an amazing hike)." Plus, the guides come recommended too.
Another pick? See if Denis is available! ILP volunteers have booked multiple trips with Eastern Travelogue and we're giving rave reviews. Denis started his own tour company and will make sure you're taken care of when it comes to transportation and finding a guide for Kibale. Oh and he also does tours for hiking Sipi Falls or heading out on a Murchison Falls safari, as well as other tours around Eastern Africa. Just send him a message on WhatsApp (+256 759 046262).

Another recommended company is African Jungle Adventures, but this will be a more expensive option than going with Denis. They have a 3-day chimpanzee trek option, amount other options. Price wise, they have options broken down into three categories: $1,150 (budget accommodation), $1,340 (deluxe accommodation) and $1,650 (luxury accommodation).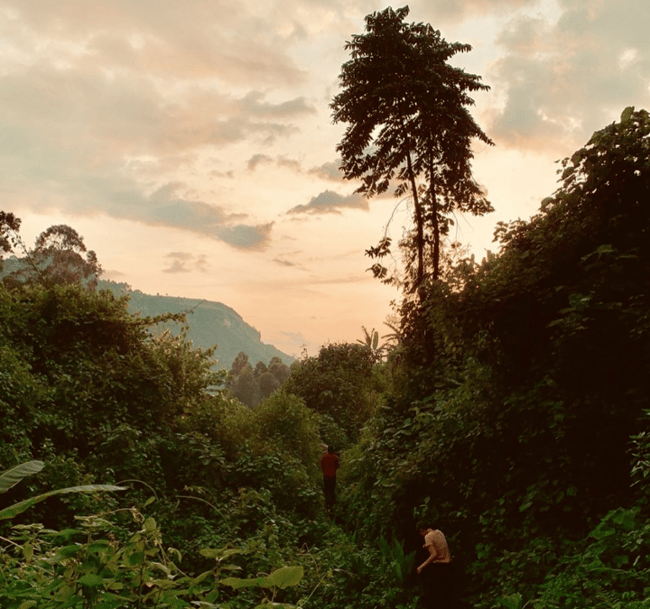 Helpful Tips For Your Trek
When To Go
The chimpanzees are always around, but some report better trekking when there are less tourists which is in the country's low season: March, April, May are great times, same with the month of November. You'll run into fewer tourists tracking through the jungles, but these spring months are also right in Uganda's rainy seasons, so be prepared for the weather on your trek.
Head's up! To prevent disease spreading to the animals, anyone who is ill will not be allowed on the trek. So if you have the flu, a cold, or another illness, you'll need to stay home. The UWA does account for some refunds due to illness, so check up on that if you're unable to go due to illness.
What To Wear
You'll be hiking through the forest, so even though it's hot, you will want to wear long loose pants, and a long loose t-shirt to protect your skin from any spiny leaves or branches, and mosquitos. Make sure to wear plenty of insect repellent, too. Tucking your pants into your socks/shoes will also help protect you.
The best trekking months are right during Uganda's rainy seasons, so having waterproof or water resistant layers is helpful. As far as shoes go, wear something comfortable and something that keeps you covered. Hiking boots (or tennis shoes) are good options. You'll be hiking through the jungles, over uneven ground so wear something sturdy that can handle the terrain.
What To Bring
Make sure you have some cash on hand to tip your guides (that's customary) and a camera, but you won't be allowed to use flash. Binoculars can come in handy for spotting the chimps if you'd like to be extra prepared.

You'll want a small day bag or backpack put all of your things, including snacks and plenty of water. Just know you won't be allowed to eat at certain times during your all-day trek if you go that route: it can attract unwanted attention from chimpanzees and other animals.
Adjust Your Expectations
It's the same deal as when you go on a safari — this is not a zoo, so there's no guarantee that you'll see anything. You'll be trekking with expert guides who know the patterns of the chimpanzees in the area, but they are still wild animals. There are some treks that see chimpanzees right off the bat, some that only catch them at the end of the day, and some treks that don't see any chimps at all. Take the opportunity to enjoy the experience of hiking with a guide, and take any chimp encounters as a fantastic bonus!
Add This As A Day Trip!
This National Park is kinda sorta on the way to another favorite vacation spot, Lake Bunyoni. We seriously love this lake-side getaway, and love that ILP groups have arranged to visit the Kibale forest on the way to the Lake, then arranged to be dropped off at Lake Bunyoni. One ILP group who went with Insight Travel paid $40 to alter their transportation to drop them off at Lake Bunyoni after trekking. Genius.
Other Chimpanzee Opportunities
Need more chimpanzees in your life? Of course you do. The country is bursting with other options. Though chimp trekking will give you a more immersive "natural" experience, you can still get up close and personal with these cuties at an island sanctuary, outside of Entebbe. The Chimpanzee Sanctuary and Wildlife Conservation Trust rescues orphaned and confiscated chimps and provides them a home where they can peacefully recover from previous trauma and thrive. The chimps have the freedom to roam throughout the 95 acre forested island, and visitors even have the opportunity to help the staff give lunch to the chimpanzees on the island.

You can learn more about visiting (like where to go, what the costs are, and the chance to meet a few of the chimpanzees) on this volunteering with chimpanzees post.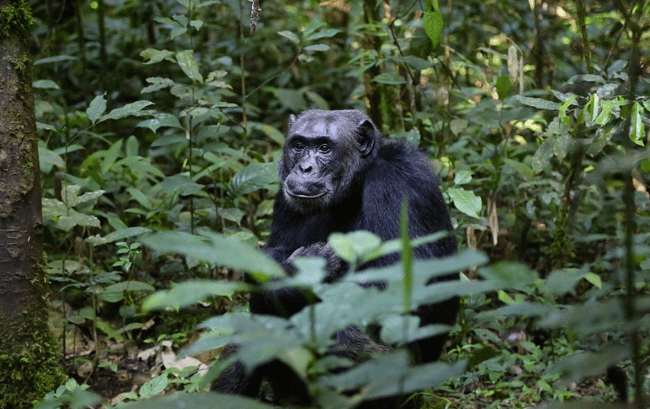 Come to Africa with us!
We're looking for volunteers who want to come to Uganda for a semester of teaching English, helping with humanitarian projects, and the chance to do some traveling around Africa. And to help you out even more, ILP's even here to make it easier to pay for that experience — just click below to download your guide.