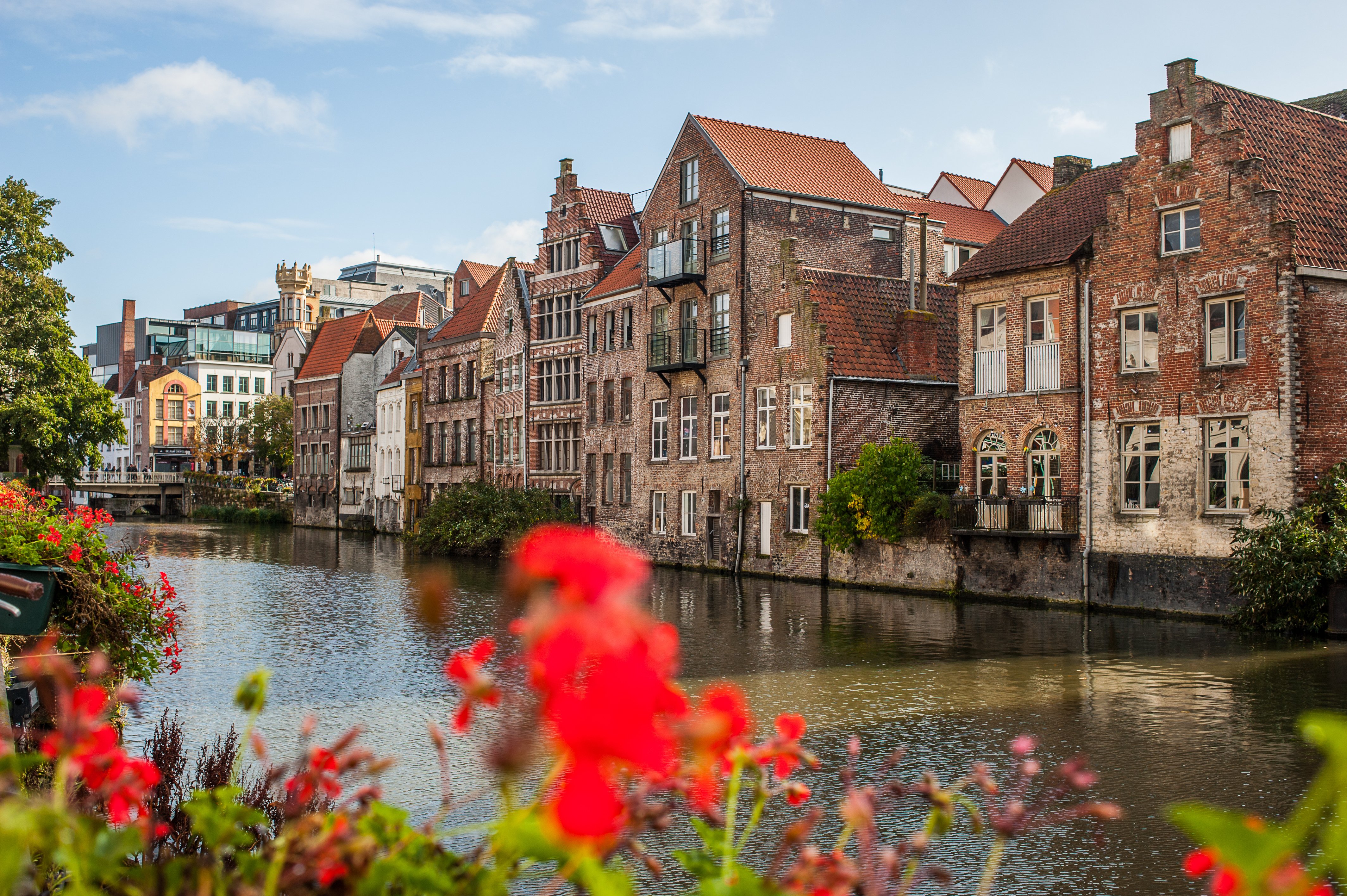 We're always on the hunt for quintessential European cities to visit, and Ghent is currently at the top of our wish list! Here's everything you need to know for planning your own trip to yet another fairytale destination.
If you're planning to spend a month (or four) in Europe as a traveler (or better yet, a volunteer with International Language Programs) then visiting Belgium had better be part of your plans. Not only do they have some of the best chocolate, waffles, and fries around, but the entire country is just ready to be explored and photographed (and of course, tasted).


---
Want to see some of the places that ILP volunteers get to experience?
Find Us On Instagram @ilpadventure
---

We have several favorite spots in Belgium—obviously Brussels, with it's cobblestone streets, gold-rimmed buildings, and famous landmarks. And don't forget about cutie little Brugge with all of its canals, handmade lace, and chocolate shops!
But if exploring places that are a bit off the overly-trodden-American-tourist path is more of your vibe, then we have an exciting Belgian destination you need to check out! And fun fact, Ghent is actually the 3rd biggest city in Belgium, so when visiting, you'll have PLENTY to help make this a memorable experience.
Planning Your Visit To Ghent, Belgium
What To Do In Ghent
While Ghent is one of those cities you just need to explore on foot to find all of the hidden treasures, there is a handful of places worth mentioning that you should definitely include on your itinerary.
Belfry of Ghent
This tower has been around since the late 1300s and is just one of the three famous towers in Ghent. You can browse through the exhibit featuring Ghent's beloved dragon weathervane, but the 360° view from the top of this tower is what makes the visit an absolute must. Best part—you can take an elevator to the top instead of trudging up all 300 stairs. A standard ticket is 8 euros, but if you have your student card then it is just under 3 euros. Book your tickets online before you go!
Hours: Open daily from 10 am to 5:30 pm.
Address: Sint-Baafsplein, 9000 Gent, Belgium
Gravensteen
Also known as "The Castle of the Counts", this towering structure has a complex and fascinating history, so make sure you explore it with the help of the audio guide voiced by a local comedian, Wouter Deprez. Complete with a moat and turrets, you'll find this castle in the middle of the city. Although it doesn't have many furnishings inside, you can still see a collection of torture equipment and armor. A standard ticket is 7 euros, but with your student card it is only 2 euros. Book your tickets online before you go!
Hours: Open daily from 10 am to 6 pm.
Address: Sint-Veerleplein 11, 9000 Gent, Belgium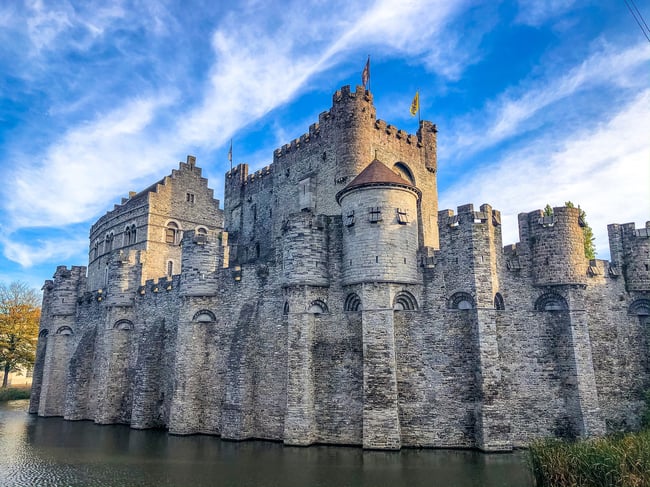 St. Bavo's Cathedral
This is actually the oldest parish church in the heart of Ghent. It is also home to many beautiful art pieces in marble and carved wood, plus the "Adoration of the Mystic Lamb", which is thought to be one of the world's earliest-known oil paintings. This is one of the most popular attractions in Ghent, so make sure you arrive early if you don't want to wait in long lines. A standard ticket is just 5 euros. Book your tickets online before you go!
Hours: Open daily from 8:30 am to 5 pm.
Address: Sint-Baafsplein, 9000 Gent, Belgium
Stadhuis
The city hall is one of the most impressive buildings in Ghent and took almost an entire century to build. Although it primarily features Gothic architecture, there are many other styles included as well, making the facade quite a unique masterpiece. Check out the virtual tour here!
Address: Botermarkt 1, 9000 Gent, Belgium
Vrijdagmarkt
This historical city square was once the spot for public executions (the last of which was in 1863) and important meetings, but is now home to the very popular weekend market. Every Friday and Saturday, local vendors gather to sell treats, clothing, souvenirs, and all sorts of homemade goods. Even if you aren't visiting on the weekend, you can still spend quite a bit of time wandering around the square itself, especially since this is where some of the most beautiful and charming buildings in Ghent can be found.
Address: Vrijdagmarkt, 9000 Gent, Belgium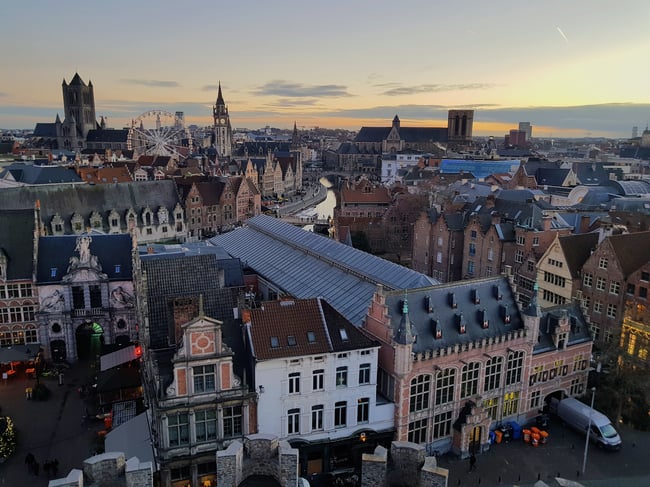 Where To Eat
Gust
Ready for a mid-morning snack, or better yet, brunch with your traveling buddies? Plan on spending anywhere from 12 to 25 euros, depending on the size of breakfast you order. But the options are endless!
Check out the full menu (you will have to use google translate).
Hours: Open every day from 9 am to 2 pm, except closed Wednesdays and Saturdays.
Address: Papegaaistraat 55, 9000 Gent, Belgium
Clouds In My Coffee
If you're looking for a cutie cafe with a trendy vibe and an ideal menu full of mouth-watering breakfast and lunch nibbles, then this is THE place for you. Go all out and pay 14,95 euros for the huge breakfast, or get a pain au chocolat (2 euros) with a large cup of fresh orange juice (3,70 euros).
Check out the full menu.
Hours: Open Monday-Friday from 8:30 am to 6 pm and on the weekends from 9 am to 6 pm.
Address: Dendermondsesteenweg 104, 9000 Gent, Belgium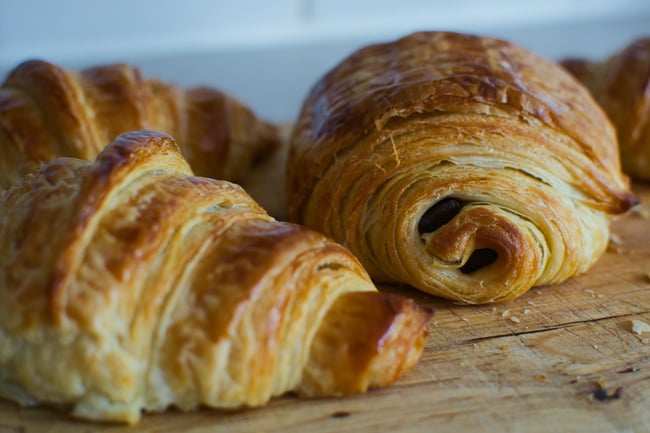 Frituur Jozef
Since you're in Belgium, you have to have some of the famous Belgian frites, right?! Well, this cutie little stand has the best you'll find (or so the locals and tourists say). But if you're not wanting fries, you can also order other traditional food and snacks.
Hours: Open every week day from 9 am to 5 pm. Closed on the weekends.
Address: Vrijdagmarkt 20, 9000 Gent, Belgium
Souplounge
This place is known for having the best food for the cheapest price in the whole city. Here you can choose between four soups (a large bowl is 6.50 euros) and then get a fresh roll and fruit (each .50 euros) and you're set with a well-balanced and filling meal. They also sell sandwiches and quiche if you're not feeling the soup.
Check out the full menu here.
Hours: Open 7 am to 9 pm every day, except for closed on Mondays.
Address: Zuivelbrugstraat 4, 9000 Gent, Belgium
How To Get There
From Brussels
Spending some time in the capital? You can easily catch the train at the Bruxelles-Midi Station and pay just over 9 euros (one way) for the 40-min trip to Ghent. Book your ticket and view the current timetable here.
From Brugge
Enjoying a day in our favorite tiny town in Belgium before heading over to Ghent? Catch the train at the Brugge Station and pay about 7 euros (one way) for the 30-min ride to Ghent. Book your ticket and view the current timetable here.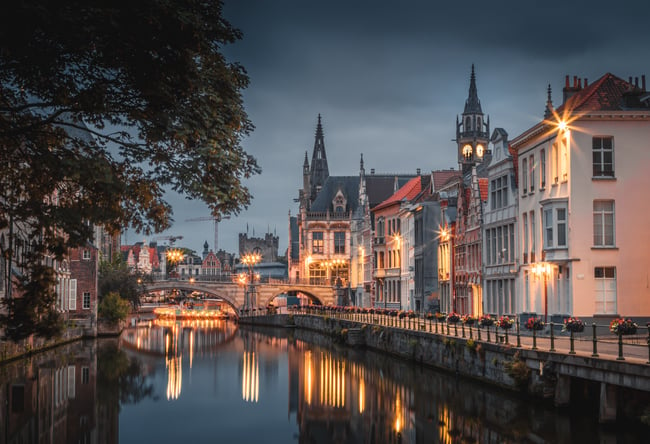 Want more travel tips for some of the prettiest and most exciting destinations
in the world?
With decades of experience, ILP has learned a thing or two about how to travel and explore abroad. And we love sharing these tips with others! Click the button below to start getting all of the best info sent straight to your email. Full disclosure: if you don't already have the travel bug, get ready to catch it!