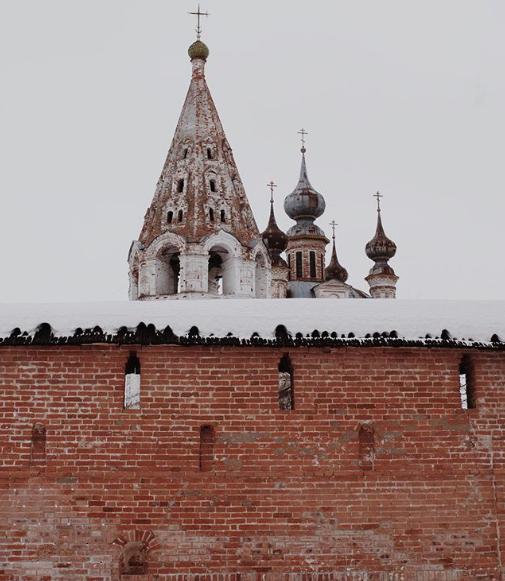 Traveling to Russia? It's an incredibly historic country with enough things to do to keep you busy for a lifetime. Here are the highlights.
There's so much to cover while you're in Russia. This utterly massive country spreads from Europe to Asia and encompasses an incredible amount of history, culture, and cuisine. You're going to have quite the trip ahead of you especially if you know exactly how to spend your time in this country.
---
Want to see more of Russia?
Come volunteer in Russia with ILP!
---
While there are really too many things to list on a simple bucket list when it comes to all the adventures to have and experience in Russia, you'll want to at least have a few in mind to make sure you experience what this country has to offer. Most of these are centered around Moscow and St. Petersburg, because those are the two most visited cities in Russia but there are a few things on the list that you can find in a handful of other locations.
Visit Red Square
Visiting Red Square is an absolute must to start your trip in Moscow, Russia. It's where many of the iconic buildings you recognize are from ... anyone else grew up seeing pictures of St. Basil's Cathedral and knew they just had to visit Russia? This central section of Moscow is the number one spot to start as a tourist — shop at the GUM, visit Lenin's Mausoleum, go ice skating in the center rink (if you're here during the winter), and soak in some of the world's most iconic examples of architecture.
Here are more tips on exploring it so you don't miss anything while visiting Red Square.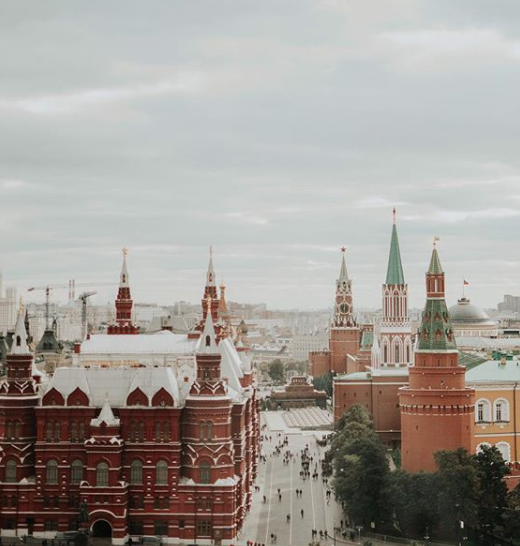 Eat Borscht + A Few Other Dishes
Mmmm. I dream of borscht, which is a shock since I didn't peg myself as a lover of Russian food. That all changed after my semester in Eastern Europe. You'll find a handful of different versions but I think the best is the homemade kind. You'll get your fill of authentic recipes if you live with a Host Family as an ILP volunteer. You can also get really good Russian food at the oldest grocery store in Moscow. This grocery store is absolutely amazing, full of history and crystal chandeliers (seriously) along with a few of my favorite treats like the chocolate cheesecake bars.
Oh and once you get back from your semester, you'll want to make your favorite Russian dishes for friends and family. Here's a recipe for borscht and a few other favorites.
Test Out A Banya
Banyas are Russian through and through; it's as big of a part of the culture as the Kremlin, as borscht, as ballet, and all the other things that first come your mind when you hear about Russian culture. Maybe you've heard all about it, or just know a couple of rumors, but we're here to break down what banyas are all about (and a few of our fav banyas)
Essentially, it's like a sauna, but a little more involved. It's one of the oldest Russian traditions around, with authors discussing their first banya experience from hundreds of years ago. Essentially, a banya is made up of a few rooms, one usually has wooden benches where you sit in a very hot, steam room. After some time in this first room, you leave the steam room to cool off; there might be a pool of cold water to jump into, a basin where you pour water on yourself … or sometimes, you just head outside to sit in the snow (if you're visiting in the winter time).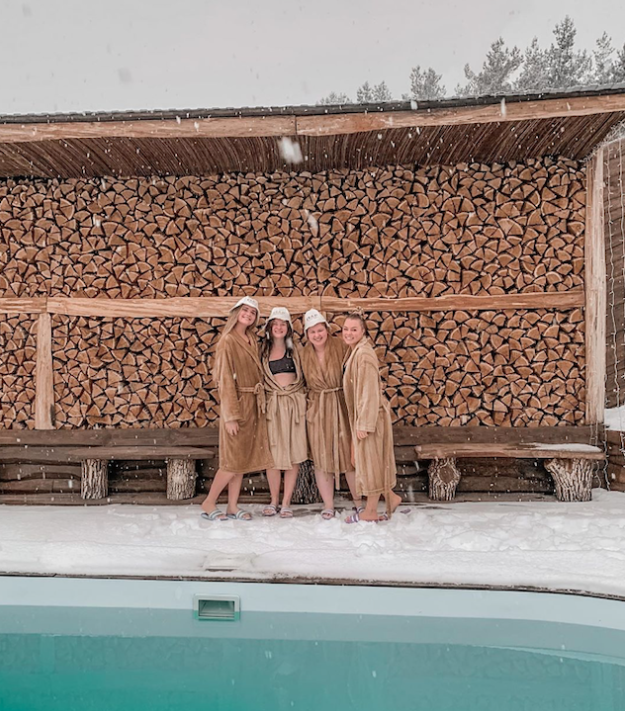 Spend Some Time In Museums
There are about 500 museums in Moscow and we understand that you might not have time to visit them all. We get it, but please make time for at least a few! It's also good to keep in mind that museum visiting is a bit subjective so if you don't like staring at paintings here, your favorite museum will probably not be the one filled with works from famous Russian painters. However, there really is something for everyone in our favorite museum list for Moscow.
Oh and one head's up? lf you only have one museum to visit, make it the Armory Chamber. This museum is home to some of the country's most impressive coronation robes, impossibly detailed and expensive faberge eggs, gleaming suits of armor, ceremonial carriages and more, this museum is a must-see for anyone who wants a peek at the luxurious side of Russian royalty and history. It's absolutely phenomenal. I went twice because I loved it so much — Do not miss this!!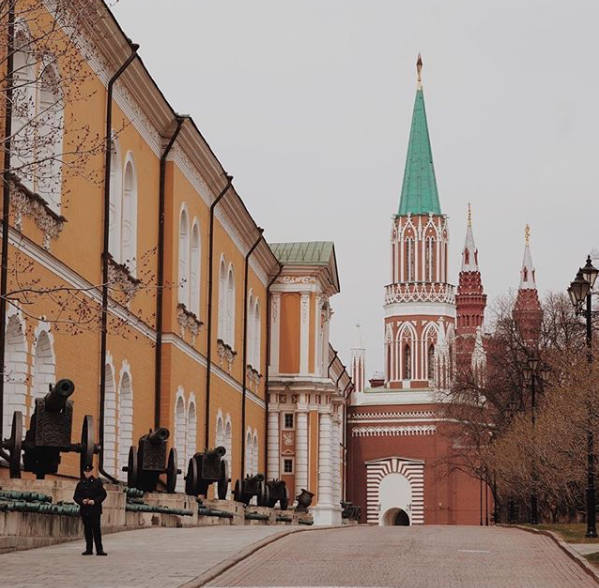 Ride The Moscow Metro

Explore the underground part of the city, it's legitimately one of my favorite things to do in this country. Seriously, the public transportation in Moscow in particular is unreal Each metro stop in Moscow is unique and beautiful, and you might even wonder if you just stepped into a museum. Spend some time getting off at random stops and looking at the intricate designs and decorations. This post about the Moscow metro has a list of some of my favorite stations so don't miss out.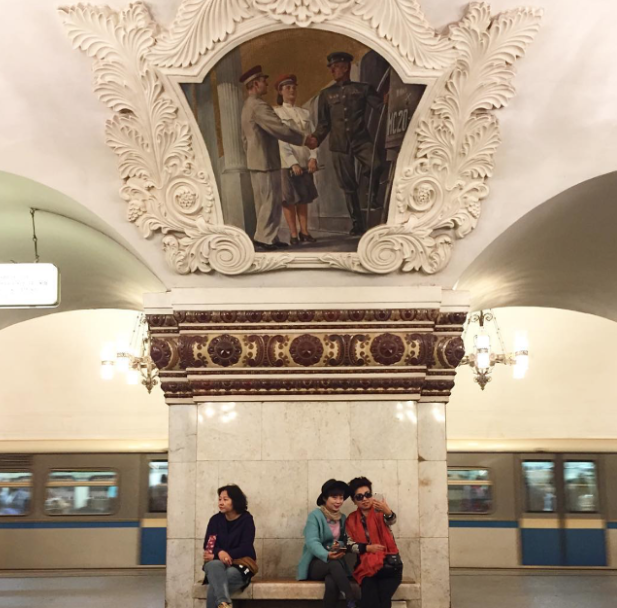 Take An Overnight Train
There are a lot of ways to travel around Russia and one of our favorites is an overnight train. Moscow isn't the only Russian city worth visiting, so after you get your fill of the capital, book a train ticket to our favorite destinations like St Petersburg or Kazan. You have to do it at least once while in Russia, especially since taking a train will mean exploring more than one of the cities this country has to offer. I took the train from Moscow to St. Petersburg a few times and always arrived with fun stories about sharing snacks with local families who were also on a little weekend trip.
Here's a list of our favorite weekend spots from Moscow, most are easily reached by train.
Attend A Russian Ballet
You absolutely have to go see the ballet in Russia! There are hundreds of theaters for ballets and performances all over Russia, which is fab news: ILP volunteers living in Russia have more than a few choices when it comes to seeing a world-class ballet in this country. To help you know which theaters to choose, how tickets work, and what shows to keep an eye out for, read our post about seeing a Russian Ballet.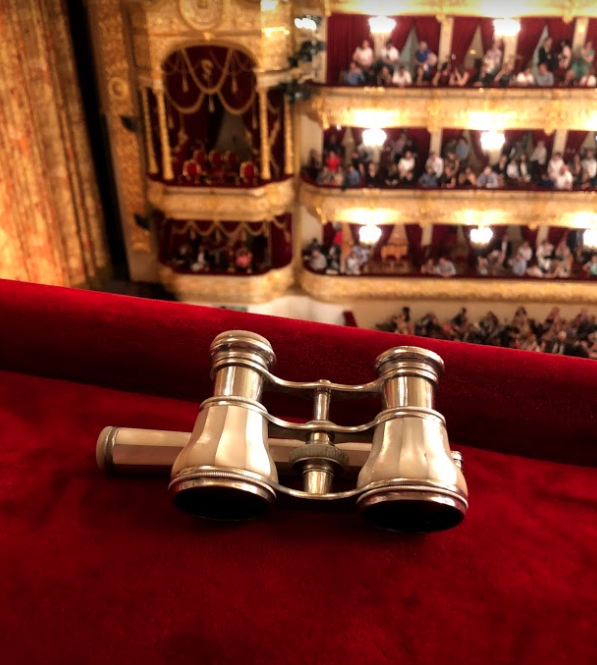 Visit Onion Dome Churches
Visit alllll the onion dome churches. Okay, that's going to be impossible because there are so many, but that shape is just iconically Russian. I fell head over heels with a handful of churches in Moscow but saw a few more favorites while traveling around. Looking for a few of our favorite churches in Russia? Here are some suggestions:
The blue-domes in Suzdal
Golden towers In Vladimir
Historic churches in Kostroma
Cathedrals galore in Yaroslavl
The Spilled-Blood church in St. Petersburg
The Jerusalem of Russia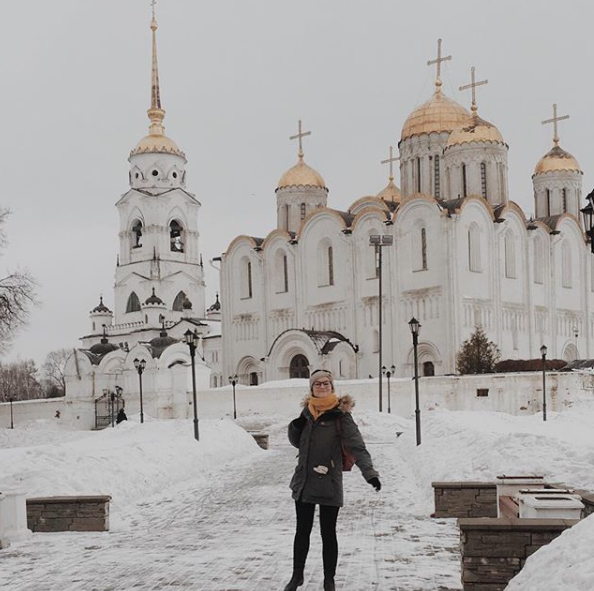 Visit Peterhof Palace
Peterhof Palace is truly magical. I didn't understand the appeal until I wandered around the grounds myself and could not get over the fountains. Peter the Great took a trip to Versailles in 1717 and decided he wanted a palace and grounds as ornate and lavish (or even more) than the ones he saw in France, which is a pretty tall order if you've seen Versailles. Full of intricate fountains, manicured lawns, sprawling gardens and towering pavilions (plus an enormous palace), Peterhof certainly competes with Versailles.

After Peter the Great enjoyed this elaborate palace, other influential leaders like Nicoholas II spent quite a bit of time here. The entire complex has had its struggles though, and was nearly entirely destroyed the siege of Leningrad (what we know as St. Petersburg). Luckily, the grounds and palace have been meticulously restored so you can take dreamy trips to see this stunning spot in person.
See A Hockey Game
Or a soccer match, depending on when you are visiting. Hockey and soccer are huge here, with massive fan groups and multiple teams to support. Luckily for tourists (and fans) these two sports have quite the long season, which means you can catch a soccer match or a hockey game pretty much any time you visit.
We have the info on booking tickets and what teams to support here.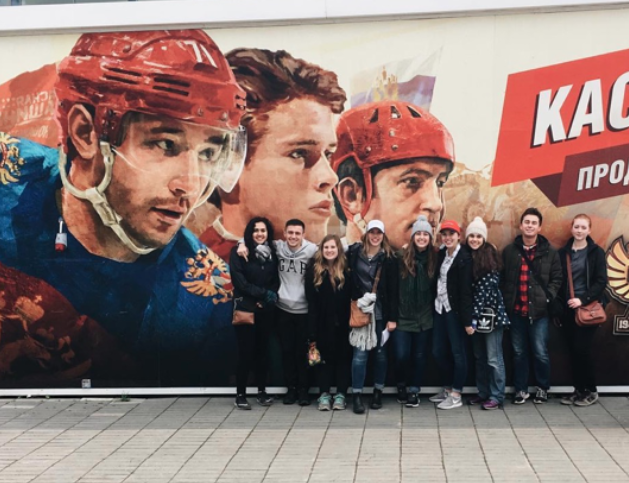 Get Your Fill Of Chocolate
I may be extra passionate about European chocolate, but once you find your favorite kind, I think you'll be on my level. I've narrowed down my absolute favorite brands to look for, my go-to flavors and a couple of other tips to make sure you don't waste your time when it comes to the chocolate in Russia.

In Russia, I had two favs. Milka and Alyonka. Milka is found all over Europe (and other countries ... but it's truly just way way way better in Europe). It's a rich and creamy milk chocolate with tons of mix ins, creating some truly mouthwatering flavors. You'll find so so so many flavors: creamy chocolate studded with hazelnuts, rows with roasted almonds, rich chocolate nestled between Oreos, smothered with crunchy biscuits, etc. Even just their plain milk chocolate is to die for. If you're a huge fan, you'll try out the Milka Max, which is a huge bar of chocolate weighing in at 300 grams (the regular bars are around 90 grams).
Alright, onto Aloyonka ... it's kind of like "the" Russian chocolate. It first was made in Soviet 1965, at the famed Red October confectionary (you can still wander around Red October, it's a really cool collection of restaurants, cafes, and a design school — find it down the river from Gorky Park). This chocolate project started as a way to produce chocolate in Soviet Russia where certain ingredients weren't available, thus the classic Alyonka chocolate recipe was born ... but how to design the cover?

There was a big photography competition to design the classic cover, with hundreds of photographer submitting pictures of "the girl" who would embody the cover. A photo submitted by Alexander Gerinas won. You can read more about this history here.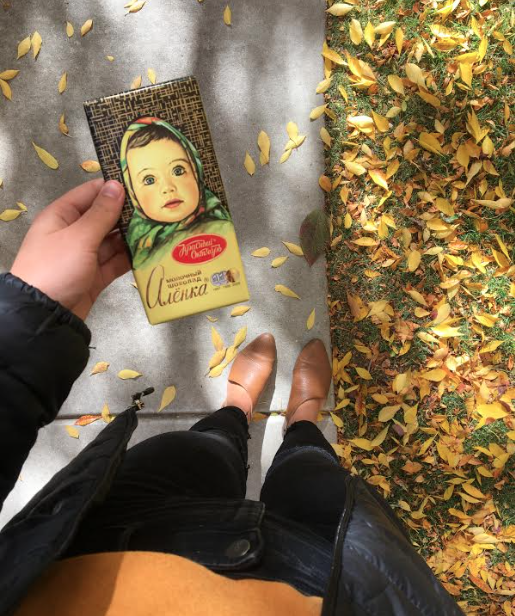 Eat Khachapuri
We looooove Georgian food, a popular cuisine to eat in Russia. You'll find dozens of Georgian restaurants around the city (and the country) but we love the prices at a place called Vai Me. While the menu has a variety of grilled meats, breads, salads, dumplings, and other dishes, you can snag a meal of Khachapuri for just a few USD dollars.
Not sure what Khachapuri is? It's a warm boat of bread filled with melty cheese and topped with a pat of butter and an egg. Stir it all together, and it's like an amazingly delicious fondue. YUM. Peek the menu (in Russian) here.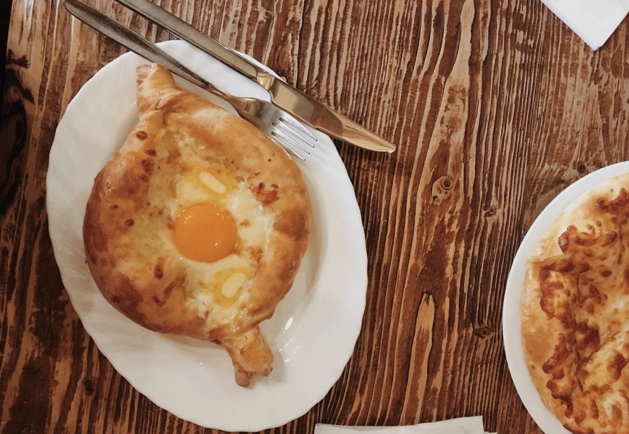 My Favorite Flea Market
No trip to Moscow would be complete without wandering the maze-like alleys of a shopping market. If you're into people watching, we suggest visiting New and Old Arbat street, but don't go shopping there or you'll end up paying far too much. Our got-to for shopping in Moscow is the charming Izamailovsky Market, complete with towering wooden churches, and rows and rows of vendors selling whatever you're looking for. You'll find antique tins and pins, classic fur hats (called ushankas), postcards, painted nesting matryoshka dolls, embroidered scarves, and more hiding between this "Gingerbread City".
Here's more on shopping in Izmailovksy.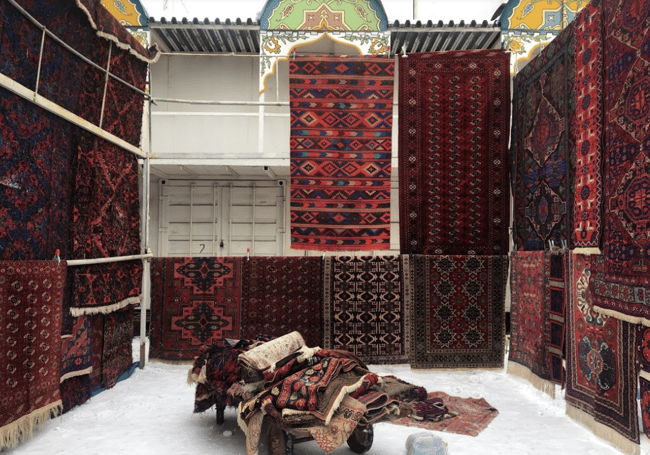 Can you see why I wanted to live here for a whole semester?