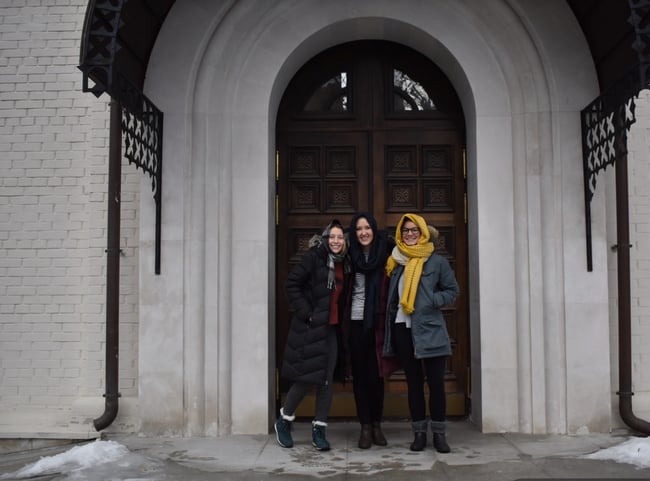 Just three or four hours away from Moscow is a city dotted with colorful cathedrals and onion-domed churches, situated right on the Volga River.
Welcome to life in Russia where you can take weekend visits to historic towns that have been around since the 11th century, just on a regular weekend if you're already living in Moscow.


---
See what life in Russia is like by living there for a semester
Volunteering in Russia
---

While you have a few cities to choose from when it comes to weekend visits (not to mention all there is to do in Moscow itself), here's why we think photographers and history junkies should check out the city of Yaroslavl:
Highlights in Yaroslavl
Where To Stay
How To Get Here

A Couple Of Tips
Highlights in Yaroslavl
The History
Yaroslavl is a part of the Golden Ring of Russia, which is a historic circle of cities that have helped boost tourism in Russia. Though the cities have been around for thousands of years, it became popular to visit them in the Soviet-Era as a way to look back at the pastoral past of Russia. Basically what that means for you is the chance to visit a few of the country's oldest cities, complete with towering onion-domed churches and bell towers that you can climb to get a postcard view of these charming little towns. Especially after the crowds you'll experience in Moscow, it's nice to get a quieter weekend away from it in a place like Yaroslavl.

Yaroslavl is found with on the Volga River (about 150 miles northeast of Moscow), has been around since the 11th century, and supports some impressive history. In fact, one of the churches in the Spassky Monastery became a favorite place of worship for Ivan the Terrible. The city was settled by a guy named Yaroslav the Wise which is how the city got its name. You can see a statue of Prince Yaroslav the Wise in the city square, Bogoyavlenskaya Ploschad.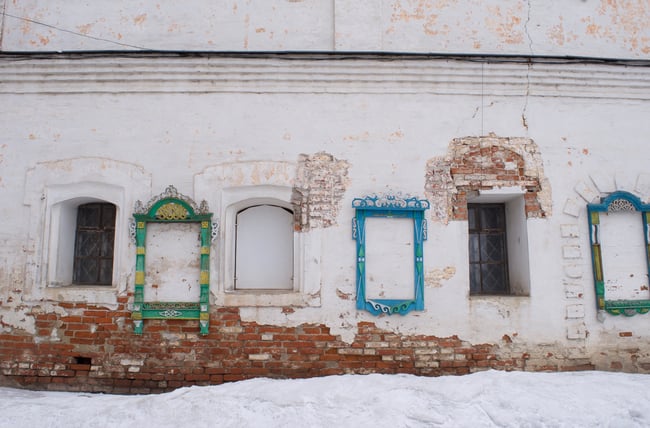 The Spaso-Preobrazhensky Monastery
Founded back in the 12th century, this monastery was built to replace a pagan temple. Inside you can see several gorgeous churches and sites … it's kind of the number one thing to see and do in Yaroslavl. Don't miss the Cathedral of the Transfiguration, the Yaroslavl Miracle-Workers Church and the belfry — you can climb up the narrow stairs to get the view of the city; It's a pretty site to see, looking down at the green topped roofs of this monastery and the city around you. Not convinced? Check out this bird's eye view of ancient Yaroslavl.
Inside the ancient stone complex you can also enter several museums — (the Yaroslavl State Historical, the Yaroslavl museum-Reserve) spot detailed and ornate carriages, portraits of Russia's noblest families, painted tiles with eastern influences, and other gems. You can even rent out costume for a few rubles and dress up like Russian royalty as you walk around the museums.
Some Tips:
As a head's up, there are some English speaking staff at the ticket booths, but it's best to read up on this history of Yaroslavl so you can understand the significance of this monastery. Inside the museums, there aren't many signs in English so having Google Translate will help you understand that you're seeing. This website gives you an in-depth look at what you can see inside the monastery and gives you some history.
There is a lot to see at this monastery — several buildings, museums, and enclosures. There is a small cafe where you can buy tea and snacks. If you'd like to see everything, you'll want to block out most of the day.
Hours: Closed Mondays. and the first Wednesday of every month
May to September: Open 10:00 AM to 6:00 PM
October to April: Open 10:00 AM to 5:30 PM.

Price: It's 500 Rubles to get access to all the buildings. You can also buy individual tickets to separate buildings, like the small (150ish ruble) fee just to climb the belfry, or a 40 Ruble ticket just to enter the grounds and walk around.

Address: 25, Bogoyavlenskaya sq.


More Than A Few Churches
Like more cities in Russia, you can look on the skyline and see a dozen steeples and onion domes. Yaroslavl isn't any different, but we've pointed out a few of the most historic, beautiful, and iconic churches to visit while you're in town.
Epiphany Church
Bright red bricks with striking black onion domes top this pretty cathedral. It's nearly 400 years old and inside you'll find shimmering frescoes on the walls the ceilings. As with every Russian Orthodox church, ladies will need to dress modestly (no shorts, short skirts, or low cut shirts) and will need to cover their head when entering.
Address: Bogoyavlenskaya Ploschad (right next to the monastery we talked about above).
Church of John the Baptist
In memorial of the beheading of John the Baptist, this Yaroslavl church is covered with some of the most impressive frescoes in the world — the vaulted ceilings and archways are blanketed with detailed frescoes illustrated by a group of 16 artists in the 17the century. Read up on the history and see pictures here.
Address: 2-я Закоторосльная наб., 69, Yaroslavl', Yaroslavskaya oblast', 150001
Dormition Eparchial Cathedral
This pretty building started way back in the 13th century, was destroyed by a fire, rebuilt, destroyed, rebuilt again and ran into more problems when the Bolsheviks came to power, In essence, this church has been rebuilt four times, but for good reason. The Dormition Eparchial church is classically beautiful, with creamy stone walls and golden domes. Read more about the history here.

Address: Ploschad Chelyuskintsev, 2A Kotoroslnaya Naberezhnaya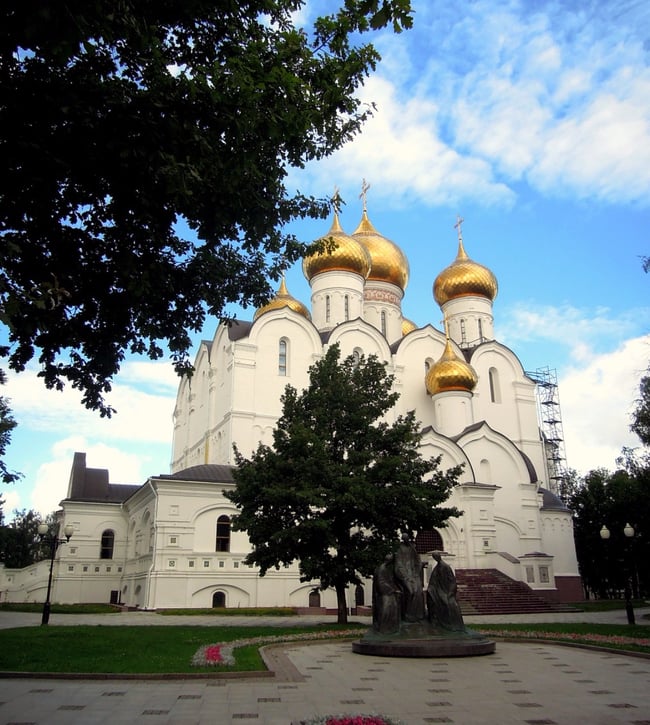 More To See
If you're looking to stay for two or three days, don't worry — this city is one of biggest in Central Russia and has lots to do. Get more to do in Yaroslavl, here.
Where To Stay
There aren't many hostel options in this city (peek at the only one on Hostel World) but you do have your options of hotels in the area, even up to 4 star options. However, you can also visit Yaroslavl just for the day — more on that later.
How To Get Here
From Moscow
Easy, thanks to the train system from Moscow. You can easily book a train ticket from Moscow to Yaroslavl for about 500 - 800 rubles (or more expensive tickets if you'd rather go the more luxurious route). It's about three and a half to four hour train ride from Moscow.
From St. Petersburg
You can also get here from St. Petersburg (use that same train website we linked above) but tickets are anywhere from 800 Rubles for a seat and 1,400 - 5,000+ rubles for a sleeping compartment. The ride is 11-13 hours if you'd like to an overnight, but it's easier reached from Moscow.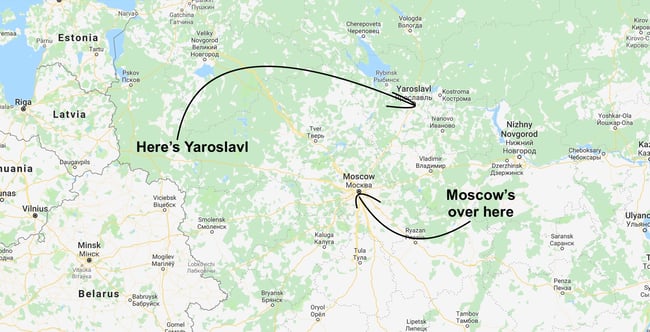 A Couple Of Tips
Just Visit For The Day
Since Yaroslavl is so close to Moscow, you can head out and get an early start, see the city, then head back to the country's capital if you'd rather not find a place to stay. You can definitely see the highlights in a long (but busy) day especially if you just browse the exhibits at the monastery's museums.
Spot The Bear Statues
The Bear is the symbol of Yaroslavl (and of Russia if you ask a few different people) but you'll find a handful of bear statues around the city who may or may not have golden noses or paws from people rubbing the statues. It's good luck to rub the statues, especially the one in front of Alesha Popovich Dvor.
Visit The Other Cities On The Golden Ring
Don't miss the chance to see these cities. Yaroslavl is one of the lesser-known cities on the Golden Ring even though it's one of the biggest, but there are loads of others. One favorite is the city of Suzdal — another charmingly pretty and historically old city our volunteers love to visit.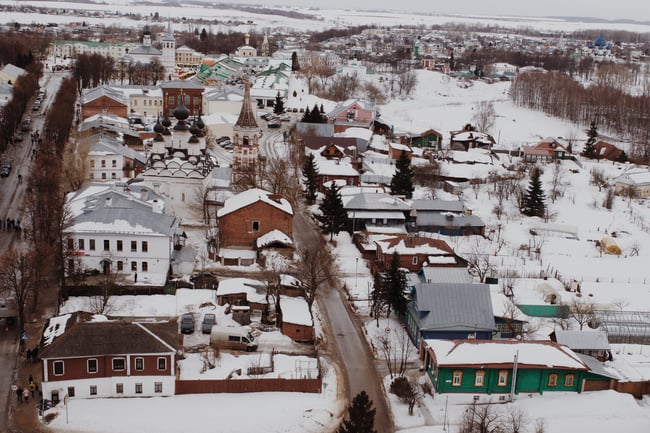 Russia's ready for you
But are you ready for Russia? Come spend a semester in a country that has enough history and pretty vacations to keep you busy the entire time.