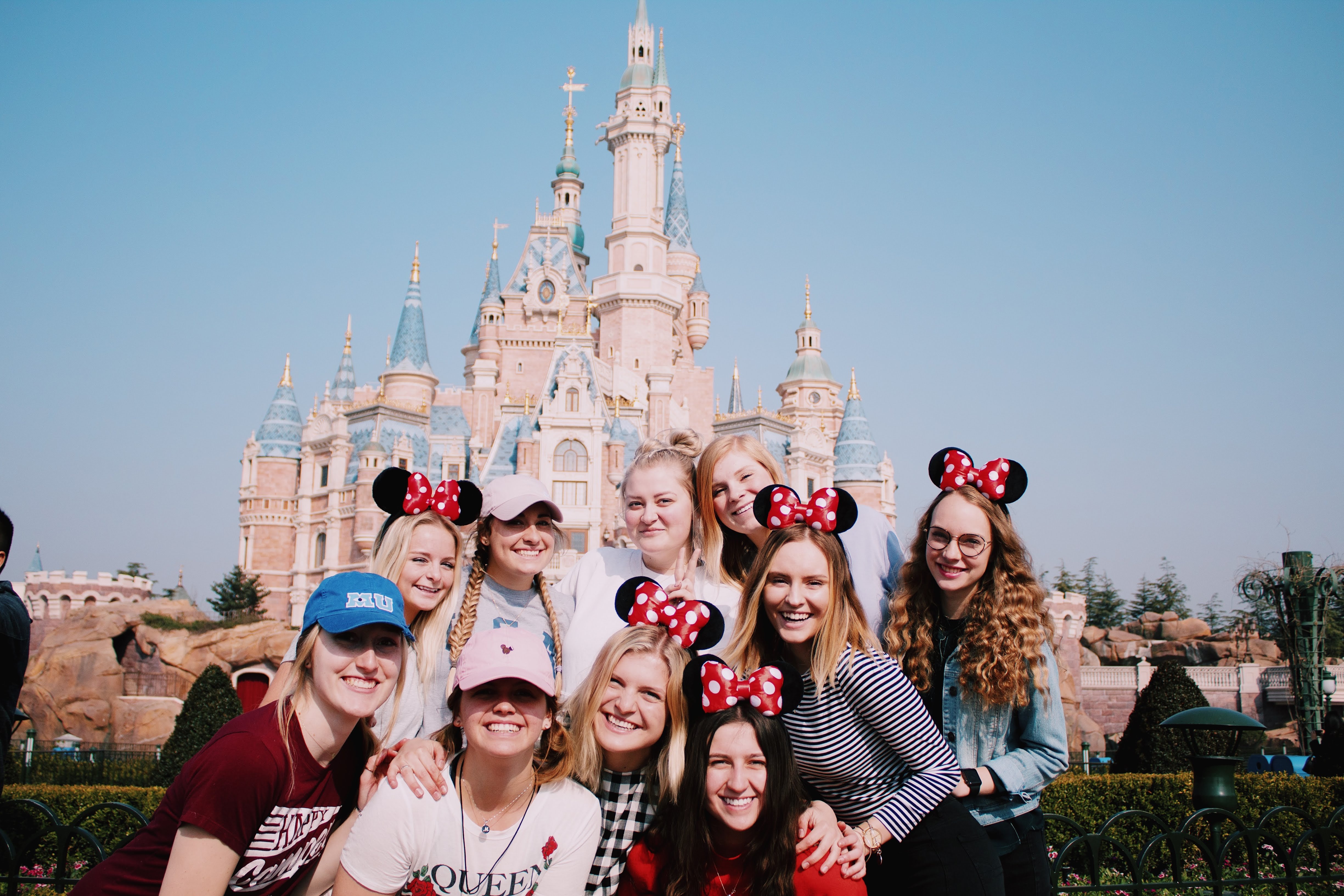 All Disney fans living in China will for sure want to visit this theme park — here are the tips you will want before you magical day in Shanghai Disney!
Pretty much all of our ILP China volunteers were thrilled to find out that Disneyland was coming to Shanghai. This huge city is already a favorite ILP vacation (who doesn't love soaking up the sites at the Bund?) so adding the chance to go to to Disneyland here made Shanghai even better.


---
*Quick ILP Update — we have closed our semester abroad program in China and are not updating info found in this post. We're keeping this post live as it may be a helpful resource for you, but know that information was last up to date at the time this post was published.
---

To help make your trip the very best, we need to fill you in on some tips before your first trip:
How To Get (The Cheapest) Tickets
Shanghai Disney's tickets are cheaper than in the ones for the California parks which is great news for you (though we'll get to things like treats and the park's version of fast passes later, which will add to your final ticket price).
There are a few different types of tickets up for purchase. Right now, they are offering an Early Bird Ticket, a ticket bundle for 3 people, and a 1-day ticket with a coupon book. You can also purchase a standard, 1-day ticket. Price depends on which day you want to be in the park — There are regular days, regular plus days, peak days and peak holiday days: there's a price difference for each of those 3 categories.
Disneyland changes their prices, and you can check the updates on this link, but right now here's what things cost in US dollars for a standard, 1-day ticket:
1-day regular ticket — $58

1-day regular plus ticket — $73
1-day peak ticket — $88
1-day peak holiday ticket — $102

2-day tickets are available but prices aren't posted online (you can figure out the prices via the app, which we talk about below). Typically, 2-day tickets are double the 1-day prices, with a 10% discount.
Download The App
You will want this to buy your tickets, to handle fast passes, to scope out wait times for all the rides, and to help you get around the park. It's a lifesaver. Find the free Shanghai Disney Resort app for IOS and Android, create an account and log in. Now you're set!
You can buy all your tickets on the app with an American card.
How Can I Buy My Tickets?
You have a couple of options when it comes to buying your tickets. In the past, you're able to buy them at the park at the gate, but they do sell out (plus you'll have to stand in line and that eats into the time you could be spending on rides) so if that's your last option get to the park before it opens to wait in line! But really, that should be a last, last, last resort because you can easily get tickets via the app.

All you'll do is download the free Shanghai Disney Resort app for IOS and Android like we mentioned above, create an account and log in. When you open the app after logging in, click "buy tickets" on the main screen.
Then, choose how many people you are buying for (1 person, 2 people, etc) and when you want to go (you can only book 1 month in advance).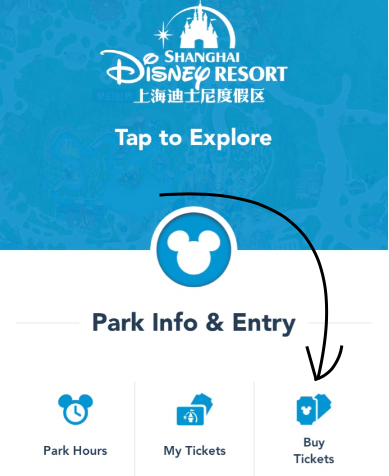 If you are visiting Disney with a group, that's great and you can buy the passes for everyone in your group on one phone for easily entering the park. Just make sure that you know you'll be all entering the park at the same time.
The person who bought the tickets on their phone will scan their phone at the entrance check in (that's right — you don't have to stand in another line to pick up your tickets, you can just go right to the main entrance line!) and that will allow everyone in your group in together.
Here's The Deal With Fast Passes
As a concept, Fast Passes here work differently than the California Disneyland. The Shanghai park recently updated their Fast Pass System, switching over to a Standby Purchase system. Only eight rides are available for this system.
You can purchase your Standby bundle on the app: three rides are ¥180 per person (about $25 USD), six rides is ¥330 ($46.70) and eight is ¥440 ($62.27).
Heads up: These prices are constantly changing and Disneyland doesn't really like to publish them. You'll be able to get a better price point on the app a few days before your actual trip but these prices give you an idea so you can budget.
Are They Worth It?
It's up to you, but the lines can get LONG in Disneyland … maybe 2-3 hours per ride on some days. Yikes. That means without a fast pass, you might only get to ride 3-4 rides the whole day tops, when you factor in time for food and walking around to each ride. If you check the app and see high wait times, a standby ticket is going to be worth your time if you want to ride more rides. Just factor that into your overall budget for your trip.
Pro Tip:
Decide this in advance! These passes sell out. If you wait until you're in the park and tired of waiting in a long line, there's a potential that you might not even be able to buy a standby pass anymore.
You can check the status via the app, but we recommend looking at the wait times a day or two before your trip (or a similar weekend) and seeing what the wait times are so you can plan on buying a standby bundle when you buy your tickets. The app sometimes says they are sold out, but if you keep refreshing you might get lucky and see it pop up again. If you're going to opt to pay for a standby bundle, purchase them on your app at least the day before you go.
Also something to note; the lines for the rides with standby pass are very short. You will probably be able to walk right on the ride, or only wait 5-20 minutes.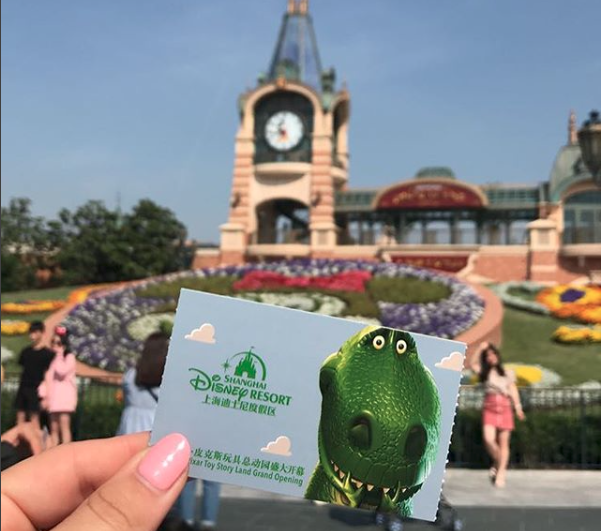 All About The Food
A major perk about Disneyland in Shanghai is the food — there are so many yummy places to eat in the theme park which is a big reason volunteers love it (one you've been living in China for a semester you will want to visit the Cheesecake Factory, I can almost promise you). There's also a Starbucks, plus a couple dozen eateries and cafes serving Asian, Chinese, Italian, Western and other foods. Head to Barbosa's Bounty for ribs and BBQ chicken or the Pinocchio Village Kitchen for pizza and other favorites.
The Disneyland App has a list and map view making it easy to choose and see where to eat — the app also outlines the price range which is nice. You can also view this list online.
Instagram These Treats
The treats get their own section — we know you love all the Mickey-shaped treats so we want to tell you all about them. Favorites include Mickey shaped pretzels with a honey-mustard dipping sauce, Mickey shaped rice krispie treats, Mickey shaped vanilla ice cream dipped in chocolate, the classic churro, caramel popcorn, Mickey shaped waffles and these cute Mickey donuts (plus a few other favs).

Head's up on the these white sprinkle donuts; they are very photogenic but not the best tasting, unless you love sorta dry and tasteless donuts. I mean, do it for the 'gram, but if you want a tasty treat, I'd opt for the ice cream or the churro.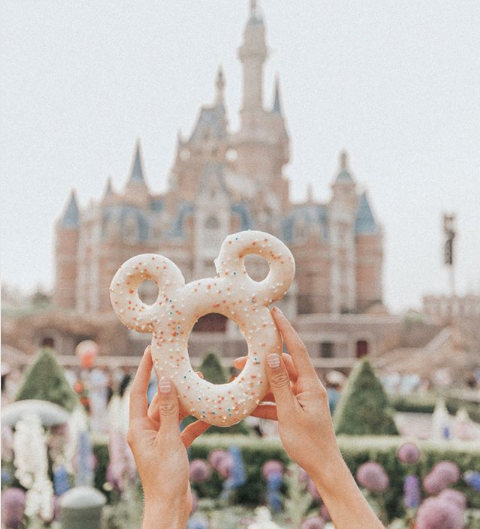 How To Get To The Park
The metro is by far the easiest and most convenient way to get go.
It takes about an hour to get to the Disneyland park if you're staying in downtown Shanghai (by popular tourist attractions like The Bund), so just make sure to account for that in your plans. If you've ever been to Disneyland you know it's super important to get there right as the park opens to really maximize your time, so it's going to be an early morning for you! There is a Disneyland Resort you can stay at but just know that it's going to be the most expensive option, plus then you'll be far away from everything else you're going to want to see in Shanghai. In my opinion the best option is to stay in a hostel downtown and plan on getting up early.
The metro is very easy to ride in Shanghai which we (as tourists who don't speak Mandarin) really appreciate! You'll just ride line 11 all the way to the end of the line — the last stop is Disney. From there it's just a 5-minute walk to the park entrance (don't worry, there's plenty of signs but you can also just follow the crowd).
Head's up: you'll need to switch trains in order to stay on line 11 a couple of times towards the very end. Don't stress, but it's just something to be aware of. Don't worry, if you're not sure you can just double check by asking someone if that's the right way to Disney. When I went to the park I just assumed I'd be staying on the same train the whole time since it was just line 11, so I wasn't paying attention, but some friendly locals who knew I'd probably be going to Disney (it's pretty easy to spot a tourist in China) pointed out that I needed to switch trains. Thank you to my friendly strangers!
The app Metroman man can help you plot your route; just select which metro stop you are at (or the closet one to your hostel) then select the Disney Resort stop — the app will tell you what times the trains leave, how much the fare costs and what time you will arrive. It takes out all the guesswork of getting there.
Tips for leaving the park:
When the park is closing, there's obviously going to be large crowds leaving the park at the same time which makes for a long line to get your metro ticket home. We suggest buying your one-way ticket to the park and your ticket home at the same time to avoid this. But if you're in Shanghai for a few days, I'd actually recommend getting a 1-3 metro day pass to use which ends up being way more convenient than riding one-way tickets for your entire vacation.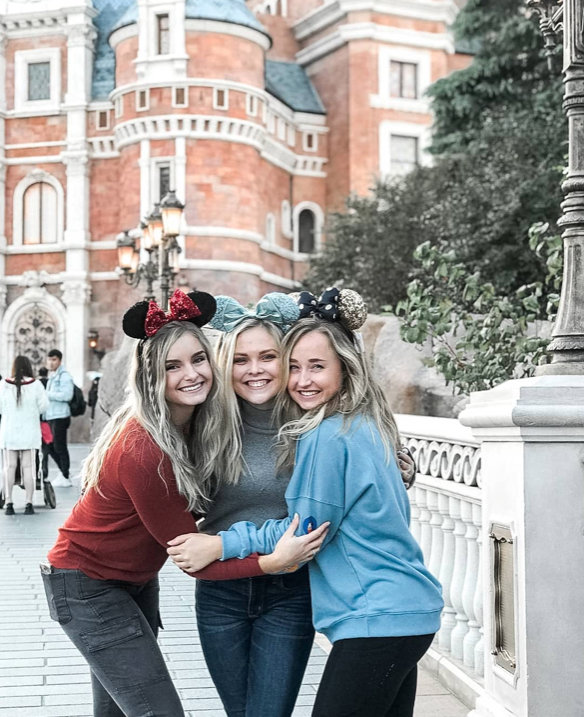 Insider Tips (Plus Park Hours)
Go Early — Right When It Opens, Or Before
The park usually opens at 8:00 AM and closes at 20:00 (that's 8:00 PM), but check hours for holidays.
Wear Really Comfortable Walking Shoes
The park is huge (bigger than Anaheim Disney). There aren't more rides than the one in California but it's a lot more spread out, so you will do a ton of walking.
Also, there is a rope course as a part of the park, but you have to have tennis shoes on, or at least closed-toe and closed-heel shoes in order to do it. Keep that in mind if you want to do that attraction.
Bring Cash
There are ATMs if needed, but it's better to have cash for your treats rather than having to run around looking for the nearest ATM machine when you run out. Many treats will you run you around 30 yuan, but that adds up pretty quick when you're on your 5th churro. Ya feel me?
Stay Updated
You can check in with the most current Pre-Arrival information on this link. Right now, they're outlining that all visitors must purchase their tickets online — in-person ticket purchasing is currently suspended.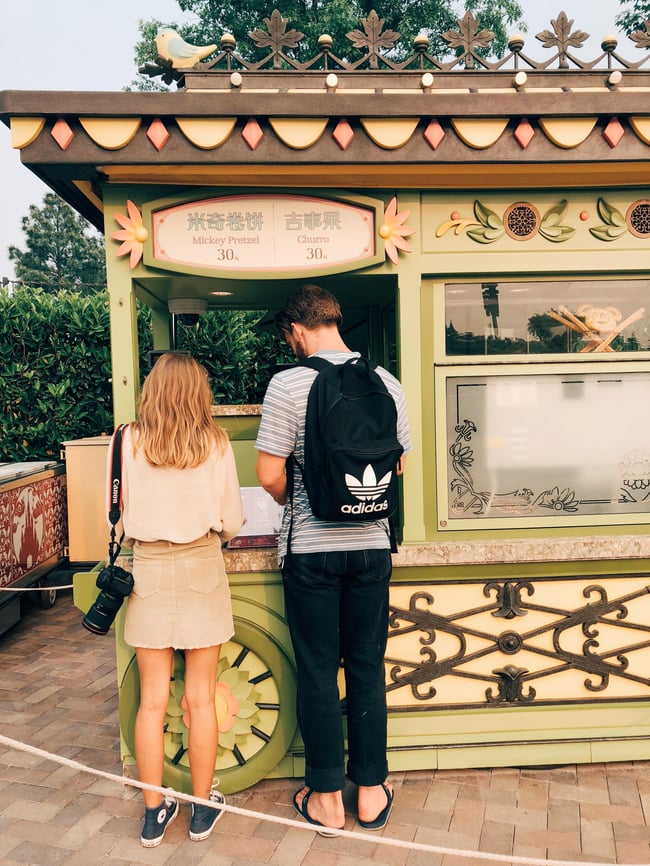 Buy Your Food
There
You cannot take any outside food or snacks into the park. They check your bag before entering and will throw your food away if you try to sneak it in. Water bottles are OK, but plan on just buying your meals inside the park.
It's Expensive, But Fun
Shanghai Disney will probably be the most expensive thing you do in China…this country is very, very inexpensive. Even some of your bigger vacations, you most likely won't be spending this much in a single day.
Rides We Love
TRON is probably the most popular ride (and one of the favorites, so plan on a 2-3 hour line on most days!). It's also super cool to do at night, because it lights up. We're also fans of the updated Pirates of the Caribbean Ride, and the Roaring Rapids ride on very hot days (you get a little wet which feels amazing). Plus Soarin is somehow even more magical when you're already traveling the world.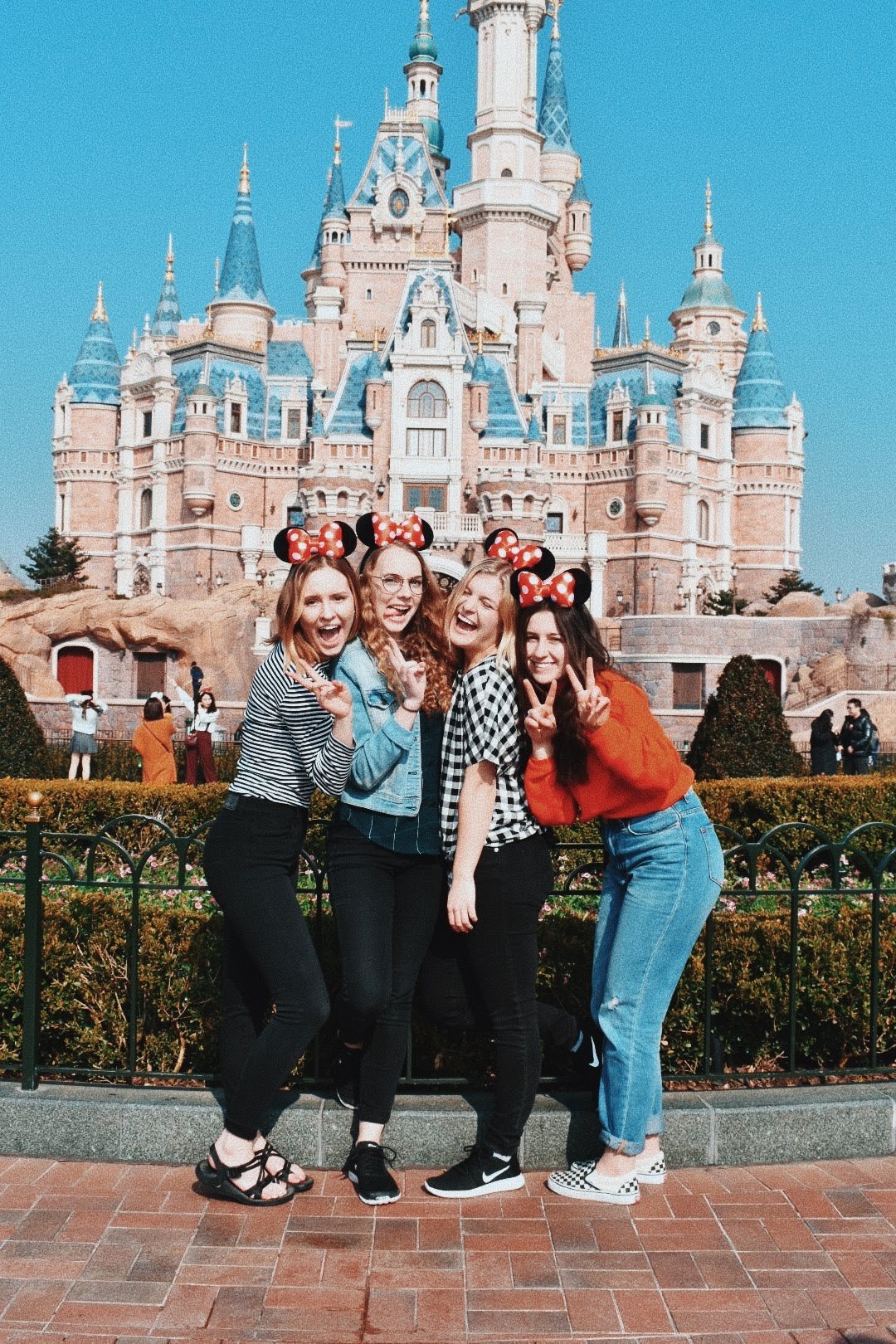 Ever considered spending a semester abroad?
We (International Language Programs) host volunteer programs in a handful of different parts of the world. Our volunteers are college-aged individuals who teach English part-time and have weekends plus vacation days off to travel. This means that you get to teach the cutest kids during the week, then hop on a train, plane, or bus to explore everything that country has to offer! Learn more on our Instagram: