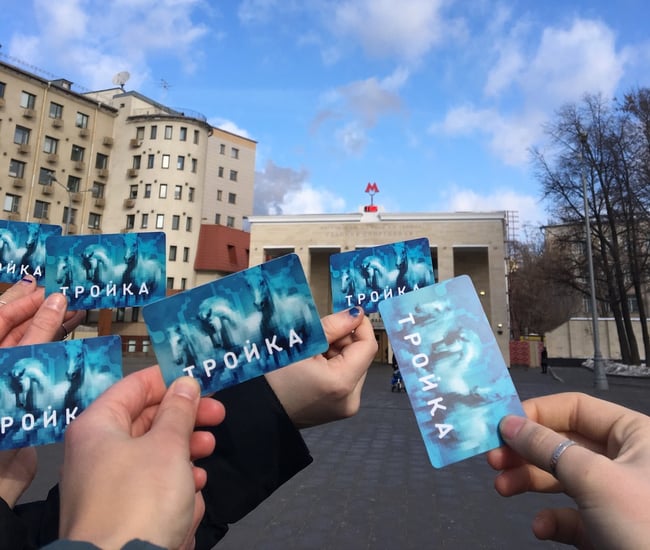 Wondering how to get around the massive city of Moscow? We have you covered.
The city of Moscow is home to around 12 million people. The city sprawls across dozens of suburbs, includes its fair share of towering cathedrals, encompasses open parks and quintessential Russian neighborhoods ... it's huge, if you didn't know. Luckily, the Moscow Metro is the easiest way to navigate the sprawling city, and we're here to help you navigate them all (even if you don't speak a word of Russian).
All About The Moscow Metro
A Bit About The Metro + How To Find It
Buying a Ticket
Getting Around
Enjoying the Sites Inside The Stop
Getting To The Airport(s)
A Bit About The Metro + How To Find It
The Moscow metro currently has 12 lines, all named and colored. When you read about riding line one (the red line) — that's what we're talking about when we mention colors and numbers. Make sense?
This metro is busy; every year millions and millions of people ride back and forth underground Russia's capital city.
Finding The Metro
If you can find a big red "M" in the city, you can find the metro. These huge sign posts are usually pretty easy to spot and will lead you to a ticket counter or a huge escalator that will guide you deep underground where you can catch your train. When you find the huge "M", you'll find a sign post that has the name of the metro stop, plus a metro map to help you know exactly where you are.
Metro Hours
This transportation system is open from 5:30 AM until 1:00 AM, giving you plenty of time to explore. (That's when the majority of stations are open; some may close earlier, so double check before riding).
Trains on average, arrive every 90 seconds, so if you hear a train coming there's no use running. You'll just need to wait another minute or two until another train arrives.
Get a map of the metro here in English.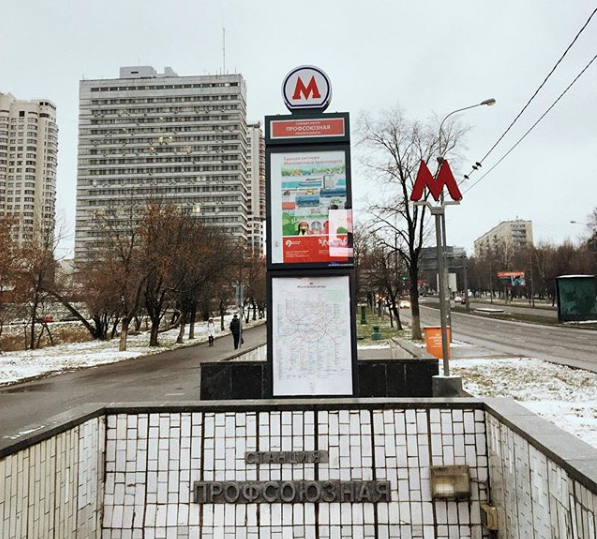 Buying a Ticket
Types of Tickets
Once you've found the metro, you are going to need a ticket. Tickets are priced per ride — you can ride as long or as far as you'd like, making as many transfers as you want on one ticket. The ticket "ends" when you scan it to get off the metro.

You can buy several types of tickets depending on what you need for your trip:

1 single ticket: 55 Rubles
2 trip ticket: 110 Rubles
20 trip ticket: 747 Rubles
40 trip ticket: 1494 Rubles
60 trip ticket: 1785 Rubles
* You can share multiple trip tickets with a group of friends. If you're just visiting, it might be worth getting a 20 trip ticket and sharing it.
You can also get complete tickets with an unlimited number of rides for 1 day, 3 days, 7 days, and 30 days.
If you'll be living in Russia for a semester (hey hey, ILP Russia volunteers!) you'll most likely get set up with a Troika card which is a multi-use card that you load Rubles on and ride as much as you'd like. When you run out of Rubles, you just add more.
The Troika cards can be purchased at any metro stop, and cost 50 Rubles (which can be refunded when you turn in the card). You can load as much as 3,000 Rubles on at a time.
Buying A Ticket
You have a couple of choices. Nearly all metro stations have kiosks where you can buy a ticket. They are in Russian and English and walk you through the process. Make sure you have smaller bills to pay for your tickets at these kiosks.
There are also ticket booths (Look for booths with the word "KACCA" (sounds like "cassa". You'll just get in line, wait your turn, then buy your ticket. If you don't know Russian, you can just hold up fingers for how many tickets you need (2, 1, 20 etc) and pay.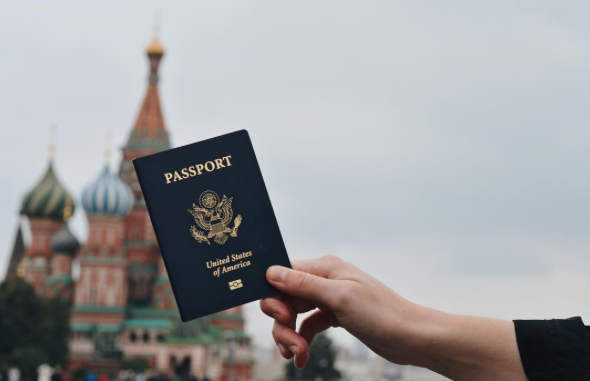 Getting Around
Not all of the signs within the metro will be in English, but that's totally fine. Don't believe me? Each metro line is color coordinated, and pretty easy to figure out. Knowing the first and last stop of the lines you use the most will help you know which side of the platform to get onto, so you don't end up going the wrong way.
Once you're on the metro, you'll just need to count the number of stops until you arrive at the correct one (if you don't recognize the name of the stop announced in Russian, or if it's not announced in English). Some more modern trains have a light-up map that keeps track of which stops you've passed but not all trains have this so you'll need to know which station you're headed to. Remember, the trains come very frequently, so even if you get off a stop or two too early, you can just wait a couple of minutes and get back on the train.
If you go past your stop, just get off the train, and get back on going the opposite direction.
Maps are posted everywhere. You'll find them in the metro stops, on the metros themselves, and if you find a little kiosk inside the metro selling newspapers, snacks and cigarettes, you can purchase a map there, too.

You can also carry a map in your pock at the Yandex App.
Download This App
If you're not too confident in reading the Cyrillic alphabet or just need some extra help, use Yandex (free: get it here for Android and here for IOS). It doesn't use internet and can even help you chart how long it will take to get from your home metro stop to the GUM.
Be Sure To Listen
Be sure to listen to the Russian announcements on the train even if you don't speak the language: An announcement with a male's voice is made when the train is going to the city center, while a female voice announces the stop when the train is going away. One a circular line, a male's voice announces when the train is traveling clockwise, and a woman's voice announces if the train is traveling in the opposite direction.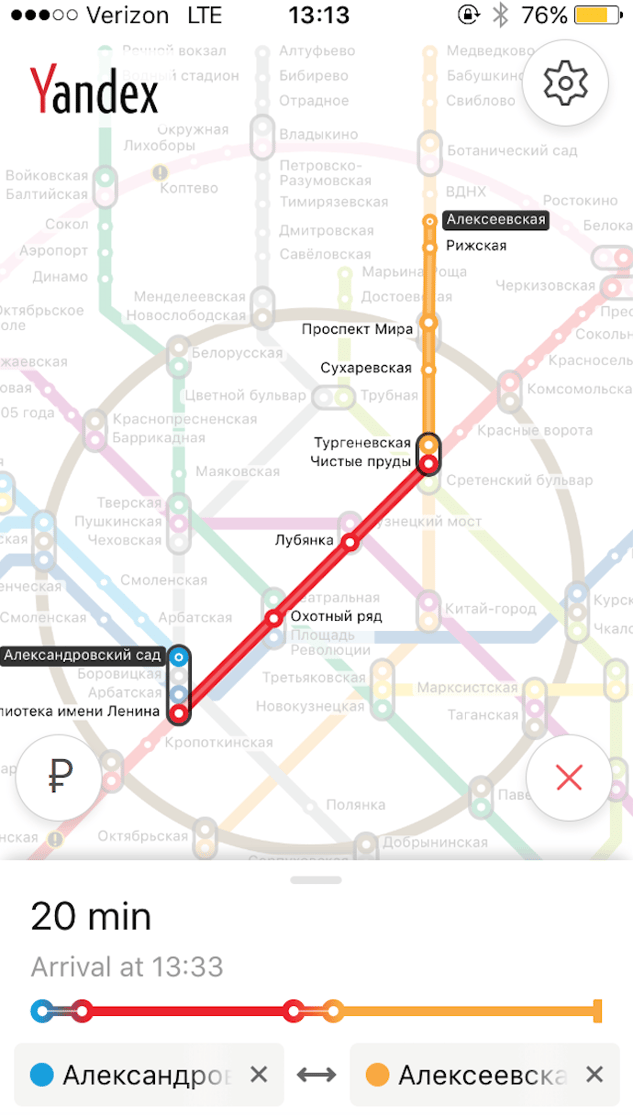 Enjoying the Sites Inside The Stops
While you will be using the metro to get to the Novospassky Monastery or other sites in Moscow, spend some time just exploring the metro itself. The Park Podeby stop is one of the deepest in the whole world and the stops themselves are absolutely gorgeous…some of them are actually protected by the government!
Jamie R., a past ILP volunteer talks about how incredible the Moscow ride is, remembering how "the longest escalator in Moscow was literally a 3 minutes ride down to the metro". Crazy!

I was seriously obsessed with the Moscow metro when I was volunteering there— I would leave a few minutes early to wherever I was going just so I could sit and admire the metro stations. Seriously, on Sunday mornings sometimes my group and I would just ride the metro and get off at interesting stops.
In some stations, there are statues, murals, and even vendors you can run into while walking around these underground stations. Some you might want to check out are Kievskaya, Park Kultury (Line 5), Komsomolskaya (Line 5), Mayakovskaya, Park Pobedy, Ploschad Revolutsii and Dostoevskyaya.
These sites are are gorgeous, so don't miss out!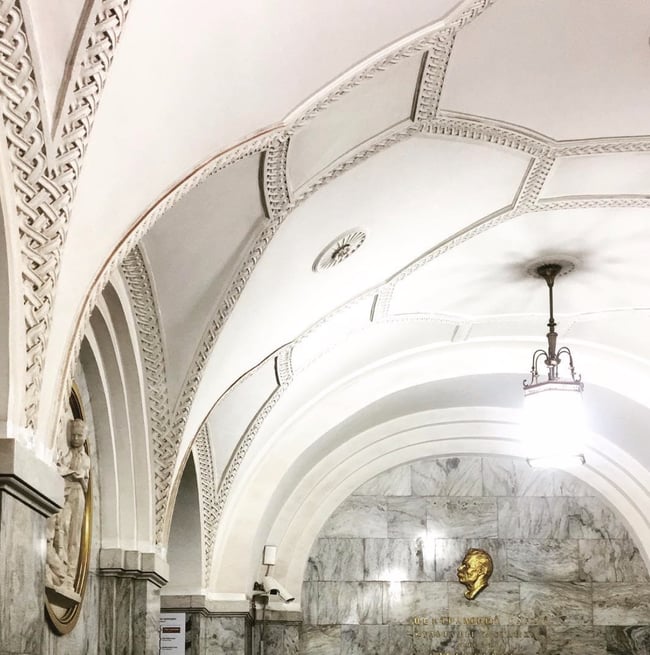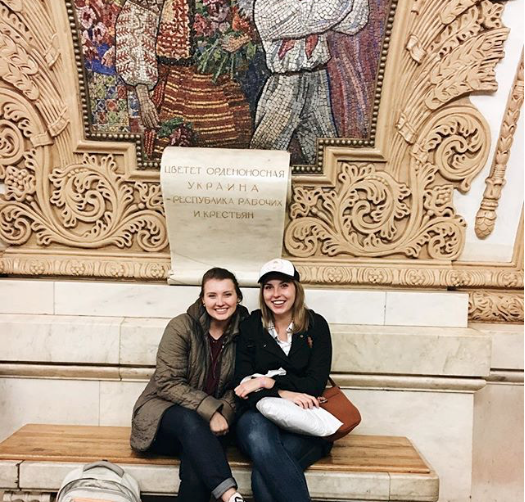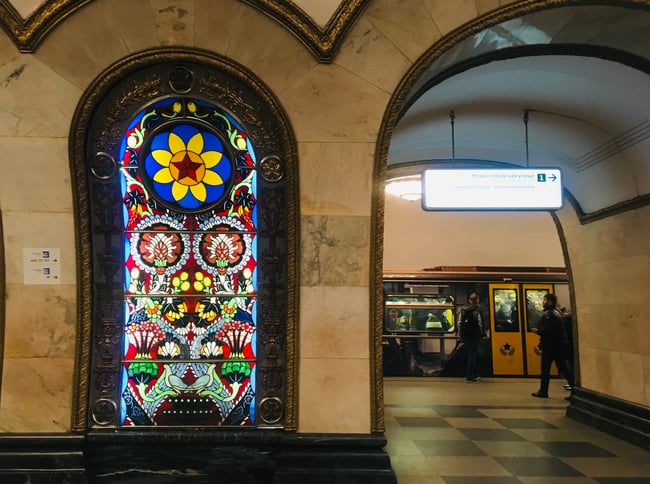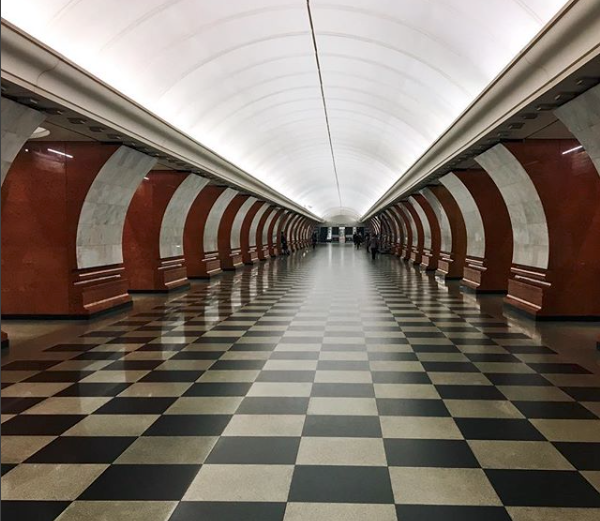 Getting To The Airport
Unlike some major cities, you can't ride the metro right to the airport. Instead, you'll need to ride the metro a train station, where you can catch a bus, or a train to the airport you're looking to depart from (there are four airports in Moscow).
You can also take an Uber or taxi, but plan on paying around 1,800 in non-surge peak times... but beware of taxi scams who want to charge tourists up to 5,000 Rubles for the ride. Taxis are by far your most expensive option.
If you decide to take a bus, know that you're going to fall victim to Moscow traffic which can make your 1 hour long bus ride into a 3 hour trek. Just a head's up if you're trying to catch a flight.
One more note about the Aeroexpress train: You'll find a timetable at the metro, but best to check their official website to get the most accurate times. You don't want to miss the last train and have to take a taxi.
Here's more specific info on each airport:
Vnukovo International Airport (VKO):
Catch an Aeroexpress train from the Kievsky Railway (Line 5 - brown, Line 3 - dark blue, or Line 4- light blue)
Trains run from 6:00 AM to midnight, and depart every 30 or 60 minutes. It'll take about 40 minutes to arrive at the VKO, and tickets cost about RUB 490 one-way (or 420 if you buy them online or via an app). Check the timetable here and book your tickets here.
Or you can take a bus. Bus #611 goes to VKO from the following metro stations: Rumyantsevo, South-West, Salaryevo, Troparevo. The ride should take around 45 minutes with no traffic, and buses depart every 10-12 minutes. The ride is around 200 Rubles.
Domodedovo International Airport (DME):
You can also take an Aeroexpress train to and from the DME. Check the timetable here and book your tickets here. Catch the Aeroexpress train from the Paveletsky Railway (Line 2, Dark Green Line/Line 5, Brown Line).
Or, take bus #308 to get the DME. Catch the bus every 30 minutes from 6:00 AM to midnight, then every 40 minutes from midnight to 6:00 AM. It should take about 40 minutes without traffic.
You'll probably use the DME or SVO airports the most.
Sheremetyevo International Airport (SVO):
Head to the Belorussky Railway and catch an Aeroexpress (get the timetable here for departures here and book your tickets on this site). Find the Belorussky Railway on metro lines 2 (Dark Green) and 5 (Brown Line).
Or, catch bus #851 or Bus #949 (plan on paying 50 - 75 Rubles) from the Rechnoy Vokzal metro station (Line 2, Dark Green). Find the bus station under an orange-colored shopping center on the other side of the street once you get off of the metro and exit.
You can also catch buses #817 and #948 on the Planernaya Metro Station (Metro Line 7, the purple line).
Zhukovsky International Airport (ZIA):
Catch a train from the Vykhino metro station (Line 7, purple line) or the Kazanskiy Railway station to get to ZIA (Komosomolskaya station, Line 1 [red line] or line 5 [brown line]).

You can also take an express bus for a couple of dollars — ride express buss #441 from the Kotelniki metro station (Line 7, purple line).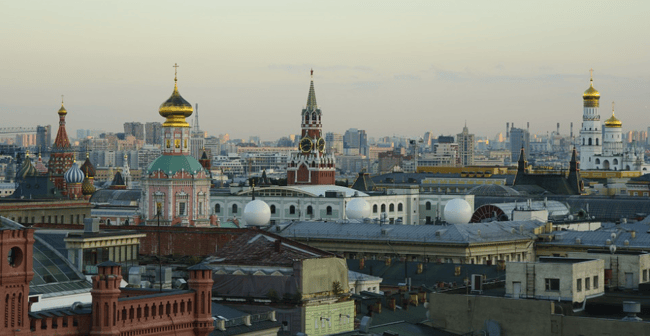 Want to know more about Russia's adventures?