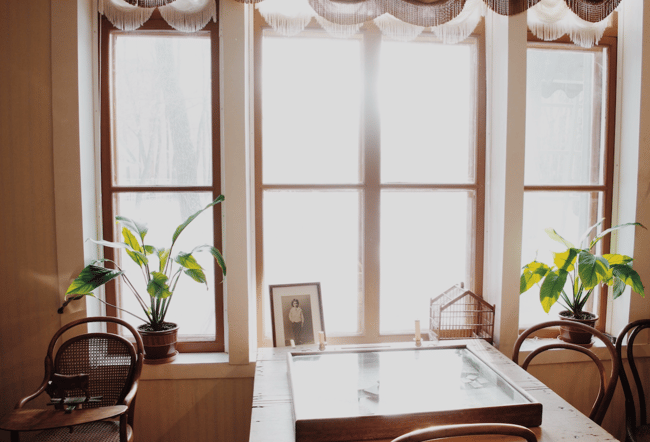 It was only home to one of the most famous authors in Russia (and easily one of the most well-known in the world). I'm sure you've heard of him, and his house is something not to be missed.
The minute I found out I had gotten a spot to spend a semester living in Russia, I was more than thrilled. I immediately looked into all the things to do during my months as an ILP volunteer and preparing to go. Part of that prep? Diving into Russian literature, like these classics. Even if you don't think you know much about Russian literature, you most likely know about Leo Tolstoy or at least have heard of him. And if you'll be spending any amount of time in Moscow I have excellent news for you: his house is just around the corner from Red Square.


---
Yep, I spend a whole semester living in Europe
And here's why Russia's the best country to volunteer in
---
I studied English in college, so hanging out Tolstoy's house was a total no-brainer, especially when I found out that this quaint house was a five-minute walk from where I lived with my host family. It felt like fate, and you can bet I visited more than once.
Some History + Picking The Right Tolstoy House
A Bit About Tolstoy
Not super familiar with this guy? I wasn't either until I brushed up on my facts. He's still one of the most famous authors around, which is an impressive feat considering he was born back in 1828. Tolstoy is probably most well-known for Anna Karenina and War and Peace, though the novelist wrote a handful of books that have reached acclaim from international novelists. He's a master of realist fiction, detailing characters whose lives directly grapple with complicated and beautiful topics about love, life, poverty.
You can read more about his life and works here, but that helps paint enough of a picture that you have a good foundation before visiting one of his homes. I would highly recommend reading a few of Tolstoy's books before you head to Russia, especially since you can see references of his accomplishments from every place between the Moscow Metro and the acclaimed Ballet and Opera houses.
Picking The Right Tolstoy House
Alright, so turns out Tolstoy moved around a lot had houses all over Russia which I would recommend visiting if you have the time. In nearby Tula, you can visit Yasnaya Polyana where he wrote his two most famous novels (plus you can admire his personal library which has some 22,000 books).
But even if you just stay in Moscow, you can choose to visit a few different Tolstoy homes and museums. The one I love is known as the Tolstoy house-museum in Khamovniki, which is where the Tolstoys moved after Sophia (Leo's wife) insisted they move to Moscow for the education of their children. The family typically spent their time here, then summers back in Tula.
The house is home to a host of treasures, including a couple of pairs of handmade leather books made by Tolstoy himself. You can also spot a handful of impressive reminders of the guests who visited the home — the piano where a young Sergei Rachmaninov played, a chess set for games between Tolstoy and another great writer Maxim Gorky, and a portrait of one of the Tolstoy daughters, painted by the famous Russian painter, Ilya Repin. See why I was geeking out during my visit?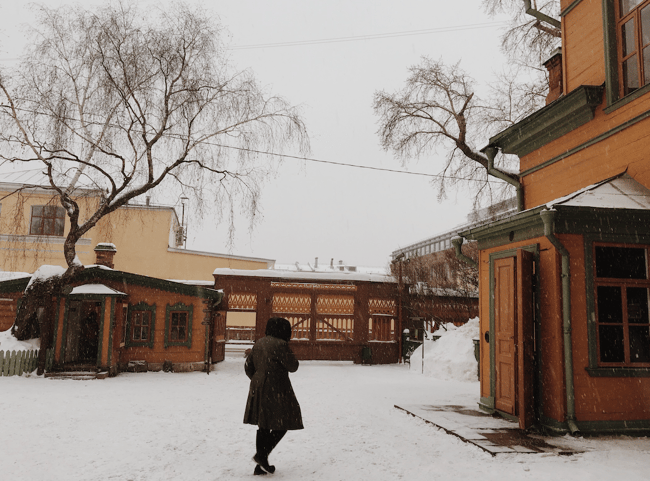 What To Expect
I mean you got a bit of a teaser about what's waiting inside for you already, but this place is mesmerizing. It's almost perfectly preserved, so stepping inside feels like stepping back into the 1800's hundreds. When you arrive, you'll need to put on little slip-covers so your shoes don't damage the original wood floors. The furniture is stunning (and is also original) — Sun-soaked studies with heavy wooden armoires, and chairs, and a table set with blue and white china … this is where Tolstoy sat down for kasha and tea every morning! Oh, and that iconic chess set, along with manuscripts of his works, handwritten by one of his daughters.
The house is a couple of levels and is a collection of 16 rooms that you can wander through. Once you're finished, it's not over until you visit the grounds. Especially so close to the heart of the city, having so much land around this home/museum gives you a quiet break and makes it easy to picture what family life looked like for the Tolstoys.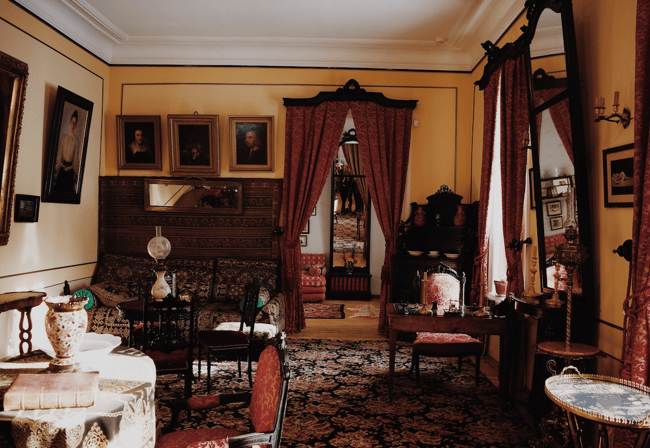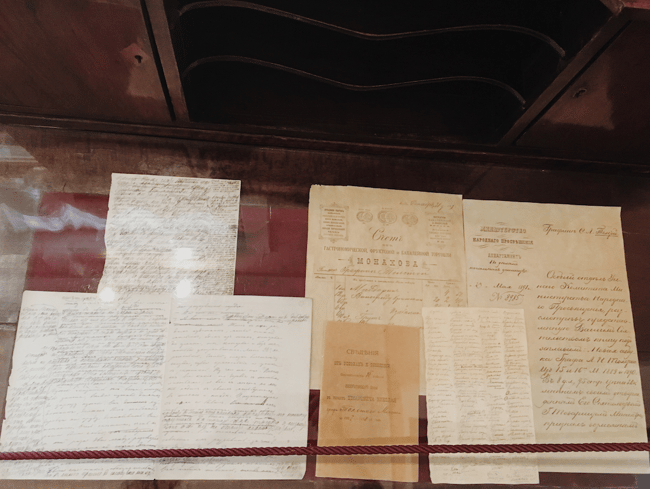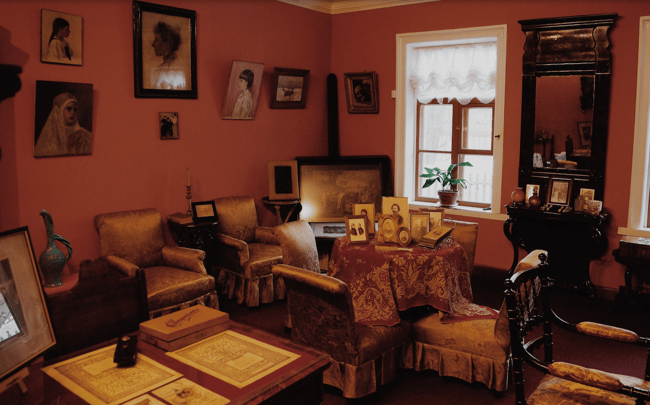 Opening Hours are —
Tuesday and Thursday: 12:00 PM to 8:00 PM
Wednesday, Friday and weekends: 10:00 AM to 8:00 PM
Closed Mondays and the first Friday of every month.
Prices are affordable, around $5 USD to enter, but you can pay more to get photo permission or to go with a guide. Want to know what I did? On my visit, I was so glad we went with a guide who was able to speak some English. More on that later.
More info here (the website is in Russian, just as a heads up).
Insider Tips
I would highly recommend going with a guide. It's an added charge, but immensely worth it in my opinion. The guides don't always speak English but we went back a couple of times to try and find one who spoke English to walk us around. The museum is pretty well marked but all the signs are in Russian, plus going with a guide is going to give you tidbits that make the house and everything you're seeing 100x more fascinating.
We were told stories like how Tolstoy loved playing chess because it exercised different parts of his brain or how a handful of the chairs in the house had the legs shortened because Tolstoy was nearsighted and that helped him read. If you can swing it, get a guide.
Getting Here
It's a cinch. The nearest metro station is Park Kultury on the Brown and Red lines. Make sure to get off on the Red side and from there, it's about a 10-minute walk. You can get all the info you need about riding the Moscow metro here.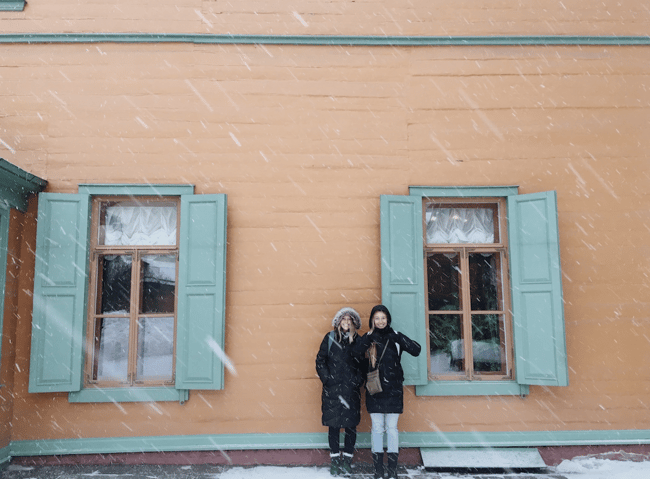 Russia's what you're waiting for.
Out of all the places I've been lucky enough to visit, there's something about Russia that keeps pulling me back. And just a short visit is nowhere near enough time to see everything (not even close). Come take a peek at what living in Russia would look like while you teach English and travel as an ILP volunteer.