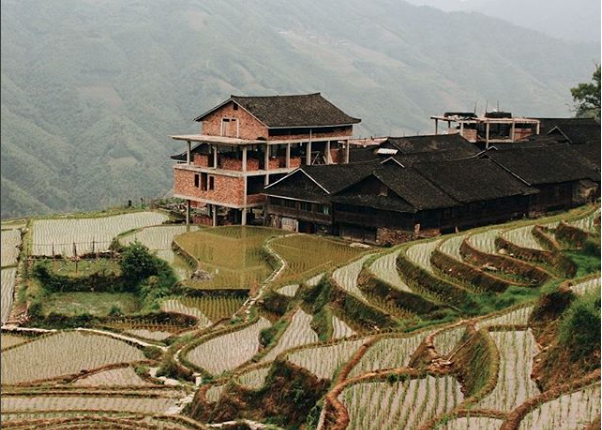 After spending an entire semester living in China, I came home with a bunch of tips and tricks to help you prep for your own adventure in this country!
I loved my semester abroad in China — It was a total adventure, full of a new language I didn't speak, foods to try I hadn't heard of before (but ended up absolutely loving), and people that I still keep in touch with today. I loved my time abroad so much that I decided to visit several more countries in Asia and even spent another semester in Europe as an ILP volunteer!


---
*Quick ILP Update — we have closed our semester abroad program in China and are not updating info found in this post. We're keeping this post live as it may be a helpful resource for you, but know that information was last up to date at the time this post was published.
---
I learned so much while living in China and wanted to write down some of my thoughts and pointers so you can be prepared for your own experience in this amazing country.
How To Visit China Without Speaking Chinese

This is probably the biggest question I got after coming home — how in the world did I live in a country where I don't speak the language? With these tips, you'll be able to order meals, travel around to your favorite destinations, and more.
Handy Apps To Have For The Language
My phone was a lifesaver when traveling around China. I could easily take pictures of the location or directions in Chinese then just show the picture to the taxi driver to bus driver to make sure I was going to the right spot. It helped to have these apps:

Pleco is a free Chinese dictionary app where you can type in a word in English and pull up the Chinese equivalent. Download it here.

Google Translate: The app has a function where you can "speak" a question, and have it translate in real time to ask that question in Mandarin. You can also hold the app up to a sign in Mandarin, even if it's in Chinese characters, and it will translate it in real time. Download it here for iOS and here for Android.
Line Dictionary lets you translate what you are seeing and hearing in Chinese to English. Download it here for iOS and here on Android
Pin Pin: Learn pinyin with this app. There's a helpful reference table to help you distinguish the tones found in Mandarin, with quiz options to help you out even more. Get the free version here for iOS and here on Android (there are upgrade options if you'd like to be charged).
A Few More Pointers
Smiling truly is the universal language — lots of times, I could get around just fine with a few charades, or pointing to someone's delicious bowl of noodles to indicate that I wanted to order the same thing. You can really get by pretty well by watching what the locals are doing, then just mimic their actions (and their orders … if the menu didn't have pictures, I checked out what most people were ordering and smiled and pointed).
Things like thumbs up are also universal; lots of times I would look up a word in Chinese then give a thumbs up, like "spicy?" so they knew what I was talking about. I found that people were pretty patient and willing to help me out. Sometimes, I would be acting out a conversation, and someone who did speak English would come to my rescue.

If you do need someone to help you with the language, I found that most college-aged students knew a little bit of English. Mostly, their response would be "I don't speak English very well" but could help me with the basics like train tickets, a menu question, or directions.
Learn Basic Mandarin
Duolingo is a popular option, breaking down key phrases into different segments that progressively get harder the more you learn. It helps you build on what you know and new things you're learning. It also is a good introduction to identifying the characters. While you'll need to supplement the material you learn on Duolingo with other resources, it's a good resource to get started with.
One of the key ways to master the different tones in Chinese is to do a lot of listening. You can pull up movies, television shows or podcasts in Mandarin and play them as you run errands, clean your house, do the laundry, etc. Test out these Yale Podcasts which are broken up into 30 minute segments.
If you're trying to master vocabulary or memorize Chinese characters, having a stack of flashcards will be essential to help you test what you know and which ones you need more work on. We like using ones made on Quizlet but you have lots of options!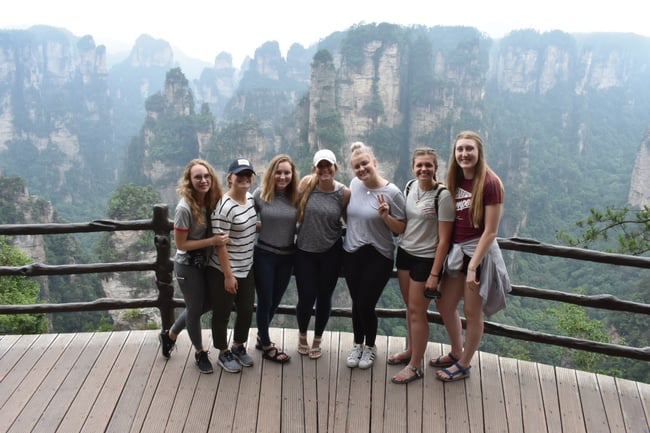 Traveling Around China (+ Info On Your Visa)
Helping Apps For Traveling Around China
Don't go to China without these resources, they're lifesavers when it comes to getting around the country:
Trip is the spot to go for booking your train tickets and your flights; the website and app are in English and is so easy to use that for travelers who don't speak Mandarin, booking transportation is a cinch. Get it here on iOS and here on Android.

Metroman works works without WiFi and pulls up a map of the metro for your city, and allows you to choose your stops; the app will plan out your transfers, and will give you an idea of when you'll arrive and how much your ticket will cost. The metro stops are named in English and Chinese to make things extra easy. Download the Metroman app here for iOS and here for Android (You might need to search "Metro Subway App" instead of "Metroman").
Good to know: There's an option to selected individual cities on the "setting" tab on the bottom right. Then just click "select city" and choose the one you want.

DiDi : China does not have Uber, but they do have DiDi which is essentially the same. You'll call a car to pick you up at your location (or one you type in) to a destination. The price is predetermined and you can upload your American card info directly in the app to pay your driver via DiDi instead of dealing with cash. Get the app here on iOS and here for Android.
How To Read Your Chinese Train Ticket
One of the best ways to get to the best China travel destinations is via train. It's cheap and even though the country is huge, they are adding more and more bullet train options which get you there faster. Here's how to read your ticket if you get a paper copy — if you book online on your phone using the Trip app (more on that above), you'll get an e-ticket with the same info: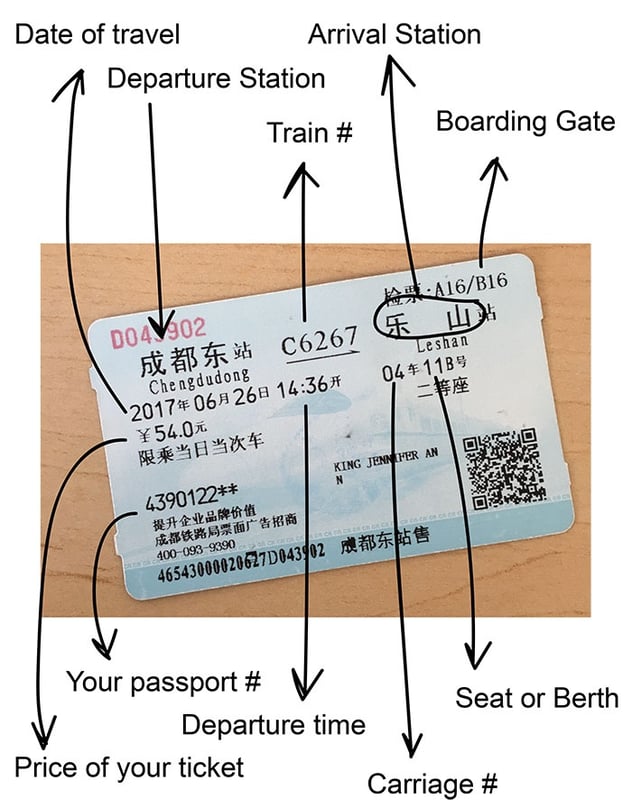 How To Get Train Tickets In China When They're All Booked
The best way to avoid this situation is to book your tickets as soon as possible, especially if you will be traveling during a Chinese holiday (like the Mid-Autumn Festival — more on that below). But if you're booking last minute or if it's too late to plan ahead, you might be able to book a ticket to your destination with these options:
Try A Different Type Of Train : Try bullet trains (C, D, and G), or different seats on Non-Bullet Trains (Z, T, K, Y, K, S types)

Try Another Route : Instead of going to Beijing directly, see if you can get a stopover in another city, and booking a ticket from there, instead. Example: Instead of Shanghai to Beijing, see if you can book Shanghai to Nanjing, then to Beijing.

Book Another Type Of Transportation:

We love using the site

Rome2Rio

to explore where you want to go. You type in your destination and it will tell you all the ways to get there. If one trip route is all booked up by train, maybe you can take a bus at a halfway point, and book a taxi the rest of the way.




Alter Your Dates/Destination:

Maybe you can't get tickets to leave Tuesday night after teaching, but can you get tickets if you leave Wednesday morning? Or Wednesday night? You may get a shorter trip in whatever city you were planning on seeing, but is a shorter visit better than no visit at all? I think so.
Avoiding Crowds During Festivals
The Mid Autumn Festival is one of China's major holidays, happening during the fall — typically the last week of September or the first week of October. When a major holiday happens, tons of locals take that as an opportunity to travel around the country, seeing all the popular sites (the ones you're probably headed to, too). That means crowds. Big ones.
It might mean waiting in line longer just to buy a metro ticket than it would for you to actually ride the metro. It could mean trains selling out if you didn't know to book them early enough.

If you are looking to beat the crowds there are ways to choose where you are going wisely — First, avoid big cities. Visiting Shanghai or Beijing during the Mid-Autumn Festival isn't going to be a pleasant experience if you don't like crowds. Visit more inner regions of the country instead. But wherever you are traveling, book your stay and transportation as early as possible to avoid things selling out! Avoid crowds by visiting attractions early in the morning, and avoid long bus/metro lines by walking when possible.
You Will Need A Visa To Visit China!
If you're planning a trip to China, know that you will need to apply for a Chinese visa before you make your flight over. There are a lot of companies you can work with online who will process everything for you. If you just do a quick Google search with something like "getting a Chinese visa from the United States" you'll see several options. We like to recommend using My China Visa because we've had great experiences with them in the past.
1. Go this this page and click "Apply Now". You'll fill out a form with your personal and payment information.
2. You will be given a check list of paperwork you need to submit.
3. Complete that check list, mail everything in, and they'll do the rest! They will contact you if they need anything further for your application. They speak English which is really helpful.
*The process for applying isn't too painful, but you will want to make sure you have all of the required paperwork, documents, and pictures to make the process smooth. Here is what you'll need:
A Passport
Picture**
Visa Application Paperwork
Proof Of Travel
Additional Documents (

Depending on where you live there may be an additional document to fill out. Look at #7

on this page

to determine if you need to do that step. )
**Heads up: They are pretty picky at the Chinese visa office when it comes to the visa photos and have a list of requirements you need to meet. We have to have volunteers re-take their pictures frequently because they don't meet the very specific requirements. My China Visa (or any organization you're working with to get your visa) can help you out and walk you through, but these are the guidelines we use when applying for visas for our volunteers:
You must have a neutral facial expression. No smiling, mouth closed.
Your ears must be visible. Tuck your hair behind your ears or pull your hair up (no hats).
Wear a colored (plain is best) shirt with a white background.
The size needs to be right. Again, the visa organization can give you specifics but to give you an idea - the head width needs to be between 15 and 22mm and the head height (from chin to crown of head) needs to be between 28 and 33mm.
Here is the full list for more details - I also recommend printing this page and taking it with you as a template/guide for the person who is taking your photo.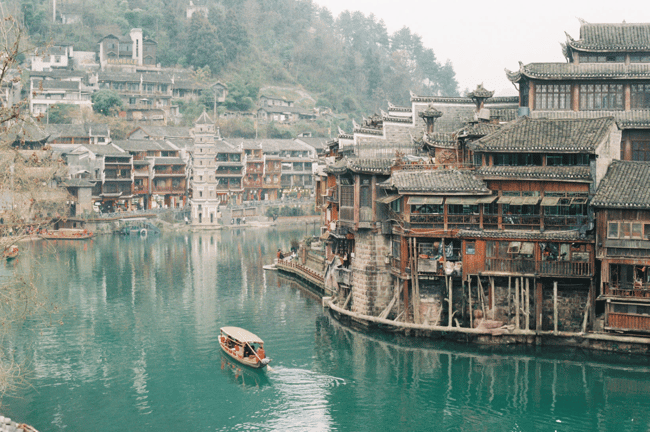 All About VPNs + The Internet
I heard from a friend before leaving that having a VPN in China will be handy (and it was). The internet in China's regulated, meaning some websites that you may use at home aren't accessible while you're there). You'll want to download a VPN before you arrive.
A VPN (or Virtual Private Network) basically makes your computer look like you're not in China, but that you're somewhere else — somewhere that allows those websites. While there are many reasons VPNs are used, they are frequently used by foreigners who are traveling to China who want to access the sites they typically use back at home, like:
Everything Google: Gmail, Google Drive and Google Docs, YouTube, etc
Social media: Twitter, Instagram, and Facebook
Streaming entertainment: Netflix and Hulu
Sharing videos: Vimeo
Media storage and sharing: Dropbox
Blogs: Blogspot
To check and see what other websites are blocked you can visit this super handy website.
A Few Recommendations
While you'll find a few free VPNs out there (we've heard good things about SnapVPN) but I'd recommend going with some that are more reputable (and have a small monthly/annual fee). I personally used Express VPN on my semester and would recommend it, but there are others that worked well for friends:
Express VPN
vyprVPN
PandaPow
Nord VPN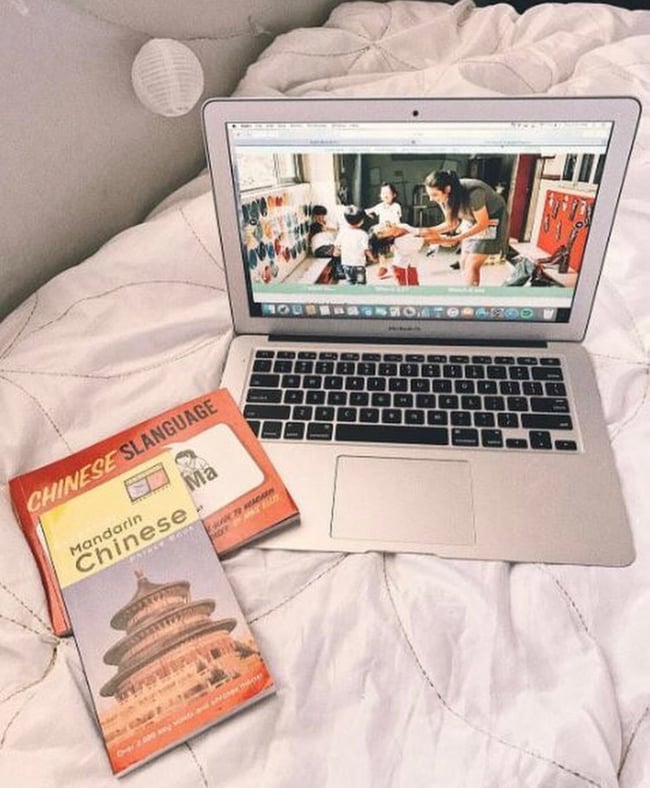 About Religion
If you're wondering about religion in China (and how that'll impact your ILP semester) you've come to the right place. Although ILP is not affiliated with The Church of Jesus Christ of Latter Day Saints, a vast majority of ILP volunteers are members and want to attend church during their semester abroad.
As of now, missionaries for the Church of Jesus Christ of Latter Day Saints are not allowed in mainland China ... and religion in China is a bit complicated. The people in China for the most part have freedom of religion, but aren't allowed to proselyte or share their religion with others.
This is why our volunteers are not allowed to talk about their beliefs with the Chinese people while serving abroad. However, our volunteers can attend church in China whether that means visiting a physical location for a branch meeting or having virtual meetings with a congregation hundreds of miles away. Others have chosen to visit the temple in Hong Kong during their time in China. Our volunteers talk about how they are still able to legally share their beliefs and feel the spirit, even when religious expression is limited — living as an example, sharing thoughtful quotes, attending church, and more are all ways.

When It Comes To The Food
I loved the food in China. I talk about it all the time — I've learned how to make some of my favorite dishes because I just can't find them in the United States where I live. A few things I wished I knew before leaving? How to find the most amazing pulled noodles so I could have stepped off the plane and gotten a bowl the minute I arrived.
How To Find Pulled Noodles
La Mian noodles are not only cheap in China, but they are extremely delicious. You can find restaurants that sell these throughout the country and are a favorite among locals as well as visitors. The noodles are quite simple. They are hand pulled and added into a soup, usually with a flavorful beef broth, fresh coriander, scallions, and sliced radishes. If the noodles come with meat, count on a yummy beef.
While living abroad in China keep your eyes out for the following Chinese characters to help you order. You can show these characters to someone who works at the restaurant, or just look for it on the menu.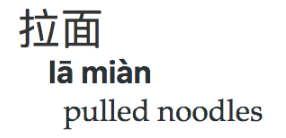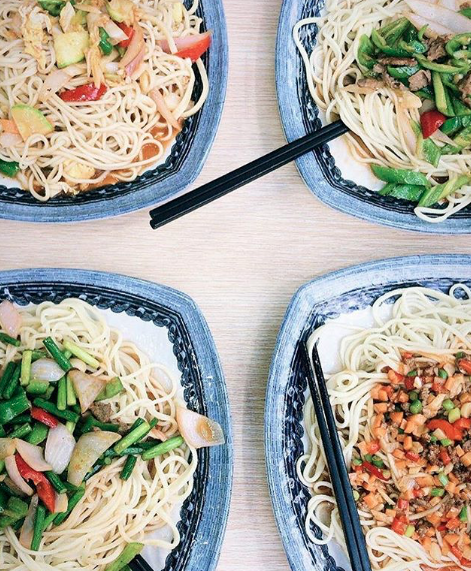 Fav Snacks At The Grocery Store
I loved finding my favorites at the local market — here are some recommendations to look out (but know there are tons I didn't get the chance to try):
Fruit — Dragon fruit, mangosteins (find these on the street in April - July), pomelos, jackfruit, yellow watermelon, mandarins, and Asian pears. Also, the apples. Somehow, so much better, juicier and crunchier here.
Snacks and Treats —White Rabbits (A yummy taffy, shaped like a tootsie roll), Pocky (It's an ILP volunteer favorite and comes in tons of flavors), Pretz (It's similar to Pocky, but volunteers love the Cheese and Pizza flavors), 3+2 Crackers (I loved the sour cream and onion flavors), different flavored chips (I sort of liked Cucumber flavored Lays? Don't know why), and all the different kinds of Oreos.
Some Dining Tips
When traveling to a new country you may be surprised to realize that the table manners you grew up with may not translate directly over. When I was in China, I wanted to make sure I was being respectful when slurping up a big bowl of noodles or munching on my favorite plate of dumplings, so here are a few things to know —
Slurping your food when eating noodles or soup is totally fine.

f you are eating rice, soup or anything that comes in a bowl, pick up the bowl and put it close to your mouth, instead of hunching over the table to get close to your bowl.

If you are ever eating meat with bones in China (that'll actually be pretty common), it is perfectly fine to spit the bones out on the table, instead of using your hands to pull the bones out of your mouth onto the table.

If you are eating from a communal bowl (you'll see this a lot), flip your chopsticks around to the side your mouth has not touched to get more food to put on your plate.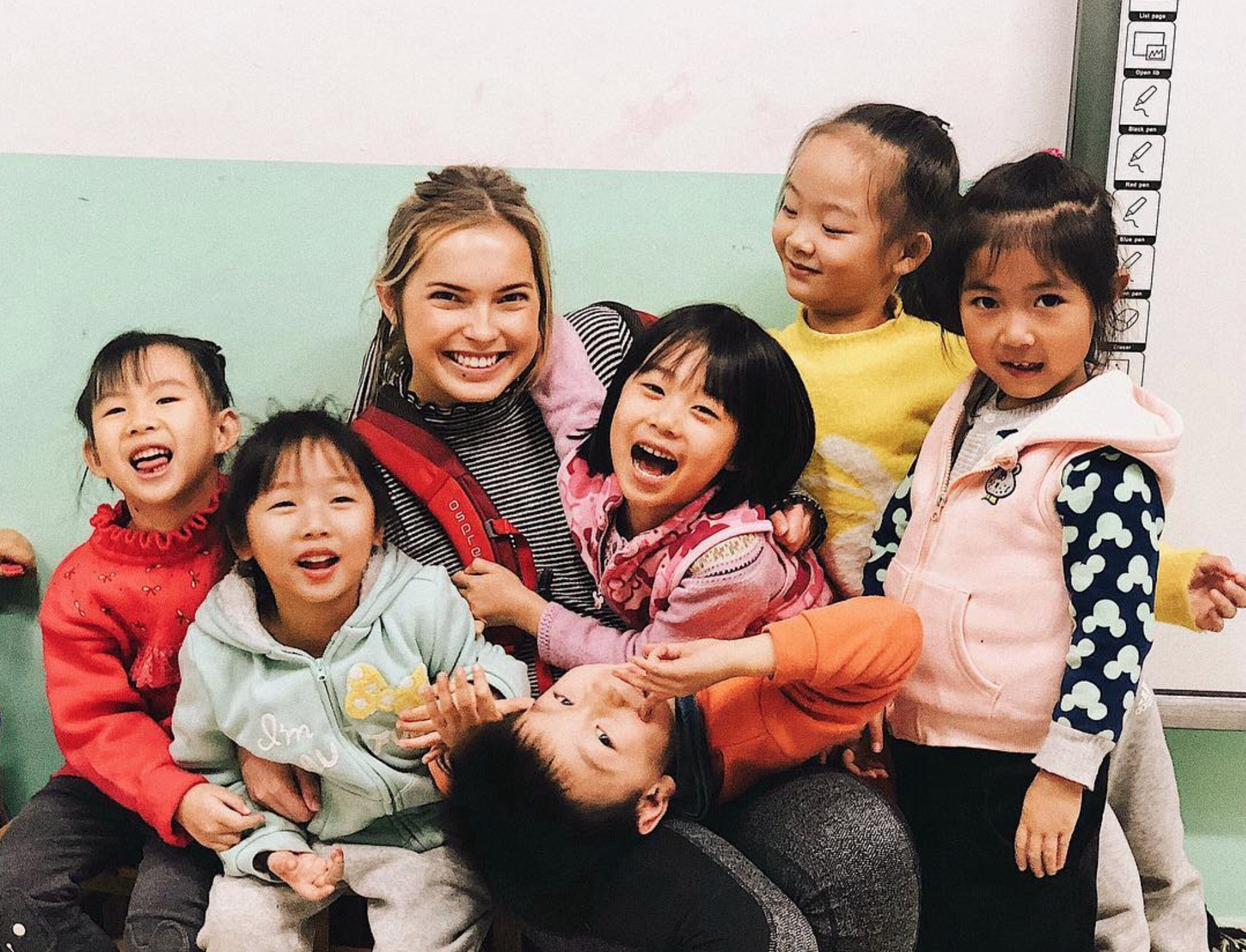 Ready for more world adventures?
We (International Language Programs) host volunteer programs in a handful of different parts of the world. Our volunteers are college-aged individuals who teach English part-time and have weekends plus vacation days off to travel. This means that you get to teach the cutest kids during the week, then hop on a train, plane, or bus to explore everything that country has to offer! Learn more on our Instagram: