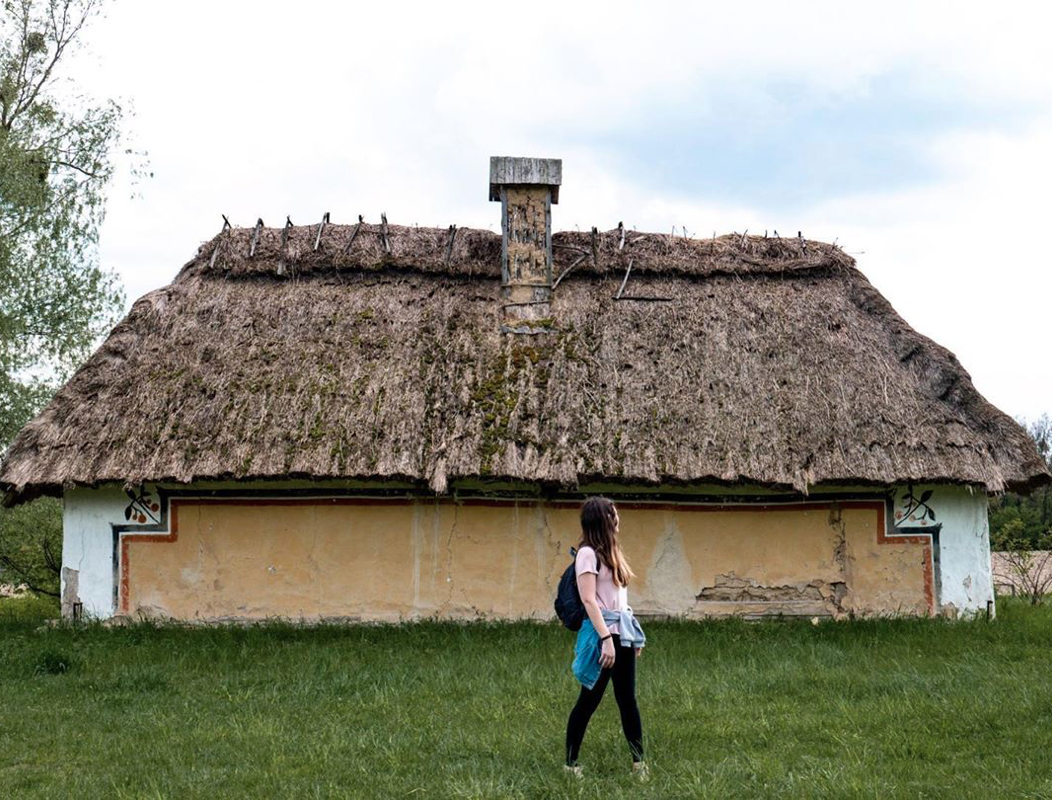 If you're not already dying to go to Ukraine that's only because you have no idea that this country is hiding castles galore, painted European streets, cups of melted chocolate, and a hundred other reasons why you'd want to spend a semester here.
ILP doesn't make it easy to pick a country to volunteer in. We have volunteer programs in countries all over the world to join, but even if you narrow it down to "Europe" you still have some choices to make.
To make it easier, I'll let you in on a little secret — you absolutely want to spend your semester of volunteering in Ukraine. You'll hear it again and again from our volunteers who were excited to go to Ukraine but once they hopped on the metro and zoomed to the glittering golden domes of the Lavra or went cathedral hunting or took weekend trips to half a dozen little cities, they end up saying stuff like Annie S. "Just here to inform everyone that Ukraine is in fact THE BEST"


---
Love the idea of seeing more in Ukraine?
We think you'll be interested in volunteering in Ukraine
---

And just to give you a teaser at what an entire semester could look like for you, I've pulled my absolute tip top favorite things, cities, adventures, and bits about Ukraine (but it's really just the highlight reel of what this country has to offer):
Loving All Things Lviv
If I had to pick just one city in Ukraine to highlight, it would be Lviv, hands down. The pictures of this European city just don't do it justice. Just take the city square for example: rimmed with 3-story buildings adored with ornate windows and painted a pastel rainbow of colors. They look like little decorated cakes to me. Or maybe you'd rather obsess over the narrow streets hung with umbrellas, or the steepled churches. If you flipped through a few pictures of Lviv, I'm guessing you would never knew this gem was hiding in Ukraine.

It's just an overnight train for about $20 to get here, from Kiev which makes this weekend trip even easier to love. Get the low-down on Lviv here. You're going to want to spend at least two or three days here, or more if you want to tack on a handful of the best day trips you can reach from Lviv (good luck choosing!)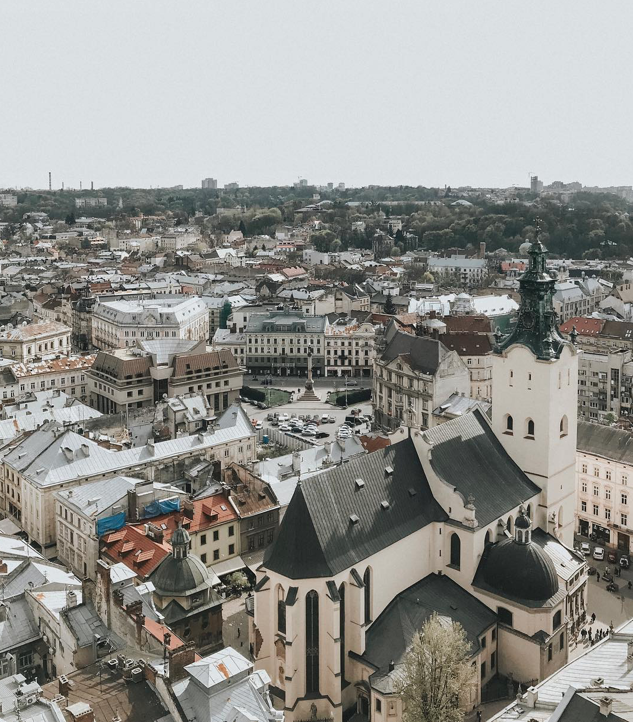 The Deal With The Lavra
Found right in Kiev, you can't avoid visiting this landmark if you're spending any amount of time in the capital city. A visit here means a huge photoshoot with golden domes to start, then winding through labyrinths lined with the remains of monks, and peering at old religious artifacts, and that's just the start. And if you time your trip right, you'll get to hear the iconic bells ring out. This one site really encapsulates so much of Ukraine: the history, the way religion has shaped the culture, and the unbelievable architecture. You will not be able to get enough of the cathedrals hiding in Lavra if you're anything like me. Get all the details you need for your Lavra visit here.

The Lavra is easily reached via the metro, just hop off on the Arsenalna stop.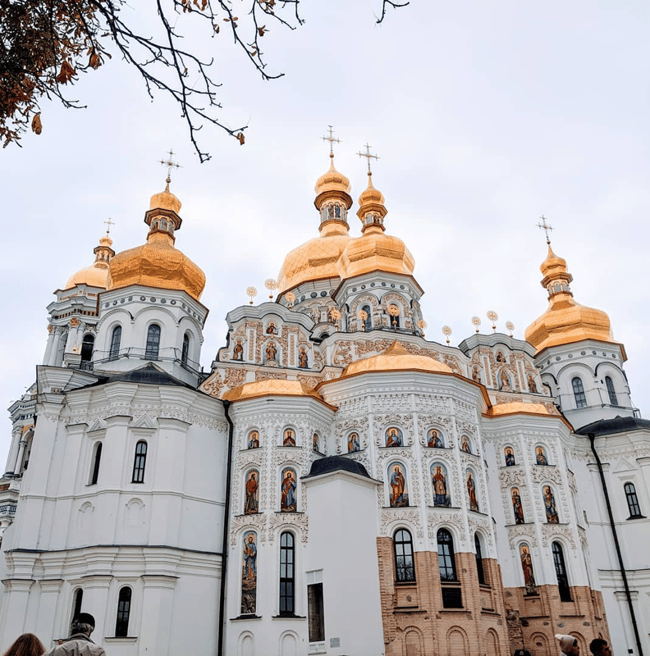 Just One Fav Castle
You know you're talking about a pretty rad European country when you just have to pick one castle to talk about. Ukraine has a handful but Kamianets-Podilskyi is where it's at. It's the castle you're picturing in your mind, with towering stone towers, flag-topped turrets, wrapped with winding ramparts which all create the imposing fortress you can't miss. Get the details on visiting Kamianets-Podilskyi (and more pictures) here.
Another perk of this place? It's just an overnight train ride from Kiev, but only a 2ish hour train ride if you're already in Lviv.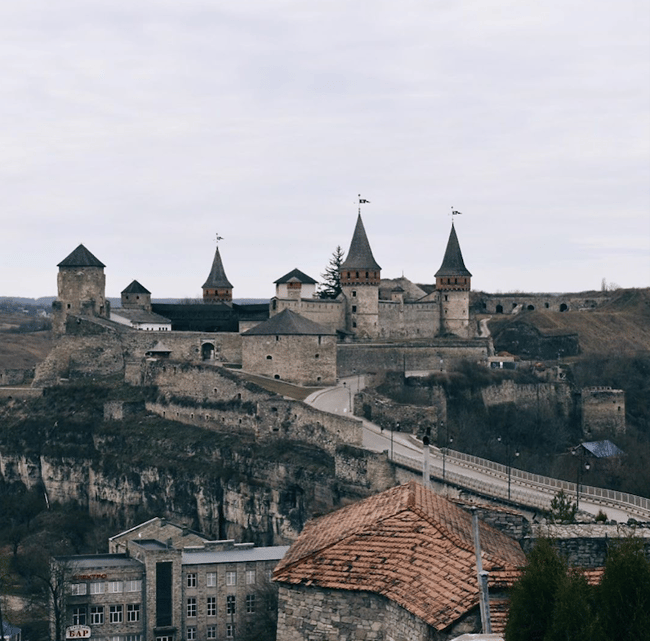 Still Need A Few More Castles?
Okay, the castles in Ukraine are just too good to pass up, so here are a few more to check out: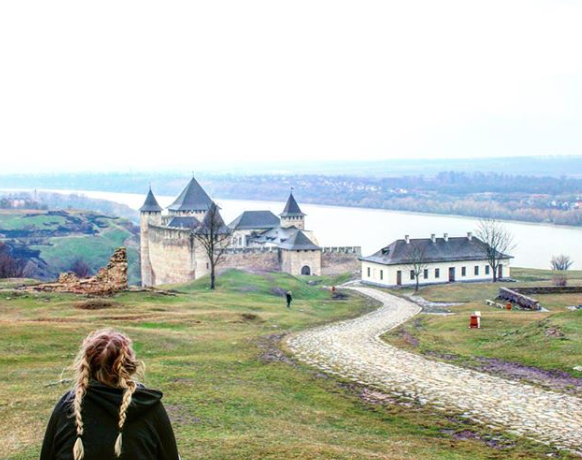 Kiev Highlights
This is a really quick glimpse into one of the coolest cities in Europe, seriously. I was recently talking with a friend of mine who has been all over Europe — seriously, all over. And when we started talking about Ukraine, her eyes got all dreamy and she could not stop talking about Kiev. Out of what France, Germany, Italy, and others has to offer, the adventures in Kiev were her favorite.

If that's not enough of an introduction, maybe just a quick peek at some of the key "can't miss" things in Kiev will convince you about this city's celebratory status.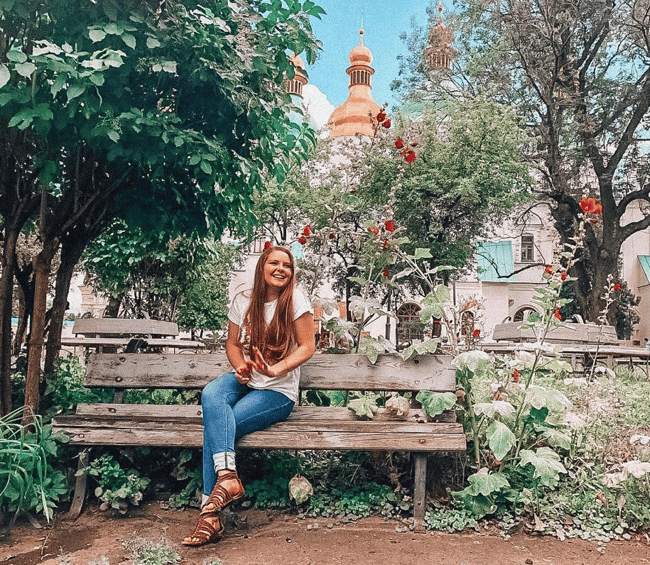 Hitting The Beach
I'm guessing a sunny afternoon in the sand doesn't come to mind when you think of how you'll spend your time in Ukraine. Think again. Ukraine is situated right along the Black Sea, resulting in a coastline that makes for an awesome weekend getaway from Kiev. Our volunteers living in Ukraine get the chance to hop over to some of the coolest beach towns during their time off (and we're only a little jealous).
Sunny Odessa
Found just south of Kiev, you can easily pay around $15 and take an (overnight) 6 hour train ride and be in a coastal town full of of soft sandy, swaying palm trees, and blue water, all along the Black Sea. There are a few different beaches to choose from, but here are the ones we recommend.
Get a list of our favorite beaches and things to do in Odessa here. Plan on spending 2-3 days soaking up all the sunshine here.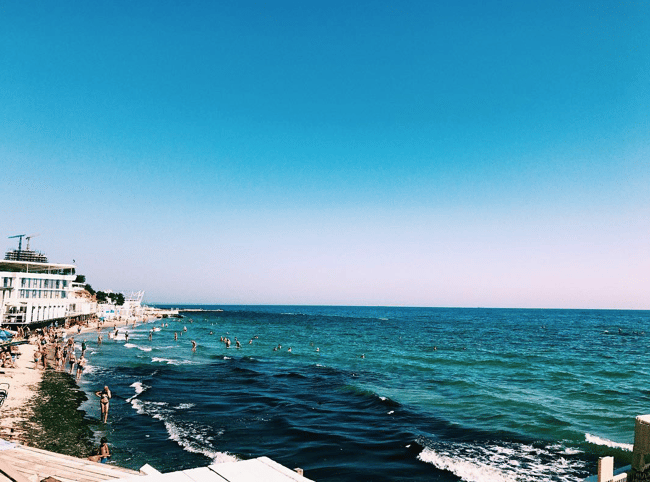 All About Plyazh Bobrytsya
If you'd rather have a beachy weekend closer to Kiev, come hang out on Plyazh Bobrytsya. It's a lakeside beach that's found in the nearby countryside of Boyarka and a favorite place to spend a Saturday once the weather warms up. From Kiev, you can take a bus to Boyarka where you can catch a 15 minute Uber over to the lake. Sounds like an easy day trip to me.

Must Take Photo Ops
Spending a whole semester in Europe means filling up your Instagram feed with "I can't believe this is my actual life" pictures. Good thing Ukraine gives you plenty of these! Here are just handful of the best.
The Tunnel Of Love
It's the stuff Instagram dreams are made of. You'll need to head to northwestern Ukraine to the tiny, historic town called Klevan which is around a 7-hour sleeper train ride away from the capital city of Kiev, Ukraine. It's an easy weekend trip from Kiev (just make sure you're ready for a photoshoot because this place is dreamy). Get more info about planning a trip to the Tunnel of Love, here.
It makes for a picturesque weekend from Kiev.


The Red Ukraine Installation
Ukraine's a country bursting with history and culture, and more than a few museums if you hit the capital city. But one thing I'm high-key in love with is that the art isn't always confined to museums in Kiev … some of my favorite pieces adorn buildings or are standalone pieces in the city square. This quick picture is kind of like a right of passage for ILP Ukraine volunteers. Find it in Kiev.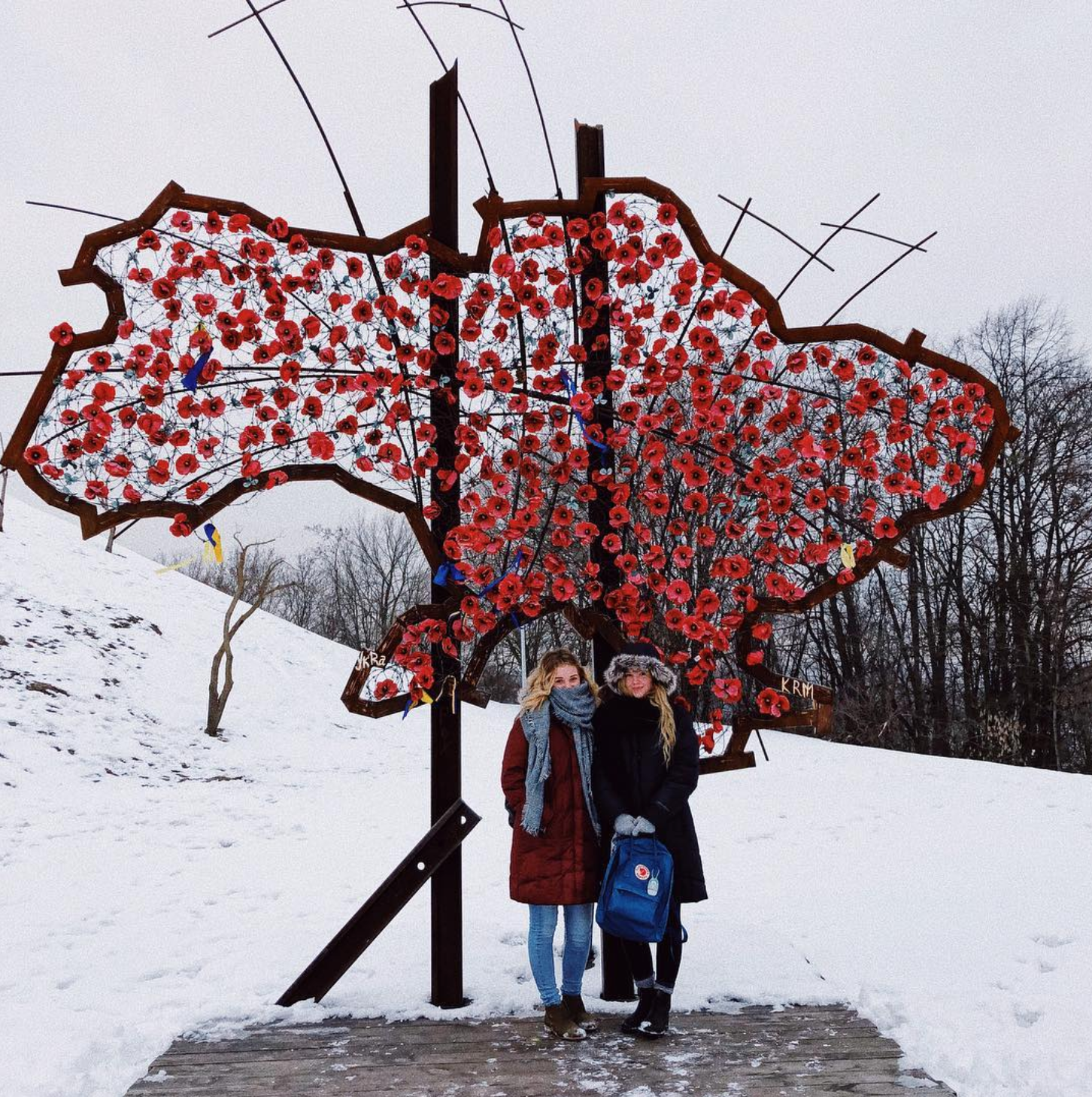 This Embroidery Wall
Still need proof this country is hip, artsy, and urban? Get a load of our favorite museums and street art in Kiev, then get a load of this gorgeous embroidery wall you might see as you're walking around the city. This traditional design is typically stitched onto clothing (which makes for a rad souvenir) but instead decorates a wall in the city of Kiev.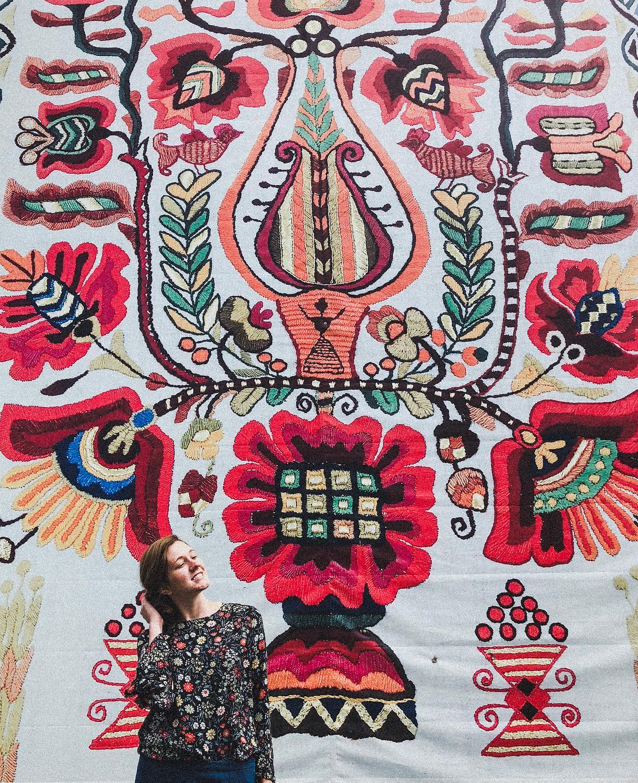 A Countryside Shot
Yep, Ukraine's charm is centered around a few cities, but the sweeping countryside of this country is kind of what dreams are made of. I'll just let you know that it would be a bit of a bummer if you only take overnight train rides because you'll miss out on the rolling hills blanketed with blooming wildflowers. You'll want to make sure you spend time outside of Kiev and Lviv on the outskirts to get a glimpse of the pastoral charm Ukraine has to offer (taking a bus from Kiev to Boyarka is a good way to make this happen).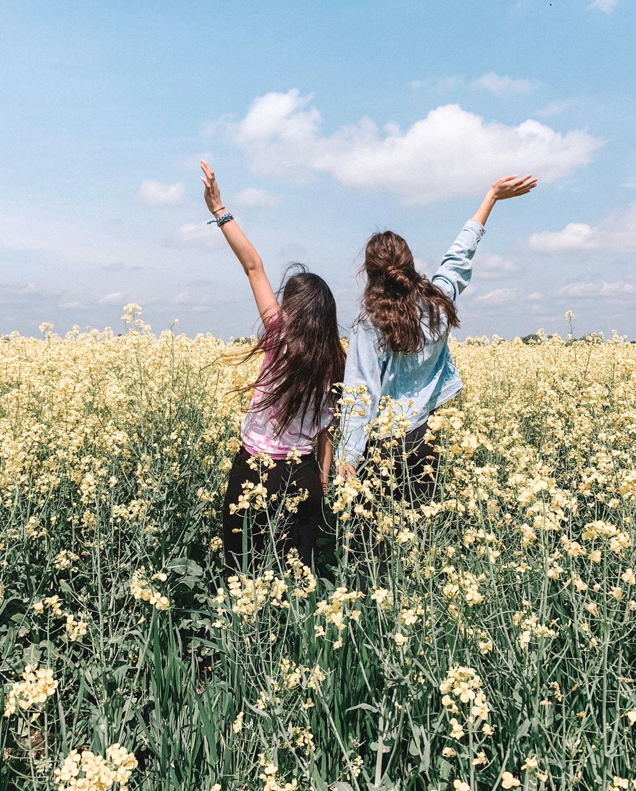 Cathedrals Galore
No post centered on ooo'ing and awwww'ing about Ukraine would be complete without paying homage to the cathedrals found here. You'll run into churches in other European cities, but they don't really hold a candle to the rainbow collection you can find in Kiev alone. You'll see steeples above bright, canary yellow walls, creamy pink doorways, robin-egg blue archways adorned with gold, and more. They're stunning to say the least. Get a load of the prettiest cathedrals in Kiev here (which has info on where to find them all so you can take pictures in front of them all, obviously).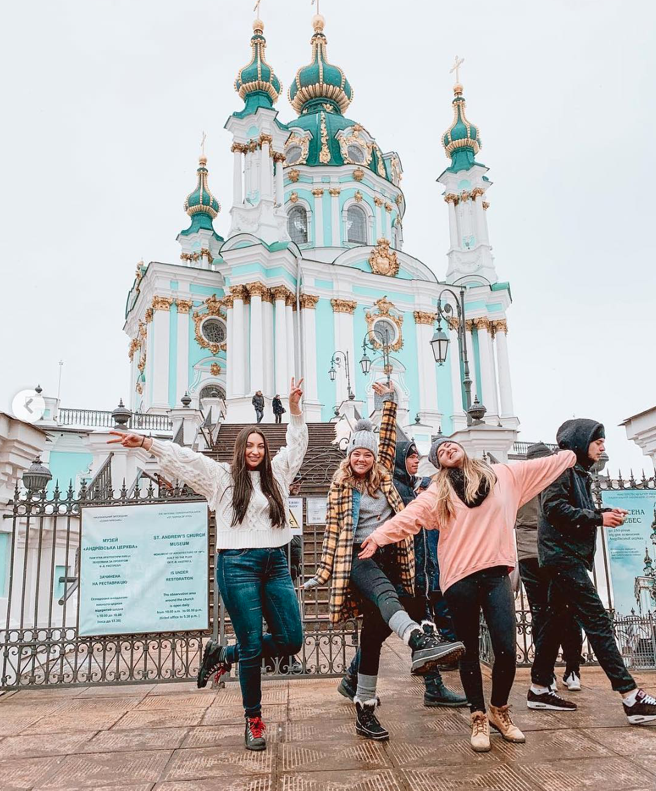 That's it, you've gotta come to Ukraine
We'll make it easy to snag a spot in this country, just click below to fill out an application.