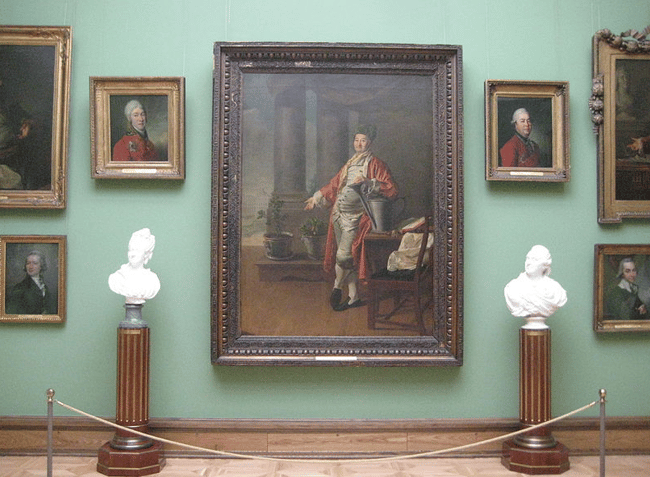 Moscow, Russia is a city full of 500+ museums, but here are the ones you have to visit.
Get ready for a busy trip if you're headed to Moscow, Russia. Moscow boasts an extensive (and shocking) history at some points which means there are hundreds of museums to visit that will tell you all about what's happened to Russia over the years.


---
Need more info about Moscow?
Our all-in-one-guide for Moscow will come in handy.
---
There are about 500 museums in Moscow and we understand that you might not have time to visit them all. We get it, but please make time for at least a few! It's also good to keep in mind that museum visiting is a bit subjective so if you don't like staring at paintings here, your favorite museum will probably not be the one filled with works from famous Russian painters. However, there really is something for everyone in our favorite museum list for Moscow.
The Best Museums In Moscow
The Kremlin's Armory Chamber
This place is number one on this list for a few reasons. It's found in the Kremlin which is absolutely something you need to see on your trip to Moscow.
Also, this museum is home to some of the country's most impressive coronation robes, impossibly detailed and expensive faberge eggs, gleaming suits of armor, ceremonial carriages and more, this museum is a must-see for anyone who wants a peek at the luxurious side of Russian royalty and history. It's absolutely phenomenal. I went twice because I loved it so much — Do not miss this!!

As you can imagine, there is a lot to see, so having an app to help you get around this museum could be helpful.
Tickets: 1,000 Rubles (it's SO worth it!)
Ticket Office Hours:

9:00 AM to 4:00 PM (15 May - 30 September)
9:30 AM to 4:30 PM (15 October to May 14 — closed Thursdays)
Getting Here: We have this guide to the Moscow Kremlin that has way more information about visiting the armory chamber, how tickets work, and how to get here. It's very helpful (tickets to the Kremlin can be a little confusing).
You can get a free audio guide if you leave a 1,500 Ruble deposit or leave your ID. Get the guide, it adds so much to the tour.
The State Tretyakov Gallery
Come for some of the most impressive collections of Russian artwork in the world. Perfect for those who want to stare at detailed portraits, historic scenes, and images of Russian life, the Tretyakov gallery has walls covered in art that reach all the way to the ceiling. Thousands of visitors each year leave glowing reviews, and we can see why. You'll find pieces from the 11th century to the 20th century, ranging from detailed mosaics and religious works to scenes that depict Russia's iconic history and scenery in oils and acrylics.
You can easily visit in an hour or two, but for those who really want time to stare and take in the paintings, 3-5 hours is a more likely timetable. Some visitors suggest going with a guide to help you grasp more out of each highlighted painting, though it's not a requirement.
Tickets: 500 Rubles + 200 Rubles if you want a photography permit.
English speaking guide costs an additional 8,000 rubles per group


(But it's 15,000 if you don't book a guide more than 3 weeks in advance).

*Sorry, no student discounts unless you're a Russian student.

Hours : Closed Mondays

(ticket office also closes at 5:00 PM)
Tuesday - Sunday, 10:00 AM to 6:00 PM


Getting Here: From the "Tretyakovskaya" station (it's on the orange/yellow line): turn left after leaving the station and cross the Bolshaya Ordynka street. Then go forward along either Bolshoy Tolmachevsky lane or Ordynsky Tupik. After you pass the small park, turn right to Lavrushinsky Lane. The buildings of the Gallery will be to your left.
Get more directions from the museum's website.
Pushkin State Museum of Fine Arts
You'll find galleries and galleries full of Europe's finest art at the Pushkin Museum of Fine Art. Hung with paintings spanning everything from impressionist art to halls full of Greco-Roman plaster casts. You can also admire the works of several iconic artists all in one spot: Dürer, Rembrandt, Picasso, Matisse, Rubens, and Renoir, just to name a few.
As a head's up, It's one of the largest in Moscow, so if you're eager to really see it all, we recommend purchasing a two-day ticket where you can split up your visit … and downloading this app to help you get a free audio guide of the museum.
Tickets: Bring your ISIC card for half off! In a nutshell, you can buy several different tickets depending on what you see. I suggest checking out what's in each section of the museum and what the current exhibits are to help you get a better idea of what's being shown during your visit.
The Main Building + European and American countries galleries
600 Rubles

(300 with an ISIC card)


General Entrance Ticket
400 Rubles (200 with an ISIC card)
Exhibition Tickets: these vary.
Some are included in the entrance ticket price, but some exhibitions are an additional charge. At the time this was written, there's a Picasso exhibition that's an additional 600 Rubles (300 with an ISIC card)
Get more ticketing information here.
The lines can get quite long, so purchasing tickets in advance can be helpful. Audio guides are also available (350 Rubles for the main building, with a 2,000 Ruble deposit, or you can leave your passport).
Hours: Closed Mondays


11:00 AM to 8:00 PM on Tuesday - Sunday

Getting Here

Take the Kropotkinskaya metro stop, and once you exit, walk along the street Ulitsa Preshistenka for about 7 minutes. You'll pass the Cathedral of Christ the Savior on the right, then the museum will be on your left.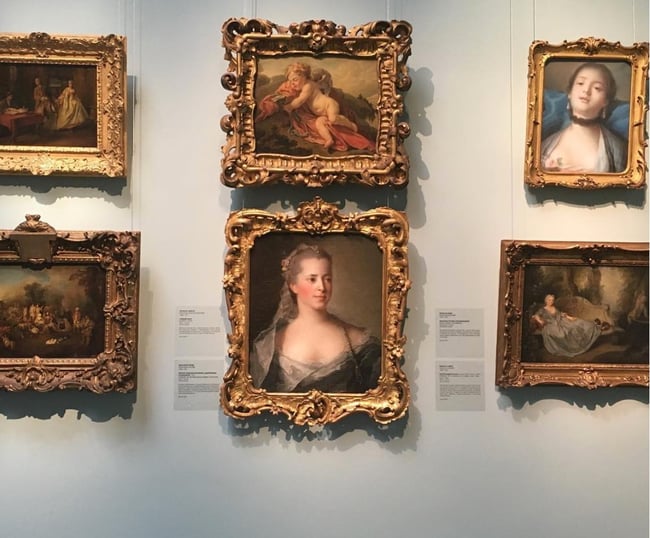 Memorial Museum of Cosmonauts
Calling anyone interested in Russia's space race! This particular museum is completely dedicated to Russia's space exploration missions, visitors can check out space suits, the Sputnik model, life-like models of the first dogs to enter space, and more … you can even try some space food if you're interested. It's definitely one of the museums you'll have to visit if you have any interest in Space exploration, especially from the Russian perspective.

I was surprised to see so many captivating exhibits: there were actual space suits, propaganda posters boasting the achievements of the CCCP, tins and tubes of Space food, and quite a few artifacts from the American/Russian space collaboration. Most of the signs are in Russian, but there is so much to see it's still worth a visit.
Tickets: 250 Rubles (people typically spend about 1-2 hours here)
*On every 3rd Sunday, this museum is free to visit!
Hours: Closed Mondays
10:00 AM to 9:00 PM on Thursdays and Saturdays.
10:00 AM to 7:00 PM on Tuesday, Wednesday, Friday and Sunday.
Getting Here: Right across from the VDNKh metro stop (on the orange line).

Exit the metro, and look for a

n impressive sculpture built to celebrate Russia's space conquests. The whole obelisk is covered with titanium, which was also used to cover the space rockets launched into our atmosphere.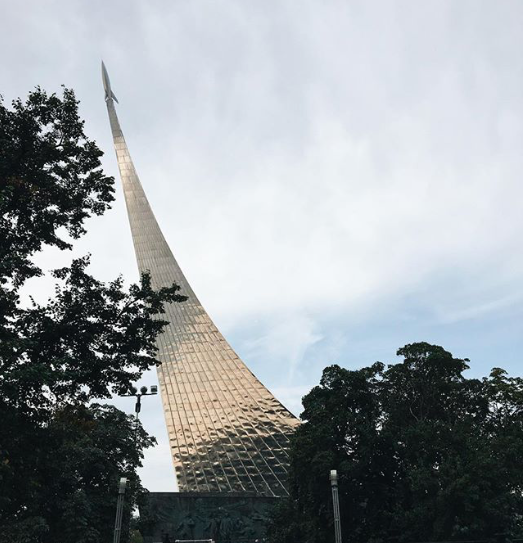 Tsaritsyno Museum
Technically, this is actually a park and a museum … and a few other parts to enjoy. You'll find a detailed red-stone palace, beautiful pavilions, pretty bridges all wrapped in a pond-filled park that's gorgeous in the summer. The palace itself has been turned from a residence to a museum where you can walk through hallways decorated with gold and dripping with crystal chandeliers. It's stunning, inside and out.
Get more pictures and map of the layout here.
Tickets: Free with an ISIC card!
650 Rubles for a general ticket
200-250 Rubles for the greenhouses and opera house.
Plan to pay 50 to 100 Rubles for photography

Hours: 10:00 AM to 6:00 PM Wednesday through Friday
Saturday, 10:00 to 8:00 PM
Sunday, 10:00 to 7:00 PM
Getting Here: Main Entrance: get off at the Tsaritsyno Metro Stop (Green Line). The back entrance is best accessed through the Orekhovo (Green Line). We prefer the main entrance, because once you'll cross the fountains and pools to get to the ticket office to see the more striking bridges and buildings.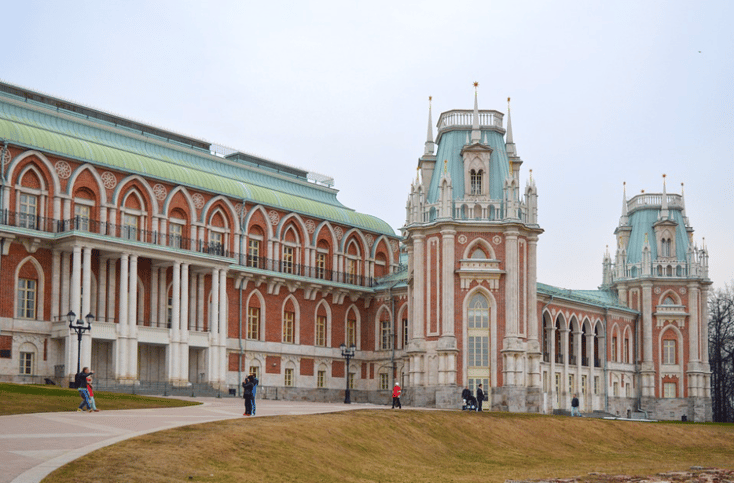 The Gulag Museum
One of the most well done museums in Moscow, in my opinion. The Gulag Museum walks you through the Soviet-forced labor camps so it's sobering, but incredibly well done.

There are signs and stories in English, so plan on spending a couple of hours to see all the photographs and personal items from those who didn't survive. You can also listen to people's stories about what they remember about their father's experience in a labor camp, or what their own experience was like.
Tickets: 300 Rubles (150 with an ISIC card)
This museum is free on the third Sunday of every month
Hours:

12:00 PM to 9:00 PM
Getting Here: Here's the address: 1-Y Samotechnyy Pereulok, 9, стр.1, Moskva, 127473

You'll want to get off at the Dostoevskaya station. It's about a 15 minute walk through a quiet neighborhood to get there from the metro. It pops right up on Google Maps if you type in "Gulag Museum".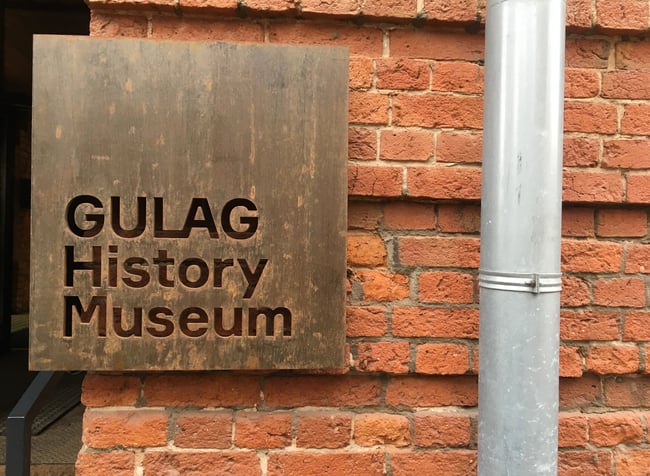 Victory Museum
WWII in Russia is known as the Great Patriotic War, and the museum about these events is absolutely one any history buff shouldn't miss. There are tailored uniforms, flags from Nazi Germany, interactive exhibits where you can walk through a home that's right in the middle of the battle zone, and a sobering hallway commemorating all the deaths lost in this horrific war. I easily spent about 3 hours looking all the medals, memorabilia, dioramas, and more. It's very well done, with quite a bit of signage in English.
Tickets
400 Rubles (300 with an ISIC card) for an all access ticket.
I got the 300 Ruble ticket (200 with an ISIC card) and saw plenty.

Hours: 10:00 AM to 8:30 PM
Getting Here: Ride the red line to Park Pobedy and follow exit signs for "Victory Park".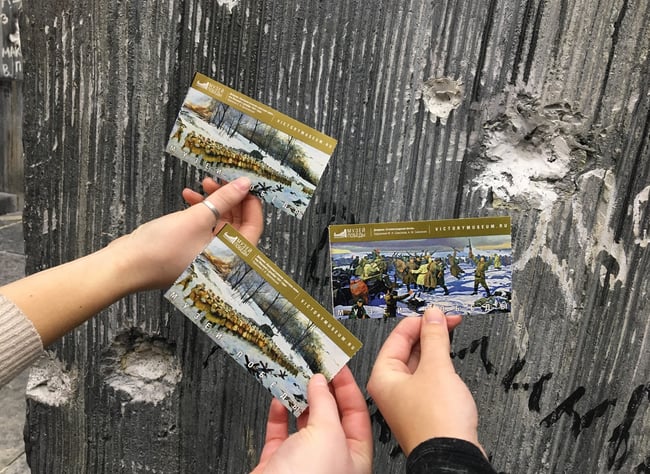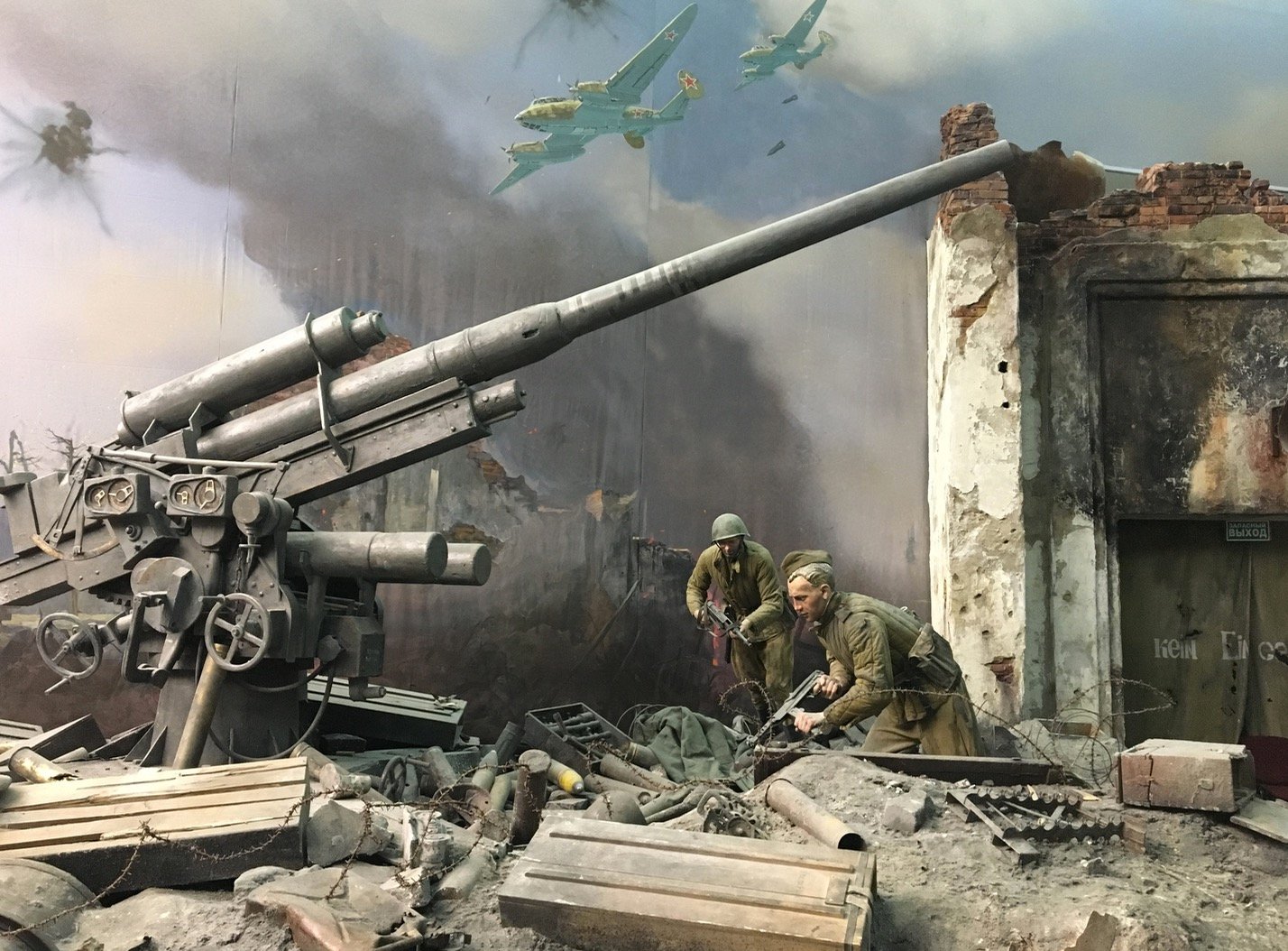 Leo Tolstoy's House
Tolstoy is probably one of the most well-known authors in the world (familiar with Anna Karenina and War and Peace?) and you can visit his house if you're around Moscow. The house is home to a host of treasures, including a couple of pairs of handmade leather books made by Tolstoy himself. You can also spot a handful of impressive reminders of the guests who visited the home — the piano where a young Sergei Rachmaninov played, a chess set for games between Tolstoy and another great writer Maxim Gorky, and a portrait of one of the Tolstoy daughters, painted by the famous Russian painter, Ilya Repin.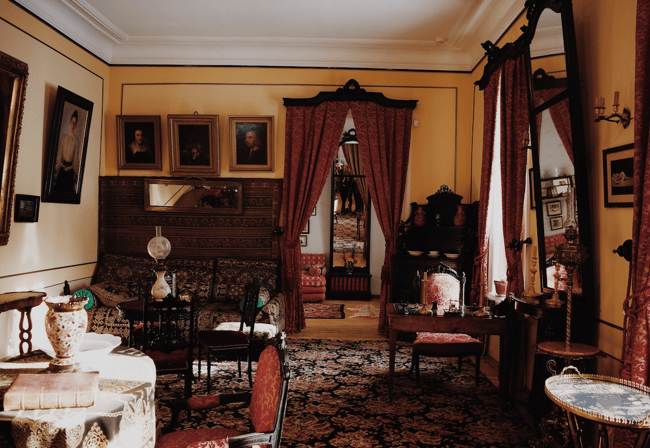 See more in Moscow
The minute I started looking at all the things I wanted to see and do in Moscow, I knew that there was too much fit in on a short visit. That's why I decided to volunteer as an English teacher for a semester, and cal the city of Moscow my home for a few months!